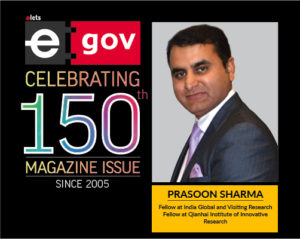 In March 2015, Chinese Premier Li Keqiang unveiled the China Internet Plus (CIP) plan, "to integrate mobile Internet, Cloud Computing Big Data, and the Internet of Things with modern manufacturing, to encourage the healthy development of e-commerce, industrial networks, and Internet Banking, and to get Internet-based companies to increase their presence in the international market." (China Daily newspaper). With annual ICT investment worth 2.7 trillion yuan ($415 billion) and 731 million internet users, China is looking to re-boost its economy through Internet Plus.
In July 2015, Indian Prime Minister Sh. Narendra Modi launched Digital India Programme (DIP) to transform India into digitally empowered society and knowledge economy. For DIP, India will spend `1.13 trillion INR in the next three-five years to provide Internet connections to all citizens. The plan is likely to create over 17 million direct and 85 million indirect jobs.
During 4th India-China Strategic Economic Dialogue held in Delhi, on October 7th, 2016, an Action Plan on "Digital India" and "Internet Plus" between the Ministry of Electronics and Information Technology of India and National Development and Reform Commission of China was agreed.
CIP and DIP, if implemented successfully and in synergy, can finish the digital divide of almost 40% of world population (population of India-China) and can boost the world economy by re-energising two world's fastest growing economies.
Chinese Internet Plus Action Plan:
As per the action plan, China will push forward the integration of the Internet and customary industries, fueling its expansion from utilisation industries to manufacturing. The action plan maps development targets and supportive measures for key sectors, which the government hopes can establish new industrial models, including mass entrepreneurship and innovation, manufacturing, agriculture, energy, finance, public services, logistics, e-commerce, traffic, science and artificial intelligence.
The government expects to further deepen the integration of the Internet with the economic and social sectors, making new industrial models a fundamental main thrust of development by 2018.
By 2025, Internet Plus will become a new economic model and an essential main thrust for economic and social innovation and development. China will cement its development premise by advancing Internet technology, infrastructure, handling the technological bottlenecks of industries and strengthening hazard control.
Digital India Action Plan:
A 2014 report by the McKinsey Global Institute stated that in 10 years, leveraging technology in India through Digital India could pump in anywhere between $500 billion and $1 trillion into the economy — which represents anywhere between 20 and 30 percent of India's current GDP which is equal to the manufacturing sector's share of GDP.
The transformational benefits of embedding technology into governance are additionally well documented – technology could help 200 to 250 million Indians improve nourishment and raise incomes by receiving their full entitlements of subsidised sustenance (utilising electronic payments or technology-enabled conveyance to reduce leakage of benefits).
Around 90 million farmers in 2025 could improve their incomes through access to real-time market data. Technology-based teaching methods can improve school learning outcomes and thereby raise the efficiency of some 24 million students who will enter the workforce by 2025, and help bring vocational training to anywhere between 18 million and 33 million more Indians.
Furthermore, an estimated 300 million Indians could achieve financial inclusion through technology-enabled services in 2025, and 400 million of India's poor could access improved healthcare services.
Challenges for China Internet Plus (CIP):
Even with (and because of) government support, things won't be any easier. A first challenge to the Internet Plus plan is that, precisely, if it's government-powered in China, it means going through all the ladder of central, provincial and local barons. Not a guarantee of seamless uberisation.
Source: http://www.innovationiseverywhere.com
Another more contentious argument from the South China Morning Post edited in Hong Kong wants that "Beijing needs to address censorship before any new strategy can be expected to have an impact", adding that "we all know the key thing about the internet is freedom.
If Beijing misses the point and continues to censor access to information, Premier Li's new Internet Plus strategy will probably just get more Chinese to shop online rather than have any significant and long-term impact on the country's long-awaited economic transformation."
Challenges for DIP:
Digital India is a great plan but its improper implementation due to inaccessibility and inflexibility to requisite can lead to its failure. There are few barriers of the Digital India programme which are as follows.
First, The National Optic Fiber Network (NOFN) is the backbone of Digital India. It will connect 250,000 panchayats (village governing council). It has been reported in the media that we are laying out just 500 km each month, as opposed to the 30,000 km.
Second, the government needs to examine the validity of cases from the business on spectrum shortage. Telecom Regulatory Authority of India (TRAI) administrator Rahul Khullar stated, "The accessibility of airwaves in India is less than 40 per cent as compared to European countries and less than 50 percent than in China."
Spectrum is a scarce resource and several licensed frequency bands are under-utilised. The government could use emerging technologies like cognitive radio (CR), used by the US government, that could permit spectrum to be used more efficiently. A CR transceiver filters for unused bands and changes its transmission and reception parameters to different frequencies amid heavy data loads without interruption.
Third, and in particular, the government needs to create an enabling approach ecosystem to ensure the Internet is neutral — i.e., open, reasonable, accessible and has no gatekeepers. Thus, the government's legitimate arrangement on Net Neutrality should be essential.
Fourth, the government needs to create a unified and efficient technological stage for the entire government machinery to ensure that all assignments, both government-government and government-citizen, are automated. This, require digital leadership inside the government to lead the process of creating and embedding such a stage — the stage that permits it to operate with consistent standards of efficiency, transparency and responsiveness.
Fifth is the issue of cyber security, a 2014 report ranked India second, simply after the United States, for cyber crimes. India is also not well-equipped to handle cyber-terrorism assaults. Cyber security, therefore, remains a huge crevice in India's Internet ecosystem. Thus, the government should provide a digital framework and a redressal mechanism. These five issues require immediate intervention of the government.
Follow and connect with us on Facebook, Twitter, LinkedIn, Elets video