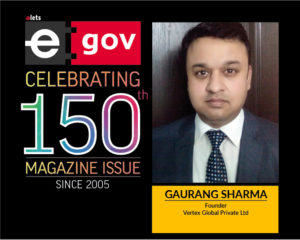 Let's look back in time! Technology has indeed changed the way we used to live our lives in past couple of decades. Standing in long queues for paying bills in early nineties to the current use of mobile devices for ordering groceries, the India has really changed. However, the development story and this journey has just begun.
India is now gearing up for the next phase of transformation. Mobile, Internet, e-commerce, Smart City mission, and Geospatial technology are just few realms. The National e-Governance Plan (NeGP) takes a holistic view of e-Governance initiatives across the country. Around this idea, a massive countrywide infrastructure reaching down to the remotest of villages is evolving.
Large-scale digitization of records is taking place to enable easy, reliable access over the Internet. The ultimate objective is to bring public services closer to citizens, as articulated in the vision statement of NeGP – "Make all the Government services accessible to the common man in his locality, through common service delivery outlets, and ensure efficiency, transparency, and reliability of such services at affordable costs to realise the basic needs of the common man."
If we refer to the NITI Aayog, effective governance will have base of the following pillars:
– Pro-people agenda that fulfils the aspirations of the society as well as individual,
– Proactive in anticipating and responding to their needs,
– Participative, by involvement of citizenry,
– Inclusion of all groups,
– Equality of opportunity to our country's youth,
– Sustainable development, by protecting environment, and
– Transparency that uses technology to make government visible and responsive.
We strongly believe that the Information and Communication Technology (ICT) is indeed going to be the major contributor to this agenda. India is a nation with 1.3 bn people out of which approx 377 million are urban and 833 million are rural. The success of a policy/agenda lies in reaching out to each and every person. It is only through the ICT  every corner of the country can be reached out and thus it will be the driving force of the agenda.
As per, World Economic Forum's Networked Readiness Index (NRI), published in 2014, ranks 148 countries for the quality of their digital infrastructure and ability to use ICTs to generate economic growth, foster innovation and improve the wellbeing of their citizens, India is at 83rd position. The top three countries are Finland, Singapore and Sweden for investing and using digital Infrastructure such as Internet, Big Data for providing the best online services, highest-quality education systems, developing the pro-business environment.
India is strategically placed as becoming the knowledge partner for the World. With use of the ICT, Ministry of Human Resource Development (MHRD) is already driving the force towards knowledge driven generation. Initiatives such as E-Pathshala for showcasing and disseminating all educational e-resources including textbooks, audio, video, periodicals and a variety of other print and non-print materials through website and mobile app or NKN (National Knowledge Network) which is state-of-the-art Pan-India Gigabit network connects over 1500 institutes. NKN is also providing an ultra-high speed backbone for e-Governance and has links to multiple Global Networks. Such initiatives go to the very core of the country's quest for building quality institutions and knowledge driven society.
As per Gartner, the convergence of four powerful forces: social, mobile, cloud and information will be driving government sector.
As per the technological trends, e-governance should make use of ICT to plan, manage and operate across multiple domains, process areas and jurisdictions to generate sustainable public value. With the use of key disruptive technologies, it is imperative to make use of them to provide swift, actionable governance. The technologies that we believe are of prime importance and will drive the governance plans are:
Mobile

Big Data and Analytics

Hybrid IT and Cloud Computing

Internet of Things
Mobile
As per GSMA, Indian mobile penetration is at approx 600 mn users. These figures are expected to change due to competitiveness and dynamics in telecom Industry and expected to reach at 68% penetration by 2020. This gives unique opportunity to reach almost half of country's population using ICT technologies. Use of ICT technology for delivering various Government services, payments gateways and banks, awareness and knowledge w.r.t. education, new policies and initiatives will fast track the efforts and increase the reach fast. Also, with increase use of mobile devices, it is critical to segregate the personal and professional use and simultaneously ensuring data privacy and security. Well articulating policies at organizational and government level will ensure the privacy and confidentiality of citizens.
Increased mobile device penetration will also help the Government's agenda of Digitization, reforming education and knowledge sector, ease of access for government services and establishing review and feedback mechanism to drive fast policy making and its execution. Mobile technologies also present opportunities for social engagement for awareness and publicity drives in very cost effective manner.
Big Data and actionable analytics
In today's information age, Data is generated at every interaction. It will be strategically advantageous to collect, store and derive actionable intelligence for betterment of population. Big data as defined is extremely large data sets that may be analyzed computationally to reveal patterns, trends, and associations, especially relating to human behavior and interactions.
The applicability of Big Data and Analytics and its uses can be varied and in domains of Financial System, Home land Security, Healthcare, Regulatory and Compliance, Cyber Security. The information derived in form of actionable intelligence can be quick to implement and increase situational awareness. The adoption of Big Data concepts and initiatives is still limited in public sector. The centralized system will immensely improve the visibility within the country and improve the governance for the public at large.
For the effective deployment, government should evaluate the open stacks and open data models and Application programming interface (API) based integration. This will enable to collect data from different sources without the hiccups of proprietary solutions. This model would also enable government to be both the consumer and provider of information to people, businesses, etc.
Hybrid IT and Cloud computing
Cloud Computing can be segregated into three areas: Public, Private and Hybrid. There still remains the debate on using public clouds. The practice is still towards using internal or private cloud for Critical Systems and Data and public for less critical data but controlled by governmentally restricted policies. The National Data Center of NIC, under the Department of Information Technology of the Government of India, is a premier Science and Technology Organization, at the forefront of the active promotion and implementation of Information and Communication Technology (ICT) solutions in the government.
NDC provides the strategic infrastructure that facilitates high availability, quick scalability, efficient management and optimized utilization of resources for various Government departments and helps manage the launched online services.
The major benefits of cloud adoption are cost reduction, speed of procurement and deployment, and responsiveness to regulations and needs for cost cutting. The public cloud is also gaining momentum as governments seek savings via consolidated procurement.
Internet Of Things
By definition, Internet Of Things is the interconnection via the Internet of computing devices embedded in everyday objects, enabling them to send and receive data. The Internet is expanding beyond PCs and mobile devices into enterprise assets such as field equipment, and consumer items such as cars and televisions. The collection of this data is enabled using sensors. The influx of data can be stored and analyzed using big data to effectively plan and execute. Smart city plans in several jurisdictions aim at exploring the ability to process huge masses of data coming from devices such as Smart lighting, Smart Surveillance, parking sensors, air quality monitors, garbage disposal system and consolidate and analyze the data at centralized Command Center to help local governments achieve goals in terms of increased public safety, improved environment, better quality of life. This at the national level will be part of the GOI's Smart City mission.
The benefits of IOT application along with of automation and AI will result in benefits in terms of cost savings, better security, better citizen services. It is important to focus on scalable, interoperable model.
As of now, there remain challenges like creating of National Infrastructure Backbone, investments, State government involvement and approvals, skilled manpower, security of national infrastructure in form of physical and cyber, management and maintenance.
Positive steps are already in progress by the government to build the National Infrastructure such as National Optical Fibre Network (NOFN) which would connect the country at gram panchayat level, National and State Data Centres, State Wide Area Networks (S.W.A.N), Common Services Centres (CSCs) and middleware gateways i.e National e-Governance Service Delivery Gateway (NSDG), State e-Governance Service Delivery Gateway (SSDG), and Mobile e-Governance Service Delivery Gateway (MSDG). New initiatives include a framework for authentication, viz.e-Pramaan and G-I cloud, an initiative which will ensure benefits of cloud computing for e-Governance projects.
India will thus benefit immensely with use of ICT thus enabling individuals, businesses and government, to emerge as technologically advanced, knowledge-based society while boosting innovation and competitiveness. With use of ICT, India will further increase its position as stable pro-business and pro-innovation country that is aware of the importance of connectivity for the economic and social development of a geographically vast nation with a widely dispersed population. So, concluding I can say that the future is here we just have to embrace the emerging technologies and be a part of it.
Authored by: Gaurang Sharma, Founder, Vertex Global Private Ltd.