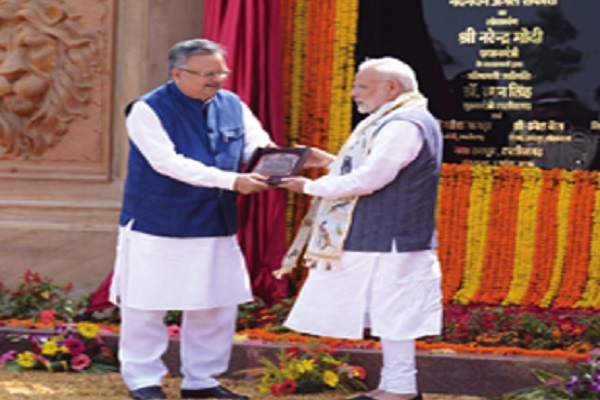 The Government of Chhattisgarh envisaged the creation of a new capital city by the name of Naya Raipur. For realising this dream the state government constituted the Naya Raipur Development Authority (NRDA), observes Arpit Gupta and Gopi Krishna Arora of Elets News Network (ENN).
Constituted on November 1, 2000, Chhattisgarh has been carved out of the erstwhile state of Madhya Pradesh. Today, it exists as 26th State of the country. The population of Raipur is about eight lakh. The state of Chhattisgarh has also envisioned a new satellite city of modern state to provide its people with improved quality of life.
It was in conformity with this broad vision that the Government of Chhattisgarh envisaged the creation of a new capital city by the name of Naya Raipur that would not only establish the State's identity, but also depict the hopes and aspirations of the people of Chhattisgarh. Naya Raipur has been planned basically as a self- sustainable administrative city.
The Government of Chhattisgarh constituted the Naya Raipur Development Authority (NRDA) for planning and implementation of Greenfield Smart City, to be developed under 8,013 hectre area.
Naya Raipur has been planned and designed as a city of 21st century to focus on socio-economic and cultural life of Chhattisgarh, having its role and recognition at national and international levels. The new city is set in salubrious natural surroundings accessed by an express way. It is envisaged as lively and vibrant city equipped with state-of-art physical, social and economic infrastructure.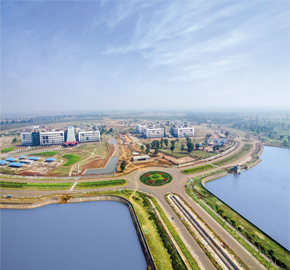 The NRDA has prepared the draft development plan for Naya Raipur covering an area of 237 square km.
Characteristics of Upcoming Naya Raipur
The city would have mainly administrative function with capital complex. It will also have other economic activities such as Software Technology Park, Central Business District, and non-hazardous industries etc. NRDA intends to provide state of art infrastructure and social facilities.
A satellite city to Raipur holding capital function is the primary identity of Naya Raipur. It will be modern in the use of technology, uphold worthy traditions and core values, and conserve the prevailing man- nature symbiotic culture as well as abundant natural and cultural assets in the region. The citizens will be offered a wide range of living options with equity and |dignity. The city will strive to make an impact as:
An agent of economic change and social transformation in the state
An efficient engine of growth and prosperity
A servicing hub not only in manufacturing of goods but also in Information Technology and Bio-Technology sectors
A financial centre of the region
Hub of trade and hospitality sectors in Naya Raipur
Hub of cultural services which would supplement local economy
Hub of affordable and high quality medical services
Hub of quality educational facilities and strive to develop as a knowledge base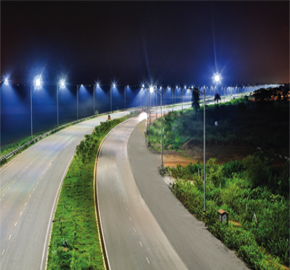 However, the vision of the city in physical terms, i.e. its form and function in two as well as three dimensional terms is delineated in a subsequent section. For all the lofty or mundane purposes bestowed on this city, a comprehensive exercise was undertaken to find a perfect location for it. An imaginary circle of 50 km radius was drawn around Raipur and this massive area was divided into four quadrants. Each quadrant was analysed in context of regional development, existing development, climatic factors, flora and fauna, water resources, transport network etc. The efforts yielded the present southeast site of Raipur, 15 km away, close to Mana Airport.
Smart City – Naya Raipur
Naya Raipur is all set to emerge as a smart and vibrant city to drive economic growth and improve the quality of life by enabling local development and integrating technology. Working in accordance with the Smart City Mission, Naya Raipur Development Authority (NRDA) has prepared an inclusive, sustainable, vibrant Smart City model.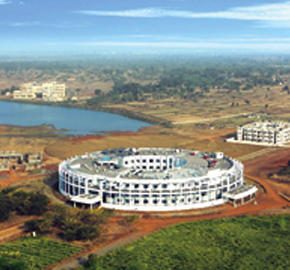 To address the urban challenges, NRDA has envisaged Naya Raipur as a Greenfield Smart City. The model is being prepared to develop Naya Raipur in three phases by 2031 for a population of 5.60 lakhs. In the phase one, 13 populated areas [80.13 sq km including 500-meter wide green belt of 95.22 sq km] have been taken for development. While in phase two and three, Naya Raipur peripheral region [130.28 sq. km.] and airport zone [11.92 sq. km.] respectively have been incorporated for growth and expansion. Extensive plans for village development like integration of the existing settlements with the new city development, provision of physical and social infrastructure, self-sustainable development with socio-economic upliftment of the villages etc have been prepared for all the village settlements in phase one.
In the development model, NRDA has not just overhauled entire city, but improved resources by adding connectivity and intelligence within existing infrastructure. The state-of- the-art infrastructure involves roads, drainage, electricity, waste disposal, telecommunications and smart technologies to control city operations. Some pioneering projects include broadband connectivity, GIS Mapping and establishing Wi-Fi across the city. Smart governance system, utility management systems, city surveillance system, city connectivity and IT infra, centralised control centre, and intelligent transport system are the six major parameters under ICT master plan. Single window clearance, land and estate management, online services for city businesses, participatory governance, etc are some of the smart governance modules.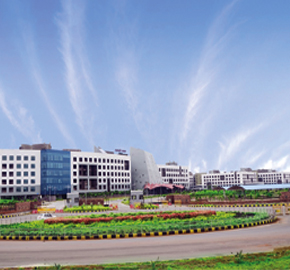 The smart surveillance system mainly includes deploying all types of sensors and CCTVs in designated areas, unified Toll-free grievance numbers, safe and emergency mobile app, disaster management control room, emergency operations centre, video crime monitoring etc. This shall aid in implementation of intelligence services, traffic management and law enforcement. In the uility management systems, Supervisory Control and Data Acquisition (SCADA) for electrical distribution, water distribution, and sewerage system has been proposed. Additionally, for effective disposal of waste, solid waste management system and drainage management shall be implemented. Also, there is a provision to install intelligent LED street lighting to minimise energy usage.
The World Bank-run Global Environment Facility (GEF) is assisting the city in Sustainable Urban Transport Project (SUTP). In the Intelligent Transport System, focus is to improve mobility for the citizens, and promote use of public transit. Synchronised and intelligent signalling, integration of traffic data with navigation systems, traffic rules enforcement and violation detection and smart parking facilities shall be integrated for safety and comfort of the commuters. There shall also be a city management centre wherein data capturing, processing, reporting, monitoring and control shall be handled all under one roof.
As a part of the sustainable environment, massive tree plantation will also be undertaken to enhance the green cover of the city. For this purpose 27.67 per cent of the area is earmarked as green belt. Rain water harvesting is mandatory for all the buildings in Naya Raipur. Alternative sources such as solar energy are also being promoted.
These smart initiatives would generate a solid standard of urban living, drive economic growth and will support the Smart Cities Mission thereby meeting the demands of the urban population.
Origin of Smart City Concept for Naya Raipur
Activities pertaining to the preparation of Smart City blueprint for Naya Raipur commenced in early 2014. While case studies covering specific city transformation aspects were available from work done London, Barcelona, Astana, etc, it was the first time that an integrated Smart City concept was envisioned and needed to be developed from scratch.
To overcome this challenge, a team with experts from various relevant fields was formed that worked with the NRDA team to define a Smart City Vision for Naya Raipur, which is centered around the all-important citizen and revolves around three key objectives viz.
enhanced livability, optimised government functioning and ease of doing business. The Smart City Vision was then translated into the smart solution architecture comprising five enabling layers:
Sensing Layer consisting of cameras, sensors, cards, meters, devices etc., acting as sensory organs of the city
Communication Layer to carry data captured by sensing layer to intelligent systems, acting as nerves of the city
Application Layer comprising of intelligent systems that process data / requests for generating insights and automating business functions, acting as brain of the city
Awareness Layer comprising of a Command and Control Centre where all systems converge to provide situational awareness of the city to its administrators, acting as nerve center of the city
Service Layer enables service delivery through multiple channels including mobile, web, kiosks, helpdesk, etc., acting as serving arms of the city.
On the functional side, the smart solution covers such dimensions as public safety, utilities management, land and estate management, transportation and smart local governance. Necessary inputs from industry, through industry workshops, have been taken to ensure that the designed solution is in sync with latest technological innovations.