Kerala is playing a phenomenal role in achieving the much ambitious dream of becoming India's first Digital State. The Government, through its concerted efforts, is not only allocating whopping funds but also creating IT infrastructure in the State, highlights P K Kunhalikutty, Hon'ble Minister of Industries and Information Technology, Kerala, in a tete-a-tete with Vishwas Dass & Kartik Sharma of Elets News Network (ENN)
What are the various initiatives undertaken by the State Government to make Kerala an IT hub?
Kerala is an investor and environment-friendly state. It tops the charts in many social indices and has got one of the most qualitative human resources pools in the country. Other infrastructure facilities like road, rail, air transport and power, among many others are also one among the best in the country. Kerala's cosmopolitan lifestyle makes it a preferred destination for people from other states to settle and work peacefully. Also, state's industrial and IT policies are aimed at creating conducive atmosphere for the business units. Attractive offerings like single window clearance approvals, low power tariffs and continuous power availability, tailor-made office spaces, dedicated government IT parks, private IT parks within government land and SEZs, make Kerala the most viable and investor friendly destination in the country.
Currently, the government is offering over 1,000 acres of land with more than 11 million sq.ft of built-up space for investors to set up business.
Technopark, Thiruvananthapuram is one of the largest and greenest IT parks in India, sprawling over 760 acres of land with world class infrastructure facilities in its three campuses. In addition to the existing built-up space in the campuses of Technopark, a nine lakh sq.ft IT building is being added at a cost of Rs. 268 crore to the phase-I campus. It will also have a three lakh sq.ft building in the Technocity campus. Taurus Investment Holdings LLC, USA will soon commence development of 25 lakh sq.ft of IT building and supports facilities in 9.73 acres of land in Technopark.
Kerala, the most e-ready state in India, is now a digitally-connected state. It is the first state in the country to connect all Gram Panchayats through high speed Internet broadband connectivity
Apart from this, the phase-II of Infopark, Kochi is being developed as 'walk-to-work' township with international school, shop- ping mall, hospitals, recreational facilities, with the IT buildings. The first IT building in Cyberpark, Kozhikode will be commissioned by the end of this financial year. The first phase of the 6.5 lakhs sq ft IT building of the SmartCity, Kochi will be inaugurated on February 20. Foundation stone for the second phase development of over 40 lakh sq ft will also be laid on that day. These two developments will create about 50,000 direct jobs over the next three years.
In addition, the government has proposed to extend IT development to the rural areas, by establishing rural IT/ITeS and electronic parks. These rural IT parks will be a great support to the local entrepreneurs and empower the rural youth. The Kerala State IT Infrastructure Limited will develop three Rural IT/ ITeS and electronics parks (RITEL Parks) at Pattambi (Palakkad), Thalassery (Kannur) and Area code (Malappuram), in the first phase.
Brief us on the various eGovernance initiatives undertaken by your government.
To meet the demand and deliver services, we understand that seamless connectivity plays an important role. Hence, tapping the high rate of tele and mobile density in the state, a conscious call was taken to establish such public Wi-Fi hotspots at strategic locations which can be replicated to other parts of the state. The optical fibre cable (OFC) connectivity to the length and breadth of the State is also planned through BharatNet project. This infrastructure can be extended to every household in the state through interested ISPs. These would ensure accessibility and delivery of e-Governance services at the grass-root level. Also, Kerala is implementing the National Information Infrastructure (NII) on a pilot basis in Thiruvananthapuram which is aimed at interconnecting various other connectivity initiatives already existing in the State like Kerala State Wide Area Network (KSWAN), National Optic Fibre Network (NOFN) and National Knowledge Network (NKN).
Kerala claims to be India's most Digital State. What would be the major IT initiatives to further strengthen these services?
We are ranked among the leaders in terms of e-literacy, mobile penetration and teledensity. IT department is tapping the vast mobile user base and seeing mobile governance as a big leap towards citizen-centric services. The benefits of this digital penetration can be effectively extended to the people only if they are digitally literate and empowered. Digital empowerment of citizens is one of the key focus areas of the government. The ordinary citizen needs to be empowered to use mobile Internet for all his/her needs including availing government services. Kerala State IT Mission has successfully run a pilot project in Thiruvananthapuram to digitally empower ordinary citizens, through student police cadets. In a short time, over 10,000 citizens were digitally empowered and certified. The Government now proposes a state-wide roll out of the project with an aim of digitally empowering 30 to 40 lakh citizens. The first phase, with the target of 10 lakh people, will be taken up during this year, and an amount of Rs. 15 crore has been allocated for the purpose.
Kiosk Banking, Digital Lockers, State Service Delivery Gateway, revamped Citizen Call Centre are a few IT initiatives which would further extend the delivery of services to citizen's door- step. You would agree that smooth and efficient delivery of services to people can't be ensured unless backend operational machinery performs and rises to the occasion. Hence, digital workflow initiatives like online file flow systems are being implemented in phases across the departments, administrative headquarters and their line offices.

How much budget is being allocated by the Kerala government to improve IT services in the State?
During 2015-16 fiscal, Rs. 492.11 crore is the budget allocation for IT Department which is roughly around 36 per cent increase over last year's state budget. Over and above this allocation, to ensure adequate funding for the ongoing digital initiatives across all departments, Government of Kerala has set apart three per cent of every department's budget for their IT initiatives.
Despite harsh geographical constraints being a big limitation for us, we have shown our capability to overcome those challenges. We have connected to the remotest village called Edamalakudy in Idukki district during NOFN launch done in January 2015
Do you see Kerala emerging as a preferred IT investment destination in the country than its neighbouring states like Karnataka and Tamil Nadu in the coming years?
Our government has put in place many measures to ensure and attract investments including creation of government and private IT parks. I'm sure that with the potential and resources available in Kerala, we are offering a very viable atmosphere when compared to other states which investors can't ignore.
What is the roadmap of Government of Kerala to strengthen IT services and connect every village with internet connection?
Kerala, the most e-ready state in India, is now a fully digitally connected state. It is the first state in the country to connect all Gram Panchayats through high-speed Internet broadband connectivity.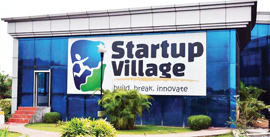 As we are already in the transactional phase in the e-Governance maturity model, almost all our services are online and few are in the process. Besides, various service delivery mechanisms, we are ensuring that the service doesn't get affected due to connectivity. We've already implemented KSWAN till block level. Now the same is being extended to the government offices to ensure utilisation. So far, we've around 3,300 offices connected over this dedicated network across the state consisting of both wired and wireless connectivity. Similarly, NOFN and now BharatNet will ensure that our 1664 villages are connected making us a complete interconnected state. Harsh geographical constraints being a big limitation for us, still we've shown our capability to overcome those challenges by connecting the remotest village called Edamalakudy in Idukki district during NOFN launch in January 2015.
Follow and connect with us on Facebook, Twitter, LinkedIn, Elets video