Known for its serene backwaters, swinging coconut trees and all-round lush greenery, Kerala has been tourists' delight since ages. However, in keeping with the technological advancements, the State has also painstakingly worked for digitisation of a number of services and undertaken various initiatives to ease the life of citizens, writes Vishwas Dass of Elets News Network (ENN)
God's Own Country – Kerala is fast emerging as a 'Digital State' and striving hard to transform itself into a giant information technology (IT) hub to give impetus to its economy and create more and more employment opportunities. Famous for its picturesque landscapes, backwaters and heritage, the State has now also earned a name as one of the rapidly developing IT destinations in the country.
India's highest literacy-rate state has now added another feather to its cap by getting recognition as country's digital state, thanks to the political will of the government and an enviable record of people's cooperation in Kerala towards digitisation.
The Kerala Economic Review – 2014 showed that Kerala had recorded the growth rate of 6.49 per cent, which was above the national average of 4.04 per cent and second highest among the south Indian states. The State is well connected through the Kerala State Wide Area Network (KSWAN), National Optic Fibre Network (NOFN) and the National Knowledge Net- work (NKN) to provide high-speed Inter- net connectivity to all Gram Panchayats and urban clusters. In 2015, Idukki became the first district in the entire country to have NOFN, which the government termed as an exceptional achievement.
According to the government's top brass, the proactive policy of the State towards permitting telecom service providers to network the State through optical fibre network has enabled its citizens to get both broadband and mobile online ser- vices. The efforts of the government have resulted in highest mobile penetration, with close to 32 million connections, for a population of 33 million. The number of smart phone users is also going up sharply. The recent growth of Internet as well as smart phones penetration, combined with the government's initiatives, has helped the State make significant strides in turning Kerala a knowledge-powered economy.
State official said that four major projects contributed gradual evolution of Kerala into a digital society, namely Akshaya project, IT@School, digital infrastructure availability and State Data Centre, and allied applications. Considering the existing digital infrastructure and a plethora of digital initiatives, the government is now aiming at bridging the digital divide by making available digital infra- structure accessible to citizens at affordable cost, promoting entrepreneurship and generating more employment opportunities for the youth.
One of the most ambitious projects of the State Government is Akshaya, which aims at bridging the digital divide and dis- seminating ICT services. Akshaya centres are set up within a two-kilometre distance from any household and are networked leveraging entrepreneurship. With over 2,600 centres in the urban and rural areas, these centres are taking e-governance to the citizens' doorsteps.
Sources said this concept has been emulated by other states and christened as Common Service Centres (CSC) as part of a central initiative – National e-Governance Plan (NeGP). Some of the key services delivered by Akshaya centres include Aadhaar enrolment, banking and insurance services, utility bill/fee payment service, online application for redressal of public grievance by the Chief Minister, data digitisation, Aadhaar seeding and Non-Resident Keralalites' Welfare Board (KNRK) service, among many others.
The seriousness of the State Government can be gauged from the fact that the budget allocation for the IT Department has gone up substantially to strengthen the digital infrastructure. The government has proposed to establish 'high technology business incubation centre' at Kalamassery in Kochi and a 'Knowledge City' near Technopark in Thiruvananthapuram to promote IT and e-governance in Kerala in the current fiscal 2016-17. The Kerala Government is making efforts to facilitate incubation of new technologies with high intellectual property value and develop a research and development centre for high- end analytics.
Chief Minister Oommen Chandy while presenting the budget on February 12 apprised the State Assembly that Rs. 482.87 crore has been provisioned to give a boost to IT and e-governance initiatives. The government is laying emphasis on IT- based youth entrepreneurship and planning to set up 'Raspberry Pi Programme' (mini computers to teach abacus level computing).
Going through the highlights of the budget, the Kerala State Information Technology Mission (KSITM) has been allocated Rs. 94.59 crore, National e-Governance Action Rs. 36.15 crore, Technopark Rs. 76 crore, Infopark Rs. 61.61 crore, Cyber- park Rs. 25.68 crore, Kerala State Information Technology Infrastructure Limited Rs. 57.8 crore and the Indian Institute of Information Technology-Kerala has been given Rs. 5 crore.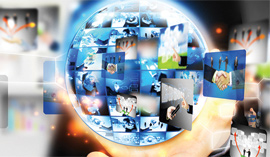 Notably, Technopark in Thiruvananthapuram is the single largest IT park in India, spread over a sprawling 748 acres and boasting 7.1 million square feet of built-up space. Around 38,000 people work in Technopark, which houses several companies such as TCS, UST Global, Infosys, M-Squared, Oracle and Aegis, among many others. The IT Department officials say low power tariffs, low cost of operation, affordable land cost and low cost of living in Thiruvananthapuram are a few factors that give an edge to Technopark over its counterparts in neighbouring Tamil Nadu and Karnataka.
Kerala is also implementing the National Information Infra- structure on a pilot basis in the State capital to interconnect various other connectivity initiatives already existing here, like KSWAN, NOFN and NKN.
Minister of Industries and Information Technology, Kerala, PK Kunhalikutty told eGov magazine that incentives like single-window clearance approvals, low electricity tariff, uninterrupted power availability, dedicated government and private IT parks within government land and various SEZs make Kerala most viable and investor-friendly destination in India. He further said that at present the government is offering over 1,000 acres of land with over 11 million square feet of built- up space for investors to set up business.
During an assessment, it was found that be it Electricity Department, Local Self Government Department (LSGD), Tour- ism, Milk Cooperative Federation, Health and Family Welfare, Taxes or the Revenue and Disaster Management Department, every major functionary is exploiting IT to the fullest to take their services to citizens' doorsteps in association with KSITM. Top brass of the said departments attributed concerted efforts and support of the Kerala IT Mission for their success.
It is not only the IT Department that is getting a huge chunk of funds, but the government is also strengthening the basic infrastructure in the State to woo domestic and global investors. The 2016- 17 Budget has provisioned for 10 helipads across the State to connect hinterlands with cities for entrepreneurs and tourists. If sources are to be believed, this is part of the strategy to promote domestic tourist arrivals in the State.
In the budget, the Kerala Government has also made it clear that it is not going to compromise on environment concerns. The ruling government has put five per cent surcharge on plastic bottles and 20 per cent on all types of plastic bags. Officials say extensive use of polythene and plastic bags were proving to be a major threat to the environment. The Health and Family Welfare Department is one of the key departments extensively undertaking IT initiatives to make healthcare service affordable for public and help them avail government welfare schemes.
State's eHealth project is first-of-its-kind project in India that aims to develop an elaborate and comprehensive e-platform to maintain a database of health records of common public in electronic form and use them for providing population- and hospital-based services. It is tipped to be implemented within a year across the State. The Health Department is joining hands with leading IT firms in delivering health- care services to provide CT scan, ECG, MRI and all other facilities to the poor at nominal fees or in some cases, free of cost.
Similarly, the Revenue and Disaster Management Department is issuing around 22 types of certificates online through its village offices to the rural people. The department has created a virtual IT cadre, where young and dynamic tech-savvy officers are being imparted with specialised computer training. That apart, people are getting dummy maps of their own properties with the help of eRekha project.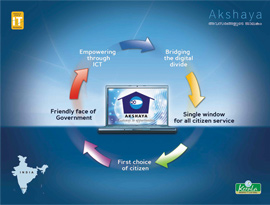 According to reports, the State has witnessed highest level of urbanisation in its history between 2001 and 2011, with an increase of 83.82 per cent over the previous decade. However, not everything is going down well with the government. Although the State is posting a spurt in economic growth, it records the highest unemployment rate. According to experts, if digital opportunities are tapped, then fields like education, healthcare and law and order can be revolutionised. If the higher education institutions can be connected digitally, students can be guided by skilful teachers.
PH Kurian, Principal Secretary, Department of IT, said that initiatives like single-window clearance for business proposals and lower operational cost have given Kerala an edge to other states. "Kerala is sitting on a landmine of opportunities in terms of investment and now promoting private initiatives in building IT industry infrastructure through specific Scheme namely "Private Integrated IT and High Tech Township," he says.
Kurian believes that another two lakh jobs would be created in the IT sector in the next five years on account of development of more technology and cyber parks in the State. Considering the vision of the Kerala Government and the pro-active role being played by the state machinery, one can safely say that the best is yet to come in terms of growth of IT and the job opportunities it would throw up in the God's Own Country.
Follow and connect with us on Facebook, Twitter, LinkedIn, Elets video