MobileOne initiative of the Karnataka Government is the largest successful mGovernance project across the country facilitating direct governance, says Srivatsa Krishna, Secretary, Department of IT, Biotechnology and Science & Technology, and Secretary, e-Governance, Government of Karnataka, in an interview with Dr Ravi Gupta, Editor-in-Chief, eGov magazine
The concept of MobileOne, wherein all government services are integrated to one platform, is unique to India. How was it conceptualised?
Th is is the First of its kind in the country. Ms Gunjan Krishna, IAS, conceptualised it as a platform for delivering government services. Th e model included value-added services, which could be either from the private sector or the government. Soon aft er taking over the job, I realised the immense potential of this platform. If it is restricted to government services, it is likely that one may lose out delivery of a lot of other services to citizens. So, we transformed and re-designed it, putting the citizen at the centre of the mobile platform's universe. Citizens use diff erent services for booking rail tickets, movie tickets and others. Around the world, usually government services drive volumes, whereas private services drive profi tability. So, we have brought them together. MobileOne is a hybrid model where the government and private sector complement each other and leverage the synergies between the two.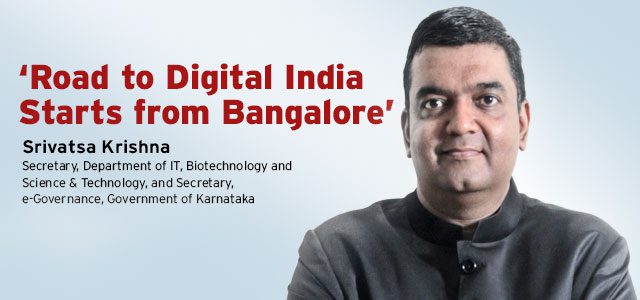 How did you manage to convince as many as 55 departments to join the initiative?
It's all about leadership and management. It took about year-and-a-half from start to finish, which as per government standards, is quite fast. All our colleagues are extending excellent support and cooperation, for they are keen to see their respective services delivered on the mobile. Further, the leadership of the Chief Minister mattered a lot, because he was ready to get all the secretaries and ministers together, to make it happen. So, once we had the political will, it became much easier. However, integrating them is not an easy task, as many of the backends were outdated. We had to integrate every service on this modern platform. So, it is basically an inch-by-inch eff ort, to make a giant leap. Besides, the technology partners, IMImobile have done a good job.
Many organisations have their online portals. So, doesn't MobileOne cannibalise?
Th ere was a time when we used to go to the electricity offi ces to pay our bills. From there came a time when we have a single-window application called KarnatakaOne, then BangaloreOne and we would pay our bills via these. Now, this is the next generation. So, change is inevitable. I don't see it as cannibalisation, rather I see it as a complimentary eff ort. If you look at the number of transactions of each of the various utilities, you get an idea about how big the cake is and how many are still paying using the old fashioned manner. Now, it makes it easy for people to pay for the services they are being delivered just at the tap of a button. With MobileOne service, they don't need to stand in queues before the counters and these are available anytime (aka 24×7), anywhere (any location) and anyhow (any device on any OS). We are NOW looking at a model like freecharge, where we will pay the citizens for paying their electricity bills through mobile phones as an incentive. Th at will be truly pathbreaking.
How is your initiative different from Mobile Seva initiative at the Centre?
You have to experience it to believe it. Mobile Seva of the Government of India still has a long way to go. It needs complete redesign and overhaul. Th ere are a number of points of differences which we have shared via email including accessibility across telcos, range and diversity of services, multiple modes of service delivery, types of payments, etc.
Do you have the advantage of various departments already taking care of their backend work?
Yes they do. But there are other states, who have more departments online than us. We don't have so many. However, those who are there are pretty good and we use those. Th at is why we are trying to get more and more departments to hook up with their online services using their existing web services, so that we can bring them on MobileOne.
How was this project funded?
It has been funded largely by the State Government. Also, the Central Government has given a couple of crores. Hopefully, with these usage charges for private value-added services, premium services charge and all, we will be able to give it independence from budget strings.
Any plan to revamp the aging IT infrastructure in the State?
Th e State Government is very clear. We did a study recently that said Karnataka is the second-largest IT cluster on the planet aft er Silicon Valley. By 2020, we will have two million direct IT professionals, six million indirect IT jobs and exports worth Rs 4 lakh crore — 40 per cent of India's total soft ware exports from just one city! Th us, the infrastructure to make it happen has to be world class. As far as eGovernance is concerned, the State has had excellent infrastructure, and lifecycle of part of it is nearing end. So, now we plan to strengthen the infrastructure by creating the next-gen cloud-based, device agnostic architecture by way of KSWAN 2.0, SDC 2.0, etc. Th is will serve the State for the next 10 years.
Tell us about other states in India that intend to replicate the Karnataka's MobileOne model.
Many have come and seen it and have taken the bid documents and design and service specifi cations. Many Government of India Secretaries have also come and observed it. Th ree of them have already borrowed our Request for Proposal (RFP). I think Gujarat, Madhya Pradesh, Maharashtra, and Tamil Nadu have shown an interest.
I believe if states adopt this or a similar model, this would be the fi rst example of what I would like to call 'direct government'. It is available to the citizens anytime, anywhere, anyhow.
How do you see mobility vis-a-vis governance?
Th e future is simply mobile and the future is personal. So, the next big thing will be personalised government. In the next 10 years or so, I believe much of government services would not involve a physical component at all, which is what we are aiming to off er for the first time in India. With the nature and quantity of data being collected, there is no reason why this cannot be leveraged to give extremely personalised citizen services.
Talking about healthcare and education, how can the advantages of mobility be leveraged in these sectors?
We can think of providing smartphones to every citizen in the state free of cost, cross- subsidised through advertising revenues by lead companies like Samsung, Apple, etc. It can be done through a business model which would enable them to provide those almost free in exchange for targeted ads on our apps. Once devices are there, those can virtually become personal electronic health cards, eCards, mCards (mobile payment cards for every citizen on the phone), etc. All the vitals can be stored in the devices to be used during emergencies. Already there are apps in MobileOne to search for doctors, book appointments, rate doctor's performance, etc.
'The future is simply mobile and the future is personal. So, the next big thing will be personalised government. In the next 10 years or so, I believe much of government services would not involve a physical component'
Similarly, in the fi eld of education, we have begun a dialogue with two-three large institutions to explore the possibility of starting tablet- or mobile-based education. However, there are also some limitations to the mobile platform and not everything can be done through it.
How do you market this app to the other departments which are not yet on board?
It's like breaking a lock: you keep hitting at it, make them see value and someday the lock will break and they will come on to it. Many of them have shown interest, including food, civil supplies, energy and police departments. If they join, things will become further easier for the citizens.
MobileOne is said to be the largest mobile platform…
Yes, we got a certification from the Internet & Mobile Association of India (IAMAI) stating that we are the single-largest multi-mode mobile governance platform in the world. Th at's really big.
Prime Minister has been talking about mGovernance, but it's Karnataka which seems to have taken the lead.
Th at's right. Ours is an initiative, which could be adopted as a model across the country. I actually feel that the road to 'Digital India' starts from Bangalore, not from Delhi. We got deep appreciation from His Excellency President of India and from the Prime Minister's Office.
Beyond this app, what other IT-related initiatives have been started by the department?
We have just started work on India's first IoT lab in partnership with Motorola and a few others in India's first startup warehouse, which has been done in partnership with Nasscom. We will have close to 500 seats for start-ups there. Two of our startups were bought over last year by big companies in Silicon Valley. So, this is a huge initiative for encouraging the creative talent latent in Bangalore. Further, we will soon establish India's first mobile apps incubator and a design lab here.
Follow and connect with us on Facebook, Twitter, LinkedIn, Elets video