With ever-increasing number of hand-held phone users making India world No. 2 in terms of mobile phone subscriber base, as also giving people the ease of anytime, anywhere access to various services, mGovernance times seem just around the corner, writes Nirmal Anshu Ranjan
As the all-powerful computers begin to make way for hand-held mobile devices, governance in India has also started shifting from e-mode to m-mode. What could be done earlier only through computers can now also be done using smart phones, along with the facility of doing it 'anytime, anywhere'.
The twin primary factors driving this shift in the country are an impressive mobile penetration level, covering almost 70 per cent of the total population, and the highly tech-savvy younger generation, which wants to avail various services faster and on the go, instead of standing in serpentine queues for long hours to get works done.
In fact, starting since the turn of century, mobile phones have proved to be a crucial tool empowering citizens and completely changing the way citizens interact with each other and with the society at large.
Delivering timely and accurate information to citizens and an established system of two-way communication between the government and the people are two vital elements in strengthening democracy by facilitating enhanced utilisation of public services, participation and empowerment of citizens. Hand-held communication devices are also considered an effective tool in strengthening democracy through better government-citizen interaction, thus influencing the political decision-making process and making governments accountable for their activities.
So, it was only logical for the Government of India to incorporate mGovernance in its National e-Governance Programme (NeGP) in 2013 to make public services accessible also through mobile devices. However, mGovernance is not meant to be a replacement for eGovernance, but a complement to eGovernance. In other words, mGovernance is an extension of eGovernance to mobile platforms as well as a strategic use of government services and applications using mobile telephones, laptops, personal digital assistants (PDAs) and wireless internet infrastructure.
mGovernance, also referred to as mGovernment, is a better option compared to eGovernment in terms of delivery of services and public information to citizens due to its nature of being available anywhere, anytime and from any Internet-enabled device.
Also Read: Advantages of m-Governance
One major factor going in favour of mGovernance is its cost-effectiveness, as it requires little physical infrastructure, and fast and more easily accessible in most parts of the country, especially the rural areas. It can reach even the areas where there is no other ICT infrastructure, like Internet, fixed phone lines, etc. Due to high accessibility, reach, adoption and real-time interaction, mobile phones offer an efficient alternative to government's communication challenges. So, in developing countries, going mobile is sometimes the most viable option.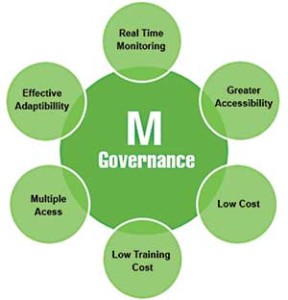 mGovernance & India
Given the ever-increasing mobile phone penetration level in the country, mobile platform becomes all the more relevant as a medium for delivery of public services. Th e subscriber base of mobile phones is much larger in India than that of the Internet.
According to a report jointly published by the Internet and Mobile Association of India (IAMAI) and the IMRB International, the number of Internet users in India stood at over 300 million at the end of year 2014, with an year-on-year growth rate of 32 per cent. On the other hand, around same time, the number of mobile phone subscribers stood at 900 million!
Th e use of mobile technologies in India has been on the rise in government departments especially in agriculture, healthcare, education, fi nancial services, retail trading, utilities, communications, manufacturing, transportation and services. Businesses too have woken up to the increasing power of mobile phones and are introducing services, especially in the Banking sector.
Why mGovernance?
Access: Mobile phone subscriber is ever-increasing in India; hand-held
phones add 'anywhere, anytime' element to the usage
Deeper Reach: Due to its mobility and network infrastructure, mobiles
can reach areas where there is no other ICT infrastructure like Internet
or fi xed lines
Adoption: As mobile phones are become an integral part of people's
lives, mCommerce and mGovernment will become the usual way of
doing business
Interaction: Mobile phones make real-time, two-way dialogue possible
as opposed to radio or other print documents like brochures, posters
etc.
Lower Costs: Relatively lower cost of mobile phone technology versus
Internet technology has lowered the entry barriers for poor people.
Effi ciency: Due to high access, reach, adoption and real-time interaction,
mobile phones offer effi cient solutions to government's communication
challenges
Only option: Defi cient infrastructure in developing countries like India,
mobile phones often become the only viable communication option
Giving further push to the concept of mobile government is Prime Minister Narendra Modi's campaign for creating a Digital India, wherein most of the services are envisaged to be taken to the electronic mode, mostly mobility based.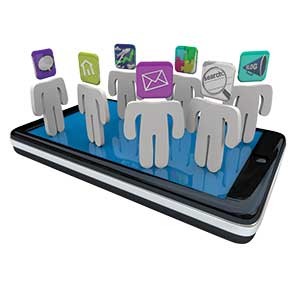 In one of his recent public meetings, the Prime Minister said: "Taking the country ahead on mobile governance is my next big mission that could make India a global economic power. Th e initiative would supplement the Make in India and Digital India programmes to generate jobs in the manufacturing sector, to be a powerful tool in providing good governance, bring transparency in administration, curb corruption, enhance accountability and provide better citizen services."
Further, in his tweet address to the 18th National Conference on eGovernance, PM Modi As if that was not all, "Let us bring the world into our mobile phones!"
Speaking at the conference, R S Sharma, Secretary, Department of Electronics and Information Technology ((DeitY), Government of India, said, "Th e government seeks to provide digital identity to each citizen of the country…an identity that is unique, on-line and authenticable. Every citizen in the country will get his or her own digital identity through Aadhar Card by the end of next year."
Also Read: Facilitating mGovernance
The observations of the Prime Minister and the DeitY are good enough to give a peek into the likely shape of things to come.
In view of the rising popularity and adoption of mGovernance across the globe, the Government of India launched the UN award-winning eGovernance initiative, Mobile Seva, way back in 2011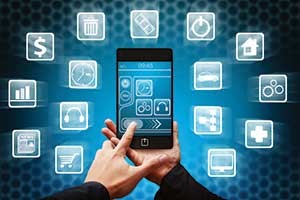 National level initiative
In view of the rising popularity and adoption of mGovernance across the globe, the Government of India launched the UN award- winning eGovernance initiative, Mobile Seva, way back in 2011. The programme, a Department of Electronics and Information Technology initiative, includes a Moblie Applications Store that by December, 2013, contained 240 applications available free. It was primarily aimed at enabling interaction between the government and its citizens.
By the end of May, 2014, over 1,000 government bodies from all over India had integrated their services with Mobile Seva. The integration was enabled through methods like text messages, mobile applications, Unstructured Supplementary Service Data (USSD) and Interactive Voice Response (IVR) system.
The Mobile App Store provides 300 mobile applications for 24×7 services linked to Right to Information, passport applications, status of voter lists, locating of hospitals, police stations, ATMs, post offices, railway stations, hostels, downloading of documents such as birth/death certificates, pension forms, processing of loud speaker permits, etc.
Framework for mobile governance – DoIT
Web sites of all government departments and agencies shall be
made mobile-compliant, using the 'One Web' approach
Open standards shall be adopted for mobile applications for
ensuring the interoperability of applications across various
operating systems and devices as per the government policy on
Open Standards for eGovernance
Uniform/ single pre-designated numbers (long and short codes)
shall be used for mobile-based services to ensure convenience
All government departments and agencies shall develop and deploy
mobile applications for providing all their public services through
mobile devices to the extent feasible on the mobile platform. They
shall also specify the service levels for such services
Status in states
On the lines of the central government, various states governments also initiated their mobile governance services to bridge the gap between the government and the governed. The initiatives were started in the fields of financial services, healthcare, education.
However, the most broad-based mGovernance platform was launched by the State of Karnataka in December 2014 by the name of 'Karnataka MobileOne', which claims to have integrated the largest number of services—close to 4,500—with it. It was also certified by the Internet and Mobile Association of India (IAMAI) as the world's largest multi-mode, multi-channel mobile governance platform.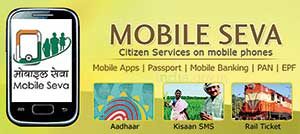 Madhya Pradesh Government, with a view to bringing government closer to the common man and remove drudgery of maintaining huge amount of complaints- related, introduced its mGovernance platform, Janhetu-Jansetu, in mid-2014.
Introduced with private partnership, the platform will enable a commoner to narrate his grievances that requires government intervention. The 'M-governance' facility would also entertain complaints pertaining to corruption and irregularities. The platform, in the shape of a call centre, would remain open till late night and would be accessed through a designated number '181', on which a commoner can tell his grievances. Once registered, the call centre executive would forward the grievances to the concerned officer. Any citizen of the state can seek information regarding government schemes and know about his entitlement for the same, besides exposing corruption.
Opportunities for vendors
Building centralised ICT infrastructure for mobile governance
initiative
Providing SMS-type and connectivity-related servicese
Hosting and managing a large pool of applications for the government
app store; providing sales, marketing and distribution services for the
app store
Developing applications in local languages for basic mobiles to smart
phones
Providing security, identification management and other related
software for the mobile payment gateways
Providing integration and app testing services
Taking the country ahead on mobile governance is my next big mission that could make India a global economic power, said Prime Minister Narendra Modi recently
Similarly, the Maharashtra launched an mGovernance (mobile governance) initiative on Independence Day last year. Given a missed call to *166#, an SMS asking the user's name would come. Taluka, pin code and the certificate details are required for using the service. Once these details furnished, a token number is provided, along with the contact details of a representative, VLE (Village Level Entrepreneur), who would handle the given request. Senior citizen certificate, nationality and domicile certificates, income certificate and residence certificate are available through the service for a nominal fee, thus fetching ease and convenience to the citizens.
Also Read: Power in People's Hands
Kerala is another state where the government has launched certain mGovernance services, with the first one being launched the Kerala State Information Technology Mission (KSITM) way back in 2008. However, it was mostly restricted to SMS-driven information and acknowledgement services.
mGovernance has been adopted by the states on a relative larger scale for financial transactions. Through their ePayment services, a number of states are offering instant and safe money facilities to their citizens. Payment gateways are playing a seminal role in this context.
With mobility the flavour of the day, one can look forward to more and services coming on to one's smart/mobile phones or other mobility devices, thus making the live of the citiuzens easier.
Follow and connect with us on Facebook, Twitter, LinkedIn, Elets video