Karnataka is successfully exploiting the mobile phone revolution to serve the citizens better as well as to empower them, says the Hon'ble Chief Minister, Shri Siddaramaiah, in an interview with Dr Ravi Gupta, Editor-in-Chief, eGov magazine
Do you think the time is ripe for India's shift from eGovernance to mGovernance?
mGovernance leverages the mobile revolution to enable and foster development. It uses electronic services and makes them available via mobile technologies using devices such as mobile phones. In the last 10 years, we have seen how mobile phones can empower citizens and impact the way citizens interact with each other and with society at large. Mobile phones are also an eff ective tool in strengthening democracy through better citizen-government interaction, thus infl uencing the political decision-making process and making governments accountable for their activities.
mGovernance ensures that services are available to people electronically via mobile phones, bypassing the need for traditional physical networks for communications and collaboration. Mobile services are also cheaper as well as easily accessible in most of the rural areas in India and other Asian countries. mGovernance is particularly suited for the developing world where Internet access rate is low, but mobile phone usage is growing rapidly. So, yes, the time is ripe to go ahead with mGovernance.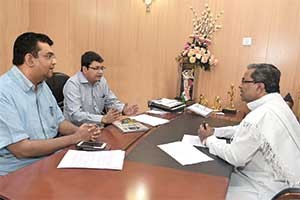 How does mGovernance have an edge over eGovernance?
mGovernance complements eGovernance – while the latter is achieved through extensive use of IT, like the Internet, mGovernance uses mobile or wireless technologies like mobile phones, laptops and PDAs with wireless Internet connections to improve delivery of Government services in an "anytime, anywhere" fashion.
Mobile phones have tremendous potential to expand the access and reach of public services in India. Th e rapidly expanding subscriber base of mobile phone users in India can help in accelerating the use of modern ICTs for improving governance and ushering in inclusive development. Th e number of mobile phone subscribers in India in January 2015 stood at over 957 million, according to TRAI, while that of Internet users stood at just over 254 million (58 million subscribers were from Karnataka alone). Wide access to mobile phones in the country has made it an ideal platform for government and resident interface, especially in rural areas.
Late last year Karnataka launched its mGovernance platform called MobileOne. How has it fared so far?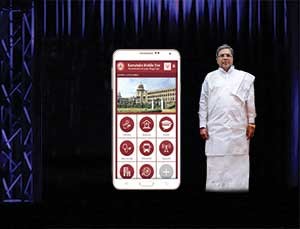 The response has been very encouraging. More and more citizens are accepting and adopting Karnataka MobileOne. Let me just take you through a few highlights:
1.The platform has been certifi ed by Internet & Mobile Association of India (IAMAI) as the world's largest multichannel Mobile Services Platform.
2.There have been over 83 lakh hits on the MobileOne platform so far. In less than fi ve months since the launch, we have seen about 1.2 lakh downloads of the Android app and over 14k downloads of the iOS app.
3.The MobileOne IVR number 161 has received over 25 lakh calls accounting for over 10 million minutes.
4.Transactions to the tune of `3 crore have been made via MobileOne with an average transaction of about `2.5 lakh happening per day towards payment of utility bills, mobile bills, KSRTC bookings, RC/DL extract downloads and so on.
Going forward, we expect the platform to continue to facilitate free fl ow of information between the government and citizens and open up opportunities for citizens to participate in decision-making processes that directly aff ect them.
What are the primary focus areas of this service and how can it be made more broad based?
The main aim of the MobileOne platform is to provide government services to citizens 'Anytime, Anywhere, Anyhow'. It primarily focuses on citizen-centric services, which mainly include services provided by the state and central government departments and agencies. Th e main objectives of the MobileOne platform are:
To bring equality in service delivery, to bridge:
Socio economic divide
Language divide
Literary divide
Services on the fingertips of citizens
Leverage innovation outside the Government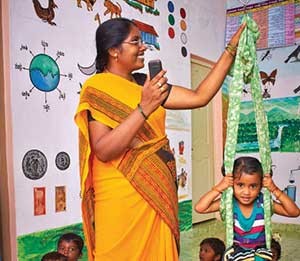 One of the unique features of the platform is that apart from the government services, it is also integrated with many private services. Th e platform, thus, aims to be a one-stop shop for various needs of the users. Th e platform primarily provides G2C services, along with some B2C (Business to Citizen), C2G (Citizen to Government), G2E (Government to Employees) and G2G services. Th e s ervices range from payment of utility bills, to lodging of complaints on civic amenities, booking of bus and train tickets, private taxis, payment of income tax, passport application status check, examination results, agricultural commodity prices, booking appointment with doctors, increment status of government employees and much more.
Another unique feature of the platform is its availability on multiple channels to cater to a wide variety of users.
'By offering multiple, convenient payment channels, MobileOne has become an inclusive platform, ensuring that services can be accessed anywhere, anytime'
The Center for eGovernance through the MobileOne team is working on making the platform and the services more broad based by continuing to include an increasing number of services from additional government and private agencies. The focus is on getting more services from the Central Government, services from government agencies operating in various Tier-I and Tier-II cities and villages within Karnataka, in addition to important, useful and popular private services. Th e team is also working on making the existing services more comprehensive and end-to-end by eliminating manual processes, physical documentation, etc., wherever possible.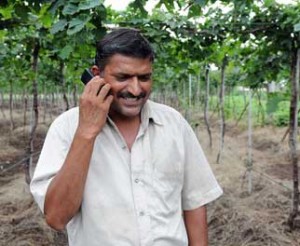 What challenges did you face while implementing MobileOne across the State?
There were a few initial hiccups as the departments' backend databases were not mobile-ready. We also faced issues such as certain services being too data-intensive to be provided on mobile and as such, these services had to be excluded from the platform. For example, applying for a new connection from BESCOM (Bangalore Electricity Supply Company), although a crucial service, was excluded as it required entry of over a 100 fi elds before the application could be processed.
The next challenge before us was enabling the same short code and number across all Telcos, across all circles, across the country. Th is was achieved aft er multiple meetings with the Telcos, Government offi cials, TRAI, DoT (Department of Telecommunications) and other stakeholders.
We have also had to face issues regarding government policies and processes not compatible with the idea of mGovernance. For instance, many departments still insist on submission of hard copies of documents before they deliver a service. While some of these services require process re-engineering from the departments' side, many policy-related roadblocks have been eliminated. MobileOne is the only mobile platform in the country that allows citizens to make income tax payments and check refund status on the mobile phone.
The biggest challenge now is communicating the availability of this platform to the larger audience. Now that the launch is behind us, we are working on a robust plan to increase awareness and visibility of the platform to people across Karnataka using a variety of mediums.
MobileOne services are available on app. What if, against the spirit of Net Neutrality, service providers start charging for apps? How will it impact the services?
The MobileOne initiative was envisaged with the aim of providing services to citizens, across various social and economic demographics, at their fi ngertips, without any additional access fee being charged from them. Th is is in line with the spirit of Net Neutrality. Any move by service providers to charge citizens for using apps, such as MobileOne, will be counterproductive and will lead to many citizens being deprived of access and others opting out of using such apps. Th is will reduce the reach of government services and hence should be discouraged.
The platform (MobileOne) has been certifi ed by the Internet & Mobile Association of India (IAMAI) as the world's largest multichannel Mobile Services Platform – Karnataka CM
The MobileOne team will work with the service providers in such a situation to ensure no fee is levied for accessing the MobileOne app. If need be, we will look at absorbing the fee. Th e MobileOne team is working on making the initiative self-sustaining by entering into revenue sharing agreements for private services.
Having said that, since MobileOne is accessible over SMS, USSD and IVR, many services will still be available to the citizens at no cost, even if the Telcos charge for app usage.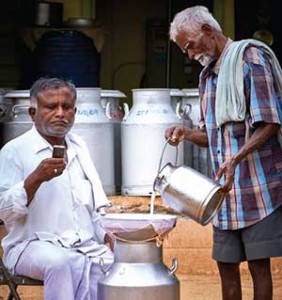 How has mobility fared in terms of achieving financial inclusion in Karnataka?
The overall penetration of banking services in India is very low as compared to telecom services. Many rural areas still do not have banking systems, and those that have are slowly moving from cash-based transactions to electronic payments, which is an encouraging sign.
MobileOne supports the traditional ePayment modes as well as various newer payment modes like IMPS (Interbank Mobile Payment Service) and mWallets. IMPS enables payment using mobile phones without the need for an Internet connection. Pre-paid mWallets enable the non-banking population to pay for services on MobileOne without opening bank accounts. Th e mobile wallet can be used as an instrument for mass fi nancial inclusion and mobile payments, which can be used for cash- out apart from the services currently permitted subject to certain RBI guidelines. We aim to achieve fi nancial inclusion by leveraging mobile channels.
What suggestions would you make for effective implementation of mGovernance across the country?
Mobile phones are now recognised as the largest service delivery platform throughout the world. In order to leverage the potential of mobile devices as the service delivery platform, some initiatives can be proposed:
Each state needs to identify the important services that will have the maximum impact on its residents
Ensure rural population is not marginalised
Backend readiness of the departments should be ensured in terms of people, processes and technology. This includes government process re-engineering, wherever required
Creation of a Mobile Service Delivery Gateway (MSDG)
Development and notification of standards for mobile applications
Notification of long codes, short codes and mGov number for mobile governance. To this end, the Telcos should also be sensitised and brought on-board early
Creation of mGovernance Innovation Fund
Development of knowledge portal and knowledge management system for mobile government
Follow and connect with us on Facebook, Twitter, LinkedIn, Elets video