Elets Technomedia, in association with the Directorate of Information Technology, Government of Maharashtra, organised Knowledge Exchange, Lonavla in the scenic location of Lonavla in the state.
The forum turned out to be a blend of formal as well as relaxed discussions between the key policy makers, who assembled from all over the country at Hotel Farias on the 1st, 2nd & 3rd of August. What emerged from the meet was a plethora of ideas on how to strengthen the eGovernance ecosystem in the country across all verticals of public governance. One hopes that these ideas will culminate into actions soon and bring revolutionary changes to our day to day lives.
K Shivaji, Principal Secretary, Finance (Expenditure), Government of Maharashtra
We have been talking about financial inclusion (FI), but FI is only in the financial sector. Supposing we achieve FI, then we will talk about economic inclusion. I ponder if we keep everything on the incremental side, then will it work?
Post-1991, it is believed that India is shining in the financial sector, but a large number of people say that they are not getting the sun shine. I wonder why is that happening. I have seen that majority of people are unaware of India's growth story, and I want to know why is not that happening.
K P Bakshi, Additional Chief Secretary, Government of Maharashtra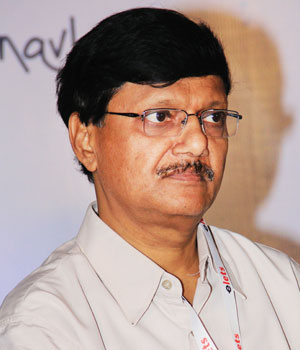 I feel that e-governance has tremendous scope in public administration/government activities. But the problem that we face is of our own recruitment system where qualifications are not updated. Even if the present setup allows us to recruit highly qualified people, we do not have the system of recruiting those qualified people in the government setup. And unless they recruit updated IT-qualified people, they won't be able to take e-governance forward. Therefore, the eligibility criteria for recruitments need to be changed. The government should make IT knowledge a compulsory requirement at the entry level so that everybody has some basic knowledge of IT. Every employee must be exposed to IT as then only they can take up IT initiatives and e-governance on a larger scale. As of now, we have started to implement it, but still a lot needs to be done.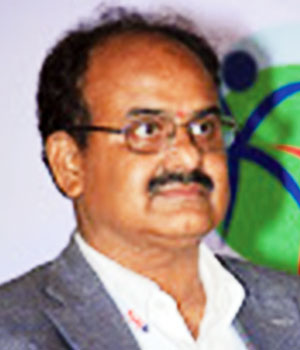 Ajay Bhushan Pandey, DDG – UIDAI, Mumbai
With the UID, the government has built a robust eKYC system which is rolled out to various states government departments; as a result when a resident walks into a government office, he does not carry any document or proof of identity with him. All he has to give is his fingerprint or the iris and the UID No. for identification, and the identity is confirmed or declined based on the details with the authority. The best part is that it can be done even on the mobile devices which have android operating system, making the services easy to deliver and to use. The government has also started to link the various beneficiaries database like scholarship, pension, etc with the Aadhaar numbers.
Rajesh Aggarwal, Principal Secretary, IT, Government of Maharashtra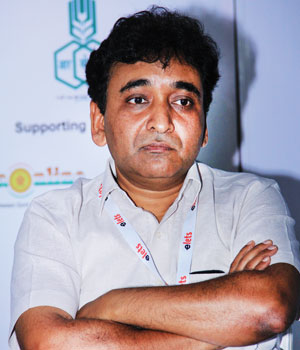 If you go back to the time when we were getting started on NeGP, various consultancy firms gave overly well defined RFPs as we wanted the work to be done by the best IT companies in India. Companies which had an yearly turnover of 500 crores picked up most of the projects. But there were other IT companies in the world as well which had benefitted from outsourcing. So, through multiple levels of outsourcing, our project was completed. Outsourcing could also be seen in the production of passports, UIDs etc and they all would be having multiple partners. Everybody has a value addition, and we are working with NASSCOM to involve the smaller players as well, so that in their CVs it shows that they have also worked for government projects.
Dr Omkar Rai, Director General – STPI
Software Technology Parks of India (STPI) was established and registered as a society under Societies Registration Act, 1860 under the then Department of Electronics, Government of India, on June 5, 1991. Initially, software technology parks were established at Hyderabad, Noida, Gandhinagar and Thiruvananthapuram. For achieving a balanced growth of the IT sector, STPI with 53 centres has now reach to every part of the country. Out of these centres, 46 centres fall in the tier-II and tier-III cities. By developing an ecosystem congenial for IT start-ups in these areas, STPI has helped the overall development of these regions. STPI has also helped in the proliferation of private IT parks across the country which in turn has contributed to the growth of the IT industry as a whole.
Mukesh Meshram, Managing Director, UP State Road Transport Corporation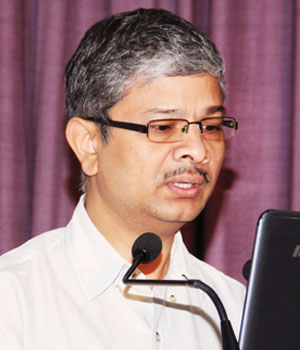 UPSRTC, like any other PSU, is struggling for sustainability. But it is faring better than other PSUs in the state. Our mis- sion is to have economic, efficient coordination, provide adequate services to passengers, and ensure their safety and comfort, environment conservation and regulated services. There have been a lot of problems like revenue pilferage by our field staff. Ticketless travelling is also another concern. We are looking to solve these problems through IT. Diesel pilferage is another sector where we lose revenue. In a survey, we found out that around 10 percent of the diesel pilferage is done again by our field staff. To reduce all this, we are thinking of putting IT solutions in place.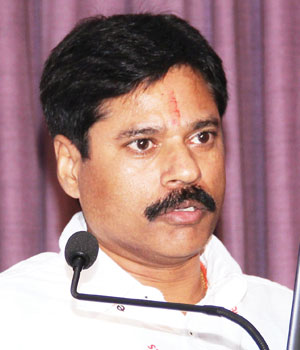 Deepak Shrivastava, Chief Vigilance Officer, Mahanadi Coalfields Limited
We have taken various IT initiatives in our company, like e-procurement, in which all security norms of CVC are fulfilled. There is an online receipt of EMD and tender fees, no offline document by bidder for evaluation etc. We started this in 2009 and till date we have finalised 6,000 tenders worth Rs. 6,400 crore. We have ensured that our entire 2,700 square kilometers of area is covered by IT initiatives through the MCL network, which covers project to the headquarters and even remotely- located mine areas.
Aneesh Dhawan, Regional Manager – North and East, VMware Software India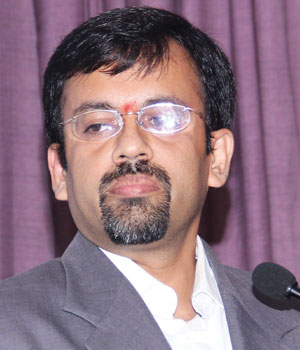 People adopt cloud for security and same is the reason for people not adopting it. VMware provides agile infra structures, making the infrastructure agile enough to capture a threat at the point it surfaces, stop it there and stop it before it spreads.
For example, when one registers for an email, does one bother about the server? I don't think so. And, that is how I believe IT should be. Complexity should be left to the people who deal in it.
Dr Dinesh Tyagi, CEO, CSC eGovernance Services India Ltd
The structure of the government is horrible and the people at the lower levels make meeting with an official a nightmare, while the official is good, passionate person. In fact, it's the structure in place that makes the reception horrible. So, why not remove the people like the peon and the PA involved, who make the experience unpleasant? There should be a system where a person can book an appointment online, and at the stipulated time go and meet the officer without the hassles of a PA or a peon.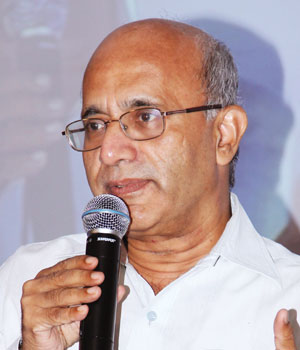 V Giriraj, Principal Secretary, Water Conservation & EGS, Government of Maharashtra
The problem which I faced in using the IT initiatives was the use of technical jargon, and very frankly, it was very difficult for me to adapt to them. So, if we think about the people involved at lower levels like tehsildars, BDOs, they cannot understand even a simple word like 'server'. I think the terminology should be simple.
The other thing I faced was the communication issue, and not the technology itself. Proper communication is required not from higher level but from lower levels like data entry and small operators.
Satpal Gulati, Additional Director – Systems, Department of Income Tax, Government of India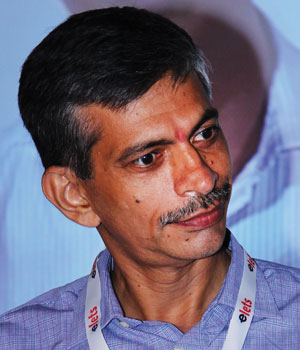 We have three types of users in India: the first one is the generation which relies on online technology – comprising youngsters; the second is the generation which relies on someone to use the technology they are the middle-aged people; and lastly, the older generation, which does not trust technology and instead relies on hard copy work/procedures.
That is why, we at the Income Tax Department have not only online portals but also a document system for receiving the letters.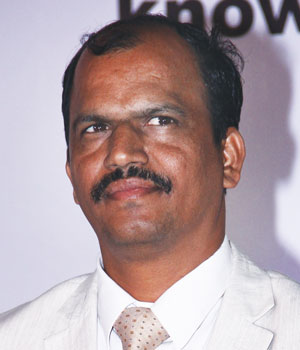 Atul Gotsurve, Regional Passport Officer, Pune
I think people should appeal for the redressal of their grievances through proper channels, which would cut down much of the problem relating to poor response on the part of the authorities. Ever since the Passport Seva project started two years ago, 1.5 passports have been issued to date. The system is online and one can seek appointments from there.
The normal tendency is to chuck what cannot be understood and give it to someone who can do it, even for a price, like touts. So, the issue of digital illiteracy is to be tackled for the betterment of the services.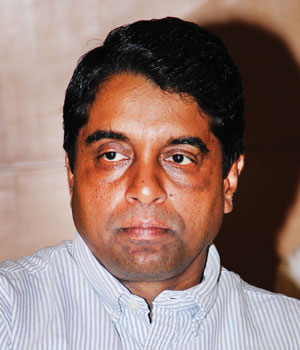 MS Padhi, Secretary, Food & Consumer Welfare, Government of Odisha
Odisha has successfully used the mobile technology in the food supply dept. We produce paddy in a large quantity and are a surplus paddy state. Previously, we had many paddy procurement problems, but we did not have timely information regarding the paddy procured, which affected the proper allocation of money to farmers. There were mismatches between the target allocated to a mandi and the paddy actually arriving there, among others.
We thought of having computers to track all the transactions, but it could not be implemented owing to electricity issues.
So, we came up with the idea of using mobile phones which were available with all the stakeholders, under which everyone from the procurer to mill had to report in a fixed format of SMS.
This has made the procurement of paddy easy, efficient and transparent.
Geetanajali Mishra, GM – Government Business, State Bank of India
SBI stands behind the government as it itself is a part of the government. SBI has various customers from different walks of life. Our customers can be anyone ranging from a person owning a bullock cart to a person owning a private jet.
SBI had started using IT in banking much before the government did, and by the time the government started using IT, SBI had a stable in CBS (core banking solutions). While implementing new technologies, more than the technology, it is the people's issues which matter as people might not like to go for new technologies.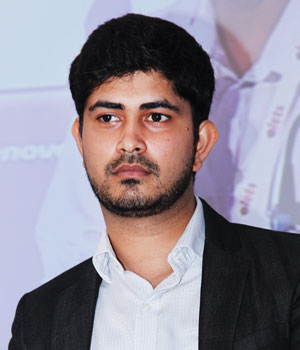 Sabyasachi Das, Senior Product Manager, IMI Mobile
The government in implementing initiatives like m-governance should consider a fully integrated platform and a platform on a cloud. The platform provided to the governments should not have complications, instead it should be very easy to use.
M-governance platform should be integrated with multiple payment modes to deliver payment services, so as to reach people where banking has not reached through mobile. Multi-channel integration is necessary in a country like India where huge diversities exist.
NK Verma, CGM, Rashtriya Chemicals & Fertilisers Limited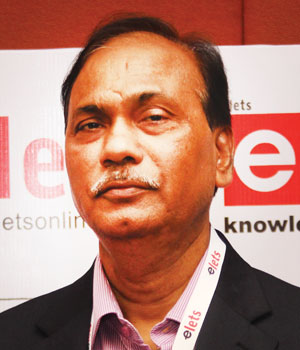 Ours being a commercial and manufacturing organisation has to depend on IT for various business processes, transactions etc. Recently, we have launched a toll-free helpline number for farmers and their queries. RCFL is a Mini Ratna company, which has a turnover of around Rs. 7,000 crore and have been making profit for the last 35 years. We are the pioneers in using IT in a fertiliser company. Before the introduction of ERP, we had two data centers which did their own data compilation and consolidation at the corpoarate level and finally brought out the annual results. Since 2005 we have adopted various IT initiatives like SAP, ERP with all modules, and various other initiatives for better working.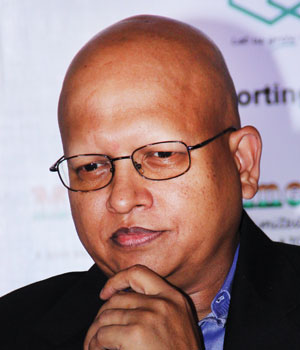 Satish Mittal, Sr VP, Vodafone Business Services, Technology, Vodafone
Let's start with an example: there is a security company which gives salaries to its employees in cash, as they do not have a bank account. Now, if that money has to reach the employees house, for example to his wife, the cash has to pass through various people and changing many hands, which is a time-consuming process. It will take a few days' time to reach the person concerned. Besides, there is no guarantee that the exact amount will reach there. So, that process involves two-pronged risk: chances of losing both money and time.
Now consider replacing the whole process with mobile money, which is actually showing results today. So, now the employee registers himself, his location and gets his attendance marked – all though his mobile. And, so do the other employees.
Now, as the records of the employees are online and they have got mobile money accounts, their salaries are transferred online from the head office directly to their mobile money accounts. The same can be done by the employee to transfer money elsewhere, such as his home. So, in this process, while there is no need for the cash to change hands, the money is also transferred within minutes. The previous method is discontinued and replaced with the new one, which is faster, cheaper and safer. This, I believe, is where IT and mobility come into play for financial inclusion. I think this and many other ways/ideas are there through which we can make IT work in the larger interest of the masses.
The Vodafone Business Solution (VBS), as a front runner in Enterprise business, aims to position itself as a technology partner to Centre & state departments with an ICT vision. With a rich experience that spans across the globe and an incomparable service culture, VBS Government aims to sup- port various G2G & G2C projects through its suite of solutions and services.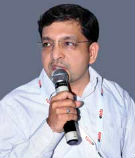 Avinash Mathur, AVP – Marketing, Vodafone Business Services

I am very pleased to see the strides the government has made in the field of e-Governance. It is a pleasure to see so much innovation being employed by the government of the day.
People look at telecom companies as providers, who would provide people with a specialised solution for a specific problem. Vodafone is not just providing mobility ser- vices today, but much more than that, like wire-line. We are also starting to offer Cloud services. All in all, we are starting to provide solutions to business problems.
Vodafone would like to hear the exact problems people face before they go for its services. The more precisely you are able to tell us about your specific problems, the better would be the solutions we come up with.
In overseas markets, we have done this very successfully. In New Zealand, we worked with police to see how they can serve the citizens better, while in India wherever we had the opportunity, we created solutions to specific business problems, like for a couple of jails we have created a solution whereby the prisoners can call a specific number of phones with prepaid credits.
We have also worked with a couple of governments that were concerned with the US snooping their calls. We are building secure voice calling solutions for them. There are the solutions we are working on for other governments for their mobile data security, while we are ensuring security of tablet and mobile phone data of a number of Indian corporates.
The ICICI Bank's tab bank- ing initiative is a perfect example of it. For solutions requiring SMS and USSD, we have launched *99# code and a few other codes that have helped give service for G2C requirements. I feel having a connection between the government companies and the telecom companies is required for a greater understanding of the issues.
Ganga Kumar, MD, Bihar State Building Construction Corporation Limited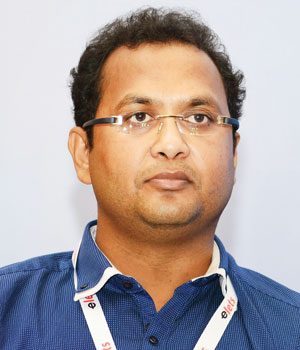 The reason we used information technology in some of our major programmes and works was to ensure transparency, timeliness and accountability. Other than that, IT was also used to counter various other challenges which prevail in other state governments as well.
We majorly used information technology for e-Governance, so as to strengthen our system.
Through the computerisation of government functions, we have linked all the central and state governments systems for better operability, to have a real time operating mechanism and computerised registrations, and made online all kinds of public utilities.
Through various IT initiatives, my corporation has achieved an annual outlay of Rs 4,000 crore, compared to previously puny amount of Rs 3 crore. We have also received an award from the state government for the initiative.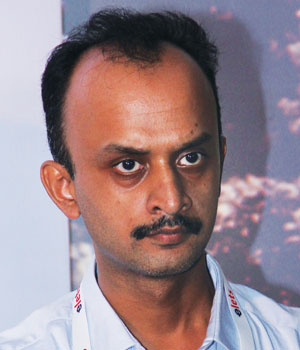 S Muthukrishnan, Commissioner, MGNREGA
We faced many problems like money lying parked and money not reaching the worker, there were many problems, bottlenecks with the previous system of transferring wages to a worker. To counter the challenges we came up with Electronic Fund Management System which is being used by everyone today, the advantage is that one doesn't have to be attached to any particular financial institution to gather his payment it can be any. And all the transactions are now done electronically which ensures that the money reaches the right hands.
Rajeev Aggarwal, Sr DDG, Department of Telecommunications, Government of India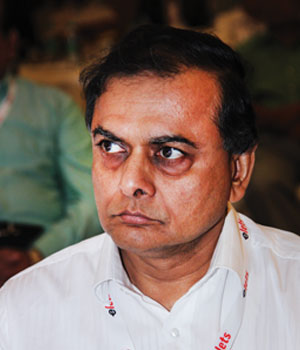 The various techniques and technology applied for eGovernance have one goal in common, and that is to reach the user.
Mobile banking can be a showcase model for the likes of G2C transactions as there are more than 35 crore mobile connections in rural areas, and this can be used to provide banking services, as these subscribers don't have banking facilities. Transactions, if done through mobile phones, will be much more economic compared to those done through bank branches.
On the other hand, mobile banking would make banking much more affordable and accessible. By leveraging mobile telephony, the goal of financial inclusion can also be achieved.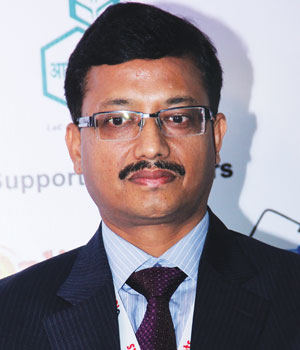 L K Gupta, Chief General Manager, Cotton Co-operative of India Limited
When we introduced a sales system based on the IT platform, there was resistance. As the traditional sales system was a century-old one, there were suggestions as to re-introduce the old system for a few days more and then go with the new system. But we knew that once we are in the new system, there is no going back. So, to implement it we had a meeting with the buyers and apprised them about the benefits of the new system. Within a month, we got 175 buyers registered in the new system compared to the previous four and in a span of three months we had sold 18 lakh bales.
The key benefits of the new system were convenience to the buyer and the sellers, more transparency and better price realisation due to competitive bidding. We are efficient and have a real-time bidding process. We are also thinking of implementing the e-platform for our by-product, which are cotton seeds.
Bharath Kumar, Associate Director, NPCIL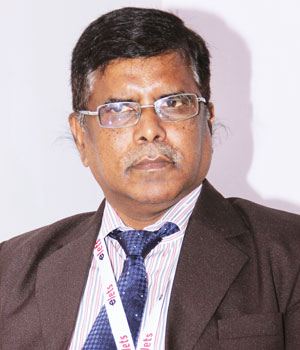 mHealth, which stands for mobile health, is a subset of eHealth. Although functionally both are same, technically they are different. In eHealth infrastructure is traditional – that is wired networks, while in mHealth, there are wireless networks and mobile devices.
Through this there are various services which can be delivered to the people. The health information system gives information of the health departments right from the primary health centers to the administrative head of the department.
If the Aadhaar number could be linked to the health information of citizens, the doctor could easily access the patient's medical history and thus a lot of time would be saved in patient diagnosis.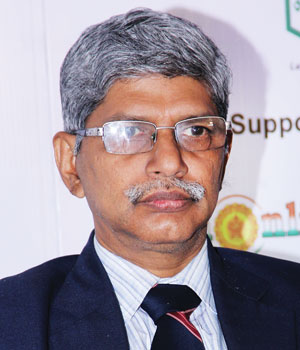 K V Varkey, Managing Director, Hindustan Antibiotics Ltd
mHealth, which stands for mobile health, is a subset of eHealth. Although functionally both are same, technically they are different. In eHealth infrastructure is traditional – that is wired networks, while in mHealth, there are wireless networks and mobile devices.
Through this there are various services which can be delivered to the people. The health information system gives information of the health departments right from the primary health centers to the administrative head of the department.
If the Aadhaar number could be linked to the health information of citizens, the doctor could easily access the patient's medical history and thus a lot of time would be saved in patient diagnosis.
Dr Nomal Chandra Borah, CMD, GNRC Hospitals Ltd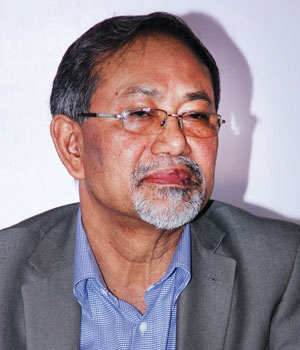 Healthcare is basically about one human being helping another. In the North East, health services are in a poor condition. So, I came up with a solution for the poor to have affordable healthcare and now I have two super specialty hospitals. I am still unsatisfied, unhappy as I see that we have lots and lots of private healthcare, which is unavailable to 80 percent of the population because of the cost it involves. This results in over-crowding of the public healthcare hospitals and many patients don't get the medical attention they require.
My model is an inverse pyramid model— where most of the private hospitals rely on their in-patient department for profit and also indulge unfair practices like keeping the patient beyond the stipulated time, so as to gain more profit. My model gains from the out-patient department and that too from minimum costs of Rs 60, 100 and 120, I say this because my hospital has recovered the capital invested through this model only.
If we become successful, this model will solve a big problem across the globe.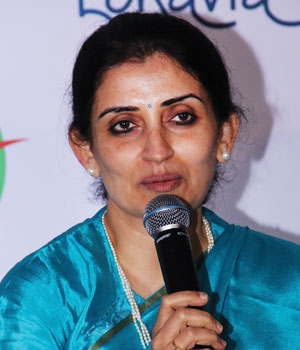 Sujata Saunik, Principal Secretary, Public Health Department, Government of Maharashtra
m-Governance is the adoption of mobile technologies to enhance and support government performance and foster a more connected society. It is emerging as the next big wave of information and communication technology (ICT) use in the public sector.
It ensures innovations in service delivery by increasing access to existing services and enabling design and delivery of new services. It empowers digitally deprived citizens by providing them access to information and services. Besides, it intensifies partnerships and exchanges between public and private sectors.
We use pull SMSes for public health centres (PHCs) and mobile medical units, while we use bulk messages for providing information to the public.
Compared to conventional governance and e-Governance, mGovernance has seamless integration and linkage for wireless devices. It is available for 24 hours a day and 365 days non-stop, and one doesn't have to have necessarily a computer or an internet connection. In fact, one's physical location is enough to get the services in mGovernance model.
Sanjeev Tyagi, Sales Director, Juniper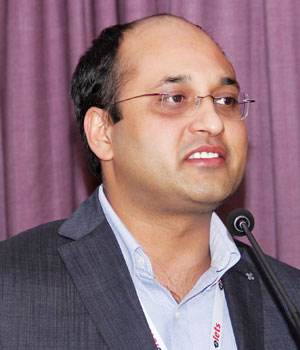 In India, the mortality rate is higher in hospitals than in a plane crash, and the survival rate after a motor accident is very low as the ambulance doesn't reach on time.
But IT can help prevent all this. A case in point is that of the US where the country spends 41 billion dollars on diabetes, but if remote monitoring is used, 15 percent of the expenditure can be saved. A dedicated frequency is required for mobile health application and the simple application can be downloaded on the mobile phone, and the person is ready. For this to be successful, digitisation of all patient records and easy accessibility is necessary.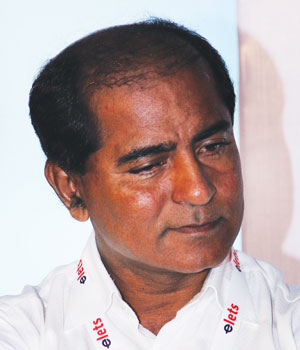 Zia Sauqib, Executive Director, C-DAC, Mumbai
C-DAC has helped startup pharmaceutical companies to design drugs at a much lesser rate compared to the costs in the earlier days.
In eHealth, we have the e-Sanjeevani project in Kerala which is a mobile bus with all medical facilities. It helps detect and initially treat women having cervical cancer, and through this project we have been able to save hundreds of lives.
With the Government of India, we have an initiative called Mobile Seva, which integrates information from the government and disseminates it to the citizens through various channels such as SMS, IVR system, USSD, etc.
Subrata Gupta, CGM, NABARD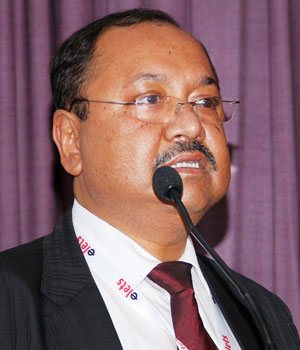 Technology is the base for financial inclusion, but we are missing out on the user part, as our focus is based on providing technology. It takes time for a person to get used to technology. For example, it takes a period of three months for a person of rural background to feed the numbers in the right way in a device for remittance.
Connectivity is a major problem in far-fetched areas. The technology might be there but the prohibitive cost to serve customers might be absent. It is very essential to take care of the connectivity part in the rural areas, otherwise financial inclusion in the way we are thinking might not ever see the light of the day.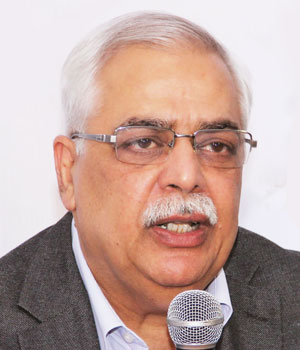 Arun Thukral, Managing Director, Credit Information Bureau Limited
CIBIL believes that retail is the growth engine for the economy, and the simple solution to increase the expansion is to increase the number of people to get credit, and we are working towards it. We also have plans for the BPL people and will very soon work towards it.
I think UID should be used to identify people when performing any bank related procedure, as it is the most fool- proof identity.
L M Deshmukh, DGM-FI & SLBC/IT, Bank of Maharashtra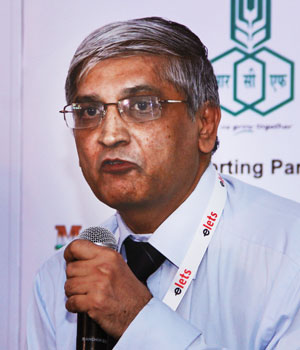 The Government of India has come up with 'Sampoorna Vitiya Samaveshan', which is a comprehensive financial inclusion plan, which was talked about by the Prime Minister on August 15. The focus area of financial inclusion has changed and now families will also be in focus along with villages. Apart from opening of an account, families will also be able to avail credit through the financial inclusion services. We will also start urban financial inclusion, which previously has not been thought of.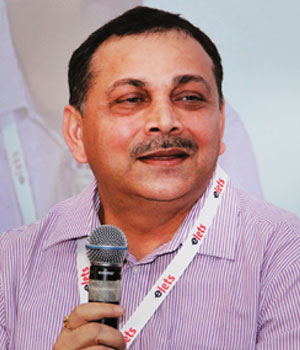 Ram Rastogi, Head – IMPS, NPCI
When we talk about movement of funds, Aadhaar-enabled payment system etc, NPCI is there at the back to look after all this like an unsung hero. We do about 20 million transactions a day and are geared up for 50 million more. NPCI is committed to provide services to 65 crore people listed with Aadhaar.
NPCI is committed to provide technology to people which is safe, simple, secure and robust. A transaction of 1.46 trillion dollars Direct Benefit Transfer (DBT) will happen through us, and it will reach about eight billion transactions a year. On the other hand, 145 million house- holds will have an account. We have developed a platform where a customer can dial a number and he can avail information of his account and the last five transactions.
Goa Calling Again : 9th Knowledge Exchange Summit Goa | Conference in India
Follow and connect with us on Facebook, Twitter, LinkedIn, Elets video