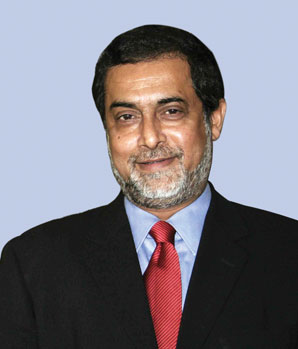 Microsoft India Chairman Bhaskar Pramanik says despite making significant strides in cloud, India still needs to go miles before having full claim over the technology
Even as we work with the Department of Electronics and Information Technology (DeitY) on the cloud strategy and use jargons like cloud, social networks, mobility and analytics, interestingly, consumers actually adopt all these without even questioning the how's and why's of these.
This could not have been possible without some major decisions on the part of the Government of India. It should be credited for adopting certain policies like "Cloud First" to ensure that all future applications are going to be developed in the cloud.
A look at the present government's manifesto is good enough to suggest that it intends to leverage IT in each and every segment, without an exception. And, that suddenly pushes the standards bar up of what needs to be done. The pace at which this government wants to move is also very high, which makes the challenges really big.
However, if we look at the private sector, and large enterprises and SMEs, their adoption of cloud and any of these technologies has been rather slow. Notwithstanding our achievements as a nation in the field, I would like to underline that we have just touched the tip of the iceberg, and that enormous challenges lie ahead.
State of affairs
Talking about a general perception about cloud applications, after a recent conversation with CEOs and Secretaries in the Government of India, the first thing they wanted to know was the safety of their applications and data in a public cloud. They also asked whether it would increase their regulatory risk and justify their moving to the cloud.
Data access at present has a lot of restrictions, although the government has plans to release some of it through its open data policy.
Currently, our use of cloud technologies is at the enterprise scale. For example, if you sum up all the servers across all the state government departments then the number would be less than 10,000. But in order to avail the maximum benefits of the economy of cloud, the government should install at least a million servers. That is the number of servers Microsoft has to provide cloud services on a global basis.
Most of the applications for e-governance were written in the era of client server. So, there is a very tight coupling trying to split up the applications to make it multi-talented, so that the same application could be used by multiple departments across multiple states, which would not be an easy task.
"A look at the present government's manifesto is good enough to suggest that it intends to leverage IT in each and every segment, without an exception"
The challenges
As the reach of cloud applications is measured in a national or global perspective, fibre optic networking requirements are massive. So, we use commodity hardware to keep the costs low. One of the key features of cloud is that it is provisioned by the user, it is elastic and it can be metered, so that you can charge on usage basis. But most of the applications we come across currently do not have these features.
For enterprise grade cloud services, one requires globally redundant data centers, and they should comprise massive networks of dark fibre between the hubs with multiple international edge points to minimise latency. Speed is going to be important especially for education and where video playback is required, even communications of the kind where you want to interact through a video right down to the district level with a citizen will require huge dark fibre capacity. And, looking at it from a national perspective, one also needs to make sure that there are data centers in other parts of the world, so that in case of a catastrophe, one could actually move it across.
Security concerns
All the data centers in India today are ISO-certified ones, but we need the European Union model clauses for the privacy of data. There is not a single data center in India, government or otherwise, which can match up to the EU model.
So, as said earlier, what India has to offer today is only tip of the iceberg, and we need to move fast and create more safe and secure data centers. Multiple levels of security for networks, software and applications are required.
If there are thousands of servers in a data center, lots of care needs to be taken about how those are designed and built, because the current generation of data centers have efficiency that is two to four times better than what we are seeing currently in India. And, on account of being an energy-deficient country, India needs to make generous investments to match the requirements.
Pre-requisites
Most of the data centers in India – whether in an enterprise or in a government – are all about virtualised hardware and software, with certain elements of security. Although the applications are mostly client server-based, where it is not user-provisioned, it is still somebody in the data center providing those applications and services.
To make things truly cloud-enabled – where applications and software become a service, platform becomes a service and even infrastructure becomes a service – it must be ensured that while a private data center is built, the applications are also created around identity, virtualisation and management.
Available options
Talking about private cloud, it is owned and operated by the government, and provides greater control, more customisation, though enables sensitive and confidential data to be protected. There are many private applications where national security is dependent and those need to run and reside in these government data centers.
There is also an option that I would call private, but is actually government and public, in which somebody else is providing the public server cloud infrastructure. It is managed by the government but hosted by a cloud service provider. This model can be highly secure and can be extremely cost-effective because the capital infrastructure and the investment are all done by organisations outside the government.
Coming to the public cloud, there are a host of citizen services, which can be put up here. The private data remains either in the public-private cloud or the government cloud, but at very reasonable costs. Here, infrastructure and applications are on a public cloud, which is an optimal mix of cost and control, it is agile and secure, scalable and cost effective, and citizen service-oriented.
"All the data centers in India today are ISO- certified ones, but we need the European Union model clauses for the privacy of data"
Time to upgrade
The way client server applications were developed in the past seems primitive by cloud standards today. The tools required to create multi-talented, user-provisioned, highly secure applications that can scale across hundreds of thousands of servers is still not being used in the country.
One suggestion for the government would be that they should start adopting some of these modern tools which would enable them to design these next-generation applications. These tools will enable them to actually create the documentation, enabling them to ensure that those meet certain process and quality standards, and can be modified as per requirements. Common directory services and service management devices are a must to manage these huge data centers.
Our recommendation to the government is that G2G and G2C services adopt the cloud services first, and both private and public sector be facilitated to build cloud-ready applications. We should move from commercial applications to more government-oriented applications. For this, we would need to accelerate growth by providing incentives to MSMEs, as cloud is highly cost-effective.
Click here to Watch Bhaskar Pramanik Speaking Live