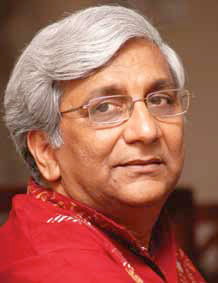 Since few years back, as the pressure to reduce the cost of IT and IT-enabled services and to use the IT resources most optimally was increasingly getting harder, the technologies of CPU sharing, thin client, edge computing, virtualization, all followed one after another. Further, the fact, that 40% or more of the total cost of running a full-fledged tier-4 Data Centre is attributable to cost of power, led to invention of various alternate cooling techniques, energy efficient servers etc for Data Centres. However, culmination of all such developments took place through emergence of cloud computing, which is now believed to disrupt all current practices related to computing techniques and efficient use of computing resources.

It is further observed that this non-linear technology for IT outsourcing, is expected to bring formidable threat to traditional business models for IT outsourcing, BPO and so on. And India, having the its impressive BPO global market share, 51% in 2009, 55% in 2010 and 58% 2011, has all the reasons to seriously consider the impact of this emerging technology on its current IT revenue of USD 100 Bn and projected USD 400 Bn by 2020. Cloud computing, having three broad service delivery models, Infrastructure as a Service (IaaS), Software as a Service (SaaS) and Platform as a Service (PaaS), is perhaps the most potent among the non-linear technologies, including others like Business Analytics, Software Testing, Intellectual Property Rights, Automation and so on, to bring in paradigm shift in the IT and ITES eco-system. There are various noted advantages of cloud com- S  puting : by adopting any of IaaS, SaaS, PaaS, or all of them, IT cost may come down even by 40%; IT assets may be more efficiently managed with deployment of standardised servers and software ; better business model, as pay per use like sulabh, or on the basis of subscription. By adopting all these, SMEs would then be spending much less resources on IT infrastructure.
NASSCOM Strategic Review Report 2012 also predicts that by 2015 Public Cloud Services spending would outpace the growth of overall IT spending by about 4 times. But how this non-linear technology may become a threat to the traditional IT and ITES outsourcing business activity? The tier 1 Brand India IT and ITES companies had adopted the head-count-related business model for long, as their primary growth vehicle. However, in the emerging cloud  omputing environment of IaaS, SaaS and PaaS, linear growth business model, solely dependent of adding more employees, is not expected to sustain. On the contrary, the tier 1 companies with high head count would appear to be less agile in this dynamically changing business environment. Added to this woe would be the expected salary hike per year by the IT and ITES employees.
This common feature, being observed for the last few years, perhaps explains the high attrition and 'poaching' rate in this industry. Further, leading world players have increasingly started operating their R&D and business units from India. Earlier the Tier 1 Indian IT and ITES companies remained globally competitive for a long time, due to advantage in HR cost component in INR and the prevailing exchange rates. Now, with the current lenient policy regime for doing international business from India and significant presence of global players competing from their respective Indian units, the earlier cost advantage of Indian tier 1 companies is slowly disappearing. On the top of it, global super actors like Amazon, Google, are opening up their large scale cloud computing and IT outsourcing activities globally, which may force the Indian tier 1 IT and ITES companies to take a relook in their Strategy and Business Models.
 They have to resolve many conflicting situations. Due to higher wage expectations, they would like to increase operating margin per employee, by putting higher pricing. But due to prevailing slow down in global economy, they cannot afford to do the same. Fortunately, in last two years or so, some of them have already exhibited strategic change in their business model, perhaps in response to Gartner's observation that 'to stay competitive, IT Service Providers will have to increase non-linear revenue to around 35-50%, from less than 10% as of now'. Let all these desired changes happen asap lest this cloud looming large on the IT and ITES sky would appear really dark for them!
Follow and connect with us on Facebook, Twitter, LinkedIn, Elets video