"We are now giving maximum importance to infrastructure development. Great focus is being placed on building roads, because roads bring connectivity and lead to a situation where prosperity can seamlessly flow into all parts of the state," says Kerala Chief Minister Oommen Chandy in conversation with eGov
---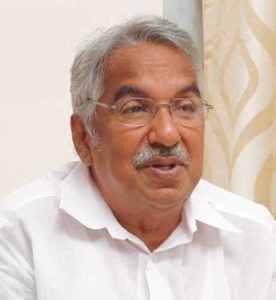 Tell us about your vision for bringing development in Kerala. Tell us about the development projects that you are planning.
In education and healthcare, Kerala fares much better than the other states,  but we are lacking in infrastructure. It is not possible for us to attract  investments, as long as we don't have the right kind of infrastructure. We are  now giving maximum importance to infrastructure development. Great focus  is being placed on building roads, because roads bring connectivity and lead to  a situation where prosperity can seamlessly flow into all parts of the state. Then there is Kochi  Metro, which is soon going to be a reality. The ambitious high-speed rail corridor  that we are planning between Thiruvananthapuram and Mangalapuram is going to  be unique project in India. For BPL families we have implemented a scheme for  providing rice at 1 Rs. We are also coming up with schemes to help poor  families get access to proper medical treatment at very reasonable costs.
---
Regarded as a Karmayogi, the Kerala Chief Minister Oommen     Chandy has devoted all his time and energy during the last four decades for the well-being and development of the people of Kerala. An undisputed mass leader, he has established unbreakable links with Kerala's society. He has deep understanding of the important role that cutting edge technology and world class infrastructure can play in improving the lot of citizens in the state. Under his  leadership a host of programmes have been launched to put all round development of the state on fast track…
---
Tell us about your ideas for bringing technological advancement to the state. What are your long term goals for using ICT in governance and in other spheres?
In the world around us, a technological revolution is taking place. All of us  should become part of this revolution, which will lead to many benefits for  society. The technological revolution is as significant as the agriculture  revolution, which took place few decades ago. In Kerala we have had many  types of agitations in the past. Some of these agitations have tried to portray  the computers as an enemy of the people. The signal was sent out that the  computers were the reason why there was unemployment in society. That is  why Kerala got left behind in the IT sector. However, now things are changing.  Computers are now being embraced by the people and the industry.  Everybody wants to use computers, laptops, and mobile phones. We are now  planning a mission 2030. This is a long term plan for making Kerala a top  destination for technology. Once the technological systems are in place and the  right kind of infrastructure is there, everything else will come. We will have  investments, which will lead to immense job opportunities. There will also be better facilities for education and healthcare.
In your plans to turn Kerala into a fully developed state, what are the challenges that you are facing? How do you plan to overcome these challenges?
The major challenge that we face is one of changing the mindset of the people. The people of the state are successful everywhere in the world, but somehow they are not as successful in their home state.
We need to change the mindset of the people at a local level. We also need to  change the systems of governance. I have full support of the NRI community and also of the people in the state. Everyone understands that any  development in infrastructure is going to be beneficial to everyone. We are  conversing with people at local levels and trying to tell them about the benefits  that new infrastructure and new technologies can bring to them.
What are you doing to ensure that there is broadband connectivity even in the rural areas?
The state government is trying its best to expand the reach and scope of broadband. Most of the villages are already connected. The connectivity in  Kerala is better than that in most other states of the country. New  infrastructure is continuously being created for improving the reach of  broadband. So if there are any gaps in connectivity, it will soon be covered.
---
"Kerala is moving towards a new phase, where it can be seen as an attractive Investment destination"
---
Though Kerala has the highest literacy rate in the country, the  unemployment rate is quite high. Please throw some light on how you plan to tackle the problem of high unemployment in the state.
We know that unemployment is a very serious issue. The problem can only be solved if we have the basic infrastructure for job creating industries to come up. We are intent on improving our infrastructure. As I already mentioned that if the infrastructure is developed, development will automatically arrive.  Kerala is full of opportunities all it needs is the political will to create a proper  investment climate. Now the political will is also here. We are creating  infrastructure for investors, by infrastructure, I do not mean subsidies. I mean  just the basic ground on which industries can come up. Once there is all round development, the problem of unemployment will get resolved.

Tell us about your plans to develop the coastal areas of Kerala.
Kerala is lucky to have 550 Kilometres of coastline. Unfortunately we are not in a position to utilise even one percent of our coastal capacity. Now we are planning to develop many small ports. We are also taking several initiatives to encourage the development of coastal  transport systems. Sam Pitroda has taken the innovation initiative and has formed a committee. Sam Pitroda has become associated with the state government for planning initiatives to bring about rapid development in the state. Ten large projects have been approved. Sam Pitroda will be creating a detailed project report in all these ten areas.

Please give us an overview of your initiatives in the education   space.
I feel pride in saying that in the field of education, Kerala is at the forefront. It is far ahead of most other states in the country. But the achievements of Kerala are limited to K12 section. In higher education we are not doing that well. We are now planning to do something to enhance the scope of higher education in the state. With better educational infrastructure in place, the state  might even be able to attract foreign students.

Through our magazine would you like to give us a message for investors and ordinary citizens?
I want to give the message to the Kerelaites who are residing out of Kerala and  also to the investors who want to come to Kerala that the state has already changed. Now Kerala is moving towards a new phase, where it can be seen as an attractive Investment destination. The state is dedicated to provide a  transparent system for making investments in all kinds of new projects. We  want more Investors, we want more investments. We want to create more job opportunities in Kerala. Growth is ensured, as people in the state have also  warmed up to having new infrastructure.
Follow and connect with us on Facebook, Twitter, LinkedIn, Elets video