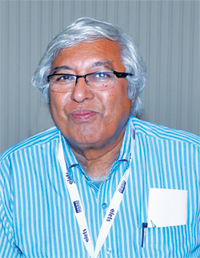 Tapas Ghatak
Former Director
Kolkata Metropolitan Development Authority
Govt of West Bengal
Citizens should be inducted in such programmes so that their active participation makes the entire system acceptable
It is about a decade when the process of governing the Municipal Management System through certain electronic language has been initiated with a hope that thereafter a better services can be provided to  the tax payers  of the town and a holistic planning approach can also  be taken by using different sources of electronic media. This of course includes certain hardware components, certain dedicated software developed with customization for the use of local bodies, net work facilities to interact with each other and finally sustenance of the entire system through a knowledge sharing effort with the officials of the urban local bodies along with the citizens. It is observed that in most of the cases, the planning of such programme of any governance starts with the initiative of the central planning system and gradually percolates through different official procedures till it reaches the local Government and finally to the citizens of the town. The stake holder remains cut off from such adoption. So the change is yet to be felt in the citizen level per se.
The expectations of the citizens are no longer restricted in down loading some applications forms or by using some of the maps showing his own house. The citizens have started demanding more information through this system for their daily use like bus routes, location of the services provider, integration of education and health delivery system and so many other daily required areas. Looking deeply in this arena, it seems that the effort in this electronic dissemination of information to the citizen's needs to be highlighted in any adopted programme of e-governance for Urban Level Bodies'. It is not just a specific section of people who are able to handle PC's on a regular basis anymore. A large population has access to Internet through their mobile devices devices Cyber Café.
If the development of human resources within the local bodies for carrying
out the use of the application set is not addressed and in proper system it may
collapse without yielding proper result that was envisaged during the conception of the project. Citizens should be inducted in such programme so  that their active participation makes the entire system acceptable.


"In the next one year, we would like to have high speed connectivity in 6,000 blocks and 4,000 tehsils across India." – Subas Pani, Secretary, Planning Commission, Government of India
Follow and connect with us on Facebook, Twitter, LinkedIn, Elets video