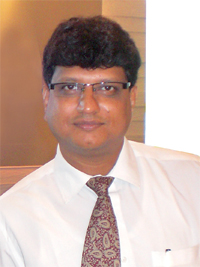 Ravi Kumar
Country Manager – Govt & BFSI
Emerson Network Power (India) Private Limited
In the coming years, India will have more younger population than any other country, thus literacy rate will be encouraging. Tendency towards ICT to avail Government services will, hence increase
Though e-Governance began in India way before National e-Governance Plan (NeGP) but it was brought into one consolidated effort by the NeGP only. The basic vision is to provide all government services to the citizens in the comfort of his home through internet. It also reflects that the programme aims to reduce personal interface with officials to a basic minimum.
NeGP has laid the foundation of what can be called the digitisation of governance. But, what pose as major roadblocks in this path of digitisation are IT illiteracy among officials as well. Those who have to drive the project don't have the basic knowledge of the technologies being used and thus ownership is not at that level.
Also, basic infrastructure used to be a problem, but, since now its majorly a Public-Private Partnership (PPP) model we are working on that issue is more or less taken care of.
In the coming years we will see more and more projects being deployed under the NeGP. There will be no more bureaucracy or the department-centric structure. The structure will be more a citizen centric. In the coming years, India will have younger population than any other country, thus literacy rate will be encouraging. Under these circumstances people will have more tendency towards ICT to avail various Government services and it will be wiser for the authorities also to govern through innovative use of technology.
In the coming years a couple of things should be taken care of. Firstly, consultancy and vendors should have more ownership over the project and not be involved in bureaucratic processes, which only takes up more and more time and yields nothing and secondly; there should be better and more efficient utilization of funds. There are huge funds allocated to each of these projects but there is no proper monitoring for the utilization. Thus fund utilization can be worked upon.


"Internet is simultaneously a world of both 'opportunities and challenges' and online challenges are just an extension of real life challenges"