Govt can use social media as a potential goldmine for to-and-fro exchange of citizen views on public and policy matters
Asocial network signifies the relationships and affiliations among individuals, especially relating to their families, works, interests or hobbies. The evolution of Web-enabled social media has broadened its horizon, and the network now also includes fans and followers of celebrities, institutions, leaders and politicians.
Social media started with users opening up accounts primarily for reaching out to friends and families and sharing with them ideas, images and videos. In fact, the popular social networking site Facebook was started in 2004 by Mark Zuckerberg, then a Harvard student, for rating students in terms of how handsome or beautiful they were.
Social networking has got phenomenal acceptance among people across continents. Facebook, now, has more than 500 million users across the globe. After getting started in July 2006, Twitter has more than 190 million users in 2010.
While being used for networking by teens and college goers, social media has emerged as a strong platform for branding and marketing for businesses. It is also being capitalised by government bodies and institutions, investigative and counter terrorism agencies, healthcare organisations, scientific and research and development communities, and political leaderships.
Social media has provided a significant platform for businesses to connect with their stakeholders, channel partners, suppliers, and customers. A McKinsey report notes that advocacy leads to better sales. Given the way di cussions are done through postings on walls, comments and live chats, social media has offered a powerful branding tool in the hands of businesses. Gradually, search engine optimisation is being taken over by social media optimisation. For small businesses and start ups, social media is a reaso able mode of marketing and branding.
Heads of states are using it

Governments in the West visualise social media as an opportunity for strengthening the state and citizen interface, getting citizens' feedback and crowdsourcing inputs on policy matters and practical issues in public life. Many heads of states have social media accounts, wherein they provide regular updates about their current engagement and future plans.
In the 2008 US Presidential Election, Barack Obama had a 100-people team working on social media campaigns. Obama's followers outnumbered those of the Democratic candidate Hillary Clinton and the Republican contestant John MacCann.
The 2010 general election in UK also saw politicians having presence on social networks like Twitter, Facebook and YouTube. In Latin America, Chile's president Sebastián Piñera is on Twitter, and his is one of the most followed Twitter accounts in the country. He has even asked all his cabinet members to start tweeting. Hugo Chávez, President of Venezuala is also active on Twitter.
Reaching out to citizens
In a broader perspective, use of social network by governments is seen as step towards an open governance culture.Open government refers to an accountable and transparent form of government, which accepts public scrutiny and which keeps citizens at the focus of its policies and actions.
Reaching out to citizens and getting their feedback has been an uphill task for governments around the world. Interestingly, there has been novel usage of social networking sites by government agencies in some countries. Courts in Australia and New Zealand have used the popular social networking site Facebook for posting summons.
Given that a sizable part of the Indian population is on social networking sites—more than 26.2 million Indians have Facebook accounts while around 3.02 million are on Twitter—social media is being seen as a channel of communication between the government and citizens. The departments leading in their social media efforts for effective interface with citizens include Public
Diplomacy Division at Ministry of External Affairs and Traffic Police in cities like New Delhi, Gurgaon, Chennai and Mumbai. The ease of accessibility through social media raises the hope for a more responsive and citizen-centric governance. An example is the unprecedented response from citizens on
the Facebook page of Delhi Traffic police.
A citizen watch area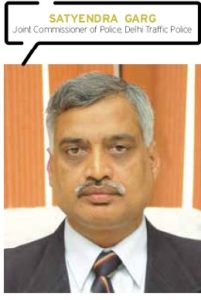 Even though Delhi Traffic Police (DTP) neither intended nor asked citizens to upload images of people violating traffic laws on the road, the citizens started uploading such images on the DTP Facebook page and requested for legal
actions. Slowly, the practice caught up so much that within six months, DTP had more than 39,000 followers on Facebook.
On the Facebook initiative, Satyendra Garg, Joint Commissioner of Police, Delhi Traffic Police says, "The idea of getting on Facebook had come from Special Commissioner of Police, Delhi Traffic Police. In May 2010 we opened a page on the popular social networking site, Facebook. Seeing the great potential of interacting with myriad
number of people [the road users] on such web enabled social platform, I started taking note of all the things happeing on our Facebook page, with the help of a small team comprising an inspector level officer and some constables. Initially, the thought was to inform and educate our followers on the traffic rules, and the norms and behaviour expected of road users. But the response from Facebook users was phenomenal. People on their own started uploading images. We took it as a very positive development and have been trying to live up to citizens' expectations."
Following Delhi, residents in Gurgaon started ringing up the Gurgaon traffic police, asking they had a Facebook page. As a result of repeated queries, the Gurgaon traffic officials decided have one. The residents have reciprocated well
enough and within a month, the city traffic police have got a good number of followers.
What was the initial thought process that brought Ministry of external Affairs to the social media fold?
It was the recognition that much of our public diplomacy effort was subconsciously aimed at 'people like us.' We were broadly targeting our type of demographics and were making conscious efforts to reach out to the younger generation. We felt that in the first instance, use of social media would at least get us into the space inhabited by the Internet-savvy youth.
Beyond this, there are three other elements that argue strongly in favour of using social media from a public diplomacy perspective. First, it provides us with powerful new channels of communication. Second, its interactive format allows us to receive feedback and to engage better with our citizens. Third, it works to improve the interface between the government and citizens.
Social media has provided a new platform for the government and citizen interface. Can you share the MeA experience so far?
Our experience so far has been remarkably positive. When we started our Twitter account in July (www.twitter.com/indiandiplomacy), there was an immediate and spontaneous response from the Twitter community welcoming
our entry into this space. We use the Twitter channel to provide authoritative information on foreign policy-related issues. In doing so, I think we provide a useful service to those who are following us, especially since they now see the possibility of contacting us directly if they have a strong opinion to express or a pressing issue that they want to raise.
We similarly use our YouTube channel to share information about our documentary films and events organised by our diplomatic missions. Our Facebook page has started to provide firsthand accounts and information about some of our activities. Our Blogspot page provides the space for more substantive discussion on foreign policy issues since we have linked our foreign policy lectures to this page. We have also started to place our India Perspectives magazine on Scribd and Issuu and these have started to get a fairly good response.
Many countries in the West have opted for 'open government' strategy. Social media is one tool for bringing such openness. How do you see 'global best practices in social media' being adopted in india?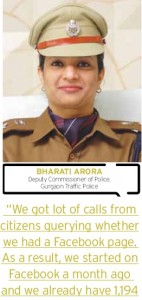 Well, from a foreign affairs standpoint we certainly observe the use of social media in the US State Department, the UK foreign office and in other open societies. We have been in touch with them to get a sense of their experience and this is useful because we are all in a zone where you don't see too many established models. Although some countries have a couple of years of head-start on us, the whole field is so new that each country is trying to evolve systems and practices most conducive to its own environment. It may take a while before any of us can take a definitive view on global best practices in use
of social media by governments.
Bharati Arora, DCP, Gurgaon Traffic Police says, "We got lot of calls from citizens querying whether we had a Facebook page. The Delhi Traffic Police presence on Facebook had raised hopes among citizens. As a result, we started on Facebook a month ago, and interestingly we already have 1,194 followers. We had the support of top officials and so we took the step with confidence. This move has led us towards following the community policing model. Now it has become very popular."
Responding positively, traffic police of these two cities started issuing notices and challans to violators based on the visual evidence
posted on Facebook. The cops have started posting the list of vehicle numbers on which challans have been issued.
While the 'Facebook effect' has added to the work pressure for DTP and Gurgaon Traffic Police, it has also brought in public goodwill for the police department.
Concerns around the media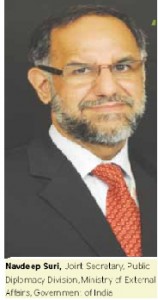 Education and awareness on use of social media is quite critical within the government, when the intent is to move towards adopting an open government
culture. Right now, the understanding about social networking sites is insufficient, and a section of people still view it as a waste of time. It is a mindset barrier that needs to be overcome. The governments and administrators who fail to do so face the threat of being left behind.
Navdeep Suri, Joint Secretary, Public Diplomacy Division, Ministry of External Affairs, who is also driving the social media initiative of the Public Diplomacy division, says, "I think the bigger challenges stem from irrational fears that emanate from lack of awareness of the media and from outmoded concerns that use of social media can have an adverse impact on security. Industry associations can play a much greater role in addressing such concerns and creating more awareness."
Privacy is one of the biggest concern for social media. Users pour in lot of personal information to open account with social networking sites. According to a Wall Street Journal report on privacy issues with Facebook, the most popular applications on the social networking site have been transmitting identifying information—in effect, providing access to people's names and, in some cases, their friends' names to dozens of advertising and Internet tracking companies.
Even after promises by the social media sites including Facebook and MySpace that user data will not be shared without their consent, personal data reportedly continues to reach advertising companies.
Answering to the privacy concerns related with Facebook, which often get headlines in national dailies, Kirthiga Reddy, Director, Online Operations and Head, Facebook India said, "As part of our work to provide people with control over their information, we've learned that the design and operation of the Internet doesn't always provide the greatest control that is technically possible. For example, in spring it was brought to our attention that Facebook user IDs may be inadvertently included in the URL referrer sent to advertisers. Here, WSJ has uncovered the same issue on Facebook Platform where a Facebook user ID may be inadvertently shared by a user's Internet browser or by an application delivering content to a user."
She further clarifies that while knowledge of user ID does not permit access to anyone's private information, Facebook plans to introduce new technical systems that will dramatically limit the sharing of User IDs. "Our technical systems have always been complemented with strong policy enforcement, and we will continue to rely on both, to keep people in control of their information," she added.
The India Potential
Even though a mere 5.2 percent of the country's population is using the Internet and the penetration of PCs in India is abysmally low at about 26 percent, the future potential of social media in government cannot be understated. As education spreads in sub-urban and rural areas and as ICT penetration grows, the demand for social media will also grow.
Crowdsourcing is another trend that's gaining acceptance in many countries, as social media provide the opportunity for the government to ascertain common man's views on issues, events and services.