---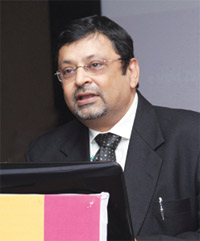 Ajay Singh
Chief Executive Officer

Achievements
Bagged and executed one of the largest self service kiosk contracts from SBI for 500 Kiosks
Successfully set up transaction Network for bill payments for Punjab State Electricity Board
Successfully set up transaction Network for bill payments for Bharat Sanchar Nigam Limited
Successfully implemented Counterfiet Traceability Solution for Bank of India and ICICI Bank
Developed the next generation Microbanker ATM
Successfully implemented the project for Switch connected kiosks for Dena Bank
---

Forbes Technosys Limited (a wholly owned subsidiary of Forbes and Company) is a pioneer in Self Service Automation with a strong focus on Banking, Telecom, Power, Government and Retail.

Forbes and Company (F&CL) founded in 1767 by John Forbes from Aberdeenshire in Scotland, is India's oldest company. Forbes has diversified business interests in shipping, engineering, water purification systems and technology. Forbes is a part of the Shapoorji Pallonji Group which has revenues of ~USD 2.8 Billion (FY10 est.) and an asset base valued at USD 1 Billion. Shapoorji Pallonji is the largest private shareholder (18.5%) of TATA Sons Limited, the Holding Company of the TATA Group The SP Group is a conglomerate with diverse business interests in construction, shipping, healthcare, energy, engineering and technology. Other subsidiaries of F&CL include Eureka Forbes, SCI Forbes, Nypro Forbes, Forbes Bumi Armada. Forbes Technosys Ltd. is a pioneer in transaction processing solutions, services and networks that help organisations handle large transaction volumes effectively and efficiently, while improving quality of their services and reducing costs.
FTL's Portfolio includes e-Governance Solutions such as G2C Transaction Kiosks, Bill Payment Kiosks, PoS Terminals, Electronic Cash Registers, Portable biometric enabled platforms for UID registration and authentication, Franking machines for Postal Services, Stamp Duty collections and judicial franking.
FTL provides Integrated Solutions and Services and has a Pan-India support network. FTL has established a State-of-the-art National Network Operations and Control Centre at Thane where it provides managed services support to its clients in Banking and ATM services, Power and Utilities Companies for Bill Payment processing, Cheque Truncation Systems, Financial Inclusion etc.
FTL is driven by the need to provide innovative products, services and solutions to customers .In addition to selling solutions, FTL is working with Government Departments and Public Utilities on a Public-Private Partnership Model basis (BOO, BOOT etc.) in order to enable automation in several areas including ticketing, bill payment services, G2C transactions etc.
Product and Services
E-Governance Kiosks
Models – Forbes Microbanker / Portobanker / E-Handy Micro ATM/ Aadhar UID Enrolment Kit

Functions – Cash Deposit / Cash Withdrawal / Balance Enquiry / Funds Transfer / Bill Payments

Payment – Cash / Cheque / Card

Features – UID Compliant, Biometric enabled with multifactor authentication
Cheque Processing Solutions
Zero Capital Expenditure, End to End Services-Processing and Archival, Interfaces

Business Continuity Planning Services, On-site Processing Services, Mandate Processing Services

Web based solution
Banking Automation / Retail Automation
Enterprise Mobility Solutions / Currency Handling Systems/Counterfeit Traceability Solution / Fake Note Detector / Point of Sale-POs
E-Stamping and E-Franking Solutions
• e-Stamping – Stamp on document itself, No re-circulation of stamps, Convenient payment mechanism for public, Advance payment to State Government before actual sale of stamp. Built-in safety mechanism, Validation of stamp by consumer/ Registration Dept. through an internet / intranet interface
• e-Franking – Secured evidence of payments, Remotely managed for value loading, Networked for MIS and stamp validation