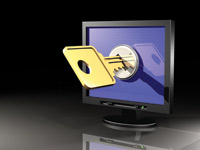 Security systems in govt should be sniffing-sharp, so integration with systems like RFID, smart cards and CCTVs is a must
By Gayatri Maheshwary
Information security has always been an issue of concern for businesses, consumers and governments alike. In fact, with the proliferation of the Internet, security issues have got more complex than ever before. And with the advent of Web 2.0, the level of complexity has only increased.
Since 2007 and after the boom in social networking, experts have seen a sharp increase in online attacks, specifically targeted at Web 2.0 applications. According to recent reports, nearly 19 percent of all online incidents could be touching Web 2.0 sites.
Security management has become the biggest challenge considering that the threats are becoming increasingly sophisticated. Not surprising, therefore, many large organisations did not reduce their budgeted spend on security services and products, even during the recession.
While it's been common for enterprises to use the Internet for business-to-business and business-to- consumer transactions, the governments are also beginning to do that. The volume of such transactions will only increase, even exponentially. Also, the use of social software within organisations will increase, which will further raise the security threats. Therefore, safeguarding organisational data assumes utmost importance.
According to a Gartner survey,  security-as-a-service is emerging in the Asia-Pacific region, although the spending in this area represents a small fraction of total IT security expenditure. In India, spending on security-as-as-service is limited and a key reason for this is the low traction of SaaS as a model, mainly due to a lack of infrastructure. In particular, in remote locations where broadband Internet penetration and logistics connectivity is a challenge, SaaS as a model is not practicable.
---
Smart cards offer benefits such as quick transactions, inbuilt security and portability and can be used for identification and validation
The CCTV market in India is currently estimated at over
Rs 750 crore
---
Security and governance

Security challenges for governments are much bigger and broader. It is as important for them to protect citizen data as to ensure homeland security or to guard sensitive information from antinational outfits. To achieve this, it is important for state agencies to embrace multiple security technologies, depending on the application and the requirement.
RFID: RFID as a technology allows an object to be uniquely identified without line-of-sight contact. It is far superior to the simpler bar codes and can provide more detail about an object. RFID can be used in shipping containers, railroads, supply chain, mining, postal, livestock and airline applications. From security point of view, RFID can be used for ports and border control. In terms of asset location and tracking, RFID is already being used by libraries in India. However, higher costs and inadequate standards are some of the biggest challenges in its widespread adoption.
Smart Cards: The smart card technology is becoming commonplace in our daily lives. These cards can add convenience and safety to any transaction. A smart card is a plastic card with a computer chip embedded in it that stores data about users and their transactions. The card data is accessed and written via a reader that is part of a computing system. Smart card-enhanced systems are in use today for several key applications, including healthcare, banking, entertainment and transportation. To various degrees, all areas can benefit from the features and security that smart cards provide.
Smart cards provide vital components of system security for the exchange of data through virtually any kind of network. In India, some typical examples are Government Identification applications such as electronic passports, the ongoing UID or Aadhaar project, health cards, driving licenses, social security cards, and financial applications such as credit and debit cards, various prepaid cards and electronic passes or tokens for mass transportation.
Smart cards offer various benefits such as quick transactions, inbuilt security and portability and can be used for identification, validation and data storage. A major factor driving the adoption of smart card technology is the convenience that it provides to the user. In India, contactless smartcards are the better option, given the harsh environmental conditions.
Biometrics is also going to be a major focus area for the government. Considering that acquiring fake identities is on the rise by terrorists, the government is working on a project for a national identity card, similar to the US social security number and has already allocated `100 crore for it.
Closed Circuit TV (CCTV): In an integrated security system, CCTV becomes a very important component, since it makes other electronic security gadgets more effective. In a normal scenario, an access control system would simply raise an alarm on its control panel if someone tries to trespass. In an integrated security system with CCTV, the operators automatically get a video pop-up on the screen, helping them to verify the visitor's identity.
In 2008, the CCTV market in India was worth `550 crore and was dominated by analogue systems. For some time now, the focus is shifting towards adoption of digital systems. As per Frost & Sullivan report, in the next three to four years, this market will see a growth of 25-30 percent year-on-year. Government establishments too are gearing up to install video surveillance systems in public places and in those government buildings that are prone to terror attacks.
The Indian safety and security market had been growing at a modest rate over the past few decades. However, the growing terrorist activities, coupled with increasing crime rates have driven up the domestic demand for effective security systems across the country. In this regard, use of CCTV-based video surveillance has emerged as a viable solution and has therefore gained significant momentum. As per the latest research by RNCOS, the CCTV market in India which is currently estimated at over `750 crore, is projected to grow at a CAGR of more than 34 percent during 2010-2012.
Network security: The network security market during 2009-10, according to V&D 100 has witnessed a growth of 21.6 percent, with revenue of `900 crore. The revenue last year stood at `740 crore. The market leader in the network security services segment was HCL Comnet, which posted revenue of  `120 crore and had a market share of 13.3 percent.
The company has also bagged certain government projects.

The network security market in India is largely driven by the businesses recognising the importance of security. The earliest adopters of network security were primarily the banking and finance verticals, followed by the ITeS and BPO sectors. Other verticals, namely retail, health and education are now catching up.
For the government sector, security is a key issue that needs to be addressed. Since the government deals with sensitive information of national interest, securing data is of utmost importance.
With India being recognised among the leading emerging economies of the world, aspirations and expectations of its citizens are rising too. Also, globalisation has made a good number of foreign nationals part of the workforce employed here.
All this makes it important for the government to evaluate and monitor the preparedness of the security system, to ensure that people are able to lead their lives with dignity and can work and move around freely. Despite the long strides made by India in the field of information technology, various state security agencies, including the police, still find low application and usage of information security technologies. In the interest of the nation and its citizens, that will need to change. 
Follow and connect with us on Facebook, Twitter, LinkedIn, Elets video