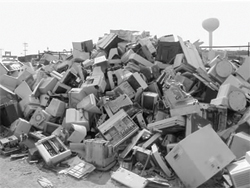 India is estimated to be generating approximately 400,000 tons of electronic waste annually (computers, mobile phone and television only). This is expected to grow at a rate of 10-15% per year (Source: www.toxicslink.org).
By 2020, the country's e-Waste from old computers will jump 500% from 2007 levels as per the recent Report of the United Nations Environment Programme. What makes the problem far worse is that except the Hazardous Waste Management Rules of 2003, there is no law governing the management of e-Waste in India. Even the guidelines framed by the Ministry of Environment and Forestes in May 2008 are only 'intended to provide a broad guidance'.
But facts like these, though frightening, only tell the more familiar part of the story. An oft-neglected aspect of the problem is that the focus of discussion is almost entirely on the industry and retail consumers – the major users of computer hardware– followed by the unorganised sector involved in the collection, recycling and processing of such waste, mainly because of the hazardous working conditions existing there. Meanwhile, the third arm of the triangle – government – assumes the position of a mere regulator and policy-maker.
While it is true that the government's role is primarily one of introducing  stricter legislation, encouraging organised recycling of e-Waste, collecting fee from manufacturers/consumers for its disposal, subsidising and incentivising the small units involved in recycling industry, and generating public awareness on the subject, it can hardly be ignored that the Government is no longer merely a regulator of the Information Technology sector. It is also an increasingly important user of technologies and consumables. The rollout of an ambitious National e-Governance Plan (NeGP) in the year 2006 further reinforces this. Available data suggests that government sector IT spending in 2007 was of the order of Rs. 5800 crore and is expected to grow rapidly. More than half of this spending was directed towards hardware, which directly contributes to the generation of e-Waste. In this backdrop, it is indeed surprising that the implementation framework in place for NeGP does nothing to commit the Government to the principle of effective e-Waste management.
Compare this with what the US Government Accountability Offi ce (GAO) asks of the US government on this subject. While highlighting that only 61 out of thousands of federal facilities participate in what in US is called the Federal Electronics Challenge, it says: "the federal government (should) lead by example in promoting recycling, reducing the use of toxic chemicals, and conserving energy and materials in its lifecycle management of electronic products", as per US GAO Report of November 2005.
It is important for the government in India – at the centre and in states – to   clean up its act fast, considering that government institutions, together with business enterprises, account for over 70% of e-Waste generation and are responsible for much of the damage. Besides, compared to developed countries, governments in India are still far from attaining a stage of full computerisation. The percentage of government schools with computers stands at a mere 8.5% in 2006-07, as a report published by Ministry of Human Resource Development, Government of India and the National University of Educational Planning and Administration (NUEPA). Issuance of unique citizen IDs is still at a nascent stage. In the fi eld of document management and imaging, large-scale digitisation and mapping projects are being undertaken, while biometric applications are going to be extensively used for providing citizen services, both of which will employ scanners and other such equipments. As the government moves towards fi lling the vast gaps still left, volumes of electronic waste generated in the process will become truly unmanageable.
As part of the NeGP blueprint, over 1,22,000 Customer Service Centres are being set upto cover 6 lakh Indian villages, as per the Ministry of IT Status Update of Feb '10. Once the reach of e-Governance expands through the CSCs to remotest corners of the country, the problem of e-Waste management will grow more acute, since rural areas completely lack the knowledge of correct waste management practices.

WHAT NEEDS TO BE DONE?.
Some of the steps the Government must take towards a more effective e-Waste management are:
1.Undertake a comprehensive audit of electronic supplies and equipment used by government agencies, so as to be able to know the productive life of the gadgets in use and plan their phasing out
2.Estimate the consumption of electronic products and supplies, in order to bring out information on total volume of waste generated, major producers of such waste, and future trends
3.Study the best practices of governments worldwide in the fi eld of e-Waste management, with special focus on countries such as Switzerland, one of the pioneers in e-Waste legislation, and Australia Make the past performance of an
4.IT vendor in e-Waste management a critical criterion in evaluating the tenders and fi nalising new partnerships
5.Recognise and reward the agency level efforts within government to control e-Waste generation
6.Educate government staff on how to handle electronic equipments better, that can help extend the life of electronic equipment and delay the end-of-life disposal
7.Bring in smarter technologies, e.g. mobile communications, wherever possible, in order to cut down on hardware requirements
Finally, in any assessment of e-Readiness of governments, their capacity to control the generation of e-Waste, and manage its safe disposal and recycling must fi nd an important place. The existing frameworks for e- Readiness assessments, such as the periodic studies conducted by the National Council of Applied Economic Research (NCAER) (Ref. India e- Readiness Assessment Report, 2008,  NCAER, January 2010), completely lack this aspect.
PRASANN THATTE

Prasann Thatte is a research professional with an experience of over 10 years in market research and research for government and non-profi t sector. A postgraduate in Economics, he is a product of Institute of Rural Management  Anand (IRMA). With the intention of using his research skills in the domain of development consulting, Prasann joined Centre for Good Governance (CGG) in 2007 as a Program Manager. Currently, Prasann manages over a dozen projects, including both consulting and evaluation studies, which deal with themes as diverse as child labour, migration, housing, public service delivery, Entrepreneurship Development, Right to Information, Bt Cotton cultivation, HR issues in government, slum development, disaster management and infl ation.
VERISIGN TRUST SEAL INTRODUCED, ALLOWING MORE WEBSITES TO BENEFIT FROM WORLD'S NO. 1 ONLINE TRUST MARK
VeriSign Inc., the Internet infrastructure provider for the networked world, introduced the VeriSign Trust Seal, an extension of the world's most recognised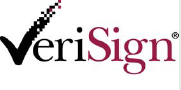 online trust mark, to increase confi dence, traffi c and transactions for sites that do not require SSL Certifi cates. These include sites that outsource their shopping cart or payment functions to third-party providers and those that do not collect sensitive personal information. With VeriSign Trust Seal, VeriSign is promoting a safer Internet by proactively identifying Websites that compromise consumer safety.
By displaying the new VeriSign Trust Seal, any business Website has the opportunity to leverage the global awareness created by the VeriSign Secured Seal, which is viewed more than 175 million times a day across more than 90,000 websites worldwide. The VeriSign Trust Seal pairs the familier VeriSign  checkmark circle with the words "VeriSign Trusted," enabling Websites of any size to display a highly recognised visual element commonly seen on brand-name Websites.
Benefi ts for Websites that display the VeriSign Trust Seal include increased traffi c, conversion and customer loyalty. The VeriSign Trust Seal helps drive traffi c by serving up the most recognised trust mark on the Internet while  helping Websites avoid search-engine blacklisting. Additionally, increased conversions result as consumers have a higher propensity to take action on sites that they trust, and they will come back to sites that protect them from mailicious attacks or identity theft.
"Reputation is vital to the success of the growing number of small-to-medium-sized business competing in the online marketplace, and trust is a key component for protecting brand reputation and increasing consumer confi  dence," said Ray Boggs, vice president of SMB research for IDC. "VeriSign's brand recognition will extend to the new VeriSign Trust Seal to help small and medium-sized businesses communicate trust and safety to customers and prospects.".
Follow and connect with us on Facebook, Twitter, LinkedIn, Elets video