Introduction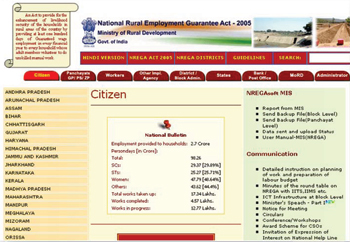 With  the aim of strengthening National Rural Employment Guarantee Scheme (NREGS) , initially in 200 districts which got subsequently extended to 330 and finally to all rural districts across the country, National Informatics Centre (NIC), along with Ministry of Rural Development (MoRD) and other stakeholders, conceptualised web enabled management information system (i.e., NREGASoft) to address the planning and monitoring needs of scheme. Long association and experience of NIC with rural development processes and engagement with computerisation of rural development schemes at various levels proved to be valuable factor in designing NREGASoft. The first version of NREGASoft was launched along with the launch of the scheme.
NREGAsoft is a work flow; local language enabled e-Governance system and is available in offline as well as online mode  to capture all the activities under NREGA at Center/State/District/Block and Panchayat level. NREGAsoft has been prepared and deployed at the portal www.nrega.nic.in., by NIC in collaboration with Ministry of Rural Development. Each stakeholder can access relevant information through the portal. NREGAsoft captures Registration of workers, work demanded, number of days of employment for whole family, funds transferred,/utilised and number of works undertaken. Under the scheme various stakeholders of the project are:
Citizens

Gram Panchayats, Block Panchayats Zilla Panchayats

Workers

Programme Officers

District Programme  Coordinators

Implementing Agencies other then Pancayati Raj Institutions

State Rural Development Departments

Ministry of Rural Development and  Administrators in  Government  of India
Vision and Objective of the Project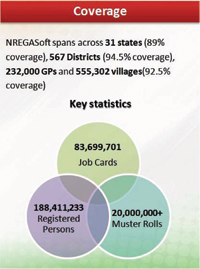 NREGAsoft envisions facilitating e-Governance by enabling IT based implantation of NREG Scheme across State, District and three tiers of Panchayati Raj Institutions, it envisages empowering the common man using the information technology as a facilitator It provides information to citizens in compliance with the Right to Information Act (RTI Act). It makes available all the documents like muster rolls, application register, job card/employment register/muster roll issue register, muster roll receipt register, which are inaccessible to public otherwise. It facilitates faster information exchange between the various stakeholders through the network.
Project   Description
Taking forward the onus of crafting an efficient implementation of the NREGS, the NREGAsoft captures the information right from the registration of the worker. It provides linkages with the household survey known as Below Poverty Line (BPL) survey 2002 which captured information of each person and family in the rural area.
Application Modules
Following are the various application modules:
Worker Management Module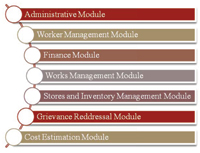 Worker Management Module of the software captures registration, demand for work, work allocation and muster rolls. The software has the provision for enabling of payment of wages through banks/post offices as it captures the bank/post office account number, bank/post office name, branch name for the person who demanded job. The module calculates unemployment allowance, if any and also keep tracks of number of days of employment of a family.
Fund Management Module
Fund Management Module captures the funds transferred from MoRD/States to Districts and then to Programme officers/Panchayats and expenditure incurred by various implementing agencies on labour, material and contingency. Hence it keeps track of each and every paisa spent under the scheme.
Works Management Module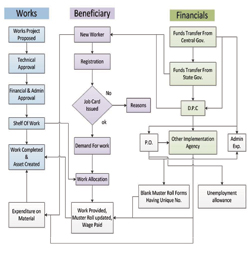 Works Management Module captures information about the various works undertaken as a part of the scheme at various level (GP, BP, ZP). It facilitates online approval of projects and keeps track of time taken for the approval of project. Each project is provided a unique ID and status of work is maintained in the system.
Grievance Redressal System
Grievance Redressal System allows a worker/citizen to lodge complaint and trace the subsequent response.
Staffing Position Module
Staffing Position Module captures name, telephone numbers etc. of all the officials, planning and implementing agencies from Gram Panchayat to Ministry of Rural Development involved in NREGA, thus strengthening communication and co-ordination among them.
Cost Estimation Module
Cost Estimation Module makes detailed estimation for the works taken up under NREGA e.g. construction of tank, well, sluice gate, earthen road, cement concrete road etc. This module calculates quantity of work to be done and calculates the per unit rate as per Schedule of Rates (SOR) for each sub activity of a work.  This further helps engineers to fill the measurement book and calculate wage per day for a particular muster roll.
Knowledge Network/ Solution Exchange
Knowledge network/ Solution exchange  provides a common platform to all stakeholders to exchange their views, pose queries to other stakeholder/Experts  and get responses, exhibit their best practices.
Alerts
Alerts: The software also raises alerts to implementing agencies about the various irregularities, important activities, messages for funds to be received by the agencies etc.
Technology to meet the challenges
NREGAsoft is getting implemented in 614 Districts, 6000 blocks and around 2.3 lakhs Gram Panchayats with different languages, poor infrastructure and poor connectivity. Due to these circumstances, NREGS implementation required a software, which was cost effective and could overcome the language, connectivity and platform barrier.
NREGAsoft is available in online as well as in offline mode overcoming the barrier of connectivity

It is Unicode enabled and supports all local language thus addressing the language barrier

Software is available in Microsoft technologies as well as open source technologies
NREGASoft is also connected to other e-Governance systems for streamlined operation:
Benefits accrued e-Governance for Masses
The Software computerises all the activities of NREGS right from the registration of the worker by the Gram Panchayat to the muster roll prepared and payment made to the worker.

Citizens can access all the information like the various reports, various documents/registers at gram panchayats, analysis of implementation under NREGA.

A worker can check his employment details, unemployment allowance, lodge complaint and can trace the subsequent response.

It has a provision of payment of wages through bank/post office thereby ensuring the correct payment to a worker
Assists Gram Panchayats in NREG Scheme Implementation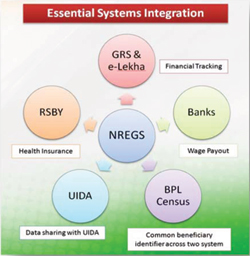 NREGS entrusts Gram Panchayats with a lot of responsibility as registration, demand for work and allocation of work can be done only by gram panchayats.  Software assists gram panchayats as follows:
It keeps track of 100 days of the employment to a family.

It generates all the registers/ documents as specified in the guidelines of NREGA.

It ensures that a worker should not work on two worksites simultaneously.

The software keeps track of the fund released from the MoRD /states to the districts and then from districts to blocks/gram panchayats so it helps in reconciliation of accounts.

It provides status of available funds in the accounts at panchayats/blocks/districts level.

It provides the details of unfulfilled demands, works which can be taken up and the unemployment allowance
Assisting the Officers, Administrators, Programme Managers
The software has a strong analysis system for the following:

Programme implementation status like locations with no registration, no demand for work, no allocation of work, no work in shelf, no on-going work etc.

Fund transferred  and availability of fund at each level

Work Approval time analysis

Gender, caste, wage earned on work analysis

Work execution  level analysis

Labour, material ratio analysis

Expenditure on work

Households getting more than 100 days and less than 14 days employment

Persons earning wages more than twice the wage rate

It can generate monthly progress report (MPR) at gram panchayat level, block level, district level and state level and all the figures in the report can be drilled down to lowest level.

The staffing position module of the software enhance the coordination  and communication among the
various stake holders of NREGA
Data Management at Grassroot Level
NREGASoft was first of its kind e-Governance solution attempt, which took data management practices below block level in online mode across the country in absence of e-Governance infrastructure availability at Gram Panchayat level where actually majority of events related to NREGS implementation takes place. The data management of NREGS, in the majority of states is being done at block level. The majority of states started managing data using offline and a few with online system. As connectivity scenario is improving further, some of the states are switching over to use online system. The states have adopted various kinds of models (in-house using its own staff, using contract data entry operator, outsourcing data entry, arranging entire ICT infrastructure at block level through private parties etc.) to address the need of content management.
Capacity Building Measures
The team at NIC Headquarter has been engaged in preparation of NREGASoft package and in deployment (training on domain issues, offline/online package and handholding) of the application, in active collaboration with NIC-State/ District Units across the country. Training methodology included face-to-face training at state and district level and utilisation of Video-Conferencing and
e-Learning technologies.
Recognition
The collective work done by the Ministry, NIC and other stakeholders has been recognised at various platforms and has won accolades. The package has been demonstrated to Hon'ble Prime Minister and senior functionaries of the Government, Planning Commission officials , State Rural Development secretaries.
The package has also won several awards:
Microsoft e-Governance award 2006

Skoch Challenger Award 2007-National Significance Category

Dataquest e-Gov Champions award 2008
Also, it is satisfying to note that package has demonstrated that the data management could be done effectively from Blocks online now. This has inspired and encouraged the design of many other e-Governance projects that are in pipeline.