The magic of vibrant Rajasthan – its rich heritage, colourful culture, exciting desert safaris, shining sand-dunes, amazing variety lush forests and varied wildlife – makes it a destination nonpareil. Folklore of heroism and romance resound from   the formidable monuments that majestically stand to tell the tale of a bygone era. Under the able leadership of Ashok Gehlot, the state is also poised to embark on the digital opportunuity of the modern age. Various Information and   Communmication Technology (ICT) initiatives and innovative schemes which are underway have many promises to keep. Here, the egov team tries to take a look at these initiatives.
IT & ITES POLICY 2007 LAUNCHED
It aims at implementing e-Governance and capacity building within  Government domain; Promoting investment in IT and ITES sector within State and Skill Development through enhancement of employment opportunities by developing the capability of the youth of the State and making them employable by the industry.
BUDGET ANNOUNCEMENT 2009-2010
All Government Departments are to earmark 3% of their Plan Budget for e-Governance initiatives. It is 1st such initiative in the Country.
NATIONAL e-GOVERNANCE PLAN
As per the guidelines of Governmentof India under National e-Governance Plan (NeGP), four committees have been constituted by the State Government with an aim to provide impetus and right direction to IT and e-Governance in the State. These are: State e-Governance Council, State Level Apex Committee, Project e-Governance Mission Team and State e-Governance Mission Team.
GOVERNMENT TO CITIZEN

e-Mitra:
e-Mitra has been implemented in all the Districts across the State. The project is similar to CSC project implemented in Urban areas under which various services are being provided through Kiosks.
Chief Minister's Information System
(www.cmis.rajasthan.gov.in) facilitates monitoring of CM announcements, budget announcements, projects and various fi nancially aided schemes, Chief Minister's Schedule, issuing of various sanctions from CM Relief Fund/ BPL schemes etc.

Disaster Management System
(http://dmrd.rajasthan.gov.in) is a web enabled integrated system designed and developed to monitor and control various activities being carried out under relief works.
Swasthya Mitra:
Telemedicine Network- For extending specialised health care services to far-fl ung areas of the State, a telemedicine network has been setup by the Government in collaboration with ISRO. It is proposed to establish this facility amongst 6 Medical Colleges and 31 District Hospitals. Telemedicne centres have already been made operational at 37 places.

Registration & Stamps Department's
'Anytime, Anywhere Registry' for registration of property irrespective of the jurisdiction of sub-registrar offi ce. The project had been implemented in 11 subregistrar offi ces in Jaipur on pilot basis.
Land Records Computerisation
(http://apnakhata.raj.nic.in) Database of Record of Rights (RoR) covering 6.8 million landowners has been completed in all the 241 tehsils. Copies of RoR (Nakal) are being provided to citizens through e-Mitra kiosks and other independent channels.
VAT system automation (www.rajtax. gov.in) implemented at all the 11 zonal headquarters & 56 regular circles for Registration of dealers, maintenance of  revenue collection registers, Facility for epayment and for fi ling e-returns. Currently, all returns are being fi led electronically.

Backend Computerisation:
DoIT&C has been given the mandate of funding Back-offi ce Computerisation of different Government Departments since 2005 from DOIT&C' specifi c Budget Head of Backend Computerisation. During the Financial Year 2009-10, it has been decided to fund Treasury Computerisation project of fi nance Department.

e-Procurement:
(http://eproc. rajasthan.gov.in) To bring about transparency and reduce time constraint in procurement procedures in Government Departments,   e-Procurement system has been implemented in select Departments.

Vikas Darpan:
A GIS tool for decentralised planning – A GIS based tool for decentralised planning – Vikas Darpan – has been made operational. This system provides complete maps of the State, 32 Districts, 241 Tehsils and 41,000 villages linking socio-economic profi les and demographic data of Census 2001. Vikas Darpan provides access to the public as well as to State Government departments in a CUG mode.

Digitisation and e-Cataloguing
(http://ancientdocuments.rajasthan.gov. in) and   (http://ancientcoins.rajasthan. gov.in) Ancient documents, antiques, antique coins are being digitised and e-Catalogued.

Litigation Information, Tracking & Evaluation System (LITES):
The application has been developed to assist the Administrative Departments in the State to effectively and economically handle litigation and to streamline systems and procedures to maximize effi ciency.
On-line issue of Bonafi de Certifi cate:
To facilitate end-to-end e-Service delivery, on-line issue of Bonafi de Certifi cate has been taken up by the Home Department of the State. This involves issue of certifi cate through kiosks (CSC centers) with Digital Certifi cate.

IT INFRASTRUCTURE PROJECTS

Video Conferencing:
The facility has been provided to the 33 districts of the  State. All major departments are utilising the services as per their  requirements. Secretariat Network: State-of-the-art Voice, Data & Video network connecting HUMAN
RESOURCE DEVELOPMENT
Capacity Building in Government Domain:
It is the intent of the State Government to ensure that all the government  employees are trained in the use of IT. The decision has been taken to train employees so as to derive the envisaged benefi ts from various e- Governance projects. At the initiation of Department of IT&C, training programs are being conducted through private institutes at district level.

IT Infrastructure creation in  educational institutes:
IT infrastructure in form of 10 computer each has been established in 10  Government Girls Schools and 8 Colleges under Government of India funded infrastructure scheme. Infrastructure to be installed in 2000 more schools (10 computer per school) to be installed in the current fi nancial year.
INITIATIVES UNDER NATIONAL e-GOVERNANCE PLAN (NEGP)
State Data Center:
With Government of India (GoI) funds of Rs 48 Crores sanctioned under NeGP, a new State Data Centre is currently under construction.
Rajasthan State Wide Area Network:
Government of Rajasthan has proposed to set up Rajasthan State Wide Area Network (RajSWAN) to modernise the communication infrastructure with an aim to improve the administrative effi ciency and effectiveness. This project
aims at creating vertical and horizontal communication network by linking 32 District head-quarters and 241 Tehsil head-quarters with State head-quarter. Horizontal connectivity would be provided to cover District offi ces at District head-quarters and Tehsil headquarters.
The network would provide data, voice and video communication facilities and link together District & Tehsil administrative offi ces, DLOs, PRIs and e-Mitra kiosks, etc.
State Service Delivery Gateway:
This project is being done under NeGP. Interim gap report prepared by IL&FS was approved by Government of India and KPMG has been engaged as Consultant for phase 2 i.e formulation of RFP for selecting Implementing Agency to operationalise the State Portal and State Service Delivery Gateway. For implementation of State Service Delivery Gateway Agriculture Department, Social Justice & Empowerment Department (Scheduled Caste/tribes/BackwardClassed), Medical Health & Family Welfare Service, Horticulture, Rural Development, Employment, Education Department and PHED, have been selected for computerisation.

INNOVATIVE PROJECTS

SUGAM:
Public Service Delivery application being taken up in collaboration with NIC to provide Single-window system for delivery of government services,   Web-enabled Public Grievance Monitoring and Redressal and State-level Call Centre to provide Government services and to function as help desk / centre for applications related to Public Grievances and RTI queries.
Reimbursement for Indira Gandhi Open National University's courses:
With a view to encourage IT skill development in Government sector, Government of Rajasthan has decided to reimburse the fees, as per the  guidelines issued by the State Government, to government personnel successfully completing MCA, BCA and Certifi cate courses in I.T.
'Knowledge Centers' for training on IT and soft skills are being set up in Government Colleges in partnership with private sector.

Rajasthan Knowledge Corporation Limited (RKCL):
RCKL has been set up in the State with an aim to provide IT education in remote rural areas of the State thus bridging the digital divide and providing a solution to the last mile connectivity issue.
Computerised Career Counseling:
It is a central gateway to provide information pertaining to various courses, their admission criteria, fees structure, employment opportunities, seat availability etc. available in the State to the State's rural and urban student population.

Bharat Nirman Rajiv Gandhi Sewa Kendra:
In order to provide IT and IT enabled services in the rural areas of the State, the state government has launched a unique scheme which is the fi rst of its kind anywhere in the country. The State Government would setup 249 such kendras throughout the state at all the Block Headquarters. These centres would provide Government to Citizen services such as depositing of bills of various types. Bus/train ticket, copies of revenue records (Jamabandi) etc. Besides these services, these centres would also get linked with EDUSAT and GRAMSAT and provide Knowledge regarding their programmes to the rural population. These centres would impart training in IT and act as a nodal centre for computerization initiatives  at the Block level. A model CSC is to be set up at each of the Rajiv Gandhi Sewa krndra.
Tanmay Kumar Secretary – IT&C Government of Rajasthan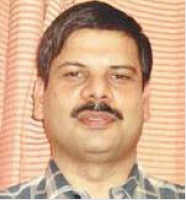 Providing citizen services in a friendly, transparent manner with the help of ICT and with ease of operations is the foremost agenda of the State Government. However, The State Government is also conscious of the fact that the delivery of services to the citizens on an end to end basis requires not only Business Process Engineering but also Government Process Engineering comprising changes in Rules, Acts and Circulars. The State Government has already started working towards this and has already issued directions to issue circular to issue Bonafi de Resident with Digital Certifi cation through kiosks.
Dr. Jitendra Singh Minister – IT&C Government of Rajasthan
The Government of Rajasthan is of the opinion that the Departments, especially those involved in citizencentric service delivery, need to identify the specifi c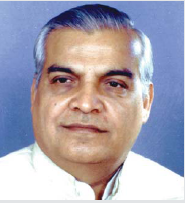 areas where service is rendered to the citizens. The Departments need to continuously evolve effi cient and effective ways for providing electronic service delivery by carrying-out the required business process re-engineering/ government process re-engineering and automation within their Departments.The State Government's resolve in this direction has been amply spelled out in the circulars issued to earmark upto 3% of Plan Budget of Government Departments for e-Governance, identifi cation of at least 2 G2C  services to be delivered on end-to-end basis through kiosks and issue of Digitally certifi ed Bonafi de Residents through kiosks.
Ashok Gehlot Chief Minister Government of Rajasthan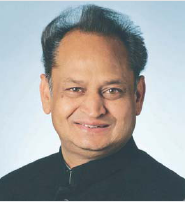 The Government of Rajasthan is committed to provide transparent, responsive, effi cient and accountable governance to the people of the State through effective use of IT tools for citizen-centric electronic service delivery.  Department of Information Technology & Communication has implemented  schemes such as e-Mitra in the urban areas and is in the process of  implementing schemes such as Common Service Centers, Rajasthan State Wide Area Network, State Data Center, e-SANCHAR, Arogya Online and few other  citizen-centric e-Governance Schemes. In order to provide thrust to  e-Governance initiatives across all departments and to make it central to the  Planning and Monitoring process, the State Government has taken an enabling  stride by allowing all departments to utilize upto 3% of their respective Plan  Budget, for achieving electronic service delivery on an endto- end basis to the citizens.