eRajasthan Summit, 18th December, 2009, Four Points by Sheraton, Jaipur
Centre for Science, Development and Media Studies (CSDMS) along with Department of IT, Ministry of Communication and IT, Government of India, National e-Governance Plan (NeGP), Government of India, as Co-organisers, launched the e-Rajasthan Summit, in association with UN Solution Exchange, Global e-Schools and Communities Initiative (GeSCI) and Indira Gandhi National Open University (IGNOU) as supporting partners.
The spotlight was put on Rajasthan initiatives and efforts in bringing about a digitally inclusive society. It highlighted the role of ICTs playing the harbinger of a silent revolution in obscure towns and villages, of acknowledging the efforts and addressing the challenges, and of bringing all stakeholders with common concerns into one platform, the eRajasthan platform.
The one-day eRajasthan Summit aimed at active knowledge sharing, showcasing of existing e-Education, eHealth, eAgriculture, Telecentre, eGovernance and Municipal IT initiatives in the state, deliberated on the way forward, and sought to provide a platform to exchange ideas and promote capacity building.
After the welcome note, Dr Ravi Gupta, Executive Director, CSDMS and Convener, eRajasthan 2009, provided an overview of the efforts of CSDMS in bringing ICTs closer to the masses. He reiterated that the efforts of CSDMS have consistently been focused on making ICTs more valuable and have delved deeper into finding out ways and means on how ICTs can have an enriching and socially relevant role in society. After having established its reach in the major metros through eINDIA, CSDMS has now proposed to go local through the eRajasthan Summit.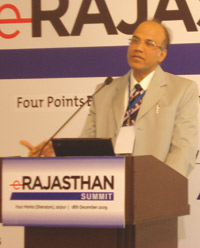 Keynote address by Shri Vipin Chandra Sharma, Principal Secretary, Technical Education, Government of Rajasthan
In his inaugural address, Shri Vipin Chandra Sharma, Principal Secretary, Technical Education, Government of Rajasthan, spoke about the value and importance of ICTs in all spheres of development and governance.  Economic development, he said, is propelled by the incorporation of technology and advancements and has contributed tremendously towards creating citizen friendly services. The National Rural Employment Guarantee Act and several other schemes have promoted social security and livelihood for the rural poor.  Land records computerization project in Rajasthan has been a commendable effort that has been implemented at the grass roots. It has proved to be a boon for the villager, citizen, and government revenue officials. Thus the State of Rajasthan has and will be using the tremendous ICT potential to move ahead in the development agenda.
Dr Sanjay Tyagi, Centre Head and Additional Director, STPI, Jaipur, emphasised on the potential of smaller cities like Jaipur to use and exploit the ICT potential to transform the State of Rajasthan into a development hub. According to him, Rajasthan needs to recognize its strengths and weaknesses and act on it to address key concerns. Rajasthan has tremendous potential in eGovernance and other domains. It is for the state government to be willing to exploit these potential and achieve new heights for the state.
Dr S N Ambedkar, Regional Director, Indira Gandhi National Open University Regional Centre, Rajasthan, stated that the state has a literacy rate of only 60%. Some of the reasons for the same include: Rajasthan's population density of 165/ km2 which is half that of the national average of 313/ km2; Climate conditions and lack of transport infrastructure; and girls from traditional families with cultural restrictions who are not allowed to go to college in another city/town. One of the ways to meet the needs of the people, especially women in the state of Rajasthan is distance education delivered through ICT.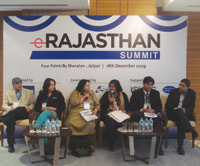 Panelist at the School Education Session: (From Left) M D Shivankar, Safeena Hussain, Ashish Garg, Dr Manju Gupta, Nitesh Mathur and Dr Ravi Gupta
Ashish Garg, Asia Regional Coordinator, Global e-Schools and Communities Initiative (GeSCI) highlighted the role of GeSCI in providing equitable access to knowledge, and the ability and capacity to create and share knowledge for society's overall development.  GeSCI's work has been guided by the principle of knowledge building and sharing– a principle that helps developing countries build their own knowledge and innovation institutions and structures.
SCHOOL EDUCATION
INTEGRATED USE OF ICT IN EDUCATION PEDAGOGY:
THE BLENDED LEARNING APPROACH The objective of the School Education     was to deliberate on ways to integrate technology in the education pedagogy to make it more inclusive and participatory for students. The participants in the panel discussion included:
Chair: Ashish Garg, Asia Regional Coordinator, Global eSchools and Communities Initiative (GeSCI)
Panelists: Dr Ravi Gupta, Director, CSDMS;  Safeena Hussain, Executive Director, Foundation to Educate Girls; Dr Manju  Gupta, Regional Director, NIOS Regional Centre, Rajasthan; Nitesh Mathur,  Project Manager, Networking Academy, CISCO; M D Sivankar, Managing  Director, Rajasthan Knowledge Corporation Limited.
KEY DISCUSSION OUTCOMES
Ashish Garg opened the session by highlighting the glaring need for incorporating and addressing region specifi c requirements in education. Rajasthan has a history of knowledge for production. Need for inclusive education is a crucial agenda which needs to be taken up on an urgent basis.
According to Safeena Husain, reforming the existing education system to bridge the gap between the education being imparted in private schools and government schools is important. The need is to work with local governments and parents in order to promote a feeling of community  ownership towards education. The objective has to be to make the schools work  for girls and to ensure that no school-age girl is out of school.
Dr Ravi Gupta was of the opinion that the mind of the learner needs to be explored to incorporate specifi c needs of the target group into education. Technology in education is important but at the same time, it is important to understand the learners' mind. The Right to Education Bill is an important milestone, although the actualization of the objectives of the same is of great  signifi cance. Implementation of education policies in all states requires understanding of regional biases and preferences. It has to be need specifi c and  location specifi c. Sharing and dissemination of knowledge requires understanding of the local ethos and customs.
Manju Gupta reiterated the commendable work being done by NIOS in using technology for educating the students. The Distance Education Programme is engaged in capacity building of educational institutes in all states, such as State Councils of Educational Research and Training (SCERTs), District Institutes of Education and Training (DIETs) etc. with the objective of improving quality of  education at the elementary level by evolving strategies for continuous training  of teachers and other functionaries.
M D Shivankar explained the role of RKCL in creating a network of training centres in order to address the capacity building requirements. They have  trained more than 50000 people and has 10 Program Support Agencies and a  network of 1370 computer centers, named as IT Gyan Kendra (IT-GK) which  are fulfi lling the motive of spreading IT literacy across the state.
According to Nitesh Mathur, the Internet and education are the great equalizers of the next century, creating enormous opportunities for people and countries that succeed in harnessing the power of information and knowledge.  The advent of globalization, has juxtaposed the prowess in IT with strong  educational system and networks for bringing about an ICT revolution.

HIGHER EDUCATION
RESTRUCTURING THE EDUCATION AGENDA TO MAKE IT DIGITALLY INCLUSIVE
The objective of the session was to deliberate on the new practices that can
be assimilated to ensure that students get better and affordable access to higher education. The participants at the panel discussion included:
Chair: Dr S N Ambedkar, Regional Director, IGNOU Regional Centre, Rajasthan
Panelists: A M Thimmiya, Member of Academic Senate, DDE, Sikkim Manipal  University; Prof. Nutan Bharti, Educational Technology Department, NIIT  University, Rajasthan; Dr Sharad Sinha, RIE, NCERT, Ajmer, Rajasthan; RC  Chhipa, Coordinator, Doctoral Guidance Committee, SGVU, Jaipur; Anand Mani  Shandilya, Manager, Morarka Foundation
KEY DISCUSSION OUTCOMES
Dr Ambedkar highlighted that the national agenda seeks to increase the present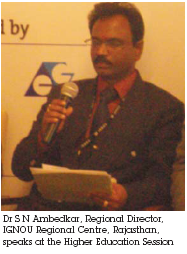 situation of enrollment into higher education to 11%. Access to higher  education and quality content is important. Open courses provide an effective  platform for learners, especially in states like Rajasthan, where the geographical terrain is a major factor. Inclusion as a concept goes beyond just providing access to distance learning.
Dr Sinha highlighted that the regional centres at Ajmer have courses for   capacity building and teacher education. The CII Macinkesy report has said that only 65% of the Indian graduates are employable. Skills training is the need of the hour.
R C Chippa highlighted that by leveraging on ICT, it is possible to teach better to a wider audience, thereby breaking the geographical barriers.
Anand Mani Shandilya stated that the Morarka Foundation seeks to provide seamless, hassle free and low cost communication between the producers and  consumers through an integrated IT-ICT platform has been developed, with  great amount of cooperation and assistance from IT Service Providers. A M  Thimmiya highlighted the EduNxt initiative launched by Sikkim Manipal University's Directorate of Distance Education which aims to provide students  with a plethora of resources not possible in the existing physical mode so they  learn through collaboration. This has been particularly useful in Rajasthan that has only 20 universities and is not able to cater to all prospective students. According to Prof Nutan Bharti, there has always been a need to integrate technology into education. Synchronous Learning Technology allows students  to be connected face-to-face with faculty from across the world.. IT can be used  to add cognition and skills addition.

eHEALTH SESSION
TRANSFORMING HEALTHCARE SERVICES THROUGH ICT
The objective of the session was to deliberate on the challenges, opportunities    and success stories of Rajasthan in using ICT for healthcare. The eHealth session participants included:
Speakers: Group Cat. (Dr) Sanjeev Sood, Senior Medical Offi cer and Hospital  Administrator, Indian Air Force, Jodhpur Prateem Tamboli, Deputy General  Manager, Escorts Fortis Hospital, Jaipur Dr (Col) R K Chaturvedi, Executive Director, Bhagwan Mahavir Cancer Hospital and Research Centre, Jaipur.
KEY DISCUSSION OUTCOMES
Transforming health care through technology has reached a new era of promise. Through prompt and more accurate diagnosis, less invasive procedures and better treatment options, medical technology is rapidly altering the face of health care.
Dr Sood with his theme presentation focusing on latest advancements in use of  ICTs in healthcare. Spoke about the need for a paradigm shift in mindset of  clinicians in order to actualize the real success of eHealth. He urged the government to take proactive measures for encouraging the uptake of  technology in public health institutions and leverage available ICT tools for  addressing rural health services Tamboli underlined the benefi t of taking a  holistic approach of IT in healthcare organisations. He held to the belief that a  strong intent and commitment from senior management holds the key to  success of any IT implementation.
Dr Chaturvedi talked about his stupendous work in using telemedicine for cancer treatment and oncology research. Sharing his efforts in this direction, he highlighted the challenges faced for telemedicine practitioner in terms of the cost of connectivity and equipments, and the lack of sustainable business models for long term provisioning of such services.
eGOVERNANCE
eGOVERNANCE IN RAJASTHAN: VISION AND STRATEGIES FOR THE FUTURE
The objective of the session was to highlight the efforts being made in Rajasthan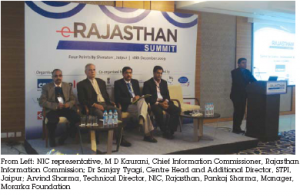 for the growth and development of IT and IT enabled services in the state with  the objective of taking forward the development agenda. The participants at the  session included:
Moderator: Dr Sanjay Tyagi, Centre Head and Additional Director, STPI, Jaipur Speakers: Ashwini Kumar Sharma, Executive Director and MD, RajCOMP, Government of Rajasthan; M D Kaurani, Chief Information Commissioner, Rajasthan Information Commission; Arvind Sharma, Technical Director, NIC, Rajasthan, Pankaj Sharma, Manager, Morarka Foundation.
KEY DISCUSSION OUTCOMES
The Government of Rajasthan has identifi ed IT and ITeS as a major thrust area     for the growth and development of the state. It enunciated an IT policy for Rajasthan in the year 2000 for the fi rst time and has come out with a new IT and ITeS policy for 2006-08. The Department of Information Technology & Communications (DoIT & C) was established by the Government of Rajasthan in 1987 under the Planning Department with the key objectives of formulating IT policies, creating IT awareness and providing technical consultancy to the state government departments in their computerization activities.
Rajasthan State Agency for Computer Services (RajCOMP) was established as consultancy and project implementation agency in 1989, to cater to the  increasing scope of application of IT in the Government Sector.
e-Governance is a way for governments to leverage the Information and Communication Technologies (ICT) to provide people with convenient access  and better quality of government information and services and to provide greater opportunities to participate in democratic institutions and processes. The state of Rajasthan would benefi t greatly from an overall enterprise IT  strategy for achieving the collective business objectives of its departments.
An IT Strategy that is based on an overarching business strategy rather than  separate, unaligned individual department strategies would allow executive  department agencies, constitutional offi ces, the Legislature and the judicial  branch to focus their energies and resources to enhance value and introduce  cost-effective operations throughout the government.