eAgriculture is still at a nascent stage. Till the year 2007, the term eAgriculture was not even coined. During a global survey in 2006, including 3400 responses from 135 countries 'eAgriculture' as a new term was identified. Later in April 2007, the UN released a statement on what eAgriculture was and in the same year in July the very first eAgriculture conference, under eINDIA umbrella, was held in New Delhi. Since then eAgriculture has been an integral part of eINDIA. The third edition of the event held from 26-27 August 2009, had seven sessions to discuss recent ICT environment in agriculture, emerging technologies, applications of ICT in agriculture field etc.
Session: Perspective to Practice
The inaugural session was moderated by Michael Riggs, Knowledge and Information Officer, FAO. He shared in detail the background of eAgriculture, how the concept has evolved and how it is even more relevant with the increasing information gap.
The first speaker was Dr. KG Karmakar, Managing Director, NABARD, who highlighted the challenges for eAgriculture. Recognising the role of ICTs to help achieve the objectives of livelihood needs, he pointed rural credit and financial services to be the most important factors. He stressed that the Unique Identity Number could be an important thing if it could be integrated with the financial inclusion programme.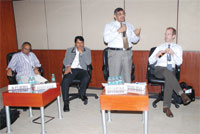 Dr. PY Reddy, Director Planning and Monitoring, ANG Ranga Agricultural University mentioned about the role of ICTs in transfer of technology amongst various stakeholders in agriculture. The production base has grown four times since independence, which could happen through better varieties, irrigation facilities, extension practices. To achieve yet another level of production and productivity, the recent developed technologies have to reach the main stakeholder i.e. farmer. According to him another area where the role of ICT is very important for the farmer is in the area of price discovery, which can help farmers decide the actual price of his produce and get better realization for the same.
Dr. Rathan Kelkar, Director, Kerala IT Mission gave an overview of eKrishi, a project with a vision to establish a connected farmers' community throughout Kerala who have access to information on market demand, prices, good agricultural practices, quality agricultural inputs and is supported by technology enabled robust transaction platform. He mentioned about the critical factors which were addressed while implementing eKrishi project.
Session: Education, Research and Extension
The first speaker of the session, Dr. PY Reddy, Director Planning and Monitoring, ANG Ranga Agricultural discussed the role of ICTs in research and how simulation and other scientific models can be developed, based on the existing knowledge to help agriculture research.
Dr. M B Chetti, Dean, University of Agricultural Sciences, Dharwad, talked about the role and facilities that the university has been providing in the usage of ICT for agriculture sector. He  informed the major initiatives taken by the university, to facilitate education and administration in context of ICT and agriculture sector.
Dr. T P Trivedi, Project Director, Indian Council of Agricultural Research (ICAR) was of the opinion that ICT can reduce the gap between scientists, universities and farmers. ICT can reduce the transaction cost by 90-95 per cent and leverage the transition of subsistence farming to commercial one. He discussed the applications of ICT in knowledge sharing and knowledge management and highlighted the efforts of ICAR in this regard.
Dr. V P Sharma, Director National Institute of Agricultural Extension Management (MANAGE) highlighted the challenges before eAgriculture. In the context of ICT penetration in rural India, he was of the opinion that connectivity is highly skewed, and Internet connectivity is even more skewed, Internet penetration is still below the world average. He recommended that some issues need to be prioritized, for instance creation and maintenance of crop-specific knowledge banks, state-specific agri-information dissemination portals, mainstreaming of Common Service Centres and Kisan Knowledge Management system.
Dr. V Balaji, Head, Knowledge Management and Sharing, ICRISAT argued that the real challenge for the nation was to bridge the widening gap between the farm families and scientific communities, credit and insurance agencies of all kinds. He also agreed that the agriculture sector as such is not very IT savvy  compared with any other development sector. It was felt that the digital content on issues related to agriculture was far from sufficient and this is not letting many other ICT based initiatives for development to happen. The need of developing para-professionals was stressed upon as there remained a wide gap between the existing number of farmers and the extension workers in India. Towards achieving this, both IGNOU and ICAR system need to work in close collaboration, Dr. Balaji said.
Dr. P. Kalaiselvan, Director of Extension Education, Tamil Nadu Agricultural University highlighted the importance of agriculture for Indian economy. He appeared optimistic to the new ICTs which are empowering the resource-poor farmers with up-to date knowledge and information about agricultural technologies, best practices, markets, price trends, consumer preferences, sources of finance, weather, soil-moisture conditions and the environment. Keeping these issues as key objectives, Tamil Nadu Agricultural University has initiated ICT based Agricultural Education, Research and Extension for the benefit of all the stake-holders, he told.
Session chair, Prof. Srivathsan, Pro Vice Chancellor,  IGNOU, said the agri-ecosystem has several players impacting it including state governments, market, financial institutions, commodity exchanges, national & international agencies e.g. ICAR, FAO, CGIAR, WTO, etc. He informed about how Kissan Kerala and e-krishi act as web 2.0 of agriculture, integrating small producers by making virtual cooperatives and a virtual mandi to trade their produce.
Session : ICT and Backward-Forward Linkages in Agri-input Chain
The session was chaired by Aruna Sunaranjan, CEO, Common Service Centers and Digital Inclusion Initiatives and the panelists were BVS Prasad, AGM, NABARD, Hyderabad, Monirul Bashar, Group Manager, Services Group, Katalyst, Dr. Sapna A Narula, Assistant Professor, G B Pant University, Dr. C Kathiresan, Project Manager InDG, C-DAC, Ninvedan Sahani, Vice President, Enterprise Services, Bharti-Airtel Limited and Santanu Sengupta, CEO, Study and Jobs Worldwide.
In his presentation, Prasad discussed the ICT and linkages in agriculture and agri-extension, and the evolution of agri-extension since independence. He pointed out that a paradigm shift took place in 1990 in agri-extension services as decentralisation and market driven approach was introduced. Other remarkable development that took place in the agri-extension was the entry of private sector, the third sector- NGOs,Agro–input industries in the Agro-processing
industries. Today farmers have access to a variety of agricultural technologies. Bashar  focused on how the applications of ICT can enable agriculture sector in Bangladesh. He  maintained that poverty can be reduced by creating the productive asset and enhancing  income and employment opportunities for the farmers. He talked about how Community  Information Centers (CICs) were serving rural population with agricultural information and  other basic services such as providing updated content, sourced and supplied by a commercial entity.
Dr. Sapna's presentation was focused on the client perspectives on ICT and agriculture. She  dealt on what farmers really want and what sort of information they needed. She recommended that Internet and mobile phone could be viable tools to disseminate the  information to farmers and address their needs.
Dr. Kathiresan, while discussing about learnings from North East India, highlighted the  problems and challenges of the particular region and argued that agri-extension services  consist of three Cs-connectivity, content and community participation. e-Arik and e-Villages  are the pilot initiatives of the ICT interventions in agricultural services in Arunachal  Pradesh. The main challenges faced are the lack of e-Awareness, diversifi ed languages and  culture in the eight states of North East, irregular supply of power, inadequate relevant  content for North East, distance between villages, frequent connectivity failure, marketing, lack of transparency in disclosing subsidy schemes among Agriculture & RD departments.
Sahani discussed about m-Governance, its objectives, benefi ts and Airtel's role. Mobile  services can be provided in e-Agriculture domain like grameen fi nance, disaster  management and fi nancial inclusion. The main benefi ts are dissemination of information to  a larger number of people at a short time, reduction of average service processing time and cost for services, reduction in number of public complaints, increased transparency in the  delivery system. The role of Airtel is to draft detailed Mobile Governance strategy for a state,  identifying new services as well as user departments for the State Wide roll out of m-Gov  services, prepare functional requirement specifi cations for the services, implementation of  the entire project and managing the infrastructure in a managed services mode.
Sengupta started with enumerating the problems of Indian agriculture such as irrigation,  decreasing crop yield, low fertility and rising cost of inputs. Decreasing access to credit, high  cost inputs, lack of awareness and market intelligence, increasing despondency, etc are the  other challenges to the Indian agriculture sector. He believed that there is a need of multi- pronged action plan to address these challenges. The increasing use of ICT will refi ne key  areas of input management to output.
SESSION: EAGRICULTURE-A BUDDING REALITY
The fi rst speaker of the session, Dr. Runa Sarkar from Indian Institute of Management, Calcutta, made a detailed presentation on 'agropedia'. According to her, there remains a wide  gap in agriculture where a large people base was not a part of semantic web revolution.  Agropedia tries to address this concern so that people who are left out of web 2.0 revolution can have its fruits. They can obtain more specifi c search result to handle information  overload, can network with like-minded groups, share their experiences, contribute content  and make learning process more interactive by using this open platform.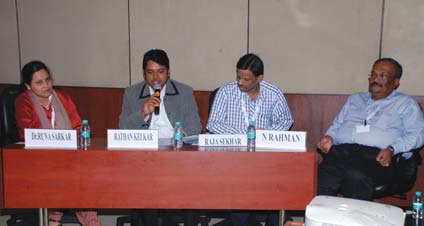 L –R) Dr. Runa Sarkar, Dr. Rathan Kelkar, Raja Sekhar and N Rahman
Raja Sekhar, Senior Technical Director, National Informatics Centre, shared various ICT  driven initiatives of NIC to facilitate enhancement in productivity and reduction in cost. All  the efforts are to bridge the information gap amongst various stakeholders e.g. commodity  prices in different markets, agriculture census, quarantine, advisory services, weather  information, etc. He also informed that the issues which hinder the full potential of ICT  working for agriculture are illiteracy, content not being in regional/local languages, power  issue, bandwidth issues, maintenance, affordability, scalability, etc.
Naimur Rahman, Director, One World South Asia shared about LifeLines India and  Bhoogyan.net, the two mobile based applications being used in the fi eld of personal agriculture advisory, education and climate change. During his presentation, Rahman told  that technology works if it provides knowledge on demand is simple for user and is robust at  backend. He further added that farmers were willing to pay for a service if the value of that  service was higher than what they need to pay for it.
P Balaji, Assistant Professor, Tamil Nadu Agricultural University, made a presentation on  e-Velanmai, which is an ICT based technology transfer model for the farmers. In this model  the fi eld level enquiry of a farmer, is sent to an expert team using ICT tools like digital  camera, mobile, Internet etc., which is then addressed and the solution is provided using ICT channels or visit of the expert.
While summarising the session chair, Dr. Rathan Kelkar, said that eAgriculture was not too  much about technology, but about people. According to him, other ingredients of successful  farming were consolidation of land holding, strengthening input system, scientifi c resource  management, improved agronomic practices, bridging ICT divide, knowledge sharing,  capacity building, effective policies and agricultural infrastructure.

SESSION : EAGRICULTURE- ENABLING AGRICULTURE
The fi rst speaker of the session S Sivakumar, CEO, e-Choupal, ITC, explained that ICT,  particularly mobile phone, are very useful in providing the information to the farmers. He  emphasised on personalised crop management advisory to farmers. He maintained the  approach would be to provide information regarding the health of soil, usage of fertilizer, crop  diseases, etc. He was also of the opinion that ICT infrastructure and training to the farmers  would be useful for agricultural and rural development.
Michael Riggs, Knowledge and Information Magagement Offi cer, FAO, Rome argued that ICT  is the only enabling factor in the development process and helps to share the information.  According to him eAgriculture implies improvement in process of information dissemination,  access and exchange, communication and participation, and network building activities  amongst the rural stakeholders. Since rural development is a broad and complex process,  there is need of ICT to enhance the development process and improve communications in rural areas.
Arun Nair from Nokia Life Tools highlighted the benefi ts of mobile phone for rural development and in providing the agricultural services in remote and isolated rural areas. India is a huge market of low income people with a variety of local languages and a limited English acquaintance. He told that mobile phones are better than other ICT tools for the  information dissemination in terms of the mobility, convenience, personalised information,  hyper-local service offering, low cost of ownership, availability and self service.
According to Niranjan Meegammana from SriLanka, term 'e' refers to enhancement, empowerment and enabling. For him, it brings an attitudinal change to make a better  society.He emphasised on the partnership at the various levels such as government/ community and the private sector. Involvement of academia and the role of telecentres  funding are very crucial.
Sudhanshu Jain, Manager- Marketing, Handygo said that prime impact of the ICT in the  agriculture is the empowerment and improving the life style of the farmers. It helps to  provide an easy access to many services ranging from education, health to marketing. Mobile phone can provide quality information and serve the rural community in multiple ways,  which was the main message of his presentation. He also shared their new IVR based initiative  called Krishi Vaani which provides quality information on weather, mandi  (market) rates, education, health, fi sheries, livestock, fi nance, etc. During the discussions  later session chair Seva Ratan M Moni, Deputy Director General, National Informatics Center  emphasized on the fact that such conferences should act as a control system to ascertain the  progress being made in what is being talked and what actually is practiced.
SESSION : EAGRICULTURE IN THE CONTEXT OF CLIMATE CHANGE
The session on agriculture in the context of climate change was jointly organized with ICRISAT. The panelists were Rosana P Mula, Coordinator, Learning Systems Unit, ICRISAT; Dr. N H Rao, Joint Director, National Academy of Agricultural Research Management (NAARM); Dr. Shaik Meera, Senior Scientist, Directorate of Rice Research; Dr. Sreenath Dixit,  Principal Scientist, National Agricultural Innovation Project (NAIP), CRIDA; and Ajith Kumar, Principal Investigator and Project Coordinator, Kissan Kerala.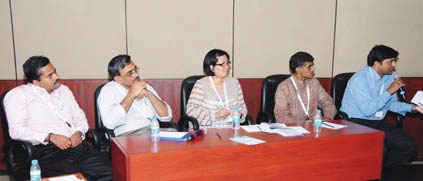 ( L –R) Ajith Kumar, Dr. NH Rao, Rosana P Mula, Dr. Sreenath Dixit and Dr Shaik Meera
While moderating the session Dr. V Balaji, Head, Knowledge Management and Sharing, ICRISAT said that the climate change is no longer a distant possibility; it is here. The session  aimed to explore how the emerging paradigm of eAgriculture can address climate change.  'Can eAgriculture facilitate an alliance that will enable the farming community, policy makers and researchers come together to address the issues that pertain to this phenomenon',  were some of the broad consideration addressed during the session. Rosana P Mula presented  on 'Relevance of ICT in climate change: A myth or reality?', she pointed that earth has been  gradually warming. Briefi ng the audience about ICRISAT's experience in ICT-mediated  agroadvisory, Rosana talked about the Virtual Academy for the Semi-Arid Tropics (VASAT) which has involved rural women volunteers to monitor and update rainfall data on to a wiki  page. With the help of fi eld investigator and village volunteers as also through the aid of ICT  tools like video-conferencing, ICRISAT also provides drought awareness to the rural communities.
Dr. NH Rao spoke on the 'Geospatial knowledge management framework for eAgriculture in  the context of climate change'. GIS provides a convenient framework for reviewing,  monitoring and analysing the data on natural resources, climate and livelihoods down to the  individual farm level against climate change knowledge.
Dr. Meera's presentation highlighted 'Agricultural Knowledge Management in the Context of  Climate Change' through the Rice Knowledge Management Portal. His presentation focused  specifi cally on the impact of climate change on rice cultivation in North India. He said that  the need of the hour is the adoption of new ways of knowledge management through the development of an integrated system. This is what their rice knowledge management seeks to provide.
Dr. Sreenath Dixit shared details about the Sustainable Rural Livelihoods (SRL) project. The  project seeks to provide appropriate ICT infrastructure at the village level and empower the  village youth with the knowledge to run and manage them. In order to share all the research  fi ndings and learnings, they have developed a web portal. They are facing connectivity  related challenges, but are using a combination of connectivity options to stay in touch with  the clusters and provide them timely updates and information on water availability, weather  conditions, drought resistant seeds, etc.
Ajith Kumar presented on the Kissan Kerala: An Integrated Multi-Model Agricultural Information System. The main objective of the project is to provide the right agricultural information at the right time to the right person in the right context. The information is  collected from various sources, then it is verifi ed and analysed and fi nally disseminated through various platforms, such as web based online advisory services, television, tele- advisory services, SMS based advisory services and video channel.

SESSION: ROLE OF ICT IN FORGING LINKAGES BETWEEN FOOD & NUTRITION
To emphasise and communicate the importance of mainstreaming nutrition in the larger  debate of food and agriculture to various stakeholders this session was jointly organized with  FAO. It was an open ended discussion to facilitate explicit views and opinions from various  participants and a set of distinguished panelist.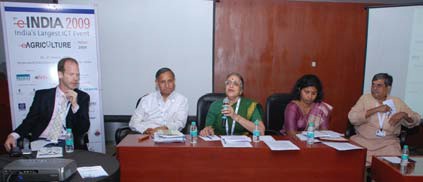 L –R) Michael Riggs, Dr V P Sharma, Dr Prema Ramachandran, Dr Geeta Kutty and Dr Shankar Datta
Dr. Gopi Ghosh, Assistant Representative FAO, moderated the discussion. He introduced the  session mentioning that while addressing the challenges of Food insecurity often we lose sight  of nutritional security. There is a need to ensure dietary, culinary and household utilisation of  foodstuff and the awareness levels at a household for a nutrition-driven decision making.
Dr. Prema Ramachandran, Director, Nutrition Foundation of India stressed that information  needs to be communicated horizontally across sectors. She looked at the desperate situation of  hunger when India imported grains at subsidized rates to being self suffi cient in food  production through the green revolution whish was perhaps one of the best examples of  effective communication across sectors, adoption of mission mode system for improving  productivity and public private partnership to achieve a national goal in record time.
Dr. Prema Ramachandran pointed out that fruits and vegetables provide essential micronutrients vital for nutrition and health. Vegetable and fruit consumption continues to be low in all segments including families with no economic constraints. Focus has to be given  on cultivation & consumption of locally grown low-cost nutrient-rich vegetables.
Trying to look at why agriculture could not give enough attention to nutrition Dr. V P  Sharma, Director, MANAGE, provided for the lacunae in the research, extension and education. He confessed that pulses have not been a major part of the research and extension  programmes. He mentioned that it is really the question of communicating the right  messages. There are 1,20,000 extension functionaries and ICTs could be an  effective tool used for communicating these right messages.
The fact that the production systems are demand driven and income opportunities needs to be  considered, Dr. Sankar Datta, Managing Director, BASIX, highlighted on the grassroots  challenges of mainstreaming. ICTs are available but the rural populace lacks the means to use  it. The villages' don't have the basic food to survive, and therefore pulses and vegetables  are not the priority. On other hand, there is huge wastage in urban households. This calls for  an appropriate planning and communication process to reduce this huge divide and ICTs can  play a proactive role including radio and television. While talking of the divide that exists for  the have and have-nots Dr. Geeta Kutty, head of gender studies at the National Institute of  Rural Development looked at the gender concerns of mainstreaming. The nutritional divide  that's further evident from the poor nutrition status of rural women. To her, women need to  be a part of the planning process in different sectors of rural development including agriculture and other dimensions especially women headed households. This is important on  the area of access to technologies and services for women also.
It was quite clear that there is lot of efforts required in communicating the right messages to  various stakeholders. To bring about this convergence, Michael Riggs, FAO, Rome looked at  how ICTs could help in bridging this poverty, social, knowledge and technology divides. He  mentioned the need to facilitate communication and knowledge among the agriculturists and  nutritionist and the potential role of solution exchanges.
The two day event was successful in initiating a debate on emerging Information Communication Technologies, challenges and opportunities, convergence amongst agriculture, livelihood, food, nutrition, education, communication and rural development  sectors.