Jayant Sinha
DGM (IT/ APDRP), Uttarakhand Power Corporation Ltd, Dehradun
Introduction
Power sector reforms were first initiated in India in 1992 by the Ministry of Power (MoP) to invite private investments in power generation to bridge the demand-supply gap. However, private investments failed to yield much benefit due to serious deficiencies and losses in electricity distribution in most of the State Electricity Boards (SEBs).
To reduce such operational costs, strengthen electricity distribution network and minimise distribution losses due to theft and operational inefficiency, the Government launched the Accelerated Power Development and Reforms Programme (APDRP) during the 10th Five Year Plan (2002-07).
Continuing its support for power distribution reforms, the Government  launched the Restructured APDRP (R-APDRP) in the 11th Five Year Plan (2007-12) with revised terms and conditions.
R-APDRP aims at reducing AT&C losses, strengthening of the distribution network and improving the commercial viability of the state distribution companies (DISCOMs). To avail of the financial support under R-APDRP, the utilities would however need to demonstrate measurable performance improvement.
Objectives of Reforms Initiatives
DISCOMs face the challenges of setting up standards-based, reliable and automated systems for process automation, operational efficiency and total energy accounting, with ICT as an enabler. There is a need for standardisation of technology for ICT-enabled power reforms for the sake of system scalability, interoperability, interface compatibility, investment protection and reduced total cost of ownership.
In the present business environment of increased competition, open access and availability-based tariff, the complexity and challenges of power distribution sector have increased manifold. As a first step towards reforms implementation, it is essential for DISCOMs to conduct an 'As-is' study of the existing ICT infrastructure (hardware, software and network) and software applications to ascertain the extent of system usability, compatibility and possible integration with 'To-be' systems proposed.
In general, the main objectives of ICT-enabled distribution reforms are:
AT&C loss reduction

Metering, billing and collection efficiency

Total energy accounting

Improved consumer services

Effective Management Information System (MIS)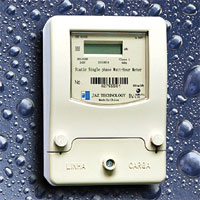 Under the Restructured Accelerated Power Development and Reforms Programme (R-APDRP), State energy utilities are required to adopt measures for reducing Aggregate Technical & Commercial losses, while also taking steps to strengthen distribution network and improve commercial viability. This article discusses the emerging role of ICT in reducing AT&C losses, distribution system automation and in overall reform processes in India's power sector. It also talks about some of the key technologies adopted extensively under R-APDRP in Uttarakhand Power Corporation Ltd.
Technology Standardisation for Distribution Reforms
To sustain reforms in business process and business growth, it is imperative to select appropriate technology based on long-term strategic and business continuity perspective. For enabling ICT in power reforms, the following factors need to be considered:
Open system architecture and adaptive communication network, based on proven standards and specifications: It is important to have a robust, scalable, adaptive, standards-based and open systems computing and network architecture for total life cycle management of ICT solutions.

Consistent infrastructure for data collaboration, data communication and data interoperability: The best practice approach is to have a modular design, integrating various applications through a common interface or 'dashboard', with secured access, multi-level permissions and audit trail.

Authentication and role-based access to the network:  The applications must be secured with role-based authentication for securing databases with large volume of transactions.

Robust and scalable architecture to support large volume of transactions: Choice of hardware platform, OS, database and front-end tools should be based on the type of applications and volume of transactions.

N-tier architecture for ease of deployment and managing business rules: N-tier architecture makes it easier to deploy software changes and apply business rules centrally, without affecting the clients.

Disaster Recovery and Business Continuity Planning: Automated data backups are essential for the protection of vital data and their recovery during catastrophic failure. Clustering at both OS and database level is recommended, along with RAID support and data replication facility.
The technology specifications must meet the requirements to enable operations at the transaction level, providing in-built process control checks, role-based authorisation, secured and automated work flow, single point of data capture, audit trail and MIS support, for timely and productive decision making.
Organisational Issues in Reforms Process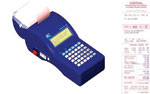 One of the pressing concerns of DISCOMs, in general, is the increasing average age of the employees. New inductions are very few and a sizeable chunk of experienced employees retire every year. The experienced older employees, nevertheless, do not adapt to the demands of new technologies. It is a big challenge to transform them into technology-savvy employees.
Moreover, there is often a dearth of institutional programmes for organisational capacity building. Most of the DISCOMs still continue to have a monolithic structure, thus creating information silos. Bridging of the silos is important to make business process work flow more systematic and efficient.
The implementation of distribution reforms calls for organisational restructuring backed up with suitable administrative changes and proper delegation of powers, to reap the maximum benefits of reforms.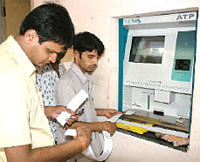 Emerging Technologies in Distribution Reforms
A plethora of emerging technologies are playing increasingly significant role in distribution system automation and reforms process in India's power sector. Some of the key technologies extensively adopted by UPCIL in power distribution reforms under R-APDRP are:
GIS-based consumer indexing and electrical network mapping: GIS is envisaged as a tool for the development of consumer and electrical network database, used by various applications like customer information system, asset management, billing system, customer services, energy audit and load flow studies. Several Indian DISCOMs are using GIS technology to map their HT/ LT consumers and electrical network assets. This involves conducting GPS survey of consumer households, connected electrical feeders and distribution transformers. All the consumers are then indexed and given a unique electrical address (Consumer Index Number or CIN), making it possible to segregate consumers for energy audit and accounting purposes. The geo-referenced data is further mapped on the underlying satellite imagery of appropriate scale.

Automated Meter Reading (AMR): The amount of data read by electronic meters has increased manifold and meters have to be read more often for load profiling and analysis. AMR has become a necessity for effective energy management, energy accounting and to overcome the problems of manual readings. The preparation of electrical network database, consumer indexing and documentation is the first step for effective AMR and correct energy accounting. The quality of AMR data depends on the quality and health of electronic meters used in the system.

Energy Audit and Accounting: The advantages of AMR can be further leveraged in correctly identifying the areas of low voltages, over-loading and causes of high energy losses. AMR also helps in bringing accountability and operational efficiency, thus significantly contributing to improved revenue realisation.

Load Flow Analysis: For total energy accounting, it is essential to capture energy consumption data and load pattern of consumers during various time intervals for analysis purposes. This also emphasises the need for an integrated meter data management system interfaced with AMR.

Meter Data Logging System: The system must be capable of controlling the energy consumption by setting load threshold at the meter which when exceeded trips the meter circuit breaker.  The system must incorporate business rules regarding meter data measurement, aggregation, validation, load estimation and exceptions handling. It must integrate seamlessly with other applications like customer information system, asset management, outage management, energy billing, revenue accounting and MIS.

IVRS-based consumer call centre: For a distribution utility, a centralised, automated interactive voice response system (IVRS)-based call centre can be beneficial to improve customer services, increasing staff efficiency and single-window clearance of all types of customer complaints. The call centre is designed to address consumer complaints ranging from 'no power' or those related to wrong billing, payments, metering or connection-related.

Spot billing machines: Spot billing machines are hand-held computers (HHC) or Personal Digital Assistants (PDA) which captures meter data either manually or through optical or wireless interface. The in-built billing software processes the consumer details and metering information to generate bills on the spot at the consumer premises itself.

Prepaid Metering System: Prepaid metering system uses a smart card for a pre-set value of electricity that the consumers wish to consume. The amount paid along with other consumer information is encoded into the smart card. The consumer inserts the card in the prepaid meter, which reads the data and when the pre-paid energy is used up, the consumer gets the card recharged/ reprogrammed in the utility office. It eliminates problems related to meter reading, bill distribution and billing disputes.
Any-time payment (ATP) machines: These machines are used for bill collection facilitation for the benefit of the consumers. ATP machines are kept at vantage points easily accessible to the consumers. It may either operate in stand-alone mode or connected to the remote utility billing server via network. It uses customised software to access consumer database and billing details, accepts payments and generates receipt. The revenue collections are then updated in the main billing server through software.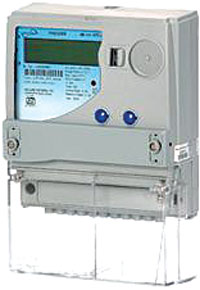 Conclusion
To avail of the Government benefits under R-APDRP reforms, the state energy utilities are required to adopt significant and demonstrable AT&C loss reduction measures, in a definite time frame. This requires accurate measurement, aggregation, validation, communication and processing of energy data in order to identify, analyse and check sources of energy losses and revenue leakages. Organisational restructuring, administrative reforms and institutional capacity building with suitable focus on training and staff development are other key issues in successful technology implementation.
The monolithic organisation structure has to make way for a more adaptive, communicative and broad-based organisational set-up which helps to bridge the information silos, making information flow efficient, systematic and geared to embrace new and emerging technologies for maximum impact. This emphasises the need for technology standardisation in setting up a reliable and automated system for collecting energy data, energy metering, energy data processing, total energy accounting, improved customer services and effective MIS.