As part of its NeGP (National e-Governance Plan) initiative, Department of Information   Technology (DIT) has laid down its vision for taking e-Governance initiative further with 27 Mission Mode Projects. CDAC has built and deployed National e-Governance Services Delivery Gateway (NSDG) and National Services Directory (NSD) which is the second Mission Mode Project to have gone live since 14th August 2008. NSDG is the fi rst Gateway built for  deployment at Central level.
It is a messaging middleware conforming to various e-Governance Standards managed by DIT, such as Interoperability Interface Protocol and Specifi cations (IIP/IIS) that enable consistent communication and conformance to  international standards such as the XML specifi cations and Simple Object Access Protocol  (SOAP). Gateway brings in Service Oriented Architecture (SOA) framework for the new as well as existing e-Governance services. DIT envisages various Gateways to be built at various  levels, that is at state levels as well as domain levels, thereby establishing a Gateway Constellation which is an innovation in itself. NSD is the central Service Directory for coordination of message exchange among these   Gateways constituting the Gateway Constellation

CONFORMANCE TO VARIOUS e-GOVERNANCE STANDARDS
DIT has designed various standards in collaborations with various government and industry representations. The Gateway architecture adheres to following standards:
Interoperability Interface Protocol (IIP) – IIP defi nes the XML based Message Structure   and Message Exchange Pattern for SAP-to- Gateway-to-SP communication.
Interoperability Interface Specifi cation (IIS) – IIS binds the IIP protocol to SOAP as  message carrier.
I n t e r – G a t e w a y I n t e r c o n n e c t Specifi cation (IGIS) – IGIS protocol defi nes the Message Structure and Message Exchange Pattern for Gateway-NSD and Gateway-Gateway communication.
Gateway Common Services (GCS) – GCS defi nes the value added services such as User  Authentication and Payment Gateway for enablement with a Gateway.
In addition to this, Gateways are required to demonstrate compliance to ISO and ISMS  standards. Every gateway will have to engage in Service Level Agreements with DIT and/or  the corresponding controlling entity. NSDG is designed to deliver the requirements for performance, availability and reliability taking into consideration the future of e-Governance  infrastructure scalability requirements.
NOT JUST A TEAM OF TWO BUT…
We have been talking about DIT and C-DAC but the whole thought process as well as implementation of the same involved other teams as well. NSDG and NSD have been path breaking in the whole process of setting the united e-Governance framework for the nation. The project has been managed by DIT has not just played as the controller to the project but  has also been involved in the parenting and nourishing activities carried out along with  CDAC. National Institute of Smart Government (NISG), Standardisation Testing Quality Certifi cation (STQC) and National Informatics Centre (NIC) have contributed to the project at every stage of from conception to verifi cation very constructively. The various issues could be resolved then and there with their active participation. The technical issues have been  brought to Technical Monitoring Committee chaired by the Additional Secretary, DIT. Project Reviews and Monitoring has been performed by Project Review and Steering Group chaired by the Secretary, DIT.
IMPLEMENTATION PLATFORM
NSDG and NSD are developed on Open Source Software Platform. All the software architecture components such as Operating System, Application Server, Database Server, Reporting services, Clustering services and Web services belong to open source technology. The architecture does not compromise on the software quality parameters of performance, scalability and reliability requirements of the project. The hardware design of the system  addresses the issues such as vendor lock-in, easy availability and scalability of the same for future enhancements.

OPERATIONAL OBJECTIVES
The operation and maintenance of NSDG is to be handled for 5 years by C-DAC. The NSDG and  NSD implementation will be updated and upgraded following the amendments to the  standards as well as feedback from government service providers. C-DAC will be operational in integrating the national level as well as domain related applications with NSDG every year. Accordingly C-DAC will guide the department service implementing agencies in the development of necessary connectors/adapters for integrating the applications identifi ed.
BENEFICIARIES
On the commercial front, Gateway will encourage private players to participate as Service Access Providers (SAP) and act as single window for various services available with any  gateway in the Gateway constellation. The government  departments would be benefi ting from the application to application interoperability. They will be able to serve citizens more effi ciently. Citizens will benefi t from the fact that more and more e-Governance services across the country are available for them.

FUTURE DIRECTION
DIT has positioned the Gateway at state data centre to achieve the complete e-Governance infrastructure in place. NSDG and NSD will form the feedback loop for future work in the development of new e-Governance standards and extension of existing e-Governance standards. C-DAC and DIT will work to identify new facilities for value addition to the Gateway.
e-HEALTH
Application of computers in medicine for expert systems for visualization, decision-making in  the by-gone digital age have evolved to medical informatics in this information age. Medical  informatics, the domain of high social relevance in India, is a newer multidisciplinary fi eld so  far with a defi ned skill set, educational pathway, comprehensive standards, etc. In  developing countries like ours, medical informatics also promises to address the issues related  to at least one major existing national divide namely – non-uniform distribution of healthcare  services. Information Communications and Electronics Technologies (ICTE) can be  effectively used to improve the overall healthcare delivery system for better healthcare services. This requires R&D efforts in multiple areas including development of telemedicine  and tele-education systems, hospital information systems, picture archival and  communication systems, biomedical instrumentations, virtual reality applications in  medicine, and frameworks for standards compliant medical systems.
C-DAC has been working towards development of several technologies for better healthcare  services for the last several years. These efforts have resulted in deployable systems and  solutions for Telemedicine and Tele-education, Hospital Information System, Teleoncology, Decision Support System for Ayurveda, and Software Development Kits for international  healthcare standards. These systems and solutions are briefl y described below.

TELEMEDICINE
Telemedicine is the use of Telecommunication and Information technologies to provide clinical  care at a distance. Consider a typical Telemedicine interaction. A patient goes to a  doctor, who after examination of the patient's fi le, feels the need for a second opinion. The  doctor then consolidates the relevant clinical data into the patient's Electronic Medical Record  (EMR) and then seeks an opinion of a specialist doctor using Tele-consultation. A connection to the specialist's workstation is initiated from the patient end and the patient's data is uploaded. The specialist then examines the data, makes a diagnosis, provides advice, and suggests a  course of action. The two doctors get on to a video-conference to jointly arrive at the diagnosis and the course of treatment. This advice is then transmitted back to the presenting doctor at patient end who takes appropriate action.
This essentially avoids patient discomfort of having to travel to the specialist's offi ce/clinic, or specialist's discomfort of having to visit the patient, especially when the patient is in trauma. Thus right care can be provided at the right place at the right time with minimal discomfort to all concerned. This sort of interaction is becoming quite common.
C-DAC's Telemedicine solutions named Mercury and Sanjeevani provide integrated solution to make such communication possible. They can be used to provide Tele-consultation for various fi elds of medicine including radiology, cardiology, oncology, and ophthalmology.
Telemedicine solution also enables Tele-education in critical domains using the same  infrastructure.

HOSPITAL INFORMATION SYSTEM (HIS)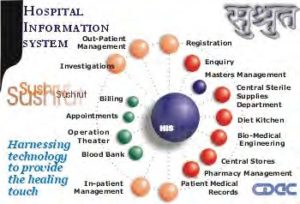 C-DAC's Sushrut, a Hospital Information System (HIS), has been developed with the objective of streamlining the fl ow of offering hassle-free treatment to a patient in a hospital, while  allowing doctors and other staff to perform to their peak ability, in an optimised and effi cient manner.
Sushrut is modular, thus ensuring sustained benefi ts through changes in technology,  protecting and providing optimal returns from the investment. It is modeled on a unique combination of a "patient centric and medical staff centric" paradigm, benefi cial to the recipients and the providers of healthcare.
Sushrut uses a network of computers to gather, process, and retrieve patient care and administrative information for all hospital activities to satisfy the functional requirement of the users. It also helps as a decision support system for the hospital authorities for developing comprehensive healthcare policies.
Sushrut incorporates an integrated computerised clinical information system for improved hospital administration and patient healthcare. It also provides an accurate, electronically stored medical record of all the treated patients. A datawarehouse of such records can be utilised for statistical requirements and for research.

TELE-ONCOLOGY
C-DAC pioneered the fi rst implementation of the Tele-Oncology system in India in the state of Kerala. It is known as ONCONET-Kerala. It is a comprehensive telemedicine solution, which  has established knowledge enabled oncology network connecting specialty hospital at Regional  Cancer Centre, Thriuvananthapuram (RCC-T) with remote hospitals at various  places (Kannur, Kochi, Palakkad, Kozhenchery, and Kollam) in Kerala. It provides telemedicine services in early cancer detection, follow-up consultation, treatment, prevention  of cancer, and tele-education. A web-enabled Hospital Information System, called  TEJHAS (Telemedicine Enabled Java based Hospital Automation System), was also developed  and integrated with the ONCONET Telemedicine system.

AYUSOFT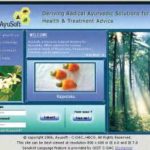 AyuSoft is a vision of converting classical Ayurvedic texts into comprehensive, authentic,  intelligent, and interactive knowledge repositories with complex analytical tools. It is a  pioneering multidimensional effort for Indian traditional medicinal system. It provides end-to-end medical solutions based on traditional medicines at your fi ngertips. With AyuSoft  your health decisions are expected to be more informed, more accurate, and quicker.
DICOM AND HL7 SDKS
C-DAC's Medical Informatics Standards Software Development Kit (SDK) for Digital Imaging  and Communications in Medicine (DICOM) and Health Level 7 (HL7) are toolkits that provide  APIs for applications/medical devices to comply with NEMA's DICOM standard and Health  Level 7's HL7 standard. Both are rapid application development tools, which provide high  return on investment through cost effective implementation of the standards.
The toolkits are designed to be easily programmable allowing DICOM and HL7 developers to build sophisticated and complex applications on top of these standards. The toolkits allow building applications targeting multiple platforms, thus providing fl exibility to developers to write applications once, run anywhere.
Both SDKs are supported with plenty of sample test codes and tutorials that make life easier for  developers to start using them in a short period. Comprehensive API documentation explains the usage of different components of the SDKs.