SaaS is about commercial aspect in terms of licensing and charging model and deployment of Information and Communication Technology (ICT) infrastructure.
e-Governance in India and Software as a Service (SaaS / XaaS) seems to be made for each other. e-Governance is all about Government 2 Citizen (G2C), Government 2 Employee (G2E), Government 2 Government (G2G), Government to Business (G2B), Government 2 Stakeholder (G2S). e-Governance in India happens at Federal / Central and State level. e-Governance applications can primarily be categorised under two categories – vertical and horizontal. In India, e-Governance has no dearth and there is a need to consolidate to take next leap step forward.
SaaS is about commercial aspect in terms of licensing and charging model and deployment of Information and Communication Technology (ICT) infrastructure. Conceptually, 'SaaS / XaaS' has certain characteristics like hosted model, managed services model. It is hosted model, where the software (resource – 'X') is installed and configured at a central place such as a data centre. The software shall be configurable and customisable to user specific business functional requirements. It is a subscription model, where users subscribe to the services as required and desired. User avails the services based on Service Level Agreement (SLA). User enjoys the flexibility and option to subscribe different set of services for different profile of users. User enjoys the privilege to change the service package as and when required. Users need to neither buy nor own the software.
The investment pattern for users changes from Capital Expenditure (Capex) to Operational Expenditure (Opex) pay as use' basis. One of the critical requirements of this model is SLA based billing, the relevance of this in government may be low; however it would be absolutely relevant and required for Public Private Partnerships (PPP)/ Build Own Operate (BOO)/ Build Own Operate Transfer (BOOT) based projects.
This model offers lot of natural benefits of ICT like high availability, scalability, performance, security – all in respect of techno-functional requirements. Service provider continues to maintain updated version of products and solutions, hence end-users are not stuck with a particular version for long. As the entire setup is managed and maintained by service provider, the end-user gets rid of the biggest challenge of 'manageability and maintainability'. Otherwise it is always a huge challenge and costly affairs.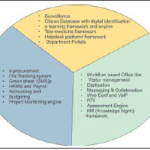 User organisation focuses on its core business and avail the benefits of such services with low entry and exit barriers. User always has great freedom from being locked in with a technology or product/ solution; especially in today's times when tools and technology changes at unbelievable pace. It could be a great tool in business strategy for the organisations, who are highly competitive and dynamic in nature.
It is like subscribing to telephone or mobile phone services. User buys handset and subscribe to service pack in line with the requirement of the profile of respective user.
'Service Provider' is an important player in this model. There are certain natural benefits of this model. Service provider manages the setup with central pool of resources, where the manpower requirement does not grow in proportion to the growth in setup. The investments in overall infrastructure (hardware, system software, middleware software, application/ utility software, management tools) also does not happen in proportion to the growth in user base from end-user perspective.
Lately, major Original Equipment Manufacturer (OEM) has been in support of 'Hosted application/ managed services' in terms of license support for products and solutions. Availability of reliable and affordable connectivity is yet another critical requirement for this model. System Integrators (SIs) are gearing up to build and offer services on this model.
There is an interesting development happening in the government under National e-Governance Plan (NeGP) i.e. Mission Mode Projects, State Wide Area Network (SWAN), State Data Centre (SDC) and Common Service Centre (CSC).  These projects are either under implementation or in the advance stage of decision making. Truly, these are the core requirements for 'SaaS / XaaS'
Follow and connect with us on Facebook, Twitter, LinkedIn, Elets video