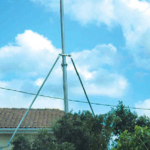 WiMAX has the potential to provide India with widespread broadband access that can usher in economic growth, better education and health care, and improved entertainment services.
India, which is expected to have the world's largest WiMAX deployment by 2012, offers great opportunity and some unique challenges to the wireless digital communications technology. It may perhaps be the market that would define the success of this technology as a solution to connect rural and untapped territories.
With ICT-enabled kiosks or common service centers (CSC) dotting India's rural map, WiMax could play a major role in delivering various applications to rural India as aresult briding the digital divide . These include online bill payment, delivery of agriculture, healthcare and entertainment services, solutions for e-commerce activities, including commodity price information, online trading and banking transactions.
Unlike the mobile front, the major initiative for WiMax is set to be from the state-owned telecom provider, Bharat Sanchar Nigam Ltd (BSNL). The company has already announced plans to install WiMAX base stations in 1,000 blocks across India by the end of this financial year and to provide high-speed internet access to 25,000 villages through CSCs.
According to a BSNL official "Villages will be equipped with infrastructure such as PCs, printers, software and staff for delivery of e-governance services pertaining to health, education and agricultural information,"  BSNL has also partnered with Intel to promote WiMAX-based broadband access in rural India. Under the pact, Intel will review state-owned BSNL's road map for the WiMAX rollout in the country and develop basic standards for the rollout and applications.
Private players have also not given a cold shoulder to  WiMAX road either. Motorola is strengthening its presence in the hinterlands through extensive broadband wireless access (BWA) projects for state governments. Network major Alcatel-Lucent has set up a joint venture with C-DOT (the R&D arm of the telecom department) to focus on exclusive BWA/WiMAX solutions that are targeted towards rural connectivity. The company has completed field trials using Aircel's licensed WiMAX spectrum and the technology is ready for commercial deployment. "WiMAX has the potential to provide India with widespread broadband access that can usher in economic growth, better education and health care, and improved entertainment services," Alcatel-Lucent chief marketing officer A Sethuraman said to a section of media.
There remain challenges to these ambitious roll-out plans, including India's low PC penetration. Players are keeping their fingers crossed and also watching keenly how the WiMAX spectrum auction will pan out. While low broadband penetration is a clear opportunity for BWA/WiMAX, the market take-off will require sufficient spectrum, very low cost consumer premise equipment (CPE) and affordable end-to-end connectivity, including the computing platform. Apart from  Alactel, Nokia Siemens Networks and BSNL, too, are developing CPE costing less than $100. The price is expected to further come down to about $70, once WiMAX rolls out in the country. Other major players in WiMAX arena for rural connectivity are Bharti Airtel, Reliance, SIFY and Tata Communications (VSNL), who have acquired licenses in 3.3 GHz range and are in various stages of trials. VSNL has announced Phase 1 pre-WiMAX deployment of Aperto gear in 60 locations, extending to 200 locations within the year.
The WiMAX Forum Worldwide Subscriber and User Forecast is  examining  the progress of WiMAX service providers, equipment vendors, content developers and subscribers in regions around the world. The results are reflecting  the accelerated growth of the WiMAX ecosystem, the acceptance of WiMAX technology and demand form mobile Internet services across the world. The forecast is based on results of an independently commissioned research study published this year.
"WiMAX devices and networks are available now for deployment worldwide delivering best in class broadband services at a cost to consumers significantly lower than any other technology. India is clearly making the commitment and taking the steps to ensure wireless broadband services are a reality that enables operators to meet the needs of India's diverse and growing population," said Ron Resnick, president of the WiMAX Forum. "In addition, an operator's investment to afford the build out of infrastructure and deployment of the service is at the lowest capex and the best ROI models plus the economies of scale created by this demand will help drive down the cost of the wide range of diverse WiMAX devices. All of the leading telecom equipment manufacturers are having their WiMAX Base station and other infrastructure equipment WiMAX Forum Certified and are ready to show case their equipment in India."
Indian scenario

Last month, the WiMAX Forum commended the Department of Telecommunications of India for the allocation of and upcoming auction relating to the 2.3 and 2.5 GHz frequency bands. The auction will enable two 20 MHz blocks in both the 2.3 and 2.5 GHz bands.
Infonetics report
Alcatel-Lucent and Motorola lead in mobile WiMAX, according to a new market report from Infonetics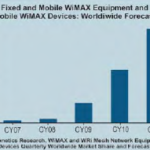 Research. The study found that the pair increased market share of equipment revenues from 50% to 66% over the past ninety days. For stationary and fixed WiMAX equipment, the report gave the top pick to Alvarion with 25% of the worldwide equipment revenue market. While the combined worldwide equipment revenues were up only 3% from Q1'2008 to $402 million, Infonetics predicts that the balance of 2008 will see double-digit sequential growth. By 2011, 110 million users of WiMAX technologies are forecasted. Infonetics attributes the Alcatel-Lucent growth to a significant shipment of ASN Gateways in the quarter. The gateways manage mobility functions of 802.16e-2005 networks, enabling base stations to communicate with each other. Gateways can be vendor-agnostic, just like base stations and subscriber devices interoperate between multiple vendors. Alcatel-Lucent has had success with selling gateways to both its base station customers as well as competitors. WiMAX Forum specifies the interfaces used by ASN Gateways. A few more statistics from the report: More than 200 networks are now being deployed and more than 100 other trials are in progress; the market will be increasingly driven by more Tier 1 operators entering the market Developing countries are the engine for WiMAX market growth, with Central and Eastern Europe, the Middle East and Africa, Central and Latin America, and parts of the Asia Pacific being hot-beds of activity In particular, India, Russia and Brazil are fast-moving markets with numerous active WiMAX operators and large populations and market conditions to give potential for strong growth The number of fixed and mobile WiMAX subscribers topped 2 million worldwide in 2007 and is expected to triple by the end of 2008 The Infonetics report tracks the equipment shipments from thirteen equipment manufacturers along with Wi-Fi mesh network equipment providers.
The WiMAX Forum is pleased that the Indian government plans to auction blocks in the 700 MHz and 3.3-3.6 GHz bands, as they become available. The WiMAX Forum expects to certify the first 3.5 GHz WiMAX products by the end of 2008 and views 700 MHz as a strong contender for Mobile Internet services, especially in India's low-density rural areas.
The availability of these key bands for WiMAX technology in India will provide its consumers with much needed broadband connectivity across the diverse economic and social needs of the entire population. WiMAX technology has the potential to bridge India's digital divide, offering broadband services in dense urban and suburban areas, rural broadband connectivity to enable high speed wireless applications and services, and enterprise broadband access across the country.
The WiMAX Forum plans to add an Indian certification lab to its existing network by the end of 2008 to stay ahead of the demand for products in this region. The WiMAX Forum's current network consists of six labs in China, Korea, Spain, U.S. and two in Taiwan. The industry body will also add a lab in Japan by the end of 2008 and a Brazilian lab in 2009.
Malaysia's Stalled WiMax Rollout
According to local operators despite the hype, the wireless broadband technology will not go mainstream until 2009. This is when devices embedded with WiMax will be readily available. The Malaysian Communications and Multimedia Commission (MCMC) in March 2007 awarded WiMax licenses to four lower-tier telcos–including PacketONE–which have until the end of the year to roll out their services to designated areas. PacketONE has started conducting WiMax technical trials and while the results have been a pleasant experience, but the things are not there yet. Also, when WiMax chipsets become widely available and prices fall to about US$100, Wimax rollout will get a boost. The MCMC had said in March it expects license holders to roll out WiMax services to 25 percent of the population by end-2007, with a service provision of "at least 1Mbps at affordable rates". Eight months have passed, however, and all of the licensees have yet to roll out their services and are currently still conducting trials to evaluate the technology. Krishna Baidya, industry analyst with Frost & Sullivan, said WiMax rollouts in Malaysia are only expected to commence toward the second half of next year. According to Krishna, these initiatives are not expected to make any significant impact on the country's wireless space, or pose an immediate threat to incumbent broadband providers. Industry sources familiar with several WiMax trials taking place in the city have attributed the delay partly to technical issues related to the wireless technology. Some have laid claims that the extent of its provision for speed and coverage, may not be as promising as advertised by WiMax gear makers. Also, it's hard for WiMax signals to penetrate buildings due to its high operating frequency between 2.3GHz and 2.5GHz. This signal loss could result in problems for the operators [in terms of providing seamless coverage.
Global Scenario
A new market research report, "Global WiMAX Market Analysis", by the leading market research firm RNCOS, says due to the completion of WiMAX standardization, a rapid growth is being witnessed in the WiMAX market globally over the past year. With this, the number of WiMAX subscribers worldwide is expected to grow at a CAGR of around 102.75% from 2007 to 2010.
According to the report, North America is likely to have more subscribers in comparison to other regions in the early phase of the forecasted period, while Asia-Pacific is expected to outnumber the WiMAX subscribers of North America by the end of the period.
The RNCOS research cites the combination of WiMAX cellular services and WiMAX fixed services as important factor for the expansion of WiMAX subscribers in the Asia-Pacific region. WiMAX mobile services will extend their reach from South Korea to other developed economies like Japan and Australia, while fixed services will continue to see deployment in key developing countries like China and India.
Moreover, the RNCOS report identifies the unavailability of wired infrastructure for accessing Internet as a major growth driver for WiMAX in the Asia-Pacific region. Also, government support and initiatives undertaken by the service providers to provide Internet services in remote areas are playing significant role in the growth of WiMAX penetration in this region. Thus, by 2012, Asia-Pacific is expected to have about 49% of the total subscriber base, making it the world's largest WiMAX subscriber base, says the report.
Key Findings
3.5 GHz licensed spectrums represent biggest opportunity followed by 2.5 GHz and other 5 GHz is largest unlicensed opportunity.

Large subscriber base, inadequate broadband infrastructure, along with the need for faster Internet access, will propel growth in WiMAX deployments in the Asia-Pacific and MEA regions.

Countries such as China, India and Russia, with their underdeveloped infrastructure and large populations, represent strong potential for WiMAX growth.

Europe is lagging behind slightly in WiMAX deployments due to its well-built cell infrastructure, intense competition, and strong presence of 3G services.

Finalisation of the WiMAX 802.16e standard will offset the growth in WiMAX fixed services and major demand will be seen in mobile WiMAX services in coming few years.

The price difference between WiMAX and DSL tends to be narrow, which tends to negate price as a factor for potential customers.
Developing and Underserved Markets

In several regions of the world, copper wire to the home or business just doesn't exist. In these situations, a fixed wireless offering that is based upon an open standard may make more economic sense than deploying copper wire that can easily be ripped out and resold on the open market. Several of the companies that were founding members of the WiMAX Forum have been providing their proprietary wireless base stations and CPEs to these markets for a number of years. The total market has so far been relatively small, but the technologies have provided a much needed service offering in those countries.
DSL and cable modem replacement and extension

Even in developed markets, such as the U.S. and Canada, there are regions of the country where the economics of running cable or putting in DSLAMs does not make sense. In these cases, a fixed broadband wireless access technology might be more appropriate. There are already a number of WISPs (Wireless Internet Service Providers) around the nation's heartland, and even in very urban surroundings, using one of the aforementioned proprietary technologies. Not all of these WISPs have been successful, with the total infrastructure costs and subscriber numbers being very modest. Yet, the availability of WiMAX equipment in large volumes from a number of suppliers could help improve the economics and, in turn, increase the total addressable market.
In Europe, British Telecom (BT) is currently deploying a modest pre-WiMAX fixed wireless network at 5.8GHz in Northern Ireland to address this particular market segment. The operator, however, is not taking an aggressive stance toward deploying the technology until it has access to equipment that can be easily upgraded to support the portable/mobile solution.
Wireless backhaul in a cellular network

Microwave radios have been used since virtually the beginning of the cellular industry to provide backhaul, or transport, of voice and data traffic from outlying cell sites to the operator's core network. Typically, operators utilize copper, fiber links or microwave radios that operate at much higher frequencies than addressed by WiMAX, but that is not to suggest that operators in the future wouldn't be open to the idea of using WiMAX.
In large part, the operator's decision will be based upon the availability of sufficient spectrum to meet their backhaul requirements, in particular with the increased requirements as the result of 3G data services. Some operators might even consider using WiMAX in unlicensed spectrum for their backhaul needs, but this scenario is unlikely in most instances since the potential for interference would exist and this interference could detrimentally impact the quality of the overall network.
Portable or Mobile coverage

Much of the focus and interest of the WiMAX community is the scenario in which the subscriber has a seemingly ubiquitous broadband wireless connection that can provide connectivity in a portable environment and even mobile environment. This service offering would require WiMAX enabled data cards for PCs and potentially lead to embedded solutions and new types of devices. This usage scenario is the most appealing, since it implies broadband access and other voice/data services anytime and anywhere. At the same time, a portable/mobile solution is also more challenging to implement and it will not be the first WiMAX solution that enters the market place.
The WiMAX Forum  is projecting that by 2012 India will have 27.5 million WiMAX users, which would be 20% of global WiMAX subscribersOf the projected 27.5 million WiMAX users in 2012, the forum forecasts that 70% will use mobile and portable WiMAX devices to access broadband Internet services. Pricing, customer service  and whether WiMAX can scale and deliver the goods will ultimately determine subscription levels.WiMax
Follow and connect with us on Facebook, Twitter, LinkedIn, Elets video