By overcoming infrastructural, technological, social and organizational constraints, India can lead its way to successful implementation of ICTs in agribusiness
Introduction

India is marching ahead towards second green revolution, the main component of which is market led-extension. In the light of emerging global agricultural trade and organized food retailing, efficient forward and backward linkages are needed in order to link farmers to global markets. The limiting factors for our farmers in maximizing their farm incomes are poor market linkages, poor access to quality farminputs, services and technology and lack of information about Government resources, institutions and services and schemes. The farmers are also lacking in real time information about consumers, market demand and prices and hence are prone to exploitation by stakeholders in value chain.

This has resulted in inefficiencies across the supply chain rendering them incompetitive in global market. To remove the inefficiencies, we need to create competitive agri-supply chains benefiting all stakeholders for which the information flow across the chain is a prerequisite. Information and communication technologies have played an important role for agribusiness systems in developed countries and can do much more in developing countries like India where most of the farmers are small, marginal and resource poor. The technology can empower them with right information enabling them to take informed decisions at various stages of supply chain right from purchasing inputs to marketing their produce. (Narula, 2008)
The existing ICT models

ICT innovations can be of great help in offering a communication platform for linking farmers to  markets. Various IT initiatives in Indian agriculture have been started at national level by Government of India. Some of the popular service models among them are Kissan Call Centers, (www.kisancallcenter.net) and web portal initiative (www.agmarket.nic.in) providing market price information across various agricultural markets in India. Under the Government of India's National e-Governance Plan, the AGRISNET, proposed Common Service Centers and Village Knowledge Centers which will help India  harness the emerging potential of ICTs comprehensively for the benefit of farmers and all partners of agribusiness offering both synergy and value addition. The commodity exchanges such as MCX and NCDEX are also using ICT extensively for facilitating commodity trade. Besides national initiatives, states have also come up with various initiatives, eg, in Assam (ASHA) and Kerala (Kissan Kerala and e-krishi).
After the emergence of food retailing in the country and rising opportunities for global markets, the private sector is also leveraging the power of IT to explore rural potential, as a result of which it has also started initiatives viz., knowledge centers of MSSRF, e-Choupal of ITC, Ikisan of Nagarjuna Fertilizers & Chemicals Ltd. Besides, corporates viz., TAFE, Mahindra and Mahindra and several others are adopting new business models backed by ICT. The efforts of Cooperative sector can't be ignored either with examples of Dairy Information Services Kiosk (DISK) of NDDB and wired village WARANA.
Constraints and challenges in implementation of ICT models

Though many models exist in the field of agribusiness, some are running quite successfully, whereas others have a long way to go. The success of these models depend on how effectively and efficiently farmers are able to make use of these technology initiatives so as to really extract benefit out of these.  The very first challenge these models have to meet is that of sustainability. Initially, these projects must be funded by Government and other development agencies, but to succeed in the long run, they need to generate means for revenue generation. The implementation of these innovations at field level suffers due to many barriers such as technological, socio-economic and those related to human resource and their capacity building. Some of the constraints identified are revenue generation, infrastructural gaps such as electricity connection, Internet connectivity, installation and maintenance, commitment of stakeholders, selection and capacity building of operators and awareness among stakeholders. Besides this, social,  economic and regional diversity acts as a hurdle in implementation of these projects.
Challenges of information delivery
How will the information be shared with stakeholders in the marketing value chain?

What information is needed by stakeholders?

How to ensure the timely delivery of relevant information?

How to deliver the content?

What value proposition should be delivered?

How to link the information hub to various service providers?

Which agencies should be involved?
Strategic implementation through 7S McKinsey framework
There is a lot of strategic interest for both private and public organizations to make these models a success, yet the major hindrances lie at the field level. The McKinsey 7S framework has been chosen to suggest an implementation model as it combines rational and hard elements with soft and emotional elements, which are again interconnected and interrelated. (Fig. 1) This approach could be useful in explaining the implementation issues in agricultural marketing information networking models, as it involves many stakeholders right from farmers, intermediaries, extension officials, government officials and implementation agencies. Most of the implementation problems mentioned above lie mainly with human resource and hence require soft touch. Here, the model itself has been assumed as an organizational unit to explain the structure, systems, strategy, style, staff, skills and shared values.
The strategic enablers are linked with the 7S framework of strategy implementation, where schemes, structure and systems are considered the 'hardware' of success and style, skills, staff and shared values make up the 'software'. When these 'soft' variables are present, companies are usually more successful at strategy implementation. These elements are thus linked with the strategic enablers or key factors that influence the integration of IT models to enhance business efficiency, focusing on beneficiaries. The various S's when applied in context of implementation of agricultural marketing information network mean the following:
Strategy: The networking model must define its strategy in terms of resource generation, funding sources, designing an information service mix for target beneficiaries. The sustainability issue is very important in such models, as to how revenues will be generated and how the ICT model is to be linked with agricultural marketing institutions in order to facilitate agricultural marketing. The product-service mix and communication strategy to farmers is also very important for awareness about the information on marketing and commodity prices. Without a well planned strategy, the business model will not be able to achieve its objectives. The integration of the model with revenue streams such as providing e-governance, social networking, education, health and a virtual market delivering goods can help in drawing revenues.
Structure: The information networking schemes involve many organisations. The AGMARKNET scheme, for example, involves officials of Directorate of Marketing and Inspection, National Informatics Centre, State Department of Agriculture officials, extension officials etc. The structure of the consortium needs to be designed in such a way that it facilitates speedy decision-making. A networked structure having minimum hierarchies and involving people from all stakeholder organizations with clear cut roles is needed for implementation including those under PPP (Public Private Participation). The more the layers, the less will be the benefits delivered to beneficiaries Systems: They comprises of the procedures and policies of the organizations which define how things should be done to achieve the objectives. The systems must allow flexibility in terms of resources and approaches as different geographical areas may need different approaches. The systems of collecting information and updating the same and methods of content delivery are to be defined. The delivery of SMART (specific, measurable, accurate, relevant and timely) information is possible only through SMART systems. The control systems also need to be employed in order to see that the set procedures and policies are in place. The control system will help identify gaps in service delivery, if any.
Style :  Beliefs and actions of managers determine the outcome of implemented strategy. A participative style of management suitable for the need of rural areas must be adopted. The local communities such as farmers and intermediaries must be involved in the awareness programmes and selection of kiosk operators. The success of these schemes depend upon how the managers are able to work with such collaborative models. The management must apply the bottomsup approach for encouraging and motivating employees working in this area.
Staff: This deals with people dimension of a relationship and managing the social structure of a relationship cross-functionally. This is an important aspect of strategy implementation in this area. People are involved at every step in such type of information system. The people involved are data collectors,  officials incharge of updating data, kiosk operators, who deliver the information and the people who install and maintain the kiosks. Most of the models are making use of the local entrepreneurs, who are selected among the local folk. The selection of these entrepreneurs plays an important role. If a person involving the local community, having good educational qualification, mental aptitude, enjoying good relationship in the village is selected, he is able to deliver better benefits to the farmers. The role of opinion leaders is also important.
Skills: Enabling skills imply that the company ensures that employees know how to do their jobs and stay abreast with innovation in tasks, technology and techniques. Skills imply distinctive capabilities of people and organization which differentiate themselves from others.
The skill sets of the persons involved in collecting, updating and delivering information needs to be updated from time to time. The staff must be fully equipped to deliver the services to farmers. Unless fully trained, they will not be able to deliver the information. Capacity building of the staff is one area which is to be looked into.
Shared values: Shared values ensure that all concerned share the same guiding values. For every ICT project, we must define the mission, vision, goals and objectives which will be shared among the employees of partnering institutions. These values must pertain to economic, social and national benefits.
Conclusion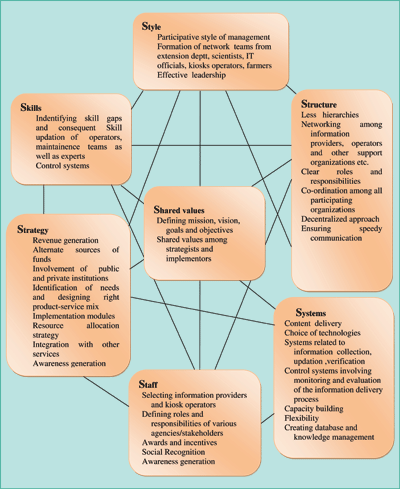 It is concluded that all the S's of 7S framework are critical to the success of these models but soft elements such as style, staff, skills and shared values are more important in implementation. In order to deliver the right benefits to the farmers, financial viability is a must. It must ensure speedy and timely service to attract more farmers.
Moreover, the infrastructural bottlenecks such as speed of internet, electricity availability, lack of trained manpower are some of the important issues which need to be addressed. Human resource is an important element, without which these schemes can never be implemented. A right strategy regarding sustainability, a participative style of management, selection and capacity building of staff involved are very critical to the success of these models. The operational and control systems also play an important role. Hence, an implementation strategy involving communities at the grassroots level and collaboration with local authorities/companies would help rural masses and promoters reap benefits of these ventures.
References:
Narula S. A., (2008) Leveraging   ICT to Link   Farmers to Markets: A Case of Indian E-Business Models Paper presented  in International Conference on Technology and Innovation in Marketing held at IMT, Ghaziabad during 18-19 April, 2008  and published in conference proceedings, Technology and Innovation in Marketing, eds. Rajat Gera, Allied Publishers, New Delhi, 2008,pp 

Sikka, B.K., Sharma, M.L., Singh S. & Narula, S.A.; (2005) on E-Marketing of Apples in Uttaranchal Conference Proceedings of Indian Society of Agricultural Marketing, Pantnagar, published in Indian Journal of Agricultural Marketing, Vol 19, No. 2, Conference Spl., May-August, 2005.
Follow and connect with us on Facebook, Twitter, LinkedIn, Elets video