Introduction 

According to the International Labour Organisation (ILO), women's participation in labour markets has increased considerably along with the expansion of service sector work. Expectations suggest that gender equality beckons with labour market trends linked to a common rhetorical theme that indicates ICTs are driving work transformations with women being the likely benefactors. This is coupled with the offshoring of ICT-enabled service work, which some view as being key to promoting development.  Investment in ICTs is often touted as an instrument for bridging the gap between developed and developing countries and accelerating economic growth, yet these assumed gains – for both women and men – are dubious at best.
The opportunity to participate in the labour market has been positive for some women, yet a gender division of labour exists across the world and gender wage differentials prevail. Studies show that sex segmentation is endemic, with women often concentrated in industries where profit margins are protected by shrinking labour costs or extending working hours.  Trends fail to indicate that the position for women workers is one of 'equalising up', while conditions for men are deteriorating ('equalising down'). This article, discusses working conditions within the ICT-enabled service sector and suggest that a degree of caution is required before assuming a reduction of gender inequalities.
Feminisation of labour

The feminisation of labour has seen an influx of women workers into the service sector; these trends are most marked in countries where women's participation in agriculture is low. For women moving into ICT-enabled service work, such as financial and IT services, they have displaced men in areas once considered to be well-paid and highly skilled. Labour markets are based on assumptions that women are secondary earners, and so women are concentrated in occupations of low pay, with gender pay gaps, and few opportunities for advancement.
Some argue that ICT-enabled service work has the potential to reduce gender inequities and provide economic autonomy for women workers. These opportunities arise in a number of ways. Firstly, the huge influx of women into the workforce provides a degree of financial independence from husbands and male relatives.  Secondly, ICTs remove time and location constraints traditionally associated with the workplace, thus allowing women to combine paid work with caring responsibilities.   Thirdly, proponents of the information age, predict the rise of flatter organisational structures, thus allowing for greater female representation in management positions.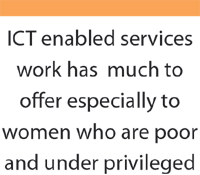 This view of ICT-enabled change suggests that new technologies create new societies and assumes that unidirectional trends are taking place. Assumptions persist about opportunities for women in the labour market that are divorced from their socio-cultural experience. The impact of technologies on work is complex and uncertain and should not be treated as an independent given; it depends on the labour market, the industrial relations system, and the education system as such.
As illustration, the authors discuss two different economic profiles within the ICT-enabled service sector. The first example concerns IT-Enabled Services (ITES). This encompasses the outsourcing of call centre work, which has received a considerable amount of media attention as firms offshore voice work to cheaper overseas locations; it also refers to shared service centres, which emerged as back-office administrative jobs consolidated and moved offshore. The second illustration concerns the ICT industry, a sector that has enjoyed rapid expansion, particularly in economies such as India, where the software export market has made a substantial economic contribution.
IT-Enabled Services (ITES)

Many call centre jobs are outsourced offshore to locations such as India, the Philippines, China and Eastern Europe. The offshoring of call centre work and its potential to provide white-collar work for women workers may appear beneficial; yet, on closer inspection, it appears that benefits for women are questionable. According to the Global Call Centre Report relating experiences across 17 countries, international subcontractors are disproportionately located in India, South Africa, Canada and Brazil. These subcontractors typically provide less training and pay lower wages and employees have lower levels of job discretion, more intense monitoring and weaker collective representation.
Within the workplace, technology is used to automate work with many of the calls being low-level transactional enquiries, which are fairly repetitive, with short cycle times (between 30 and 180 seconds). This intense activity of call handling for overseas customers occurs during shifts of between 8-10 hours duration, six days a week (Taylor and Bain 2005).
The combination of front-office (voice) work carried out mainly at night and back-office work later during the day enables firms to operate around the clock in offshored locations.  For Indian workers one of the consequences of the 24-hour day is that they completely reverse their working lives to night time, leading a 'double life' and facing a number of tensions including health ailments and a separation from their family and the household. Yet the future growth of call centre workers in India will primarily be based on an increase of female employees (as NASSCOM and other reports suggest), despite working structures operating against those with familial responsibilities.  Much of the 'front-line work' is seen as particularly well suited to women as managers and classify their social and emotional skills as non-threatening and trustworthy.  These skills often go unrecognised and unacknowledged.
IT Enabled Services (ITES) and Business Process Outsourcing (BPO) also include Shared Service Centres (SSCs), a fast growing international business sector..SSCs are an interesting example of the reorganisation of IT-enabled organisations, clustered in particular locales. They exemplify a reorientation within organisations from 'jobs' to "tasks' where similar activities are identified, lifted from their locations and brought together in centres dedicated to certain roles. This trajectory of change sees the simplification of work, through its standardisation, centralisation and then outsourcing and offshoring. Each move is associated with new forms of organising and reduced cost.
SSCs emerged providing a wide range of generally high-skilled back-office support functions, such as HR, IT or finance. As the service sector generally offers higher wages and greater job security than the agricultural sector, trends such as the offshoring of shared service centres could potentially provide high-skilled, flexible, well paid jobs for women workers, yet these highly gendered environments fail to operationalise policies and practices that support women at work.  Their concern with 'transformation', which is geared towards cost-saving efficiencies, ongoing relocation, and standardisation of skills, offers limited opportunities for career development for women.
Within the service industry, particularly banking, finance, and insurance, the ILO (International Labour Organisation) has shown that women are predominantly based at the lower paid and less skilled employment levels, with few occupying positions in management.
Employers prefer young, single women, with a good education and rapidly shifting technologies tend to see the remuneration of young new hires rather than experienced workers.  Underlining the assembly-line nature of the work, employers require flexible working, which frequently prevents women with families from taking jobs during off-peak hours.
The IT/ICT sector

In the IT/ICT sector, which is a fairly new, women constitute only 25 percent of global workforce (Ahuja 2002). Though much has been written about the so-called 'IT revolution', yet, despite the scale and potential of this sector, gender relations have been largely ignored in studies of offshore software development. Much of the labour process is highly labour-intensive and is seen to breed a 'masculine culture' as technical skill is intimately entwined with masculinity. In a study of workplace practices in global software organisations in Mumbai, Marissa D'Melloi describes how employees are required to work for long hours to accommodate different time zones and frequently operate in crisis mode with tight project deadlines. The mobile nature of these occupations works to women's disadvantage as they are faced with long hours of work, expectations of overseas travel and participation in informal social networks.  Although it has been argued that the IT industry offers a less discriminatory environment nevertheless, the social construction of gender identity is heavily implicated in technology work. These sites are far from a 'level playing field', embodying stereotyped gender norms. Studies show that while men are concentrated in the more prestigious export software firms, appointed to analytical and managerial positions, women are found in domestic low -end and IT- enabled services, suggesting a clear gender differential in this sector.
Conclusion

One needs to be cautious while drawing positive conclusions about the employment opportunities provided by ICT-enabled service work and the prospects of advancement for women in developing economies. Labour market issues in the global economy cannot conveniently be 'black boxed' with the formal economy being divorced from the prevalent and expanding informal economy, where many women workers are concentrated. While numerous studies highlight the prevalence of informal work in manufacturing and within certain domains of service work, there have been virtually no studies – aside from anecdotal evidence – on the informalisation of ICT-enabled service work. Yet moves over the next few years towards the use of 'home agents' implies that this area of employment is potentially highly vulnerable to informalisation through global service chains.  Far from re-shaping women's lives and creating new opportunities, ICT-enabled service work offers limited benefit to women, especially the poor. However, transformation is possible and examples of collective organising (such as UNITES) could provide workers with a voice that highlights the reality of their working lives, enabling women workers to connect with international systems of solidarity and fight for change.
References and Footnote:
 Ahuja, M. (2002) Women in the information technology profession: a literature review, synthesis and research agenda, European Journal of Information Systems 11: 20-34.

Gillard H, Howcroft D, Mitev N and Richardson H (2008) Missing women: gender, ICTs and the shaping of the global economy, Information Technology for Development

Howcroft D and Richardson H (2008)Gender matters in the global outsourcing of service work, New Technology, Work and Employment, 23:1-2

Taylor P and Bain P (2005) "India calling to the faraway towns": the call centre labour process and globalisation, Work, Employment and Society, 19:2, 261-282.
iD'Mello, M. (2006) Gendered Selves and Identities of Information Technology Professionals in Global Software Organizations in India, Information Technology for Development, 10.1002: 1-28.
"Exciting news! Elets eGov is now on WhatsApp Channels 🚀 Subscribe today by clicking the link and stay updated with the latest insights!"
Click here!