According to some research studies pivoted by IDRC, mobile telephony has become a predominant mode of communication in many developing countries
In recent years, there has been a rapid growth of mobile phone networks in developing countries. Most of the countries in the developing world have skipped fixed line infrastructure and leapfrogged directly into mobile technology. Currently mobile telephone is the predominant mode of communication in the developing world. In a span of just five years, the average mobile phones per 100 inhabitants in Asia, Africa and Latin America and the Caribbean (LAC) has risen by 100-400% (see Table ).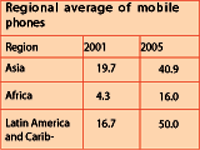 The mass adoption of mobile phones has largely been attributed to pre-paid subscription or 'pay-as-you-go' method. Significantly, mobile phones have reached a greater strata of the population within countries, including the poor. While developing countries are still lagging behind high-income countries in overall ICT usage and applications, mobile phones have gone a long way in reducing the digital divide.
The IDRC initiative

Until recently, very little systematic evidence that shed light on the economic and social impacts of mobile telecommunication in developing countries was available. The Information Technology for Development (ICT4D) programme of International Development Research Centre (IDRC) has played a critical role in identifying the operational effectiveness of mobile phones in developing societies.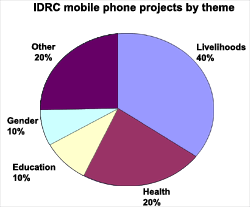 As penetration rates of mobile phones increase rapidly, ICT4D programme endeavoured to investigate developmental potential and impact of mobile phones. So far, ICT4D has supported around 20 research projects with a focus partly or fully on mobile phones. The research projects were executed by organisations and institutions based in Asia, Africa and LAC in close collaboration with ICT4D staff. These projects assess the diverse range of innovative applications of mobile phones in different sectors. Some of the examples include agricultural price transmittal through SMS, remittances, etc., health (disease prevalence or demographic surveillance applications), education (distance education, learning, management etc.), governance (electronic voting, access to services etc.). The figure provides a percentage breakdown of the IDRC-supported projects by research themes. Some of the projects cut across more than one dimension.
Impact of mobile phones on livelihoods

The impact the mobile telephone has had on livelihoods is a central concern of ICT4D.  More specifically, a focus on livelihood means understanding how mobile phones help people protect themselves against vulnerability and provide opportunities for a more prosperous future. Of particular importance is the contribution of mobile phones to sustainable livelihoods of the rural poor. Evidence from all the three regions indicates a dramatic impact of mobile phones on livelihoods. A cross-country survey of 7,000 respondents in LAC suggested that the acquisition of mobile phones by the poor has an economic impact reflected mainly in improved social capital variables such as the strengthening of trust networks and better coordination of informal job marketsii.
The Senegal experience

In Senegal, mobile phones have been used to increase income levels of small-scale farmers and fishermen.  In a country were more than 70 percent of the population are found in the rural areas, farmers and fisherman have no way of finding out the prices before they make the difficult journey to the market, and often have to rely on middlemen who take advantage of this ignorance. Through using mobile phone based Internet technology (Wireless Application Protocol), farmers can access reliable, up-to-date information on market prices. An independent group, Manobi, a 2002 joint partnership between Senegal and France, helped to identify the market prices for agricultural and fish products in the market, uploaded wirelessly the information into a database to their central server. The test project looked at 150 farmers and fishermen usage of the best price information tool as well as provided the users with weather updates and other local news. It was found that using the technology contributed to a 50 percent increase in prices for the fruit and vegetable farmers of Niayes- a West Senegal market gardening areaiii. Secondly, the project found the fishermen able to reduce the amount of spoiled fish while in search for a market buyer.
Mobiles in education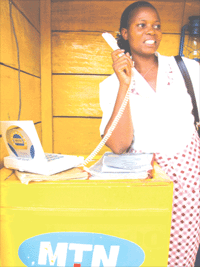 Given the inadequate social infrastructure in developing counties, a lot of attention has also been given to how mobile phones can be integrated into the education and health systems. Mobile phone's portability, simplicity, and affordability make it a natural fit for education initiatives in regions where other forms of ICT are not easily available.
For example, one project in Philippines and Mongolia explores the feasibility and acceptability of using SMS technologies for delivering non-formal distance learning to different socio-economic, cultural and gender groupsiv. The expected project output include SMS Learning Packs – courseware in SMS format and other ancillary materials on different subjects and topics identified as learning needs of different groups; an SMS server to handle student registration, storage, and deployment of the educational materials, trained personnel on SMS-enabled technologies.
The Ugandan case

In Uganda, health workers learned to use Personal Digital Assistants or PDAs and helped to drive a more efficient system of Uganda's Health Information Network (UHIN)v.  In five Ugandan pilot sites, researchers found health workers used timely two-way electronic information transmission to and from District offices and such innovation clearly improved on disease surveillance, health reporting and up-to-date prescription drug inventory. In the current project, partner organisation SatelLife Inc., hopes to expand on the understanding of impact of the electronic system particularly in regards to health delivery costs and savings. As human resources is also an important factor in health care, an evaluation of the effect on health care worker performance will also be completed. The Health Management Information System (HMIS) and Disease Surveillance will be the main focus of electronic system, improving on the previously implemented pilot projects. The project also plans to improve human capacity through Continuing Medical Education provision to the health care workers at the pilot sites.  Lastly, the Uganda UHIN project hopes to collaborate its efforts with the exploration of Rwanda's electronic health system as well as existing Health Information Networks in Mozambique.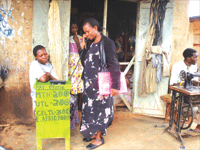 Another Ugandan case study suggested that while the mobile phone was clearly substituted for transport expenses and daily shop-bought household items, the mitigation of loss during unpredictable shocks was significant. Households better managed and coped with difficult situations including lowering emergency travel costs, acting in timely manners, improving information access and lessening trauma for affected groupsvi. IDRC-sponsored Gender Research in Africa into ICTs for Empowerment (GRACE) very recently concluded the training of 14 research teams in 12 African countries. Five projects in particular look specifically at the impact on women on mobile phone usage. Similarly, research has been undertaken to investigate how mobile phones can assist in the economic empowerment of women in Asia.
Conclusive findings

The mobile phone is an increasingly accessible technology for marginalised groups like the rural poor and women. A survey conducted in India and Sri-Lanka gives particular emphasis on mobile phone use by low-income groupsvii. The study revealed that low-income groups are willing to spend a significant proportion of their monthly household income (4-8 percent) on mobile phones. Mobile communication was particularly valued due mainly to convenience afforded in terms of saving time and money in travel. The case studies illustrate the active social and economic role played by mobile telephones. Mobile communication is transforming the lives of millions in developing countries. A particularly important issue is the effects mobile phones are having on the vulnerable groups like small-scale farmers and rural poor. While evidence in this regard is emerging gradually, further research is necessary to fully understand how mobile phones are positively impacting these groups. Finally, the research findings indicate how the adoption, use and benefits of mobile phone vary across regions, which underscores the importance of taking into account different contextual social and economic factors of developing countries.
Sources
(i) Orbicom. (2007). Emerging Development Opportunities: The Making of  Information Societies and ICT Markets. Ottawa: IDRC.
(ii) DIRSI. (2007). Mobile Opportunities: Poverty and Mobile Telephony in   Latin America and the Caribbean. Ottawa: IDRC
(iii) http://www.idrc.ca/en/ev-8117-201-1-DO_TOPIC.html
(iv) http://www.pandora-asia.org/
(v) Uganda Health Information Network:  http://pda.healthnet.org/
(vi) Diga, K.  (2008). Mobile Cell Phones and Poverty Reduction:  Technology Spending  Patterns and Poverty Level Change among Households in Uganda.  Dissertation Report submitted to IDRC.  January 14, 2008.
(vii) Samarajiva, R., and Zainudeen, A. (eds.) (2008). ICT infrastructure in emerging Asia: Policy and regulatory roadblocks. Ottawa: IDRC.
France leads the way in telephony and data transmission
The time is ripe for radio technologies: 3G+ mobile networks, WiMAX, ZigBee, RFID. The size of the French mobile telephony market reached about 22 billion Euros in 2007 and was the source of 100,000 direct and indirect jobs in France. In the field of mobile networks, France is already preparing for 4G networks. The French company Alcatel-Lucent recently announced with the Japanese company NEC, at the Mobile World Congress in Barcelona 2008, the creation of a joint company in the field of Long Term Evolution (LTE) infrastructure, which will enable in the year 2011-2012 a speed of almost 100 MB/s compared with approximately 3.6 MB/s for current 3G networks. On the operator end, France Telecom is investing heavily in research and development, with a budget of 600 million euros, for 4,200 researchers and engineers. In addition to these industrial resources there are the internationally renowned public laboratories:
Among the Federation of Grandes
Follow and connect with us on Facebook, Twitter, LinkedIn, Elets video