ICT is only an enabler and unless it is utilised effectively for socio-economic benefits, it's growth is of little relevance.

It is claimed that Telecom and Information Technology (IT) sectors are success stories in India. It is true that we are adding eight million new telephone connections each month, and this number is even higher than China's telephone growth. We are number one in software technology as well. Certainly, the growth in our tele-density is remarkable. So is our capability for building clever software for export. However, what we forget is the fact that IT and telecom are only means to an end and not an end in themselves. ICT is only an enabler and unless it is utilised effectively for socio-economic benefits, it's growth is of little relevance. Mobile telephones have been used by the masses for furthering their economic well-being. Nevertheless, the same can not be said for software applications nor can we say that we have fully utilised the capabilities of the telecommunication revolution.
Basically, ICT is an aid for efficiency improvement. ICT works by transforming tedious manual processes into efficient time saving processes. True advantage does not come from mere conversion of the manual process to a computer based process but rather through the use of Business Process Re-engineering. This is possible because a computer enables quick reference to huge data bases and fast processing of data and information. Add mobility to it and you have an even more potent tool for transaction efficiency improvement. ICT with mobility amounts to mobile computing a field which offers immense innovative possibilities.
Significant challenges exist in realising the full promise of ICT. Worldwide it has been observed that the restraining factors are:
Lack of access to ICT facilities (more pronounced in developing countries)

Availability of appropriate content

Illiteracy

Discovering proper and appropriate application of ICT

Availability of right customer end devices at the right cost
There are various initiatives being undertaken in India in this regard. There is also a need to look at what could and needs to be done.
Lack of access to ICT facilities (more pronounced in developing countries):

Access to ICT is limited due to the non-availability of telecommunication links that are adequate to handle applications. Generally, we need to have broadband access capabilities to be able to fully exploit the ICT potential. The two technologies which are most widely used world over are the Digital Subscriber Line (DSL) technology on copper cables used for fixed line telephone connections and the coaxial cable (along with optic fibre cable) used for cable TV transmission. In most developing countries the predominant mode of giving phone connections today is cellular mobile systems. Fixed line network was available a few years back when the wireless revolution took over. But there has hardly been any increase in this infrastructure after that. Thus, the number of lines and the areas where such lines are available are limited. In India, we face an additional problem. Though, some of the networks are new, the maintenance practices have not been up to the mark. Therefore, the existing network can not be used to the fullest for providing broadband connectivity. This further limits the availability of access to ICT in large parts of the country.
As far as the TV coaxial cable network is concerned, it is an excellent media, provided healthy installation practices are used and the network is converted into a two way network rather than being one way. In our country though, the number of homes with TV are more than 60 million (this may sound impressive), the fact is that coverage is neither universal nor is it  deep enough, leaving large tracts of land uncovered. In addition, the quality of installation (tree top hanging of cable) is not conducive for broadband operations. Any attempt to use one of these technologies and particularly the DSL technology in the rural areas with lower user population density is bound to be quite expensive and non-remunerative.
Fortunately, the developments in the open standards based wireless systems have solved the technological and economic limitations. A vast variety of wireless systems are available at costs which make access to ICT more or less affordable. Therefore, the obvious approach is to quickly deploy such systems in areas which are currently not served. Since techno-economic solutions are available to overcome the access to ICT, why do we still have such poor access as judged from the slow growth of broadband connections over the last four years when the broadband policy of the government was announced? There are clearly two reasons. The fixed line infrastructure (even though limited to 7 to 10 million broadband connections) is getting utilised very slowly in the absence of competition. Competition could easily be introduced through Local Loop Unbundling (LLU). The second and bigger reason is the fact that (for totally inexplicable reasons)  government has put the WiMax and 3G policies on the back burner. Once again, we are lost  in narrow band 2G and there is no clue available to the spectrum for WiMax and 3G spectrum as the auction date is still unannounced. In other words, while the technology and open standards for access to ICT by large number of customers and in large parts of the country is cost effectively available, we in India are not utilising the potential of ICT possibly due to lack of vision.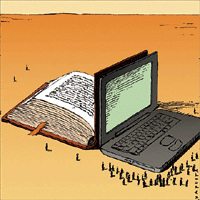 Quite evidently, there is a need to empower the telecommunications industry to provide broadband connectivity both by permitting local loop unbundling to open up areas where copper cable infrastructure is already there and to freely and readily allot WiMax and 3G spectrum. Spectrum availability is a problem in all countries but countries with a vision have planned the vacation of suitable bands well in advance of the requirements. The recent vacation and auction of 700 MHz band in US is an example of proceeding with vision. It is worth noting that even US was relatively slow in broad-banding the country as compared to the European countries and was far behind Korea and Japan.
Availability of appropriate content

When access to ICT is made easy, there is no guarantee that it will indeed be used unless the content made available is of direct relevance and direct interest to the users. A large part of any programme to utilise ICT needs to have a component of understanding customers. For example, to understand the content requirement of ICT based education, local factors have to be considered which in turn will depend on the nature of the predominant interests and activities in a given area or community. Limited generalisations are only possible since the requirements are usually area specific and also depend on related factors such as willingness to try new ideas and new approaches.
Illiteracy

In the light of the prevalent high levels of illiteracy in the country, a very important factor for quick, easy and result producing ICT applications is to determine from consumer interaction, how friendly the ICT programme is for the illiterate. Therefore, the programmes may have to be tuned substantially and may differ from region to region, financial factors are also critical. Financial factors not only refer to the affordability aspect of ICT but also depend on what cost such services can be actually provided. A very important issue here is the usefulness of the content or the cost benefit of a particular ICT application. In this respect, wireless technology is a major positive factor for keeping the costs low. Understandably, besides location of the user other factors such as age, local culture and background become important before ICT is embraced by the masses.
Here, the customer equipment cost becomes important. At the moment, computer costs are high and in several areas individual possession of computers is a problem. Thus, a model which assumes that individuals will like to possess their own Customer Premises Equipement (CPE) may succeed in some areas, but most rural and semi-urban areas in India may at least in the beginning stages, prefer to go for the shared CPE model. A possible exception could be the mobile handset. Developments of such handsets with greater computing capabilities are constantly being reported and it is possible that relatively inexpensive handheld devices capable of doubling as a mobile phone and a computing device suitable for ICT applications may become available in the near future. Added to this, the charm of mobile TV (discussed later) will enhance the acceptance of ICT amongst larger numbers of population. The implementation plan must incorporate such factors.Discovering proper and appropriate application of ICT
The cost benefit analysis of a particular ICT application requires special discussion. A constant point of debate in all such discussions is; 'Is there a killer application and if so what is it?' The applications which require special mention are:
Governance

Education

Health, and

Entertainment
In most of these applications, 'mobility' adds substantial value. The ability to offer ICT applications at the door step of the user when it comes to governance or healthcare are important. For a local self government, instead of a customer having to go to the offices of such an authority (even if the authority's processes have been built around computers and software, if the authority representatives are able to visit the doorstep), there can be a substantial reduction in the time spent by the consumer. Such a prospect can greatly enhance the perceived value of the ICT application, thereby increasing the acceptability of ICT by the masses. As demonstrated by a programme undertaken in the United Kingdom, achievement of success requires change in the business processes of the agency besides providing the facility of mobile computing to its workers. In fact, the manner in which this programme has been worked out in UK is such that after the pilots, guidelines are issued to all authorities so that they do not have to develop their own programmes ab initio.
In short, the entire programme has to be a well thought out scheme in which all details have been taken care off and the scaling up is being done after detailed and extensive pilot trials. Unfortunately, neither such thinking is evident in the context of Indian administrative programmes nor perhaps the knowledge of accruing benefits is understood fully and presented attractively to the users. The approach often is to take up the programme either at the central level with little conviction carried to the state entities or are taken up by enterprising state administrations. But the results are fragmented as each state operates on its own without the benefit of the experiences of the others. Such approaches lead to duplication, resulting in enhanced costs besides development of non-standard schemes and programmes.
One of the best examples of mobility adding value to ICT, is the case of mobile TV. Much like the IPTV, Mobile TV is essentially an Internet Protocol based TV service except that unlike IPTV, which operates in a point to point mode, mobile TV operates in a broadcast mode

In the past several years, many promising pilots have been attempted in various parts of the country. Little has been heard about the scaling up and wide deployment of such programmes across the nation. Even the e-Governance programme is more focussed on the collection of data for government use and less for the benefits of the citizen. The emphasis of the programme appears to be more about building up new physical network rather than on seeing to its utilisation by the citizens. It is perhaps for this reason that our country's standing in the international list of 'ICT preparedness' continues to be very low while even small countries are progressing ahead.
Trials of several initiatives in the area of ICT being applied to health care have been reported with varying degree of success. A project undertaken by Narayana Hrudayalaya of Bangalore, India, headed by Dr Devi Shetty, has implemented a scheme in which mobility has been combined with ICT. Doctors of the hospital or their rural clinic move to camps in remote rural areas with a laptop which is connected to an ECG machine on the one hand and to the main hospital via a mobile plug-in connection using CDMA technology on the other hand. ECG of a patient is converted to a digital file and this 4k Byte file is transmitted to the main hospital taking about 30 seconds. A Cardiac specialist sees the ECG and sends his specialist opinion back to the rural/remote location using the same link. The basic concept appears to be a definite advance over the ICT based e-Health programmes and clearly tremendous value addition is seen in the quality of health care since the doctor is able to send observations or results for analysis to the main hospital and get feedback while mobile. Judging by the number of patients covered by the Narayana Hrudayalaya scheme and the use of commercially available service and tools, it is clearly a highly scalable scheme.
Developments and research at various institutions is helping in the development of software to help such applications. It is evident that if mobile (nomadic mobility) is made available using Evolution-Data Optimised (EVDO) and similar technologies, the value addition to medical care will be phenomenal.
Availability of right customer end devices at the right cost

One of the best examples of mobility adding value to ICT, is the case of mobile TV. Much like the IPTV, Mobile TV is essentially an Internet Protocol based TV service except that unlike IPTV, which operates in a point to point mode, mobile TV operates in a broadcast mode. The key advantage of these two technologies is that interactivity is possible so long as a two-way channel can be established. It is possible to have time shifted video. These mobile TV systems offer the possibility of viewing 15 to 20 channels in a single analog channel of 7 MHz bandwidth besides offering high quality viewing due to the use of digital technology. The acceptability of ICT in this form is extremely high on the basis of projections done by experts. This is likely to be the case in India as well because entertainment is given a very high priority in most communities. This mindset along with the existing high popularity of mobile phones augers well for the success of this application of ICT in the country. Once again, it will depend on when the services can be launched. While the Information and  Broadcasting Ministry has been actively pursuing it, there is no indication about the spectrum and when it will be made available.
The conclusion that can be drawn is that taking care of one or two components needed to create an information and ICT based society is not enough to even hope for success. A total and integrated plan and details of its components, participating agencies with clearly defined task for each agency is required.
Follow and connect with us on Facebook, Twitter, LinkedIn, Elets video