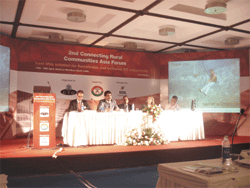 Commonwealth Telecommunications Organisation (CTO) held the 2nd Connecting Rural Communities Asia Forums on 'Last Mile Solutions for Sustainable and Inclusive ICT Connectivity' from 15th – 18th April 2008 in Cochin, Kerala, India.
The four day event was hosted by the Government of India. Some 150 high level officials attended the conference which includes three ICT Ministers from Afghanistan, Brunei and Sri Lanka. The event was also attended by the top notch operators and service providers and government officials such as BSNL, Nokia Siemens Networks, Ericsson, Airtel, Microsoft, Government of Kerala and Hughes. Some of the other countries represented by delegates include South Africa, Singapore, Amman, Tanzania, Finland, Sweden and Nigeria.
The first day of the conference was dedicated as a Special Focus Day on Universal Access. The day started with a panel discussion on Universal Service Obligation for Rural Telecommunications. Dignitaries such as Ajay Bhattacharya, Adminstrator, Universal Service Obligation (USO) Fund, TV Ramachandran, Director General, Cellular Operators Association of India (COAI), Gabriel Solomon, Senior Vice President, GSMA, Yogesh Kocchar, Head, e-Governance Unit, Tata Tele-Services were present on the occasion to discuss the issues related to USO Fund. Bob H Lyazi, Fund Manager, Uganda  Communications Commission chaired the session. India is seen as a leading example for mobile communications in the world. It is estimated that by 2010, we will reach 500 million subscribers in terms of variety of wireless technologies. The conference saw the discussion over the 3As for providing rural connectivity – Access, Affordability and Application. Speaking on the occasion Ajay Bhattacharya, Adminstrator, Universal Service Obligation (USO) Fund said that, "In terms of tele-density India has moved far ahead of what was projected for 2010". It is predicted that with the current level of 240 million subscribers will be doubled within less than two years. Ajay Bhattacharya further said that, "There are 7, 800 towers which are being laid out across the country". The panel agreed  on the stand  that the main focus of the service providers, operators and other key stakeholders should be the end users. The panel also discussed at length the need for better utilisation of the USO Fund with a special need to finance last mile connectivity.
The event saw many interesting presentations from Microsoft on Project Shiksha. Jayalakshmi Chitoor from Centre for Science Development and Media Studies (CSDMS) reflected upon e-Governance. According to Chitoor, e-Governance implies spectrum of varied things in terms of technology such as mobile and broadband having inter linkages in providing ICT for development – education, micro-credit etc. Issues such as Rural Commerce were raised  at length as well. It was observed that mobile phones as a concept is still very expensive for many people. There is also a need for some regulation in Rural Commerce given the complexity of telecom and banking services. Happy Village Project of the Andhra Pradesh Technology Services Limited is one success story where there has been application of ICT in rural areas in a successful way. Development oriented concepts such as capacity building were discussed as well. Commenting on capacity building Alaknanda Rao of Anudip Foundation for Social Welfare stated, "Connectivity parse is not sufficient. It has to be sustained with capacity building in order to benefit the end user". A case study on hand set financing by Dr.
Karen Koppock, Vital Consultancy Services revealed the fact that most of the unconnected is in the emerging markets in the developing world. There are 5.5 million people in these emerging markets and 75% are in India and China. The special need for these market is the requirement for basic needs in handsets.
The formal opening ceremony was on the second day with the lighting of the lamp by Hon. Minister Mahinda Wijesekara, Minister of Posts and Telecommunications, Sri Lanka, Engineer A. Sangin, Minister of Communications, Afghanistan, Dato Yussoff Hamid, Deputy Minister of Communications, Brunei Darussalam, Ajay Bhattacharya, Adminstrator, Universal Service Obligation (USO) Fund and B K Syngal, Former Chairman, CTO. There were welcome address given by Bashir Patel, Director Programmes and Business Development, CTO and K S Srinivasan, CGMT, BSNL, Kerala. In the welcome address given by B K Syngal said that 70% of the population lives in sub-urban areas with a dependence upon the rural economy. The effort to connect rural communities is an important issue for ICT operatives in Asia, as regulators, governments and other stakeholders see the urgency of harnessing ICTs to bridge the digital divide and further create new market opportunities for the private sector in Asia. Sangin, Minister of Communications & IT, Afghanistan presented the progress of his country in terms of telecommunications. It is remarkable that the country is adding 2 lakh new users every month with 60,000 people working in the telecom industry.  The ministers from Brunei and Srilanka presented their country profile in terms of the tele-density and mentioned how India is a leading example for them. During the session and the discussions thereafter, it was discussed that there should be a USO Fund Association which would enable proper management and utilisation of these funds.
Giving an overview from a national operator's perspective, Kuldeep Goyal, Chairman and Managing Director of BSNL highlighted some of the connectivity issues in India. He said that last mile solutions in India is a major issue in hand. BSNL's role in this regard has been immense. He said- "BSNL is providing connection to more the 80% of the rural population in India". He stated that "there is an increase in the broadband roll-out from 42% to 50%. There is a great oppourtunity in India for cellular operators and service providers". Technology has a huge role to play in terms of rural connectivity and providing socio-economic empowerment. George Paul, General Manager Marketing and Strategy, Ericsson showcased their Gramjyoti Project. Ericsson has successfully used mobile broadband technology for providing various services in terms of education, health, etc. and providing socio-economic empowerment to the people.
There was also a panel discussion on bridging the digital divide through coordination between the private sector, foundations, NGOs, and bilateral and multilateral agencies. Vikram Manchanda from Microsoft  mentioned how a PPP model can help in bridging the digital gap. As a diplomatic inter-governmental ICT organisation, the CTO has assembled regulators, Ministers of Communications and ICT giants to map rural connectivity in this explosive, high-growth market. The forum outlined the latest elements of rural ICT developments, while creating networking opportunities for the industry elite from across the value chain.
The last day of the conference saw discussions on issues such as telecommunications in rural India, rural IT, key rural connectivity projects, wireless mesh, ICT and the environment. Tele-density in rural areas is very low. The speakers in the various sessions discussed the challenges in providing rural connectivity such as creation of localised content, breaking the customer mind-set, lack of infrastructure, high investments and low returns, etc. Speaking  on the occasion Anirban Ghosh of Airtel spoke about the Value Added Services (VAS) such as information about crop prices, crop diseases etc. that the company is offering in rural areas. According to A N Rai of BSNL, in rural areas apart from telecom operators, there is a need to develop other business models that can help and compliment the capacity of the ICT. N K Goyal, President, Communications and Manufacturing Association of India, spoke about the issues of electronic wastes and IT and the need to bring awareness in this regard. Nokia Siemens Networks' Village Connection rural project raised three crucial aspects for connectivity – access, motivation and competence. Ericsson's rural project highlighted the major issues in terms of rural connectivity as the transmission and power amongst a host of other challenges.
Commenting on the success of the conference, the CEO of CTO said: "In our view at the CTO, the central challenge facing the development community in the ICT arena is how to connect the unconnected. In most developing countries, the unconnected are in the rural areas, hence the critical importance of our series of conferences in Africa and Asia on connecting rural communities. These events have been very helpful to our member governments, ICT regulators and industry executives in appreciating the right combination of policies, legislation, regulation, operational strategies, unique business models, innovative financing mechanisms and other local ownership and management arrangements that make rural connectivity initiatives sustainable."
The event was concluded with a workshop on 3G conducted by Nokia Siemens Networks. Overall, the event was successful in discussing some of the key issues in terms of rural connectivity such as the utilisation of the USO Fund, challenges in providing last mile solutions, some of the successful projects which can serve as an example for other ventures in rural connectivity. It is also laudable to bring in the different perspectives of the stakeholders such as the operators, service providers, government agencies etc. on a single platform for meaningful networking among them.
Follow and connect with us on Facebook, Twitter, LinkedIn, Elets video