SKS Microfinance is working extensively on rural credit and microfinance and trying to identify feasible financial solutions for the rural Indian folk.
Introduction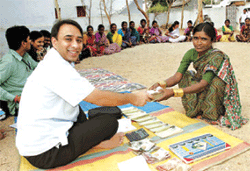 Padma, residing in a tiny village in the arid regions of north Andhra Pradesh, used to have a tough life. She and her husband used to work hard on their farm to make ends meet and look after the needs of their three little children. About two years ago, Padma took a loan of INR 8,000 from a Microfinance Institution (MFI) to buy a sewing machine and started a small tailoring unit at home. She would stitch clothes, embroider sarees and dresses. She started making a reasonable amount of money to help the family improve living conditions. A cell phone, again bought with a loan, helped improve source orders from neighbouring villages. The mobile also helped the couple know the best markets to take their produce to and to get the best price.  Life was looking up.
Technology can play a critical role in the larger goal of financial inclusion. Microfinance institutions are today in a position to reach out financial services to the poor women residing in remote villages. Since these are small loans given to many individuals, the cost of reaching to the customer is high. Technology can intervene and provide solutions that make this transaction viable for the MFI and affordable for the customer.
The SKS initiative

At SKS Microfinance, technology has been recognised as a key driver in saving costs, time and ensuring data accuracy. The company was among the first in the industry to develop an in-house Management Information System (MIS) to manage data. Over the years this has become the industry standard. The MIS has helped manage the company's growth to nearly two million customers. The next phase of growth which is targeted at reaching five million customers by 2009 is the next big challenge. How does one track and service five million loans averaging INR 8000 each every single week for 50 weeks without error and efficiently? SKS' next phase of IT investment is aimed at addressing this issue.
The company has entered into strategic tie-ups with IT majors like Compulink Software, HCL, Microsoft, Tulip IT and Wipro Infotech to put in place IT infrastructure that can handle issues such as capacity, security, scalability, optimisation and performance specific to the microfinance sector.
Technological solutions

SKS is putting in place a new three-tier web application to develop highly-scalable software applications for internal systems and to complement web hosting services. The new system will not just support SKS core banking solutions but will also provide the advantage of minimal IT infrastructure, rapid deployment, quicker scalability and upgrades.
To support connectivity across all 700 existing and future SKS offices, a hybrid solution with a mix bag of Multi-Protocol Label Switching (MPLS), Radio Frequency (RF) and Very Small Aperture Terminal (VSAT) solutions is being put in place. The Wide Area Network (WAN) infrastructure aims at providing complete end-to-end communication services with security, enhance agility, profitability and productivity. This will help in resource consolidation and form a centralised information system for entry and retrieval of operational and financial data from any of the offices. SKS Microfinance plans to increase the number of branch offices to 1500 by 2009.
Ensuring better microfinance management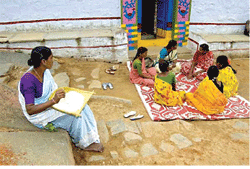 To support mission critical systems and protect them from virus threats and attacks, a state of the art data centre is being set up in Bangalore. This will help SKS Microfinance consolidate multiple applications onto a single server with virtualisation technologies, investment protection for applications running on different operating environments, reduce management costs and risks through greater automation of administration tasks and minimise the cost to train and retain highly skilled technical staff.
In order to standardise quality and address compatibility issues across offices a central procurement system model has been implemented. IT Assets include categories such as PCs, servers, peripherals, telecom/networking, software and other technology services. The centralised procurement model will result in annual improvements in price, quality, and service. This will help the company manage IT sourcing and post sale service across all SKS offices.
SKS strictly follows an anti-piracy policy in its software use and complies with all licensing norms. A new model in software licensing has been adopted to take care of the organisation's software needs and is aimed at maximising licensing flexibility and choice even as SKS meets the business requirements for the next three years. This will help  SKS in easier license management, increased value on software with ability to calculate accurate return on investment, predicting planning and budgeting.
The new IT backbone is expected to be in place by July, 2008.  With this, the existing MIS at SKS Microfinance will be decommissioned in phases.


SKS Microfinance ties up with IT majors to expand financial reach
In order to accelerate the mission of financial inclusion for the underserved, SKS Microfinance has recently launched a technology initiative in partnership with five IT majors viz. Microsoft, HCL Infosystems, Wipro Infotech, Compulink and Tulip. The initiative, expected to be operational by July 2008, will not only aid the creation of a conducive IT infrastructure but will also expand SKS's services to reach the unreached. The new IT structure would significantly bring down the transaction costs, initiate faster processing of data, strengthen security, enable real-time data analysis and accelerate scaling in providing convenient services to poor. In this endeavour, SKS is planning to outgrow from its current base of 650 branches serving 17 lakh poor households to 1,500 branches serving 40 lakh  households by the year 2009. The leading microfinance organisation has already provided over 432 million dollars in loans to over 14.5 lakh women. It plans to disburse an additional amount of INR 5,200 crore to rural clients in nearly 40,000 villages and slums in FY 2008-09 and plans to add  a host of new financial services.
Empowering lives
A few years from now, people like Padma would be completely empowered by technology even though they are living far away from the hustle and bustle of urban life.
Thirty-two-year-old Kamala lives in a remote village with her husband and two children.  Her day starts at 5 AM when she does the household chores, sends her children off to school and sees her husband off to the farm, cooks for the day and settles down to work from home. She switches on her solar backed-up personal computer and checks her yahoo mails and makes sure to reply to her customers on status of the saree orders which she received a week back. She gets into a web portal and tracks whether her order logistics is on track or not. She switches on her webcam and uses video conferencing with her vendors and takes the latest positions on the stocks and materials. She is able to source the best material, use local talent and skills and build an enterprise right from home.  On her mobile she checks her bank account balance, and finishes her shopping in the nearest kirana store paying him using her mobile banking gateway system. She uses her mobile to chat on tele medicine and confirms the prescription she is using for her son who is suffering from a minor infection. Sounds wild?  This could be the future of Indian villages with technology and education. The world would be at our doorsteps literally.