The growing demand for quality healthcare and the absence of appropriate infrastructure pose a challenge both to the government and private healthcare delivery providers. The article examines the quantum of the problem and how newer modes of financing including Private Equity infusion and Healthcare REITs could contribute to this colossal task of infrastructure building in this vital sector.
The concept of an Inflection Point suggests that there are critical points in the history of an industry or an individual company that signal permanent and enduring change. Failure to recognize or respond appropriately to changes in consumer behavior, market conditions or opportunities has often spelled disaster for food retailers in markets around the world. Successful companies appear to consistently and accurately anticipate or create new market trends, while those less successful either fail to react to market conditions or make the wrong choices.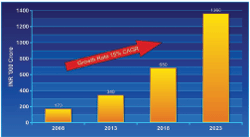 The healthcare sector  in India is  today at the point of inflection in transforming the delivery setting in terms of the formats, quality of care, affordability and geographical access.
The delivery capacity of India's healthcare industry has not been able to match up with the burgeoning population and socio economic changes.
India needs an annual incremental addition of healthcare facilities equivalent to almost half of what UK or France or Italy may need for their entire populations. Against a world average of 3.96 hospital beds per 1000 population, Russia has 9.7, Brazil has 2.6, China has 2.2, and India languishes at just over 0.7 indicating the big gap. Just to bring the availability of the beds to 1.7 per thousand from the current levels, it is required to create a million or more new beds, requiring substantial financial investment.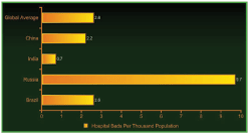 To reach developed country healthcare norms by 2028, it will require an astronomical US$ 1000 billion over the next 20 years. Even reaching halfway (i.e. the current norms of China and Brazil in terms of number of beds) will entail an investment of over US$ 500 billion (i.e. anywhere between US$ 25 billion to US$ 50 billion per year for next 20 consecutive years). Unfortunately, unlike other sectors, healthcare delivery cannot be priced on a cost plus basis since the payee's ability in India is severely constrained with practically negligible penetration of health insurance. It is no surprise, therefore, that almost all of the current organised healthcare service providers are struggling to show any profitability at all despite carrying the tag of being "premium". In these circumstances, it is very difficult to imagine fresh capital formation of this magnitude anytime in the near future, since, generating adequate return on investment under current healthcare sector dynamics is a huge challenge.
Till a decade ago, health (and the healthcare sector) was not considered a key driver of national economic performance. Today, there is incontrovertible evidence from the world over establishing that improved health leads to better economic performance. Poor healthcare on the other hand  can severely impact economic growth (Estimated loss due to cardiac disease & diabetes alone in India will be US$ 236 billion  in the coming decade).
A fast growing economy, rising incomes and increased urbanisation have been instrumental in changing the perception of patients as consumers. The present day patients are more demanding, expect better services for their money and exercises choice in choosing a facility for reasons other than cost. The Indian consumer spend on healthcare will increase from the current 7% to as much as 13% by 2028.
One of the prime concerns for any industry in India has been the inability to acquire real estate properties on lease at a reasonable cost. This was aptly brought out in the forefront by the retail industry. The challenge is more in the healthcare sector where gestation periods are long and accessibility is of prime importance. Real estate will continue to remain a challenge for some time now, however, we examine how the proposed healthcare Real Estate Investment Trusts (REITs) could help address this vital issue.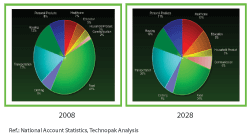 Real Estate Investment Trusts (REITs) are corporate, tax-advantaged entities designed specifically to own and sometimes operate real estate, including retail properties, apartments, office buildings, and healthcare facilities. REITs were originally formed to provide small investors with the opportunity to invest in diversified real estate without directly owning properties and having to bear any management and operating costs or responsibilities.
Healthcare REITs specialize in healthcare facilities, including acute care, rehabilitation and psychiatric hospitals, medical office buildings, nursing homes and assisted living centers.  REITs do not directly provide healthcare services at the properties they own. Rather, REITs rent facilities to
licensed third-party healthcare providers. By supplying quality healthcare facilities and expertise in property management, REITs can help  reduce the burden on providers and facilitate the delivery of medical care.
As estimated, India requires about a trillion dollar and a bulk of these investments would be made by the private sector. But due to high land cost many private players tend to avoid investing in healthcare. REITs would overcome this challenge by unlocking the healthcare delivery value.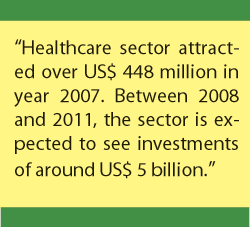 Healthcare REITs, if correctly implemented, will become  a key financial instrument in helping existing and new healthcare providers. The other trend we examine is the infusion of private equity in the healthcare sector.
Private equity investments in India have witnessed significant growth during 2007. PE deals have increased from  US$ 7.9 billion in 2006 to US$ 19.03 billion in 2007. There were around 53 deals of over US$ 100 million as against 11 deals in 2006.
Healthcare sector attracted over US$ 448 million in year 2007. Between 2008 and 2011, the sector is expected to see investments of around US$ 5 billion. According to industry experts, funds will flow from capital markets or PEs to set up greenfield and brownfield projects. India already has an active fund provider base supported by ICICI Ventures – one of the largest private-equities, which allocated US$ 250 million for a dedicated  healthcare  fund  through I-Ven Medicare. Others include IDFC, HSBC,  JP Morgan Private Equity Fund,  American International Group Inc. (AIG), Evolvence India Life Sciences Fund, George Soros's fund Quantum and BlueRidge.
The healthcare sector in India is witnessing a surge of activity and the beginning of what is seen as a rapid phase of growth. Emerging healthcare segments like diagnostic chains, medical device manufactures as well as hospital chains are increasingly attracting investments from a variety of venture capitalists. At a broader level, this trend in healthcare is often seen as a manifestation of the overall surge in private equity and also growing interest among  private equity funds for Indian companies.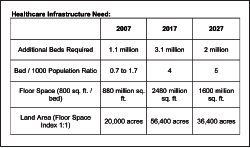 Private equity is smart money because these investors bring more to the table than just money. The capital and expertise of private equity act as a catalyst for creating enterprise value.
Healthcare is poised to be a new driver of growth for economy. Given the geographical access required for delivering care and the fact that infrastructure has to be spatially distributed, it has the potential to create pan India job opportunities across a number of towns and villages. It is estimated that each additional bed has the potential to create 5 direct jobs and 25 indirect jobs. This could translate into over 27.5 million jobs by 2017.
The additional employment generated could lift 8-10% of households above the poverty line. Medical value travel could make India the 'Healthcare Destination of the World'. It  has the potential to contribute more than US$ 2 billion annually by 2012.
And last but not the least, healthcare could greatly enhance the 'Brand Perception' of the country. No wonder that all prospective stakeholders are excited at the very  thought of this market. Clearly, some of the most  exciting laps of the healthcare race will be run in
India in the coming years.
Follow and connect with us on Facebook, Twitter, LinkedIn, Elets video