Introduction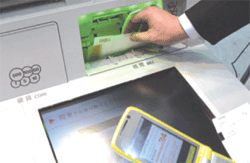 According to the UK Financial Inclusion Taskforce, there are three main concerns in financial inclusion; access to banking, access to affordable credit and access to free face-to-face financial advice. The term 'Financial Inclusion' is defined as an extension of banking and financial services at an affordable cost to unbanked people of the community. Unlike financial inclusion, 'Financial Exclusion' signifies the lack of access (by the economically poor and unbanked people of society) to appropriate, low-cost, fair and safe financial products and services.
Since the last couple of years, infusion of ICT in banking services has reversed traditional banking procedures and many branch banking services have been replaced by Automated Teller Machines (ATMs) and other technological platforms. In India, Reserve Bank of India (RBI) is working at tandem to operationalise banking services at the remotest corner of the country with the help of small hand held devices or mobile phones. The upcoming technologies like smartcard, virtual credit card and mobile phones provide expedient banking services at affordable cost.
Who are the excluded  and why?
Many people across the globe are excluded from mainstream banking. These ranges from people with low income to people with low information and accessibilty to people with no social security or insurance cover. The main reasons behind exclusion are:
Lack of information: Lack of information about the role and function of banks, banking services and products, interest rates, etc. stop people from including themselves in mainstream banking.
Insufficient documentation: Many people (even in metropolis and urban areas) are unable to show their self-identification documents during the opening of a bank account or during taking a loan.
Lack of awareness: Many people are unaware of the banking terms and conditions laid down from time to time.
High transaction charges: Various commercial banks across the globe levy transaction charges on credit or debit transactions, on over usage of banking services, on cheque book issuance etc
Lack of access: Accessibility is a problem from all those people who live in geopolitically isolated regions. Moreover, as most of the commercial banks are located in the vicinity of cities, people in rural areas (mainly in developing countries) have a geographical barrier in accessing banks.
Illiteracy: Because of illiteracy, a substantial number of people are unable to take recourse to banking services.
Technology to expedite financial-inclusion

There are different forms of technologies and other possible inbuilt technology solutions which reduces the cost of providing financial services. There are several hand-held devices which connect to the host computers through General Packet Radio Service (GPRS)/Global System for Mobile communications (GSM)/Code Division Multiple Access (CDMA)/Land-line networks, etc. The devices also come in several forms like computers/simputers/Personal Digital Assistants (PDAs), programmed mobiles, etc. Currently, there are three main technologies that are used globally. These are ATMs, Smart Card Technologies (SCTs) and Mobile Payment Systems (MPS). Here only SCTs and MPs are discussed:
The Smartcard technology

A smartcard, which is also known as integrated circuit or chip card is a pocket-sized card with an embedded integrated circuit to process information. A smartcard can be either be a micro-controller with internal memory or a memory chip alone. Smart-card stores data which can be either in the form of value or information or both. Smartcard enhanced systems are currently used in several key applications, including healthcare, banking, entertainment, transportation, telecommunications, secure identification and other applications.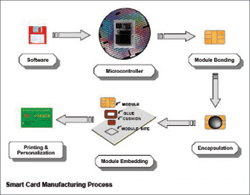 Apart from smartcard, biometric card is another technology, which uses automated method to verify the identity of a person based on a physiological or behavioural characteristics. Biometric authentication requires comparing a registered or enrolled biometric sample (biometric template or identifier) against a newly captured biometric sample (for example, a fingerprint captured during a login). Biometric-based authentication applications include workstation and network access, single sign-on, application logon, data protection, remote access to resources, transaction security and web security. Secure electronic banking, investing and other financial transactions, retail sales, law enforcement, and health and social services are some areas where biometric card technology is used.
Mobile payment systems

Mobile payments system or m-Commerce is the ability to buy and sell goods and services through wireless handheld devices like mobile phones, PDAs, etc. m-Commerce enables users to access the Internet without needing to find a place to plug-in. m-Commerce is based on the Wireless Application Protocol (WAP) technology or Near Field Communications (NFC). NFC is short-range wireless technology that evolved from a combination of existing contactless identification and interconnection technologies.
Financial Inclusion: A global perspective

Latin America: Due to factors like migration of mobile telecommunications operators to GSM, the financial migration to EMV (standard for interoperation of IC cards), the move to smart transmit fare cards and new government and commercial secure identification initiatives, the Government of Latin America has established Smart Card Alliance to accelerate the widespread adoption, usage and application of smart card technology. Alliance membership includes over 150 US based organisations and international organisations covering a full spectrum of industry suppliers, integrators and end user groups.
Banrisul, a state-owned bank in the Southern Brazilian state of Rio Grande do Sul launched a chip based debit card in 2006. The card carries a digital certificate for online banking and identity verification. So far, the bank has issued 500,000 digital certificates of which 100,000 are stored on smart cards or USB tokens. With regard to mobile banking, there are also corporate initiatives in Brazil. Very recently, Visa has entered into an alliance with Companhia Brasileira de Meios de Pagamento (VisaNet do Brasil), in order to test mobile remote payments. This process, initiated through the mobile network, will enable customers to conduct payments (even while traveling) through mobile devices.
The Government of Mexico has issued electronic gadgets starting from smart bank cards to contactless payment to government-issued healthcare smart cards. Around 30 percent of bank cards in Mexico are smart cards with the goal of full migration by 2008. Industry experts estimated that Latin American countries spent over US $200 million on card technologies in 2006, up 70 percent from the prior year.
Asia: To expand the smartcard industry in the Asia Pacific region, the Asia Pacific Smart Card Association (APSCA) (www.apsca.org) was established in 1997. So far, APSCA has over 40 members including China, Hong Kong, Taiwan, Japan, Korea, Singapore, Malaysia, Thailand, Australia and Pakistan. The Association is promoting the adoption of smart cards where relevant, under suitable standards, across all areas of the private and public sectors.
In India, the State Government of Andhra Pradesh (GoAP) has also piloted project on routing social security payments to widows, handicapped, old and eligible weavers through the use of smart cards and business correspondents. Currently, the pilot project is covering 50,000 beneficiaries and it is expected to cover five million beneficiaries by August 2008. Other departments of government like the India Transport Department will soon provide smartcard loaded driving license to drivers. To empower the 'smart card industry' in India, the Finance Minister, P. Chidambaram announced that Haryana and the  Union Territory of Chandigarh will introduce on a pilot basis a 'smart card' based system to deliver food grains under the Public Distribution System (PDS) at affordable prices. Under the new scheme, the smart cards will serve as ration cards. The card would also help in maintaining inventories at the Government's end. In December 2006, State Bank of India (SBI) launched a project to provide banking facilities to presently excluded sections of population of  Aizwal, Pithoragarh and Medak in the States of Mizoram, Uttarakhand and Andhra Pradesh respectively. In the first phase of the project, SBI has registered 2,400 customers of nine villages.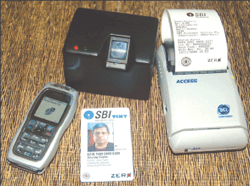 In 2006, the Department of Motor Traffic, Sri Lanka introduced a novel driving license in the form of a smartcard. The Driving License Card project will also carry high-tech security features like an optically variable link, holograms, micro printing and guilloches. The card will also carry all biometric information such the photograph, digital signature and fingerprints. The Government of Sri-Lanka in collaboration with Face Technologies, a South Africa based firm, has initiated a US $ 30 million Build, Operate and Transfer (BOT) project spread over  a period of seven years. Recently, National Development Bank (NDB) of Sri-Lanka has mobile payment solutions in partnership with mChek and Dialog Telekom. This is the first type of a Card Present mobile platform in the world.
A government body of Singapore, 'Spring Singapore' introduced the use of smartcards in November 2007. The government body stated, in future, smartcards will be used to scan e-Passports and identification (ID) cards or devices based on smart card chip. Dubbed as the Singapore Standard for Smart Card ID (SSID) or SS 529 SSID, the standard is expected to facilitate interoperability between different chip-based ID cards and their readers, by specifying the data structure, security and access requirements contained in ID cards or devices based on a smart card chip. These devices include Personal Digital Assistants (PDAs), watches and mobile phones. So far, 40,000 smartcard readers are already deployed in government and private organisations in the island-state. The Civil Aviation Authority of Singapore and the Port of Singapore Authority have also issued 70,000 ID cards and 100,000 ID cards to their staff respectively, primarily for identification and door access control.
Africa:To provide financial services across the country, the Government of Kenya and Central Bank of Kenya have shown their interest in branchless banking.  Last year, the Consultative Group to Assist the Poor (CGAP), a global resource centre for microfinance, conducted a study in Kenya from February 22 to March 2 to analyse the policy, legal, and regulatory environment for branchless banking. As an extension to this, CGAP has launched the Safaricom's M-PESA service as the first e-Money product. So far, M-PESA,  a mobile phone-based payment service has  500,000  registered users.
Like many developing countries in Africa, Asia and Latin America, Uganda's banking system is also centered in the capital and big cities. More than 90 citizens are accessing banking system and financial services. In order to bring modern electronic banking services to millions of Ugandans, the Government of Uganda has teamed up with America based company to create at least 1000 savings and credit  cooperatives in rural areas.
Like other African countries, Nigeria established an independent club called Smart Card Society of Nigeria in 2001. The club was established to promote the adoption of smart cards where relevant, under suitable standards and learn about new technologies, standards and applications. In 2007, SmartSwitch, the Nigerian subsidiary of Net1 Universal Electronic Payment System (UEPS) Technologies Inc., deployed the UEPS technology through several value added applications, including banking, government, health care, pensions, transport, microfinance and insurance across the country. According to the company reports, around 90 percent of the 140 million citizens of Nigeria are clearly underbanked or unbanked and they only transact in Cash.
With Ghana's banks trying to modify its electronic payment gateway system by infusing new techonogies and technology-enabled services, inclusion endeavours in Ghana has become manifest. 'e-zwich', a recent initiative floated by the Bank of Ghana in congruence with other banks will ensure effective transactions between banks both rural and urban. The iniatiative will also support all forms of e-Banking technologies including smart cards, credit/debit cards, mobile payment systems etc.
Conclusion

From the recent initiatives undertaken by the different world governments to foster financial inclusion, one cannot undermine the need to include the economically underprivileged in the mainstream banking sector. The role of various ICT tools and associated technologies in providing financial solutions to the unbanked is also substantial. Rural ATMs, plastic cards (like smart cards, biometric cards, etc.) and mobile payment technologies do have the ability to engage the unbanked sections.
Follow and connect with us on Facebook, Twitter, LinkedIn, Elets video