School Education & Literacy Funding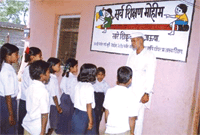 The total allocation for education has risen to Rs. 32,352 crore in 2007-08, an increase by 34% over the previous year. An education cess (@ 2% on major Central taxes) was introduced to raise resources for providing universal elementary education. (A non-lapsable fund called Prarambhik Shiksha Kosh was set up to receive the proceeds of the education cess to finance elementary education, including Sarva Shiksha Abhiyan (SSA) and the national cooked mid-day meal programme). An additional education cess @ 1% on major Central taxes has been introduced in 2007-08 for funding secondary and higher education.
Sarva Shiksha Abhiyan
Several steps were taken in the 10th Plan to expand access to primary education, especially the expansion in the SSA and MDM scheme. As a result, the number of out-of-school children declined from 32 to 7 million indicating that SSA brought an additional 25 million children into the education system during the 10th Plan period. The Gross Enrollment Ratio (GER) for elementary schools (Class I-VIII) increased from 82.4% in 2001-02 to 93.5% in 2004-05. In the last three years, 1,40,000 schools opened, 1.3 crore children additionally enrolled and 5.76 lakh new teachers appointed.
The Cabinet decided to change the existing funding pattern of SSA programme during XIth Plan from 50:50. The funding pattern between the Central Government and States/UTs shall be in the ratio of 65:35 for the first two years of the XIth Plan, 60:40 for the third year, 55:45 for the fourth year and 50:50 thereafter. For 8 North Eastern States it will be 90:10.
Mid-day Meal
MDM expanded to the upper primary stage to 3,479 Educational Backward Blocks in the current year and to all blocks across the country from the year 2008-09. With this an additional 2.3 crore children will stand to benefit from the programme. Mid-Day Meal (MDM) scheme is a centrally sponsored programme to support universalisation of primary education and to improve the nutritional status of children at primary stage. At present, MDM covers 12 crore primary school children. The scheme has since been revised to provide cooked Mid-day Meal with enhanced nutritional content of 450 calories and 12 gms. of protein.
Education Index
The Ministry of Human Resource Development, through the National University of Educational Planning & Administration, has developed an Education Development Index (EDI) to track progress of the States towards Universal Elementary Education (UEE), for Primary and Upper Primary levels as well as for a composite look at Elementary Education. The EDI as an exercise that will encourage the States to improve their performance. The EDI will also be calculated for all the districts. It is expected that this exercise will help more effective targeting of Sarva Shiksha Abhiyan (SSA) to the most needy districts.
Kasturba Gandhi Balika Vidyalaya Scheme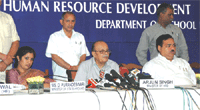 Kasturba Gandhi Balika Vidyalaya Scheme, under which 1,000 new schools have been approved in the year 2006, besides the 1,180 approved earlier, provides residential education to girls predominantly belonging to the SC, ST, OBC and minority communities.
Reforms In Secondary Education
The Central Government is committed to make secondary education of good quality available, accessible and affordable to all children. A major initiative to expand secondary education is being taken in the 11th Five Year Plan. A scheme named "Rashtriya Madhyamik Shiksha Abhiyan" with the main objective to provide universal access by 2015 and universal retention by 2020, is proposed to be launched.
Vocationalisation of Secondary Education
The Government initiated a scheme to provide one time financial assistance of Rs. 12.3 crore for establishment of 65 new polytechnics in the country and also by providing financial assistance for upgradation of infrastructural facilities in 177 existing polytechnics. The All India Council for Technical Education (AICTE) has permitted double shifts in those diploma level institutions where adequate infrastructure, faculty and other facilities are available. AICTE has also relaxed the norms for land  requirement for establishment of diploma level institutes by fifty percent.
Nios Online (Ni-on) Project
National Institute of Open Schooling (NIOS) initiated Online Admissions under its NIOS Online (Ni-On) Project from this year onwards. This unique facility, available for the first time in any Open Learning System in India, will facilitate the learners in directly accessing NIOS. It will lead to a rapid increase in the numbers of learner enrolment with NIOS and thereby assist the Government's effort of Universalisation of Secondary Education.
National Curriculum Framework
National Curriculum Framework (NCF), 2005 prepared by National Council of Educational Research and Training (NCERT) has suggested a shift from content-based testing to problem solving and competency based testing with emphasis on short answer type questions and well designed multiple choice questions. NCERT also held discussions with State Examination Boards in four regional meetings held at Shillong, Ajmer, Bhopal and Bhubaneswar on 17-18 July 2007, 31 July-1 August 2007, 05-06 August 2007 and 22-23 August 2007 respectively. Central Board of Secondary Education and School Boards of Haryana, Kerala and Goa have made a beginning in implementing some of the recommendations.
National Literacy
In the field of adult education and literacy, out of 600 districts in the country 597 have since been covered under various programmes