How the existing colleges and the university departments can be provided with capabilities of ICT and web-based teaching-learning?

How the idling time of the physical facilities like classrooms, computer labs, etc can be more effectively and optimally utilised through a combination of face to face and distance education approaches?
How the capabilities and services of large number of qualified teachers in affiliated colleges can be additionally used for enhancing the quality of education delivery by giving them ICT capacity building?
How the ICT infrastructure of the technlogical institutions like UGC, IITs, etc can be availed in a clustering approach to enhance the capabilities of other institutions for quality education delivery?
The role of technology augmented conventional face to face education, open and distance learning, satellite education and online education in enhancing the quality of the teachning-learning process and in expanding the reach of education with social inclusivity is enormous…says Dr VN Rajasekharan Pillai, Vice-Chancellor, IGNOU.
We are planning to create a national ICT (Information and Communication Technologies) infrastructure for networking for open and distance learning (ODL). That is one priority area that we are looking in, in addition to opening a large number of open schools. When we say ODL institutions, its not only the state open Universities, but also the distance education of the conventional University system and even the private player in the ODL like several corporates.
Some of the corporate institutions including government institutions are looking for expertise in ODL and capacity building. We may look for the private public partnership for this. In association with the Distance Education Council, we will provide a leadership for creating this national ICT infrastructure. We have already proposed to the National Education Foundation to develop web based common Open Resources. Our own materials are being used by a number of Universities. But this has to be an accepted philosophy and accepted practice. Although as of now we are doing it from our own side, but materials of all other institution including the conventional universities have to be pooled and shared between all the institutions.
We have recently developed some concrete guidelines that consists of what are the norm, standards, etc. We advise institutions to follow these guidelines. We have sent the new materials to all the institutions along with providing some financial support to work on it.
The other thing we are trying to do is the transition from one system to another, from conventional system to ODL. Not all but a part of the course can be delivered through distance education method, which can even be done by an open University. We are creating a mechanism to effect this transition to a course credit system.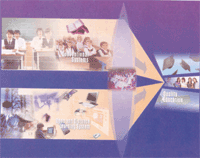 Another major point is about standardisation of the quality parameters of the education, for which we are proposing to the government for a national open testing service for assessing ODL students. The standards and norms of this will be set by the stakeholders in the corporate sector, people from the working area and from academia. This testing service will ensure evaluation and assessment of the students what is the level of his achievements, skills, knowledge, etc. NASSCOM is also suggesting this testing service and the various models that have been implemented in the US.
We are also trying to provide a National Qualification Framework, which will facilitate concept transfer from one system to another. Someone may be having a diploma in Polytechnic, another may be having a B.Sc., and the other may be having a 3 years experiences in a research institute. This type of knowledge through this particular Polytechnic Diploma can be equivalent to 60% or 70% of the B.E degree provided by Mechanical Engineering provided by the engineering Colleges or the university system. So if this person comes to the mainstream of education he needs to cover only 30 or 40% of the engineering course. Thus the level of expertise achieved by the person will be quantised.
By facilitating the academic and professional mobility from one sector to another a hallmark of the quality education system is created.
Similarly a student in a conventional institution study B.Sc. in Physics or Chemistry. He may be learning some percentage of the science or physics requirements of an Engineering graduate. Now if he wants to pursue an Engineering course  after a B.Sc., why not that  30% which he has studied for B.Sc. would be detached and the rest 70% be taught. We have already started it. The National Qualification Framework, will facilitate this which would be more helpful in the Vocational Sector in particular.
We are also trying to provide an assessment and accreditation mechanism. As of now, Distance Education Council (DEC) and All India Council of Technology Education (AICTE) are looking at recognising courses. All that is important, but more important is how the students come out of these institutions after completing education. So we are looking at several criteria like institutional mechanism, teaching learning process, how technology is used, student outcome, industry relevance and industry intake. This application is not just to grade the institutions for A, B or C, it would be rater a SWOT (Strength, Weakness, Opportunities, and Threats) analysis of the institutions. The criteria would be physical infrastructure, quality of the faculty, teaching learning methods and also the examination process, student support system, placement, students and stakeholder satisfaction. The physical infrastructure would be decided by the type of courses. For example, for the ODL, effective delivery mechanism, the technology used, multimedia technology, whether satellite can be introduced, etc are the indicators. Other criteria are about the qualified personnels, trained teachers, outcome of the examination, cost effectiveness, placement of the students, and other social factors.
More than 50% of teachers in the school eduction system are untrained; to train them through conventional means is an impossible task. So another area that we need to look is how ICTs can provide in-service teacher training. IGNOU is providing in-service B.Ed. Programme for teachers.
We are focusing on the vocational eduction which is important for teachers' vertical mobility. The national productivity is directly related to the  qualified personnel available in the workforce and we are looking how to provide vocational training to the teachers in collaboration with Media Lab Asia. We are also collaborating with NIOS but as a university we are more focused to the training of teachers.
Distance education is not a correspondence education, rather is a technology assisted conventional system of education. The overall purpose is to increase the quality of education, with an attempt to guide the students for self learning methods. The overall purpose of distance education is to enhance the quality of education by providing this additional capabilities and also the quantity of education delivery will be enhanced which means the increased reach of education.
Follow and connect with us on Facebook, Twitter, LinkedIn, Elets video