Session overview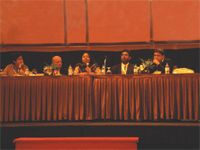 Multi-Stakeholder Partnership (MSPs) which engages active stakeholders in development, especially in the applications of ICT for Development, is emerging as an important model of working, and replacing the much understood public-private partnership model. The obvious question following this trend would be 'Can MSPs deliver and where does the value of MSPs go?' This workshop attempted to show how MSPs can achieve several benefits including facilitating a conducive environment for monitoring and evaluation, ensuring the mandate of good governance and citizen's participation, and further democratic principles of equitable and sustainable development, while addressing social, cultural and economic inequities.
Session objectives
The Panel has showcased India as a trendsetter in the concept of 'Glocalisation' i.e. 'Think Globally, Act Locally'. Glocalisation, in the Indian setting, is grounded in valuing local communities, empowering them and enabling them to be catalysts for positive social changes in areas which affect them directly. This workshop has addressed the following key questions:
What is the key learning and value of multi-stakeholder partnerships in linking technologies, resources and services for development?

How can we replicate the learning and leverage on uniqueness and commonalities across communities to build a coherent network of practitioners for spreading benefits of the MSP model?

How can we design ICT4D programmes that address marginalised communities, gender sensitive and which accommodate existing cultural ethos?

How does networking and knowledge sharing enable communities of practitioners to build a network for continuous 'peer-to-peer' learning?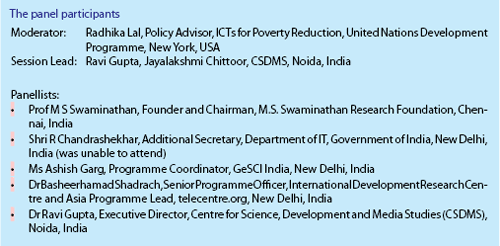 Session proceedings



Radhika Lal, Policy Advisor, UNDP (Moderator)
Why do you think India is a trendsetter? What are the characteristics  that make Indian leaders  in ICT and  innovation? What type of conditions prevails for successful and sustainable partnerships and what are the lessons from India?

Prof.  MS Swaminathan, Chairman, MSSRF
Partnerships must be sustained over a period time and exchange of interests and ideas in the partnerships and should be based on common interest.
India has all the elements to be called a trendsetter for MSPs. Our country has been fortunate to have continued strong political commitment towards investing and building technology-science-development, and taken step towards knowledge dissemination. ICT is now providing applications-based solutions in almost all the development sectors.

Ashish Garg, Programme Co-ordinator-India, GeSCI
In India, the school system is the second largest to China in the world. An enabling policy and a regulatory environment is key in providing access to basic ICT infrastructure, accelerated development of basic IT skills, content development, capacity building and other areas of application. As we move ahead towards the digital age, the entrepreneurial spirit of Indians has made a paradigm shift towards integrating ICT to school education. GeSCI has global experience in assisting countries to build a ICT for education policy framework. We encourage MSPs mechanism for leveraging achievement of educational goals and collectively to build a participatory process for ICTs in school education policy. The partnerships have been instrumental to develop guidelines and standards, also in monitoring and evaluation tools for ICT in education.

Basheerhamad Shadrach, Senior Programme Officer, IDRC
India is known for IT revolutions. The need of the hour is to leverage the benefits of technology to the rural community in the creation of jobs, making informed decisions, and improve and upgrade traditional practices. Knowledge should serve as a means to empower people, upgrade their skills and help them to take right decisions at the right time by creating livelihood opportunities to bring them out of the poverty trap.

Ravi Gupta, Executive Director, CSDMS
There are numerous projects, programmes, experiments, initiatives and innovations across the country, and the ICT community and practices continue to expand with the technology landscape. Today, there is a need for a knowledge platform where ICT and its domain applications can come together and learn from each other. 'i4d Magazine' is providing such a conducive platform for 'knowledge- sharing' and 'knowledge-building'.
Interactive session
Radhika Lal: Mission 2007 Alliance, as an unusual and innovative exercise for mass mobilisation of partnerships with a framework of bottoms-up approach and with up-scaling facility and focus ensures that IT does not remain with the elite alone and the industry reaches the villages.
What are the components of the alliance that allows it to achieve to the vision of reaching villages  and,  allow participation of government and stakeholders?
MS Swaminathan: A movement is largely directed by the people themselves. The principle is to develop a technology that will help people to improve their quality of life and income. Technology does not go to the field unless there is a symphony in the approach with the needs and requirements of the end-users. The centres set-up under the Mission 2007 are demand-driven, location-specific and dynamic in providing information services, for effective adoption of technology.
Radhika Lal: Usually IT in education policy is treated as top-down approach focussed on infrastructure needs of the schools.
Could you highlight the framework and features of the end-to-end holistic approach adopted by GeSCI in India for development of the National Policy on ICT in school education?
Ashish Garg:  GeSCI's mandate is to collaborate with Ministries of Education of the partnering countries for capacity-building and be supportive in building a holistic National ICT policy in education. The adopted approach is end-to-end, weaving the individual components such as infrastructure, content development, and teacher training twined as a part of a larger policy framework. The approach aims to build partnerships with major stakeholders in the country for a participatory and inclusive policy building process.
Radhika Lal: Elaborate on the Evergreen Revolution and the vision of digital transformation of the rural areas?
Basheerhamad Shadrach: Evergreen revolution is a vision that lays importance on knowledge as a means for enhancing productivity. India is setting a trend in connectivity solutions and is committed to a broadband policy and low tariffs. This is followed by supply of relevant content to people. Rural BPOs are a good opportunity for urban sector to extend services to rural sector, also by transferring the services of rural sector to the urban sector. In the years to come, India will lead the world rural BPO revolution.
The centres set-up under the Mission 2007 are demand-driven, location-specific and dynamic in providing information services, for effective adoption of technology.  A movement is largely directed by the people themselves. The principle is to develop a technology that will help people to improve their quality of life and income.
Prof M S Swaminathan
The third pillar is the capacity building to transform mission to a reality. The government is using its satellite resource systems, in addition to multimedia and has introduced the interactive and virtual classrooms. India is also setting the trend in connecting Africa through the e-Africa initiative. The project aims to connect 53 universities with the Indian institutions in providing distance learning and digitised learning.
The fourth C is communication management and India is a trendsetter in creating opportunities to learn about the ways and means to transact knowledge and promote communications process in rural areas.
The fifth C is the co-ordination for knowledge. Co-ordination is very important based on demand-driven and need-based approach. India is setting the trend for a new form of revolution in developing rural entrepreneurship, and rural knowledge intermediary professions as torch bearers and change-makers in the society. The formula is very attractive with the idea of collation of concerns, by bringing all the actors together in MSPs, as a network of people for a common goal. And finally, India is also a trendsetter in building conducive and people-friendly policies to enhance the physical knowledge infrastructure framework across the country. The most challenging task is to guide the policy and its approach towards people-centric, providing knowledge and connectivity to the people.
Radhika Lal: One of the most valuable contribution of CSDMS  has been in the direction of documentation of new ideas and innovations across the country.
What is your experience when looking at the magazines and other related events organised by your organisation while strengthening the mechanism of knowledge sharing for up-scaling the pilots?
Ravi Gupta: Government should be open to adoption of new trends and innovations, especially, the initiatives at grassroots level. The policy landscape has changed over the years, and is more consultative and participatory. MSPs are now setting trends as models of collaboration in various development sectors such as telecentres, rural banking, hospitals, education etc, that were not existing a few years back.
We at CSDMS envision to provide a platform for knowledge on ICT and applied domains through our websites and publications. In the knowledge sharing map and peer-to-peer learning, we have to realise that there is a distinct need for building communities of practice in thematic areas.
Follow and connect with us on Facebook, Twitter, LinkedIn, Elets video