When you hear the term telecentre ethos 2.0, what comes to your mind? In general, like in the version of software development as a product, the term telecentre 2.0 reflects a level of robustness and maturity. It really is going beyond the IT infrastructure and pilots to encompass access to knowledge, social transformation, opportunities and partnership building for collaboration which provides value plus to the communities as they prepare to become part of the knowledge economy. This is particularly useful in the context of developing countries.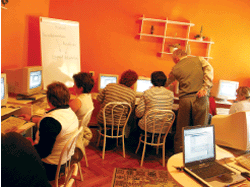 Since the last two decades or so, more countries are getting connected to the telecentre movement (Africa, Middle-Eastern Europe, Asia etc.), and have become important tools for community connectivity, and strategic points for the development of rural societies. Though the movement is picking momentum, yet the pace is rather uneven. In some countries in Asia e.g., India, Indonesia, Malaysia, Philippines and Bangladesh governments are progressing with national telecentre programmes involving hundreds or thousands of centres. Alas, in several other countries there are little or no telecentres.
The strategy to mobilise varieties of models of telecentre programmes and projects, is to focus on inclusiveness. An important ethos of Telecentre 2.0 is its ability to include different stakeholders ranging from the governments at different levels, civil society, and the private players; all working towards a common goal. It also denotes the interaction among various players in the telecentre ecosystem. All the stakeholders have a definite role to play.
While the term 'multi-stakeholder partnerships' used commonly, and 'public-private-partnerships' is often used in various Government programmes, there are distinct differences in these two terms and have their own challenges. The most important aspect is to recognize that no matter how small a partner their contribution and experiences are critical to the success of the programme as a whole. A new social order emerges as different stakeholders learn to negotiate, share, collaborate and adjust to processes that are often new. Change management percolates slowly creating the partnerships to not just be limited to MoUs and paper contracts, but to take the spirit to it's fullest.
Telecentre 2.0 stresses the importance for network of telecentres, which facilitates the sharing of experiences and resources. It is enabling a platform for regular face-to-face meetings. The strategy is that benefit should reach the whole telecentre ecosystem: local centres, networks that provide support; social enterprises that develop services; social investors who fund telecentres.
In emerging markets people have recognised the value that technology can bring to them and start to use it as a way to lean or do business. In many places telecentres start having very vibrant information economies. They provide affordable use of technology and devices, but also an environment for collaborative use and learning. Innovations and creative modifications suiting to local conditions emerge, as also lateral sharing of experiences of how to solve a critical but locally relevant issue.
Telecentre 2.0 advocates for locally relevant content to meet the local needs and it promotes local development. The local communities are active in generating local content, because most of the information they are interested in is local. Telecentre 2.0 is closely associated with government agencies that provide online public services. Generic applications are widely implemented and tailored to local needs. Services in the domain of education, agriculture support, and learning for livelihoods and enterprise development are the need of the hour.
In many people's minds Telecentre 2.0 is also about access to computers and the Internet through various social web tools like blogs, RSS feeds, etc. But in our opinion, the right standpoint is to take the 'community ethos', which operates in the creation of the telecentres, as a basic, or perhaps one of the most important characteristics of the telecentres. To what extent are the members of the local communities able to influence the employment and utilisation methods of technology, to what extent does the local community create a social scope being able to increase the individuals' ICT competence?
We are pleased to share with the readers the vibrant networks exemplified from different continents, which is an encouraging step for further social networking using ICTs.
Grameen Gyan Abhiyan: India's National Alliance for Mission 2007
In 1992, M S Swaminathan Research Foundation (MSSRF) developed the concept of 'Village Knowledge Centre'. Since 1997, MSSRF has been implementing the Village Knowledge Centre (VKC) and Village Resource Centre (VRC) programme. In 2003, the VRC and VKC programmes were further strengthened in the form of creating Jamsetji Tata National Virtual Academy for Rural Prosperity (NVA) through collaboration with several international and national partners (including in the areas of content and capacity building). The main aim of the programme is to empower vulnerable people in order to make better choices and achieve better control of their own development and to build skills and capacities of the rural poor with a view to enhancing livelihood opportunities. The NVA programme is to bring together the experts and grassroots level communities in two-way communication with the objective that knowledge should reach every home and hut.
In 2004, MSSRF consolidated this concept in the form of creating multi-stakeholder partnership called 'National Alliance for Mission 2007: Every Village a Knowledge Centre'. By 2005 this network had more than 200 partners and getting support from both national (including government) and international agencies. Since early 2007 this network/movement is referred to as 'Grameen Gyan Abhiyan (Rural Knowledge Movement)'.
The Mission 2007 relates to the knowledge and skill empowerment of rural families with the help of Information and Communication Technology (ICT).
Mission 2007:  Every Village a Knowledge Centre stimulated the following developments.
The Indian Space Research Organisation (ISRO) launched a Village Resource Centre programme at the Block level involving satellite connectivity and teleconferencing facilities.

The Department of Information Technology, Government of India, launched a Common Services Centre (CSC) programme designed to cover 100,000 villages.

The Ministry of Panchayati Raj, Government of India, decided to provide to each Panchayat the necessary ICT infrastructure to enable them to participate in the e-Governance programme.

ITC Ltd decided to expand its e-Chaupal programme in order to cover 50,000 villages

M S Swaminathan Research Foundation (MSSRF) has organized so far 80 VKCs and 15 VRCs.

Many State Governments, Academic Institutions and NGOs have organized VKCs in different parts of the country.
Thus, Mission 2007 has triggered a national movement for bridging the urban-rural digital divide and for ensuring knowledge connectivity in areas relevant to the day-to-day life and livelihood of rural families.  The Government of India has included knowledge connectivity as an important component of Bharat Nirman or a New Deal for Rural India.
www.mission2007.in
East African Telecentre Netowork and the role of UgaBYTES
In 2003, UNESCO and IDRC sponsored an action-oriented meeting that helped African telecentre leaders to define the structure, functions and resources of a telecentre helpdesk. The planning meeting was held at Hotel Cardoso in Maputo, Mozambique. It drew participation of leading telecentre practitioners in Africa and civil society organisations working with or for telecentres. A representative also attended the meeting from Latin American telecentre network.
Maputo meeting was the most critical event in the creation of the African telecentre support structure that would be named African Telecentre Helpnet (ATH) to signify the adopted strategy of creating multitudes of national and sub-regional helpdesks that would weave into a single continental helpnet. The meeting defined a high-level ATH mission as 'to establish a mechanism and structure to respond rapidly to problems and challenges faced by telecentres and ICT access centres in Africa'. In addition to enumerating a number of services possible, the Maputo Action Plan emphasised the importance of multi-lingualism as well as use of varied technologies and media.
The key outcome of Maputo meeting was a commitment by African community telecentre leaders and practitioners to mobilise colleagues in respective countries. Members were encouraged to use available structures, resources and target to expand membership to the group.
As an outcome of this, UgaBYTES Initiative, a not-for-profit telecentre support network, established since 2000. The organisation would then scale up services in 2003 to spearhead implementation of Maputo Action plan with tremendous support of the rest of community telecentre leaders around the continent. More often than not operational issues and difficulties would be discussed and shared on-line demonstrating solidarity across the continent and keeping the telecentre 'Helpnet' concept alive. It facilitates telecentres to increase their capacity by sharing knowledge and e-Discussions to create an impact to the grassroots development. The organisation is also involved building capacities of telecentre practitioners in management and technical aspects and carries out lobby and advocacy roles. UgaBYTES has become the most influential telecentre support network in the region using online and offline support services.
Recently UgaBytes organised the 4th East African Telecentre Leaders Forum at Uganda. The East African Telecentre Network (EATN) promotes policy advocacy, promoting knowledge sharing, encouraging network, coordination of the legal activities, promoting co-existence with national networks and creation of a hub of network information.
moulin, is an attempt of Geekcorps Mali, to improve the access to basic information and reference material in developing countries by making it possible to access Wikipedia, the world's largest, free encylopedia, offline. moulin is a fully interactive, offline version of the entire Wikipedia (without pictures) on a CD!
www.ugabytes.org
CIBERA: The European Telecentres Network
The mission of The European Telecentres Network – CIBERA – is to become a forum for collaboration and co-operation between telecentres across Europe, providing them with a focal point for their efforts towards becoming reference centres for the promotion of the Information Society. It also aims to facilitate sharing experience, expertise and good practice with other member telecentres. Moreover, CIBERA provides access to a range of tools and services developed for and by telecentre managers in Europe.
CIBERA is one of the main outcomes of the Ciberstrategy Project (2004-2006). Ciberstrategy specifically addressed the fact that telecentres have undergone an important evolution from their initial development as centres for the use of new information and communication technologies, or as teleworking centres. During recent years, telecentres have implemented cultural and technological changes and they have had to adapt and update their activities and functions accordingly. For these reasons, their working objectives need to be redefined if telecentres are to be transformed into strategic development centres for their communities in the use and exploitation of the Internet and information and communication technologies.
The main objective of Ciberstrategy project was to provide telecentres with the strategic tools to enable them be reference centres for the information society in their regions.
The objectives of the CIBERA are:
Create partnerships for the development of proposals for EU funding and promote lobbying in support of those proposals,

Facilitate sharing experience, expertise and good practice with other member Telecentres

Provide access to a range of tools and services developed for and by Telecentre Managers in Europe
CIBERA will evolve over time. Initially, it will facilitate continuous and dynamic exchange of knowledge, experience, expertise and good practice among CIBERA members, access to a range of tools and services (intranet, e-self diagnosis tool, courseware database environment, telecentre catalogue, products cataloguing, e-help-desk etc.) developed for and by telecentre managers in Europe, and creation of partnerships for the development of proposals for EU funding and lobbying in support of those proposals.

                                                    http://www.ciberanetwork.net/