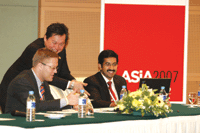 The Internet and mobile boom sharpened global awareness that technology can drive a wedge between those with access and those without. But technologies and connectivity are meaningless if people in underserved communities do not value technology as a way of meeting their needs. Partnerships and supporting infrastructures plant the seeds that sprout confidence and empowerment in people at the grassroots level.
The technology is undeniably important but the factors associated with its use are of equal or greater importance. From the "human" angle, we are missing today information details on the exact needs and usage of ICT in developing countries that would enable local communities to develop their own applications for addressing their specific needs. Keeping this in view, Centre for Science, Development and Media Studies (CSDMS), India, organised 3-day eASiA 2007 Conference at Putrajaya, Malaysia, from February 6-8. mServe ASiA 2007 was one of the five main tracks of the eASiA 2007 event, aimed at providing a platform to discuss the recent trends and emerging issues in the mobile sector.
The first session of the mServe track, which began from February 7, was on "Building a Collective Policy Vision for Mobile-based Services", where the vision of bringing in a development focus to mobile-communication technologies by various mServe initiatives was deliberated upon. This session was chaired by Dr. Ananya Raihan, executive Director, D-Net, Bangladesh. The panel comprised Badlisham Ghazali, CeO, MDec, Malaysia; Zamani Zakariah, head of Technology and Standards Division, MCMC, Malaysia; and Ashis Sanyal, Senior Director, Department of IT, India. Ghazali reflected on communication technology and policy perspectives, innovation, emerging markets, and major national and industry initiatives of MDec and Malaysia in general. Zakariah spoke on 'Trends and Opportunities in Mobile Services – from a Malaysian perspective'. Sanyal presented a critique on 'm-Services – Future Trends', and discussed on possible m-Governance and m-Commerce applications and the challenges as well as the benefits of these services and applications.
The second session was the 'Mobile Monday' session on "Mobile Content – The Way Forward". Dr Arun Kumar, Chairman of Mobile Monday, Malaysia, chaired the session. Kamil Ahmad Mohd. Othman, VP Content, MDec, Malaysia, reflected on the current landscape on Mobile Content and the need for it which is generated through the need for ubiquitous mobility. Sandy Monteiro, MD, Universal Music, Malaysia, spoke on digital content and mobile music in the recording industry and how it has changed over the years and what would be the future trends. Lester Neil Francis, CeO AKN Messaging, Malaysia, dwelt upon the Content Provision and business in Malaysia. Roslan, head of Content, MCMC, Malaysia, highlighted the policies and regulations.
Ali Khattam, National IPv6 centre, Malaysia, chaired the third session on "Last Mile Connectivity – Convergence of Internet and Mobility". Starting the proceedings, Toh Swee hoe deliberated on some key statistics for Internet and Mobility followed by consumer behaviour on both Internet and mobility. he also spoke about the promises and the challenges of WiMax. Azizi hadi, Telekom Malaysia, highlighted the telecom technology evolution and the Mobile and Internet boom, and also emphasised on the changing business models of the service providers. Taking the discussion forward onto a developmental perspective, Rwakyera James, RICNeT, Uganda, stressed the need for adopting technologies and policies to resolve last mile connectivity issues particularly in the areas still untouched by technology. Shadid Uddin Akbar, Katalyst, Bangladesh, spoke about the convergence of Internet and Mobility to serve the rural communities and emerging m-Services. The experiences of Grameen Phone in bringing connectivity to rural and remote areas in Bangladesh were highlighted upon by A. h. M. Sultanur Reza, Grameen Phone, Bangladesh. The special note was delivered by A. M. M. Yahya, who collated the points of discussion in the session. The track recommended the showcasing up of case studies from more countries.
The final session of the day was on "Next Generation 3G Network for Mobiles". Salman Malik, Ministry of IT, Pakistan, chaired this session. An overview on a 3G-based mobile multimedia application, which uses a streaming Java Multimedia Conferencing System, was given by Ali Khattam, National IPv6 Centre, Malaysia. Dr Jussi Puhakainen from Turku School of economics spoke about the dynamics of the Finnish mobile services market. Jari haggren from Nokia discussed about the key areas in which WCDMA and 3G would be used and the future market trends in these technologies.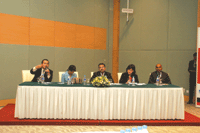 On day 3, the first session on "emerging Mobile Applications", was chaired by Dr. Pasi Malinen, Turku School of economics, Finland. The Context reactive user experience and enhanced mobile experience through the use of various products and applications was discussed by Jason Tham, Sybase, Singapore. Details about an application being developed for preserving eU-Asia cultural heritage by a Mobile Digital Library was provided by eunice Sari, University of Art and Design, Finland. Pradeep Joseph from Intel informed about development of rural healthcare application for rural areas in India. Anil Chet Karamsingh, Intelligent edge Technologies Berhad, spoke of the changing landscape of the mobile market along with rich mobile media experiences of users, demand for better content, key drivers, benefits and market trends.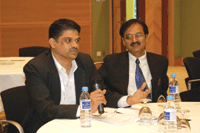 The second session on "m-Learning" was chaired by Dr Ananya Raihan, DNet Bangladesh. Pointing out m-Learning as a booming evolution, Wemel Cumavoo, LTT Global, Malaysia, elaborated upon the content, credibility and marketing issues of m-Learning solutions. The pedagogical considerations of m-Learning was deliberated upon by Dr Abtar Kaur, Open University, Malaysia, in which a comparison of various teaching-learning orientations and the pedagogical value of m-Learning were highlighted. Mustafa Man, UMT, Malaysia, provided details about 'Smart Checker', which is a real time monitoring and students' attendance tracking system using a wireless PDA. eunice Sari, University of Art and Design, Finland, spoke about m-Learning in southeast Asia.
The third session was on "m-Services: emerging Markets". Jussi Siltanen from Nokia chaired the session. Sayalee Joshi, CKS India, presented a report on the impact of the mobile phone on people in rural India. She presented a case study and a socio economic effect of the mobile devices on people before and after usage. A report on Mobile Phone-based pregnancy support system was presented by Jayanthi Maniam, Sunway University College, Malaysia. A case study based on morphological identification and conjoint analysis for a systematic approach for new mobile service creation was presented by Suhwan Choe, Seoul National University, Korea. In the ensuing discussions, specific questions to applications in healthcare and rural connectivity were pondered upon.
The final session was a students' forum, which was chaired by Alok Tiwari, Infosys Technologies. An analysis of a Voice over IP and a GPRS system was presented by Afsa Tariq, NUST, Pakistan. A report on the factors affecting customer satisfaction in Korean mobile commerce was provided by hyunmyung Cho, Seoul National University, Korea. he presented a case study on the critical factors driving the current e-Commerce and m-Commerce in Korea also presented a comparison. Kandeepan, University of Colombo, Sri Lanka, described a text based Tamil SMS application developed for Mobile devices. hassaan Owais, NUST, Pakistan, presented a case studyof customising database capabilities of SMS gateway for m-Services, and talked about the benefits of such a gateway for the user as well as the service provider. Beenish Anwar andJunaid Akram described an indoor propagation tool using Ray-Tracing techniques.
A common recommendation for all the sessions was to start a journal (web-based/print). Dr Jussi Puhakainen suggested a journal devoted to mobile issues, with three sections – full academic papers, practical studies,and the bold and the young. he also suggested that the review process would be a major magnet in drawing the US and europeans, and other nations to the conference.
Follow and connect with us on Facebook, Twitter, LinkedIn, Elets video