Successfully implemented and sus tained e-Governance projects are rare, whereas failed projects are numerous and many of them go unrecorded. It is the implementation and sustenance, which are the realparameters of success of e-Governance projects. These are important and pose a real challenge.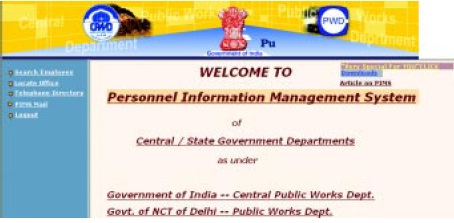 Personnel Information and Management System (PIMS) is one of the successful e-Governance projects, which has been implemented in the Public Works Department (PWD) of the Government of Delhi. This is laterally extendable to any Central/State Government department/ministry with a common database. It has already been extended to Central PWD and now being extended to the other departments of the Delhi State. It has over 35,000 employees on its database. It makes the availability of the relevant and accurate employee related data to all its stakeholders at click of a mouse on one's own desktop dispensing with uncalled for correspondence.
Expenditure on establishment, stationary, postage and time are saved making stakeholders not to run from pillar to post for information or looking into paper files. It has brought about a big convenience and transparency in availability of personnel information in Delhi PWD. It has also proved to be a powerful tool for implementation of Right to Information Act, 2005. It has empowered the citizen, employees, management as well as the Government as a whole. In fact, the aim of the PIMS is to improve the reach of citizens, employees, administration and the Government with seamless and secure access to authentic information crossing the inter-office, inter-department and inter-ministerial barriers at just minimal response time, making personnel administration transparent with fair and unbiased service at the lowest cost.
Implementation and sustainability
To ensure sustainability of e-Governance project in large establishments, more so in Government, where rotational transfers of formulators/implementers are not ruled out, self-sustainability is an important criteria, which is to be introduced intelligently. Self-sustainability can be better achieved by facilitating each of the
 Personnel Information and Management System the e-Governance project that has been successfully implemented in Delhi State and Central Government with over 35,000 state/central Government employees on its database 
stakeholders through e-Governance project in one way or the other and also increasing their number. This task is the most important and really challenging for successful implementation and sustainability of any e-Governance project.
Sustainability of PIMS is achieved by making compulsory for each Head of Office of following two items: to draw salary bill of each of the employees only through PIMS, and, to issue only through PIMS the orders of transfer, relieving and joining of all transferred employees. Number of stakeholders of PIMS is further increased due to continuous upgradation and addition of new user-friendly features since its implementation. PIMS stakeholders includes common employees, citizens, Heads of Offices, DDOs, officials posted in establishment dealing with salary bills, issue of orders of transfer/ joining/ relieving, leave application and its sanctioning, options from employees for training/seminars and nominations therein by competent authorities etc. These could also add to self-sustainability to such an extent that the formulator/implementer of PIMS could be transferred, while PIMS continues to sustain in Delhi PWD since its implementation in June 2004.
Important features
Decentralised data entry: It is a common practice to create database by making data entry centrally, which could work only in small organisations. But in large organisations, data entry and responsibility for its accuracy has to be delegated. As otherwise, e-Governance would be fairly difficult to implement because those with vested interest would criticise the system by highlighting the data inaccuracies, if any, made by data-entry operators. Thus they would have been allowed to attempt the failure of a good system.
PIMS ensures data entry of employees from decentralised locations of such offices of a department, which are in possession of employees' service records and are scattered in different parts of country. Even in case of offices not equipped with Internet accessibility in such remote localities, the data could be entered from cyber cafes.
Data accuracy and its responsibility: Data accuracy has to be a built in feature of database to be used for personnel management. Each of the employee as well as respective head of office in possession of service record, are both made responsible for accuracy of data entered in PIMS. The employee is required to give his own personal and service details in a datasheet based on his own personal information, and employee's Head of Office is to verify the same from service record before making entry in the data base through web-based application. PIMS printout of employee data, as entered in database, is required to be delivered to the employee and a copy of the same with employee's signatures has to be kept in his personal record. Each Head of Office is required to certify that data entered of his employees is accurate as per Service Record and submits such a PIMS generated certificate to next higher authority.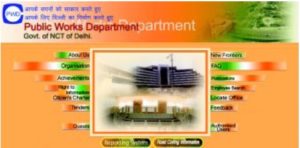 Employee classification: Each employee on PIMS database is classified based on a variety of criteria for the administrative requirement and convenience. The broad employee classifications incorporated in PIMS are: Group Classification i.e. A, B, C, D, Work-charged/ Industrial Worker; Broad Duty based classification i.e. administrative, engineering, architectural, accounts, ministerial, etc.; Nature of duties within each broad classification for rotational transfer e.g Planning/field duty in case of engineering, Correspondence Branch/Accounts Branch for ministerial staff of CPWD Cadre, etc.; Cadre, in case of organized services i.e. IAS, IPS, Central Engineering Service (CES), Central Electrical & Mechanical Engineering Service (CE&MES), DASS, Delhi Govt Accounts Service, Central Architects Service, CSS, CSCS, CSSS etc and Appointing department in case of non-organized subordinate services e.g. CPWD, Income Tax, C&CE, etc.; Designations, which are generic and specific to the employee of a particular cadre/department e.g. AE(C), SE(E), LDC, UDC, etc.; Post Held, which is specific to the actual position held by employee in a particular office e.g. AE(C) posted as Asstt. Director(P), SE(E) posted as SE(Vigilance), an LDC posted as Store-keeper, a UDC posted as Auditor, etc.; Specialisations up to three for each Group A officer; Caste Criteria i.e. SC, ST, OBC, etc.; and, Physical Handicapped with its nature and %age disability.
Adding new department/ministry possible: The modular character of the software allows other departments to be added conveniently to the PIMS database. It is due to such character that the software originally designed for Delhi PWD could easily be extended to CPWD. And it is further extendable to any other department/ministry of Central and State Government(s). It would give lot of advantages due to common database for all Government employees.
The employees' data addition can commence immediately after receipt of following data and after creation of office IDs in PIMS database. The employees' database of any department/ministry can be conveniently completed within 30 to 90 days depending upon the commitment of the top executive and subject to availability of hardware and Internet connectivity in each office.
Uniqueness of Employee ID: The Employee ID is generated independently based on the employee's name, date of birth, date of initial joining the service and the initial designation at which service started. While the Employee ID becomes unique with no chance of any duplicate Employee ID, it is also easy to memorise by the employee himself. The database can have data of all employees in the Government on a uniform pattern.
PIMS is capable of handling employees of any department/ministry with its employees drawn from different Cadre Controlling Authorities. It provides for adoption of designation wise and cadre wise different criteria for rotational transfer/posting based on tenures of 'nature of job', 'station of posting', 'posting in region, zone, circle and/or division' etc. This star feature of the software enables each of the Cadre Controlling Authority to fix transfer/posting criteria centrally in PIMS. Since, transfers of employees are to be done only through PIMS, the rules of man-management can be enforced, if desired, for its uniform adoption in the Government by various subordinate authorities delegated powers to issue Orders of Transfer of employees of that cadre.
Online administrative functions: The online administrative functions includes issue and printing of orders of transfer/posting based on tenure at a station of posting, tenure in a particular type of duty, and/or tenure in the same office; relieving and joining of the transferred employees; salary bills; leave application/sanction and simultaneous updating leave account of each employee; promotion module; online directory of employees; and, an instant and sure communication system.
Monitoring transfer orders and their implementation: The system displays at every login the employees posted-in or transferred-out from an office till they finally join respective ordered office of posting. This compulsive monitoring enables any Head of Office to bring about and enforce administrative discipline conveniently by locating the absconding transferred employees, who after getting relieved from an office disappear on other lucrative assignments and join back in the new office later.
Enforcing administrative discipline: The compulsive linkage of payment of salary of each employee through this software can enforce administrative discipline in the Government in ensuring strict implementation of its policies including transfer/posting orders. The salary of a transferred employee, beyond one month after the calendar month in which transferred, would not be allowed unless requested through PIMS in public interest by respective Head of Office and then allowed through PIMS by competent authority also in public interest.
Human Resource management: It covers all aspects of human resource management and its development. It can be used with advantage in skill up-gradation of employees with training needs appropriately addressed. Online nomination for seminars/training courses based on specialisations allocated to each of the officers is an important tool for proper human resource development.
The availability of an online database has permitted to have many additional online features such as monthly salary slip of the employee oneself; annual salary statement of the employee oneself; preparing Income Tax return and compute Income Tax liability based on salary data in database and additional inputs related to savings, if any; search and view data of any employee based on one or more of the available criteria; locate office(s) with contact details and view all employees posted therein; leave application by employee(s) and sanction thereof by the competent authority; viewing by employees of leaves at their credit; online viewing of seniority lists; and, server based instant communication system with file attachment facility such as PIMS Mail and Chatroom.
The composite unified database of all Government employees would be immensely advantageous to the Government, employees as well the citizens at large. Few of such advantages include reduction of uncalled for paper work; introducing uniform e-Governance practices throughout the Government(s) in the state/country; long and short term realistic policies can be gainfully formulated and their strict compliance can be ensured due to availability of online reliable data and its analysis; accurate database of salary components could be a great utility in realistic analysis and future projections in a variety of scenarios due to online availability the staff strength in each cadre/ designation/ category and availability of database of salary components (payments and deductions); and, simultaneous accounting of recoveries from salary and updating of relevant record is possible as salary package can be linked to other departments such as GPF and CGEIS account, licence fees of Government houses allotted, income tax recoveries, and CGHS/DGHS recoveries.
Password protected functions: While it addresses day-to-day personnel administration with user friendly web-based software, the data security mechanism has been ingrained into the system with password protected operations and designation based graded responsibilities of administrative functions for employees under their administrative jurisdiction.
Flexible data retrieval tool: In the present day environment, when there is a generation gap in day-to-day use of computers with a very few of the literate young population exposed, it is absolutely essential that any software developed has to be user friendly with flexibility for getting the desired information. It is therefore essential to always provide a tool for the user to be able to extract relevant data from the database in the desired format as may be needed by him. In the web-based software, which is developed as above, provides for information extraction with the button named 'Customised Report' and lets the user to have all the information of relevance, which he can selectively download in the Excel format for further processing as may be needed.
General public is allowed to have an access to PIMS with User ID and Password taken as 'guest' for searching any employee or locate any office, contact address and other details. The front end is Asp.net and SQL Server is the back-end database software.
Conclusions
Implementation of e-Governance in any other department or ministry of Union/State Government using PIMS as a tool is convenient and assured as it has already come over various hurdles in its implementation stage. It has built in self-sustainability and can be used with advantage to bring in uniform e-Governance practice in personnel administration in the Government with a common database. It is citizen-centric, empowers the citizen, employees, the administration and the Government as a whole. It would make the Government more efficient as all personnel related information would be available at click of mouse. Besides it would bring in transparency and reduce large number of disputes and court cases, which happen otherwise due to non-transparent system.
"Exciting news! Elets eGov is now on WhatsApp Channels 🚀 Subscribe today by clicking the link and stay updated with the latest insights!"
Click here!