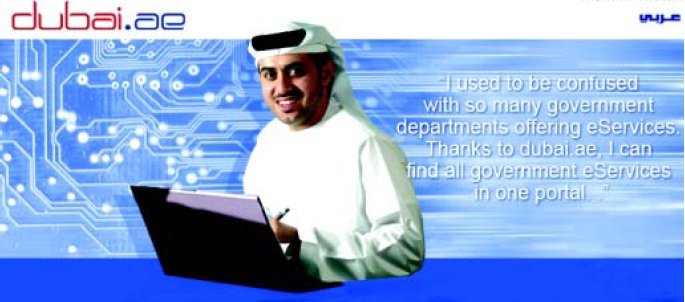 One of the pillars for Dubai's unprecedented growth has been the effective use  of technology by its population. To improve access to public services to a  rapidly expanding population who are ever more faced by time constraints, the Dubai eGovernment initiative was launched with the unveiling of a web portal, www.dubai.ae. The portal provides online access to 81% of the 1,900 public services offered by Dubai government including payment of electricity and water bills (ePay); payment of traffic fines; job searches (eJob); a Dubai city guide; Dubai airport flight information, and information about the municipality's public transport. The aim of the Dubai eGovernment project is to create an online platform for all of its services. The Dubai Municipality would increase the percentage of services available online from its current level of 81% to 90% or 1,750 different transactions by 2007. In line with its aim of providing access to all of its population, the Dubai Government is also extending these services to people on the move.
Mobile portal
The Dubai eGovernment project incorporated a mobile portal solution in September 2005 in a bid to provide government services to UAE (United Arab Emirates) nationals, residents and visitors wherever they may be in the Emirate. This mobile portal is designed to allow the public to access information and carry out transactions instantly via handheld mobile devices such as mobile phones and PDAs. The increase in mobile penetration in Dubai– one of the highest in the world, had made the launch of the mobile portal necessary. More importantly, the people are spending ever more time at work. The mobile phone has become the best means to access information. The focus is now on utilising the latest technology in e-Services provisioning for mobile devices besides adopting a multichannel approach to ensure that people access Dubai's Municipality, whether they are on the move, in the office or at home. By providing a means to access municipal amenities and pay bills with the minimum of fuss and effort, Dubai's eGovernment mobile portal is the most convenient method for the city's public to make use of the municipality's services at a time of their choosing and from a location of their choice.
Online survey
Underpinning the development of the eGovernment project was a public census designed to gauge the interest of Dubai's population in online services. Conducted during a two-week period from the 2 -16 July 2005, 953 responses were received from potential users. The mobile portal online survey included several questions to identify customer expectations ranging from the types of services that users would most benefit from online to whether they feel confident of making payments from their mobile phone or PDA.
The survey results aided the Dubai eGovernment in determining customer expectations, a list of services that customers would most benefit from accessing online, customer mobile usage patterns, potential barriers for using mobile services, and the level of confidence in making payments from mobile phones. Dubai eGovernment was overwhelmed by the positive results of the survey, which showed that there was clearly a significant demand for access to municipal services through platforms such as mobile phones and PDAs .
Following the feedback received from the survey, Dubai's government decided that with the right set of services and awareness campaigns, the eGovernment scheme could achieve a significant level of mobile adoption if tailored to meet the needs of Dubai's population. Mobile eGovernment services were designed with simple interfaces and were developed to be used in short interactive sessions rather than imitating Internet based services.
The project included 15 mobile services from various sectors of government including traffic fines and inquiry; Islamic services and prayer times; financial services; updates on the Dubai Financial Market; currency conversion; travel booking and flights on Emirates Airlines; Dubai Airport arrivals and departures flight information; One TV weekly programme schedules; Dubai city information; UAE visa information; embassy and consulate details; Dubai hotel and mall searches; and sales and promotions in Dubai.
Choosing Sybase technology
To ensure the success of the eGovernment project, senior planners from the government started evaluating a number of solutions from various enterprise software companies to determine the best technology and solution. The Dubai government chose Sybase's Unwired Accelerator Technology to realise the full potential of the Mobile portal initiative.
The Sybase Unwired Accelerator allows for rapid deployment of services and applications, therefore significantly lowering the total cost of ownership. The solution also assures consistency of service provision by replicating content from the eGovernment's online portal.
The Sybase Unwired Accelerator is a secure and scalable mobile platform for quickly and easily extending enterprise applications such as SAP and Oracle, business intelligence packages such as Hyperion, Business Objects and Cognos, help desk applications such as Remedy, as well as web applications, databases, and web services to a wide variety of mobile devices for an "always available" connected experience.
With Sybase Unwired Accelerator's application development tool, users can create new mobile applications or mobilise their existing ones with zero impact to existing mobile software applications and systems, and zero web application development without any requirement for programming. The application also allows for zero downtime, provides multiple mobile applications and device support, and a secured access to backend data. Enterprises can also manage and extend their existing  enterprise applications and data sources to a wide variety of mobile devices within days with Unwired Accelerator.
Innovative approach
Dubai eGovernment is the first such project in the Middle East to launch a mobile portal platform for both public and private services. In order to provide private sector services (such as stock quotes, airline bookings, entertainment and Dubai city information), Dubai eGovernment has partnered with the Emirate's industry and business communities. This is the first instance whereby a public organisation has partnered with the private sector to provide mobile services in the Middle East. It was an innovative approach and provided a single point of contact for customers to avail the most frequently demanded mobile services under a single umbrella. This has helped Dubai eGovernment ease the lives of customers to use services over the mobile channel anytime and anywhere, in a responsive manner without them waiting in line or placing telephone calls that procrastinate the service acquisition time. Earlier, these services required relatively longer procedures and communication methods for accessing them. In only one month of the launch of the project, it received 26,500 hits without any full-fledged marketing campaign.
Follow and connect with us on Facebook, Twitter, LinkedIn, Elets video