egov India 2006 was third in the series of e-Government conferences organised by the Centre for Science, Development and Media Studies (CSDMS), following those in New Delhi in 2005 and Bangkok in 2006. The conference was held at Hotel Taj Palace, from 23-25 August 2006 in New Delhi, and was co-organised by the Department of Information Technology (DIT), Government of India (GoI), and UNDP. The conference set out to address the emerging issues in e-Governance and debate on National e-Governance Plan (NeGP) in India. There was participation of a large conglomeration of e-Government experts and practitioners from government, private sector and academia. It brought together different stakeholders on one platform through keynotes, papers, special workshops and exhibition, and provided an opportunity to interface with private sector players, practitioners, government executives, decision-makers and experts.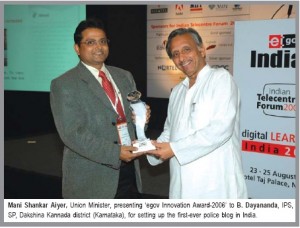 egov India 2006 was supported by USAID, UNESCO, The Asia Foundation, American India Foundation, APERA, Bellanet, Gesci, ISPAI, International Academy of CIO (Thailand), Korea Agency for Digital Opportunity & Promotion, NASSCOM Foundation, NISG, NIC, CDAC, Plan International, Quest, SDC, SIDA, SEAMEO, Telecentre.org and Telecentres of the Americas. There was a good participation by private sector companies as sponsors, advertisers and exhibitors of the conference. These included NORTEL, Telelogic, HP, SAP, Symantec, SAS, ALCATEL, Adobe, NIIT, Canon, Sun, WIPRO, Cisco, Vidyatech, Liqvid, Remittag, Metalearn, Educomp, Learnet, SMART, Microsoft, IBM, Hiwel, TLS, 24X7 Learning, Inkroma, Yes Bank, Computer Associates, Tulip, Tally, Saksham, Gilat, Intel, Designmate, Spanco, Edurite and United Telecom.
The conference saw the participation of more than 500 delegates, representing various key policymakers from government departments, multilateral and bilateral agencies, academic institutions, NGOs and the IT industry.
Among the government functionaries, the speakers included Mani Shankar Aiyer, Union Minister of Panchayati Raj and Youth Affairs and Sports; Jainder Singh, Secretary, DIT, GoI; Kraisorn Pornsutee, Permanent Secretary, Ministry of Information and Communication Technology, Thailand; R. Chandrashekhar, Additional Secretary, DIT, GoI; Wajahat Habibullah, Chief Information Commissioner of India; besides other senior GoI officials from various ministries. IT Secretaries from different State Governments also participated. Several NGOs also attended the conference, which included National Institute of Smart Government (NISG), International Development Research Cooperation (IDRC), Swiss Agency for Development and Cooperation (SDC), e-Governments Foundation, Evangelical Social Action Forum (Kerala) etc.
Jainder Singh, Secretary, DIT, GoI, inaugurated the conference. On the inaugural day, Mani Shankar Aiyer, Union Minister of Panchayati Raj and Youth Affairs & Sports (GoI) presented the 'egov Award For Innovation – 2006' to B. Dayananda, IPS, Superintendent of Police, Dakshina Kannada district from Mangalore, for his initiative in launching the first-ever police blog in India to keep public and media informed and provide access to police related information. The site features Kannada and English fonts in order to make the blog user-friendly and accessible. In his acceptance address Dayananda stated, "The initial plan was to help save time and resources involved in informing the media about cases and developments. Some of the details given on the blog, updated almost on a daily basis, include a drug bust and coverage of the recently concluded panchayat polls. Even relevant photos are published on the blog. The blog is easily accessible to all. With this, authentic and official information of the department can be given to the press and the people swiftly. The blog is serving well as a medium to disseminate information on the recent findings and criminal cases."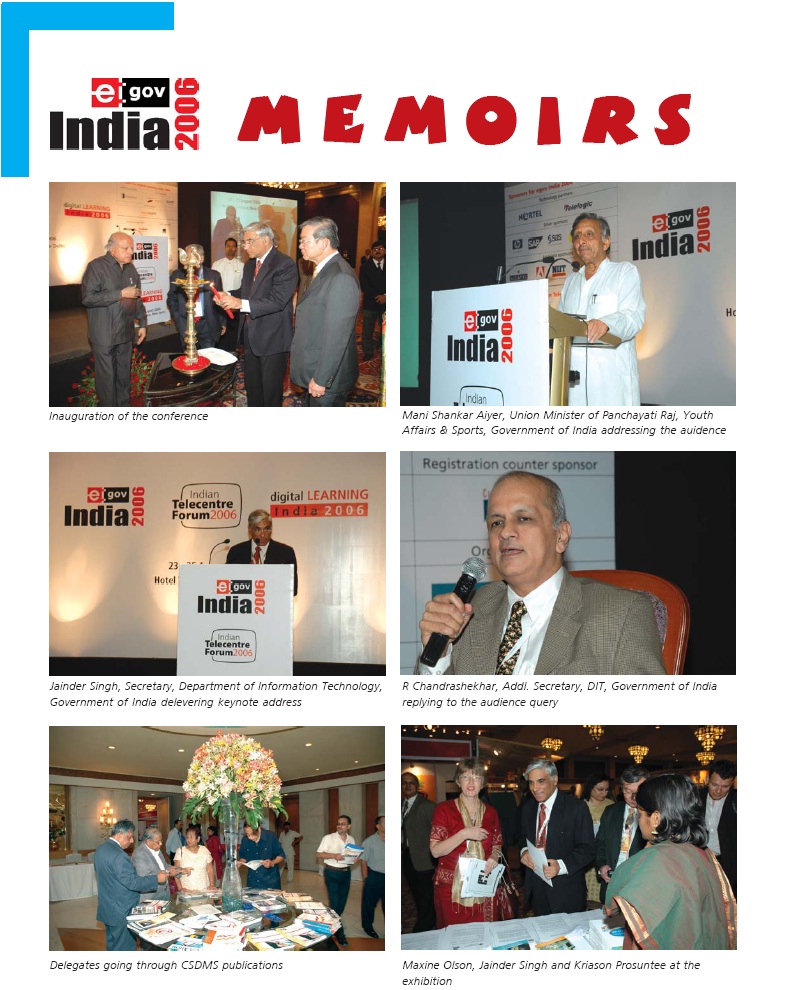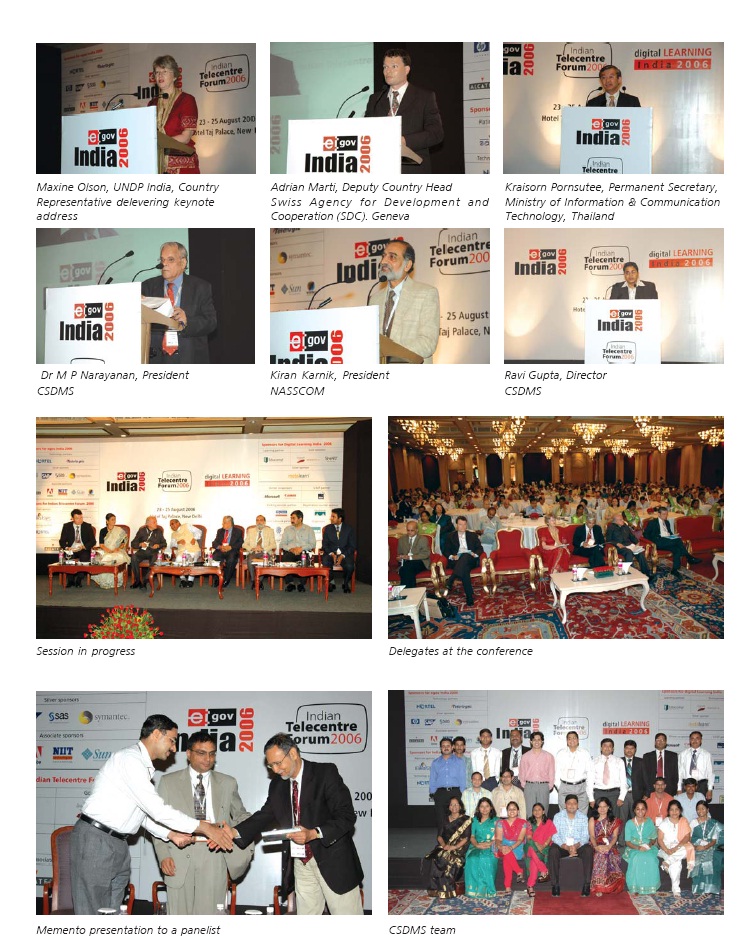 The conference comprised 3 days of plenary and parallel speaker sessions, including keynote speeches from Ministers, Chief Information Secretary and IT Secretaries. The conference was structured into plenary sessions, main sessions and parallel track. The first plenary session was titled 'India's e-Government Journey: Where can India be in 2010', aimed at framing an e-Government vision session to provide a strong focus on what is to be achieved by India in five years. The objective of this session was to provide a high-level plan that will enable the government to realise its e-Government vision and attain a position of leadership in e-Governance by 2010. This is in the light of the recently approved National e-Governance Action Plan (NeGP) for implementation during the year 2003-2007.
R. Chandrashekhar, Additional Secretary, DIT (GoI), outlined 10 goals of e-Government in India. These include government information and services that can be delivered electronically are available through this mode for all high volume areas (say any service that involves more than 1,000 transactions a year); broadband access available in every village through OFC / wireless; community access points (assisted access) for all electronic services (government and private) are available in every village or at most, in the adjoining village; all services are available in the local language; call centers that can be accessed from any mobile telephone that provide information/ services 24/7; every individual in the country has a unique ID that is easily verifiable including biometric data; high quality digital educational content in regional languages accessible in all villages; reach of Health services extended to villages through use of the ICT platform; products and services of rural India have access to global markets; and, all rural residents have access to domestic and international telecommuting based employment opportunities.
Today, most government departments in India work as silos and when it comes to computerisation and service delivery, there is a lot of duplication of efforts. States or departments begin from scratch every time to develop their own applications, learning very less from other's experiences. There is a major communication failure and lack of experience and knowledge sharing among different states and departments. Therefore the foremost question is how to break the silos and move towards standards and common processes so that the rollout of e-Government projects are faster and efficient. The focus at this juncture should be to see how not to re-invent the wheel. This was the objective of the second plenary panel discussion. Another panel discussion was on how to harness Public-Private Partnerships. Besides, eminent speakers from government, industry and NGOs from India and abroad discussed and deliberated on issues such as: India's e-Government Journey: Way ahead, Public-private partnerships in e-Government,
e-Government in Municipalities, Standards and Interoperability, Central Mission Mode Projects and State initiatives in e-Governance, International Perspectives in e-Government, e-Procurement, Security and e-Government, Capacity building and e-Health. Their views and perspectives provided a great learning experience to the participants.
Through the exhibition, the conference provided an opportunity for updating on new advancements, solutions and services in the field of e-Governance. The event had different exhibitors from the government and industry, who showcased a wide range of products, services and initiatives in the domain of e-Government. These included Adobe, Canon, HP, Intel, Nortel, SAP, Wipro, Telelogic, Wipro, Government of Delhi and Jharkhand, among others. There were two workshops (viz., UN Solution Exchange Workshop on Knowledge Management and Moving out of the "Pilot Syndrome" organised by UNDP and NISG) that provided an opportunity for delegates to interact and share with each other their viewpoints and experiences in various aspects of e-Government.
The conference concluded with the valedictory session, chaired by CSDMS Director, Ravi Gupta and co-chaired by M P Narayanan, President, CSDMS. The panelists included Adrian Marti, Deputy Country Head, Swiss Agency for Development and Cooperation (SDC), Piti Premotedham, Managing Director, Asia South, Computer Associates, Subhash C Khuntia, Joint Secretary, Ministry of Human Resource Development, GoI. There was an interactive discussion on the conference outputs among the participants and panelists.
During the concluding stage of the conference, the recommendations put forth by delegates for the government to take note of and include it while planning e-Government projects. The recommendations are as follows: There should be a move towards joined-up government, and executives (CEOs) be made responsible for ensuring horizontal and vertical integration; Incubate and document best practices and critical success factors for projects. It should be a collective effort of government and private sector; Active involvement of the civil society is a must; Organisations for outreach of services to the citizens and content development; All services be made available in local languages; 80% of needs for rural citizens pertain to health, education and agriculture, which needs to be addressed primarily through Common Service Centres; Need for a national policy on Standards; Quantitative assessment of e-Government projects and outcomes is required; Adopt Enterprise Architecture as a process; Use of e-Forms should be made mandatory; There is a need to engage engineering and computer science students in e-Government projects and communicate to them about standards; Need to have a comprehensive plan against security threats; and, Establish whole-of-government IT Portfolio management.
The delegates unanimously lauded the organising of the conference. A delegate from Nepal said, "I congratulate for the superb egov India 2006 Conference. The conference was well thought-out and coordinated. I have been dedicating my time on e-Government for more than four years and have read many journals related to the subject. I think I have gained more practical information from this conference than in the last four years of my academic investigation."
Follow and connect with us on Facebook, Twitter, LinkedIn, Elets video