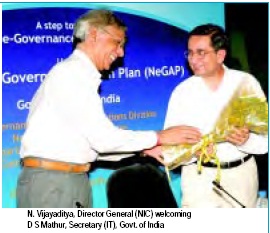 Many developments initiated by various government agencies are seemingly done in isolation. Different development platforms are used and the applications under different platforms are seldom interoperable with the result that it is difficult to integrate them even though many have similar features and functionalities. Added to this, is the fact that there is no single agency responsible for framing enforceable e-Governance standards and processes that must be adhered to by all developers.
There is a perceptible need to institutionalize the task of codifying e-governance standards and processes for the sake of ensuring interoperability of applications and solutions. Evolving standards and adoption of these for various components of e-governance is indeed a high priority activity and is critical to the success of NeGP. Further, the Dept. of Information Technology (DIT) is encouraging multiple agencies to get involved in e-Governance initiatives and therefore, setting standards in e-governance applications and maintaining them have become a matter of great concern and importance.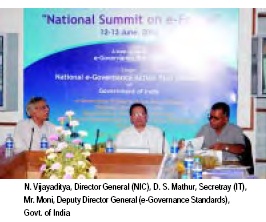 Keeping in view of the strategic and contemporary importance of standards for e-Governance, DIT has instituted an apex body to oversee the process of bringing out e-Governance standards. The following five areas have been identified to begin with:
1.  Network and Information Security
2.  Metadata and Data Standards for Application Domains
3.  Quality and Documentation
4.  Localization and Language Technology Standards
5.  Technical Standards and e-Governance Architecture
As regards the Institutional mechanism and processes are concerned, an Apex body has been constituted under the chairmanship of Secretary, DIT with senior representatives from Government, NASSCOM, Bureau of Indian Standards (BIS), etc. with a mandate to approve, notify and enforce the Standards formulated by various Working Groups and to oversee that they are in accordance with international practices in this regard.

National Informatics Centre (NIC) is the DIT arm with a presence in all the States and Districts in the country. NIC provides a range of services to all the government departments at the Center, States and Districts. National Informatics Centre (NIC) has been entrusted with the task of originating white papers on all the desired standards. A separate "e-Governance Standards Division" has been created by NIC to steer the process of evolving the Standards. These white papers would serve as discussion papers for working groups to develop the Standards.
Working Groups have been constituted in all the areas mentioned above with members from DIT, Associations, Industry, Academia, representatives from Central and State Government etc.
Once the Apex Body approves the standards developed by Working Groups, STQC will be responsible for release of these approved Standards on the web and make them available to all the stakeholders for free download. STQC will further ensure conformance & certification (where required) of these standards. A separate "e-Governance Division" has been created by STQC for this purpose. Subsequent to the issuing of these initial standards, STQC will be responsible for enhancement of these standards and liaise with the national & international standardization bodies for harmonization and acceptance of these standards. (STQC – Standardisation, Testing and Quality Certification, is the Directorate of DIT with offices across the country. It provides Services in Quality & Information Security with specialization in Testing, assessment & evaluations using International Standards to Indian industry and users)
The e-Governance Division of NIC and STQC function in close coordination with e-Governance PMU of DIT, which is responsible for overseeing their working.
One of the important outcomes of this initiative is to herald a standards-based approach in all e-Governance application developments by multiple agencies. When enforced, the data, metadata and operational specifications will be standardized in order to facilitate real-time management of government activities and services. E-Governance Standards will have far reaching influence on the accelerated growth and spread of e-Governance across the country.
It is considered important that the new standards should allow transparency between all kinds of e-governance applications, without in any manner disturbing existing legacy applications and their codes. This effort will also support both NeGP Mission Mode Projects as well as the other projects of the Central and State Governments.
e-Forms Summit
In this process, National Informatics Centre has identified various areas, which will have a greater impact for accelerated development and deployment of ICT systems, to be discussed through National Summits.  As e-Forms is one of the focus areas, NIC recently held a "National Summit on e-Forms" for e-Governance on June 12-13, 2006 in association with the Industry partners IBM, Microsoft, Oracle, Adobe and Newgen.
Forms have been the currency for all activities of the Government.  The concept of a form originated with paper document with the intent to collect, store and present information, using paper as medium.  The form and the information it contains are inseparable, once the form is filled-in.  Now, however, with the transmission of paper to digital medium, the paper form has become the electronic form (e-Form).
The e-Forms are playing an increasingly important role in how Government operates its business and communicate with its citizen.  The benefits are more.  It is efficient; it can be made secure through encryption; it can be authenticated using digital certificate; and it is user-friendly.
Adoption of e-Forms in Government process, which are related to G2G, G2B, G2C, G2E and G2X, will be addressed smoothly, more than 50% of processing complexities.   Meta-data driven e-forms provide an opportunity to reorganize the government's data collection activities, eliminating redundancy, promoting data sharing, facilitating components based architecture, promoting Reuse & Harmonization across forms, high degree of inherent consistency across forms, reducing reporting burden and reducing cost. Capturing data from e-forms is nearly always demonstrably faster than capturing data from paper, and the built-in validations in e-forms ensure a higher degree of accuracy. e-Forms participate in work flow, which involves a Service Oriented Architecture (SOA) and accessible to people with disabilities.
The Summit was inaugurated by Sh. D. S. Mathur, Secretary, DIT. In his inaugural address, Secretary (IT) emphasized that in order to make NeGP reach the un-reached – the common man, it is essential to develop applications and solutions, based on e-forms, in local languages with strong Workflow Process Automation, over SWAN and NICNET.
R.Chandrasekar, Additional Secretary, DIT, N. Vijayaditya, DG (NIC), S. N. Tripathi, Commissioner & Secretary, Dept. of Information Technology (Orissa), Pankaj Agarwal , Representatives and speakers from IBM, Microsoft, Oracle ,Adobe and Newgen , Officers from Central/State Government Ministries/departments including NIC Headquarter officials and Industry participated in the two day summit. NIC officials from State Centres also participated in the summit through video conferencing. Suchitra Pyarelal, Technical Director and Head of the Division welcomed the gathering and introduced the theme of the Summit. Shri M. Moni, Deputy Director General (e-Governance Standards) conducted the Summit and initiated the deliberation on formulating a National Policy on e-Forms which is expected to reduce 50% of complexities while implementing the e-Governance Programme in the country.
The summit aimed to assess the realistic requirements of India's e-Gov projects and a draft policy document for implementation of e-Forms as electronic front-end to all key applications, was arrived at, after intense brainstorming sessions, deliberations and panel discussions.
"Exciting news! Elets eGov is now on WhatsApp Channels 🚀 Subscribe today by clicking the link and stay updated with the latest insights!"
Click here!