The twentieth century brought huge development in the  field of science and technology. Ironically, the same  century, presented to new millennium, three billion people living in extreme poverty, 850 million people who are illiterate, more than 150 million children forced to work and 125 million who do not go to school. The major contribution to the above statistics is made by South Asia alone and Nepal's share is proportionately high. The above statistics calls for a collaborative effort to raise the income and the physical quality of life of the indigent people in the region, which is at present possible through adopting e-Government in an effective manner to ameliorate the lot of the people and change their lives for good.
The ICT (Information and Communication Technology) journey of Nepal started with the use of computer to process census data in 1971. The continuous growth in the sector can primarily be attributed to the private sector's effort. Recent advances in ICT are providing unprecedented opportunities to the countries like Nepal in developing education, health, agriculture, tourism, trade and various other sectors. This has empowered the nation with the potential to overcome its geographical and economic challenges. IT Policy 2000 with the vision "to place Nepal on the global map of information technology within the next five years" shows that the government has quite well visualized the resultant benefits. Computerisation in manufacturing and other sectors range from 100% in multinational companies to 10% in state managed enterprises. Awareness of ICT especially in urban areas has been growing rapidly. In addition, a sizeable human resource of different standards and base are being produced. Though, the deployment of ICT in Nepal remains uneven and is limited to selected urban areas. Connectivity costs are considerably high for the majority of the population and other requisite infrastructures are not in place.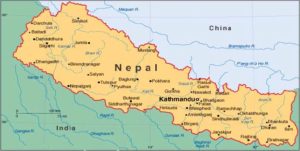 However in recent years, with the formation of High Level Commission for Information Technology (HLCIT), the government has tried to play the role of facilitator. ICT policy 2000 and the proposed amendment, Electronic Transaction Act (ETA), establishment of IT Park etc. are some encouraging developments. Moreover the Apex body has, rightly, taken the initiative to empower government through the use of ICT.
Transforming traditional government to e-Government is really a challenging job, especially in the developing countries like Nepal, which cannot do away with investing in sectors like education, health and irrigation, and invest greatly in technology because of it being cash-strapped.  However, no country can overlook the technological breakthroughs that are changing the human life rampantly. Nepal, though a late starter has already participated in the global e-Governance race with computerised citizenship distribution in Kathmandu, Lalitpur and Bhaktapur followed by Kavre and Dhading. Work on Government accounting system, Document management system, Human resource management system has already started. The Government has placed 33 forms in the website. These are some steps in the path to e-Government. Lalitpur sub metropolis and Bharatpur municipality have developed web portal to offer various municipal services.
Nepal, in 1971, began its ICT journey with the use of computer to process census data. Since then the journey has only progressed opening windows of unprecedented opportunities for developing education, health, agriculture, tourism, trade and various other sectors

For developing countries like Nepal, the global explosion of knowledge brings along with it opportunities as well as challenges.  For example, poorer countries can appropriate and adapt the knowledge available for free or at very low cost. With communication costs dropping, transferring knowledge is cheaper than ever.  So there now exists a unique opportunity for developing countries to tap the vast resources of the global information networks to propel them to greater wealth and prosperity and leap over knowledge gaps that have accumulated over centuries. But, developing countries can take advantage of the large stock of global knowledge only if they develop the technological competence to grab it.
Constraints in implementation
Every sector has problems, which hinder its ability to make socio-economic contributions. In effect, the ICT sector is also no exception. Nepal like every other developing country has various developmental challenges. The implementation of e-Governance in Nepal is being constrained by several factors. These include commitment of the top leadership throughout the process of implementing an e-Government application; connectivity including not only basic telecom infrastructure but also availability, costs of access, quality of service and cost-effective hardware and software; high investment in ICT infrastructure that is not feasible for the Government at present; competence within the Government structure to successfully absorb technology and to reorient itself; content creation in view of the skewed nature of Internet hosts and the heavy biasness towards English; and Electronic Transaction and Digital Signature Act not being able to address many issue related to statutory and monetary involvement through Internet.
National strategic Framework
Developing countries like Nepal have been inspired by the success stories of fast growing exports of ICT services and e-Government services in countries such as India, Taiwan, China, Korea, and Malaysia. As a result, many governments are formulating national ICT policies and e-Government strategies where ICT is treated mainly as an industry and an enabling tool. However, a lot has to be done in the country if only we want to realise e-Governance in reality. Formulation of a national strategic framework would be a first step in this direction. Only a well-planned model with well worked out measures to implement it would bring desired results and help achieve previously defined objectives. Hence, identifying avoidable fallacies in the e-Government projects should be the major objective of National Strategic Framework.
There is immense need of national strategies being formulated incorporating the following mentioned for ICT-enabled development. These include challenges and opportunities created by the ICT revolution, and their implications for development policy and strategies; understanding the strategic significance of ICT for enabling national development and poverty reduction strategies; mastering the use of ICT for competition and sustained development; a broad view of the promises and risks of the ICT revolution, and its potential impact on productivity, markets, organisations and education, among others; and a rationale for designing national strategies for e-development (or e-enhanced development), and the options, objectives and major thrusts for such strategies in support of economic growth, poverty reduction and the Millennium Development Goals (MDG).
Hence, designing a national strategy for e-Governance would serve several roles such as raise awareness, resources and commitment to action; build coalitions for policy and institutional reforms; clarify roles, build public-private partnerships, and facilitate participation by all stakeholders including NGOs; focus scarce resources on exploiting ICT for national priorities and help sequence and phase complementary investments; complement market forces, promote societal applications, enable bottom up efforts, and ensure shared learning and scaling up; address the special needs and dynamics of promising segments of the ICT industry for export and economy-wide competitiveness; reorient the national innovation system to meet the substantial and cumulative technological learning requirements of ICT (as a general purpose technology); and address coordination failures, exploit network effects, and secure complementary investments to use ICT as empowerment and service delivery infrastructure.
The development of National Strategic Framework should envisage the adopting of structured strategy, adapting pre-planned and good architecture for e-Governance elements, creating a high level strategic body, basing strategies on local realities, setting well defined criteria, setting a clear collective, challenging and customized e-Government vision, and analysing critical success and failure factors.
Recommended steps
e-Government is not simply a matter of giving government officials computers or automating old practices. Neither the use of computers nor the automation of complex procedures can bring about greater effectiveness in government or promote civic participation. Focusing solely on technological solutions will not change the mentality of bureaucrats who view the citizen as neither a customer of government nor a participant in decision-making. Instead e-Government utilises technology to accomplish reform by fostering transparency, eliminating distance and other divides, and empowering people to participate in the political processes that affect their lives.
Transforming traditional government to e-Government is a challenge for Nepal. In order get the benefit of e-Governance the measures to be undertaken includes creating new processes and new relationships between the ruled and the ruler; developing strong political leadership backing e-Governance initiatives; attracting investment in ICT sector and to optimise investment of time and resources; avoiding traditional reluctance to work with each other and explore new relationships among government agencies as well as partnerships with the private sector and NGOs; promoting civic engagement; developing infrastructures; removal of legal or policy barriers; bridging digital divide; and increasing the number of eLiterates.
Proposed e-Governance projects
Realising that slight delay is exponentially magnified as a huge lag, some pilot project should be immediately carried out in order to give hope to the people. The following major projects need to be worked upon and effectively implemented.
eBhuktani (ePayment) — The Government should consider undertaking of eBhuktani or ePayment project that could function as one stop e-services centre. The objective should be to provide real time utility bill payments for water, electricity and telephone and various other services like filing taxes, registration of births/deaths etc.
eHaatBaazar — It would be an agricultural community development website utilising ICT to bring vital agricultural information (such as prices and biotechnological information) and services to farmers in Nepal. The eHaatBaazar, an Internet-based online resource, would bring information such as uptodate pricing and e-commerce distribution channels to remote locations.
eJanaBhela (ePublic Debate) — This project would invite citizens to participate online and interact with their national government. Through its official website, Nepal is trying to engage the citizens in the democratic process by providing them the opportunity to participate online in political discussions, and the opportunity to stay uptodate with the legislative developments.

eProcurement System — This system would completely refurbish the underlying system of procurement by centralising all purchasing activities through a central website. This website would automatically send emails to private companies registered on the system when contracts come up for bid and takes bids online. Not only the new system will streamline procurement, it will also create new methods of oversight and accountability.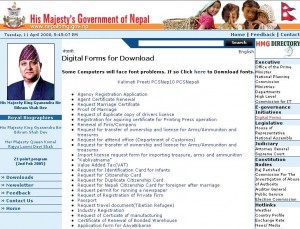 Website against corruption — This would be a step towards fight against corruption through ICT. The website would publish on the Internet the names of officials suspected of extorting bribes and the disciplinary actions taken against them. It would also demonstrate the process reform by creating a new method for dealing with corruption – exposure and public censure.
eSwasthyaKendra (eHealth Center) — This would be a consortium using information exchange to improve healthcare services to the rural poor. The project would be based on a small coordinating central hub and organise uptodate health information for communities that send it a steady stream of data from the countryside. These field centres would be spread throughout the rural regions. Doctors and healthcare professionals would thus have instant access to vital information and statistics.
Kiosk-based e-Government for rural Nepal — The project would bring e-Government services to rural mass using kiosks, run and maintained by entrepreneurs who charge a small fee for access. Besides, rural telecentres should be established in all 4,000 villages and Internet access should be declared as a basic right.
Conclusion
Transformation of a traditional government to an e-Government may take a long time, so long that the issues discussed may seem obsolete when we reach the real implementation phase. However, efforts towards popularising the use of ICT and implementation of effective e-Government should be undertaken without losing more time. At the same time while undertaking this phenomenal task it should also be ensured that a national consensus be reached at before adopting the proposed recommendations and proposed projects as mainstream elements. All the stakeholders should act collaboratively and Government should be the front-runner. Many amendments may be needed in due course. But they should be pre-requisites to move into action and not mere policy plays.
Follow and connect with us on Facebook, Twitter, LinkedIn, Elets video