e-Government efforts to disseminate information, deliver services, complaints and grievances are now spreading the use of mobile and wireless technologies and creating a new direction: mobile government (m-government). m-Government is a subset of e-Government, which helps public information and government services available anytime anywhere to citizens and officials. This paper present the benefits of m-Government with a case study on "Grievance Redressal Mechanism" implemented in the ULBs of Ranga Reddy district of Andhra Pradesh, India.
The public and private investment in electronic government continues to grow rapidly and so does the demand for electronic government services.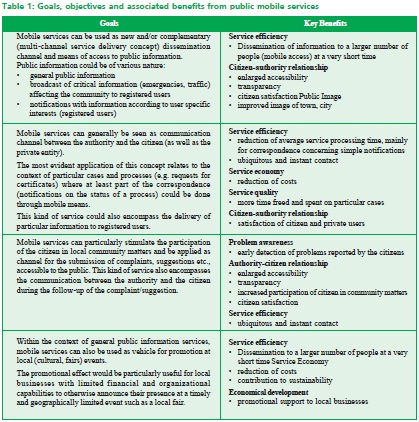 Governments and their private partners are aggressively pursuing the delivery of government services via the Web. Currently, a majority of these efforts are focused on desktop  PCs, reflecting the common computing environments. Today, use and development of  "wireless to the web" technology is reaching a critical mass and are witnessing an explosion  in the use of wireless Internet applications, including Internet-ready mobile phones and Personal Digital Assistants (PDAs).
Citizen's access to government information and services via handheld devices and wireless  applications can improve governments' fundamental functions includes dissemination of information, service delivery, complaints and grievances, and promotion and creates a new  direction: mobile government (m-government).m-Government is a multifaceted approach for  efficient utilization of all wireless devices (mobile phones, handhelds, PDAs, wearable PCs,  Black Berry pagers, etc.) with maximal added value to all involved parties – government on  one side and citizens and business on the other and reasonable and favourable ROI (return of  investment), justifying extra spending on new technologies and mobilised processes.
Today, this technology has been demonstrated in various Government sectors like education,  health, transport, internal functions and elections for information, communication, service delivery, payment services and voting etc. The framework announced under National  eGovernance Action Plan of India (2003-2007) is also focusing on mobile technologies as a  delivery mechanism for public services and citizen grievances.

Drivers of m-Government
The forces influencing the move from egovernment to m-government activities include major  changes in the technological infrastructure and the advances in mobile  telecommunication services. The technological changes can be broadly described under three  major trends: mobile device penetration; convergence of wired Internet and wireless  telecommunication networks; and the move towards 3G services and higher data transfer  rates. The following sections are the important factors, which form a strong foundation for the governments to build their mobile services:
1. Mobile device penetration
2. The emergence of mobile Internet
3. Mobile Net applications and services
Mobile device penetration
Mobile devices are now taking significant roles in our daily and business life. The percentage  of people worldwide with a mobile telephone has soared from 0.3% in 1991 to more than 20%  today. In India, mobile phone users (65.31 million) have outnumbered fixed-line customers  (47.71 million) for the first time (Source: TRAI, August 2005). The gross subscriber base consisting of fixed as well as mobile has become 110 million which increased the teledensity to 10.12 at the end of August
2005.
The emergence of mobile Internet
The technology and the speed of the mobile Internet have evolved through various Gs  (generations). Initially mobile telephony systems were analog, circuitswitched. Voice links  were poor, capacity was low, and security was almost nonexistent. Then came the  secondgeneration (2G) protocols using digital encoding such as GSM and CDMA. These technologies are in use around the world and support high rate of voice but limited data  transfers. They offer auxiliary services such as data, fax and SMS. The next generation  technologies and protocols, (2.5G) extend 2G systems to provide additional features such as packet-switched connection (GPRS) and enhanced data rates. Third-generation (3G) protocols  support much higher data rates, and are intended primarily for applications other than voice.  3G applications, at a limited scale, have already started in Europe, part of Asia/Pacific,  and in the US. Full fledged 3G is expected to support bandwidth-hungry  applications such as full-motion video, video-conferencing and full Internet access.
Bringing the mobile Internet to the mobile devices is not an easy task. These devices have  limitations in terms of size (small displays and keyboard) and low memory. Also, the  technologies are yet to prove themselves with high speed and smooth transmissions without  any disconnection. Various wireless standards and handset compatibilities remain to constitute important challenges.
Mobile net applications and services
These services can be categorized into four types: Transaction, information, database and  entertainment services. The killer applications for mobile Net are mostly entertainment type  where, for example, users may download screen savers, ring tones and play games. Other  services may include browsing information and databases such as news, stock prices,  telephone directory and location based dining guides. One important area that is yet to improve is business applications such as mobile banking, ticket reservations and trading.
Short messaging service (SMS) isby far the widely used application on mobile phones.  Presently, SMS is being predominantly used for entertainment related services. There are  only a few good examples in banking, travel and location based services.

From e-Gov to m-Gov Services
The coming age of m-Government raises several interesting questions. Will mgovernment
replace the e-government activities? Despite its significance mgovernment cannot be seen as  replacing e-government and in many cases it will be complementary to e-government efforts. The value of m-government derives from the capabilities of applications supporting mobility  of the citizens, businesses and internal operations of the governments. Table 2 illustrates some of the m-gov implementations across various government sectors.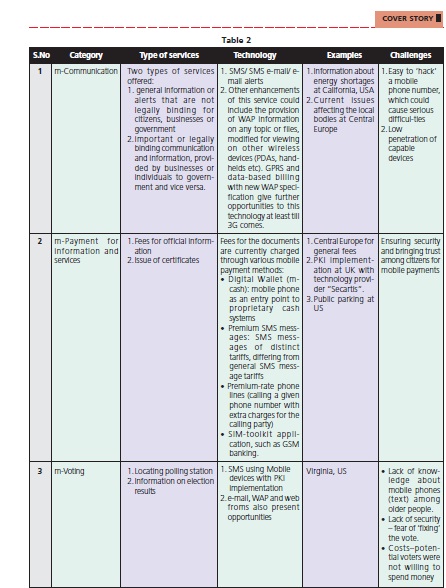 Case Study: The online
Grievance Redressal Tracking System (OGRTS), Ranga Reddy district, Andhra Pradesh, India Grievance Redress Mechanism is part and parcel of the machinery of any administration. No  administration can claim to be accountable, responsive and user-friendly unless it establishes  an efficient and effective grievance redress mechanism. In fact, the grievance redress mechanism of an organization is the gauge to measure its efficiency and effectiveness as it  provides important feedback on the working of the administration.
Nowadays, the empowered and enlightened citizenry is far more demanding services in  convenient and comfortable channels. And the government, therefore, has to develop, evolve  and enable itself to meet the evolving demands of the society. District Collector, Ranga Reddy district, Andhra Pradesh has made an attempt to automate the process of grievance redressal  and to reduce the overhead for the government and citizens, thus creating value for the  economy. The grievance given by the citizen is the felt need and this automation helps in expediting redressal process which reduces the frustration level among the citizens and to that  extent increases the satisfaction level.
The Online Grievance Redressal Tracking System (OGRTS) is being developed & implemented  by Centre for Good Governance (CGG), Hyderabad in the State of Andhra Pradesh for redressal of citizen grievances. It is being implemented in ten Urbal Local Bodies (ULBs) of  Ranga Reddy district. SMS (Short Messaging Services) technologies are adopted for  communication across functionaries and citizens duly taking the citizen charter of ULBs into  consideration. This is only one of its kinds of m- Government initiatives under Mission Mode projects of State Government.

Objectives
Public Grievances consists primarily to undertake citizen-centric initiatives in the fields of administration reforms and public grievances in the Government so as to enable the  Government machinery to deliver quality public services to the citizen in a hassle-free  manner and eliminate the causes of grievance.
• To provide adequate ICT facilities for all users to ensure optimum usage of resources
• To provide an excellent and effective user support / help desk.
• To provide access to information based on user privileges
• To archive essential information for later retrieval and analysis.
• To connect the entire state in a single network
• To provide effective automated monitoring system.
• To integrate various communication channels – SMS, Web, e-Mail and Post
• To reduce delays due to the physical transmission of the files.
• To use open source technologies.
• To communicate various government activities efficiently and effectively to public.
• To help common man to fully utilize various policies of Government and hence increase the standard of living.
The five steps involved in grievance redressal tracking system are represented below in the table.
This system went live this past May'05 and has been successfully implemented in Ranga  Reddy District, Andhra Pradesh and extended to other municipalities in the State. This  system has incurred negligible software costs as only open source technologies have been used  for the development of the software. The strength of the system is that it is operational in the  municipalities in the State and adapted itself to the changing user requirements and been  successful as effective decision support system which is evident from the increase in response to public grievances and needs.
Challenges for OGRTS as m-Government application
Implementation of m-Government for citizen complaints and grievances brings a series of  challenges. Some of the typical challenges of e-government are shared by m-Government  efforts. Infrastructure development, privacy and security, legal issues, mobile penetration  rate and accessibility, compatibility are some of the m-Government challenges.
i. Infrastructure development: The IT resources utilized in implementation of e-government must be required for m-Government. In addition, m-Government needs mobile technology supporting packages for its effective implementation.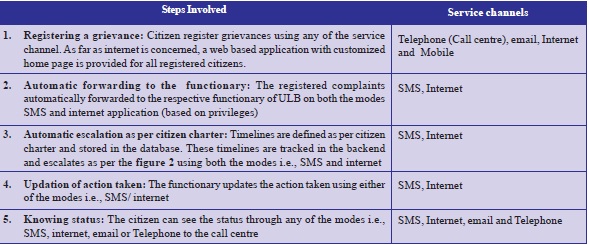 ii. Privacy and Security:These are the most significant concerns citizens have about   m-Government. The general fear is that their mobile phone numbers will be traced, when  they send their opinions and inquiries to the government. The government must overcome the mistrust, and assure mobile users that people's privacy is protected and the information will not be sold to third parties. Although encryption of SMS messages is relatively safe, mobile phone numbers and mobile devices are relatively easy to be hacked. Wireless networks are vulnerable because they use public airwaves to send signals. Because of interception in all traffic on the Internet, there is a big chance for outsiders to attack on wireless networks to steal important information and tamper with documents and files. Therefore in the planning stage of the m-Government project, privacy and security issues should be considered so that developers will be able to select appropriate mobile devices.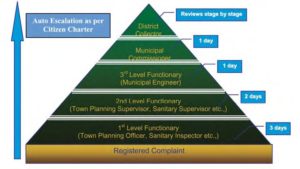 iii. Accessibility: The success of mobile government will depend on largely the number of its   users: government functionaries and the citizens. But socio-economic factors such as  income, education level, gender, age, handicap, language differences and regional  discrepancies will affect the citizens' attitude towards mobile government. In order to increase citizen participation and provide citizen-oriented services, governments need to offer easy access to m-Government information in alternative forms, possibly, using video and voice communications. (OGRTS providing web, voice, email channels to register and track the status)

iv. Legal issues: The Law of Fair Information Practices have not yet adopted in many  countries. This law speaks about the rights of data responsibilities of the data holders   government). In some cases the law does not recognize mobile documents and transactions. There is no clear legal status for government's online publications, no regulations and laws for online fillings, online signings, and on online taxable transactions.
Conclusions
Despite its early stage, m-Government seems to have a substantial influence on the  generation of set of complex strategies and tools for e-government efforts and on their roles and  functions. m-Government is inevitable. The number of people having access to mobile phones and mobile internet connection is increasing rapidly. The mobile access – anywhere any time  – is becoming a natural part of daily life, and the governments will have to transform their  activities according to this demand of convenience and efficiency of interactions for all  stakeholders. The developed and developing countries shall have to synergize e-Government  and m- Government based on their potential for wireless devices and networks to provide value-added features for the integrated and flexible data communication and exchange  mechanism among government units.
Follow and connect with us on Facebook, Twitter, LinkedIn, Elets video