The Govi Gnana Service: eSL taking the dividends of ICTs to Sri Lankan agriculture markets.  Electronic bill boards display up to the minute price information in Sri Lanka's largest  produce market; price information is also disseminated in real-time through the Internet as  well through an automated voice solution from any phone in local languages.
e-Government services were seen as critical to the success of eSri Lanka. It was thought that  these services, provided in all three official languages, would anchor an array of information,  interactive and transactional services that would be produced by government, private, civil  society, and individual actors. Language standardisation and the development of low-cost  payment mechanisms, among others, were seen as enabling conditions for decentralised  e-Commerce activities in Sri Lanka.
It was believed that eSL could create the necessary conditions for IT-enabled services. eSL is therefore a comprehensive, integrated programme that has several components ranging from the construction of the broadband backbone to the development of e-Leadership.

Why e-Government?
Notwithstanding the e-Government services made available by decentralised initiatives such   as online passport and visa forms and national examination results being posted online, Sri Lanka's progress in e-Government services has been limited to informational services thus far. Interactive and transactional services are few, if any.2 e-Government is one of the key   components of eSL, through which seamless interactions among government entities (G2G), government and citizens (G2C), and government and businesses (G2B) would be facilitated. Automation of internal government activities and processes such as the development of a government wide area network and computerisation of public financial systems, as well as external transactions and interactions such as the centralisation and computerisation of government procurements, establishment of government call centres, etc., are all features of eSL.

e-Government has a double significance in the context of eSL:
1.It can enable the streamlining and automating of government. Sri Lanka has one of the    largest public sectors in South Asia, with more than six persons out of 100 working for government. Government-citizen transactions are tiresome processes often involving waiting in lines, and being shuffled from one department to the next. The opacity of the processes and the discretion that is embedded in it leaves room for middlepersons and rent seeking. Simple transactions such as issue of a passport involved more than a dozen steps. Clearly, the way  that the Sri Lankan government operated needed to be reengineered, incorporating ICTs into the processes of government operations. Transparency, accountability, and efficiency would  be increased and citizens would be able to access government services from any part of the country. A citizen living in Trincomalee should be able to download and submit a passport application without needing to travel to Colombo. At the most, she/he may have to travel to Colombo to collect it once it is ready. Ideally, citizens should be able to access government services from multiple points, from where the query will be directed to the right place – where 'no door is wrong.3 '
Skewed Distribution: Provincial Share of Population, gross domestic product and fixed    telephone connections (Source – Telecommunications Regulatory Commission of Sri Lanka, Central Bank of Sri Lanka, 2003
2. To catalyse the implementation of other elements of eSL. Rather than focusing on e-Commerce (something that the private sector should develop), given the right conditions, implementing an e-Government strategy would create pressure to get the necessary infrastructure in place – nation-wide backbone network, rural access points, enabling laws, low-cost payment mechanisms, Sinhala and Tamil standard fonts, etc. – as well as complete the necessary regulatory reforms. Most significantly, e-Government would support the rollout of the two envisaged regional telecommunication networks (RTNs) – one serving the Deep South quadrant of the island, and another serving the North East quadrant. The second stagewould fill in the gaps in coverage. Keeping in line with the market-oriented nature of eSL, the networks would be constructed by the private sector. In order to induce the private sector to participate in this manner, certain prerequisites need to be satisfied:
a. Regulatory reform is needed.
b. Inhibitive capital costs have to be overcome4 (this could be looked after by 'smart subsidies' disbursed through a least-cost subsidy auction5 ).
c. Private operators need to be assured that once the infrastructure is built, they would have business.
The provision of e-Government services would enable all of this. The government would be an anchor tenant for the Vishva Gnana Kendras or VGKs (a network of telecentres), with a commitment of one e-Government kiosk in each Grama Niladhari (GN) division (the lowest level of the administrative structure), or at least in each local government area. The VGKs would be provided with bandwidth from the RTN operators. Additionally, a voucher scheme would also stimulate demand for services at the VGKs by citizens.
e-Government is just one part of the puzzle. There are other essential elements for the success of eSL. In addition to infrastructure there is human resource development, institutional capacity building, local content development, and market development and investment promotion policies to encourage private sector participation in the ICT sector. Each element is in some way dependent on one or more of the others. Without the e-Government element, the other elements may not succeed, and vice versa. For instance, e-Government is needed to stimulate demand for nation-wide backbone access, but at the same time, ubiquitous backbone access is needed in order to provide universal e-Government to citizens. Once these  infrastructures are in place, the foundations for e-Commerce and IT-enabled services  would be in place. Furthermore, rural and urban users who would be attracted to the VGKs for  utilitarian purposes would also start using the Internet for broader reasons. The higher levels  of communication, information retrieval, publication and transactions that would ensue would  provide the traffic volumes that would bring the broadband networks to break-even sooner.

From e-Government to development
Taking a look at Sri Lanka's economy and assets, it is clear that the Service sector is where the future lies for Sri Lanka. Sri Lanka does not possess significant exportable natural  resources; its agricultural exports are not the most competitive; and the main industrial export (garments) relies on the international quota system. Furthermore, many of its exports rely  heavily on import of raw material. It has no comparative advantages in agriculture or industry,  for the most part. What this means is that rapid wealth creation and employment generation rests on the Service sector. While agricultural and industrial exports (especially niche market exports) can and should be encouraged, the engine that would take Sri Lankans  out of poverty is Service exports.
Currently, the sector is the largest component of the Sri Lankan economy but constitutes  low-productivity activities. The major export is housemaid services to the Middle East and East  Asia. Needless to suggest, a shift to higher-value-added services is essential. The  premise of the design of eSL was that improved performance in the ICT sector would boost  performance up the value chain, enabling greater value addition and comparative advantages.  The presence of a cost-effective, state of the art network, a comprehensive and  functional e-Government system in addition to a globally competitive ICT workforce  throughout the country was expected to reduce the need for companies to have a physical  presence in urban areas – companies would now be able to locate in rural areas and take  advantage of lower costs.
The Business Process Outsourcing (BPO) industry is exemplary of this strategy; the most familiar manifestation of business process outsourcing is a call centre, where a group of people with telephone headsets answer calls from customers on behalf of a firm, using  computer-based information systems. There are many forms of BPO, some that require very  high levels of skills. The key elements are the reliance on computer-based information  systems, telecommunications, and specialisation.
BPO activity started in the early 1990s in the American Midwest, in Ireland and in India. By the  late 1990s, India, particularly Southern India, had become a major BPO supplier. But Sri  Lanka, despite its similarities with Southern India, missed the BPO bus. Thanks to the  monopoly on international telephony effectively granted to the incumbent upon privatisation in  1997 together with the absence of redundancy in international telecommunications supply and  flexibility in pricing and service options, BPO business options bypassed Sri Lanka. It was only  in 2003, after the government ended the incumbent's exclusivity by issuing licenses without  numerical limit, that BPOs started looking at Sri Lanka. The adoption of a liberal reform  strategy was integrally connected to the infrastructure and investment components of eSri  Lanka. The HSBC regional resource centre that began operations in 2004 was Sri Lanka's first  highprofile BPO operation. The fact that it obtained its international telecom capacity from  VSNL Lanka, a new international operator licensed in 2003, is evidence that telecom supply  was a key inhibitor. The growth of the new industry can be seen by the increase in the  capacity carried by VSNL Lanka: 3 mb in February 2004; 45 mb in February 2005. The positive  image created by the peace moves of the Wickremesinghe government was  obviously supportive, but that alone could not explain the absence of BPOs prior to 2003 and the subsequent momentum.
What does BPO business mean for Sri Lankans? It means higher wages and working conditions  superior to those in government and most private sector offices. It can be  somewhat repetitious, and does not allow for slacking. Most likely, a young person would not  want to spend his or her entire life in the BPO industry, but it provides a good foundation for a  job elsewhere or for starting a business. One major limitation is that most BPO jobs require  fluency in English, an area where Sri Lanka has a shortfall. But again, niche applications exist  where, for example, accountancy or financial analysis skills matter more than English.
Unwired Sri Lanka: fibre backbone, end 2003. (source – Sri Lanka Telecom)
Such kind of 'Mode 1' services trade, where the buyer and the seller stay in their own  countries, is far superior to the sale of 'Mode 4' services, where the Sri Lankan service  providers have to go to the seller's country to sell their services (e.g. the export of housemaid services). It allows service suppliers to stay close to their families; more of the money that they earn is spent where they live, providing more business to others and growth for the  overall economy.
The main reason for export industries clustering around Colombo, despite its high land prices  and rent, its congested roads and the higher wages demanded by workers, is the lack of adequate infrastructure in the regions. The quality of electricity is not very good in Colombo,  but still the blackouts and voltage variations are worse in the outer regions. The fibre optic  cables that provide high quality and ultra reliable telecommunications (recall that in the BPO  business, a telecom interruption means the cessation of business; and that in some BPO  activities the quality must be such that the customer feels that the service representative is  talking from next door), simply do not exist outside the Western and Central provinces, and portions of the Northwestern and Sabaragamuva provinces. The rest of the country is served  by microwave links, with post-conflict areas dependent on satellite.
Even domestic call centres (Sinhala and Tamil language option) operate within Greater  Colombo mainly due to infrastructure problems outside these areas. But the reengineering of  government initiative of the eSri Lanka programme could take the lead in moving these jobs,  outsourced and managed by the private sector, out to the rural areas once adequate  infrastructure is available. This would generate jobs in rural areas and increase disposable  incomes that would in turn create more demand for ICT services, among others. Without  developing ICT infrastructure and capabilities in these regions, such new IT enabled services  would be another development opportunity that would further exacerbate the disparities of the Western Province and the rest of the country. Therefore, the rural telecom networks  component of eSri Lanka was seen as a critical element in its overall success.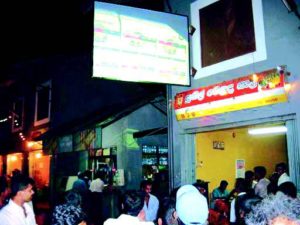 The eSri Lanka strategy is intended to position all the people of Sri Lanka to participate  effectively in a global economy using their comparative advantages. It is intended that the  enhanced ICT infrastructure, including, but not limited to, cost-effective broadband networks  throughout the country, will position not only service industries but also the high value-added  niche producers in agriculture and industry to participate effectively in the global marketplace.  The BPO industry, where the associated telecom liberalisation actions have already shown  results, shows that results that can be achieved. These opportunities are not limited to  ITenabled services such as BPOs only. ICTs are becoming increasingly embedded into the  operations of most industries, shaping the way that people do business; the cost savings on  communication and labour that are envisaged would induce more and more large companies  and businesses that rely heavily on ICTs to relocate to these low-cost areas, having profound impacts on the country's development.
Conclusion
The eSri Lanka design is embedded in a vision of Sri Lanka as a modern trading nation. ICT  infrastructure was seen as a key component of the value chain of many industries (services  and others). Without ICT infrastructure, neither production nor consequent supply to the global  marketplace would take place. Unless the ICT infrastructure and services are low-cost,  high quality and flexible, they would not be conducive to the development of globally  competitive products. eSri Lanka was designed to remedy this problem and make the entire  economy more competitive. The e-Government services within it were designed to yield  benefits above and beyond the direct outcomes in the form of 'priming the pump' for  e-Commerce services, and enabling the shifting of reengineered government services away from the over-endowed urban centres to the chronically under-developed regions, creating  jobs and wealth that could in turn create demand for ICTs and other goods and services.
An earlier version of this paper was presented at the World Bank Conference, e-Transformation: Opportunities in Government, Public Institutions and Finance, 16-18 March  2005 in New Delhi, India. The design of eSri Lanka involved many people, too many to  comprehensively mention here. Then Prime Minister, Ranil Wickremesinghe and then Minister,  Milinda Moragoda provided the overall vision and strategy. Eran Wickramaratne, the first  Chairman of the ICT Agency and Nagy Hanna, the leader of the World Bank team and Ritin  Singh, member of the World Bank team, made substantive contributions. The views expressed  in this article are those of the senior author, who bears responsibility for any  errors.