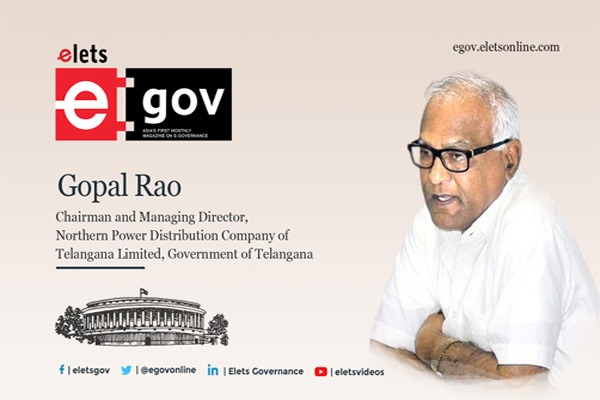 Telangana as a region used to reel under continuous energy deficit. But since its inception as a state, with conducive policies and administrative decisions, it has made a remarkable turnaround in taking out its utility from darkness to brightness. Gopal Rao, Chairman and Managing Director, Northern Power Distribution Company of Telangana Limited, Government of Telangana, highlighted this while speaking at Elets Power Utilities Conclave.
Leveraging emerging technology, we aim to make our utility futuristic and analytics-driven, said Gopal Rao, Chairman and Managing Director, the Northern Power Distribution Company of Telangana Limited, Government of Telangana. "Before the inception of our state, Telangana would frequently witness drastic utility failures and power breakages. Even industries used to face 2 days of power holidays. Agriculture too was not provided with a minimum of 6 hours of continuous power which resulted in failure of transformers and drying up of agricultural land." he added.

When Telangana upgraded to take the shape of a state, the government of the day started taking initiatives and policies to turn around the image of power utility. Professionals and people with expertise in the energy field were given administrative charge of the utility and energy department. The government invested a hefty sum of 36000 crore to upgrade and modernise its power infrastructure. As a result, he said, while other states are reeling under the fiscal losses, Telangana is comfortably providing 24*7 free electricity to the people of the state, including agriculture.
Highlighting the transformational role played by the power utility in the state, he said Telangana was easily able to meet the energy demand of 14160 MW. He said the state government was constructing gas-based stations of 220KB, 132KB and 33KB at Hyderabad. He said per unit capacity was 2000 in Telangana as against the central government's 1300. With such a transformation, he believes, the state of Telangana is flourishing and ready to show light to other states.
"The criticality of uninterrupted and affordable power supply can be gauged from the fact that even to purify air and water, the country today needs electricity," he added.
Speaking about the technological advancements of the state in the power sector, he said using modern technology, telangana has made a big turnaround in taking out its utility from darkness to brightness. The state also aims to use technology to achieve high operational efficiency and safety.
"NPDCL has 63.8 Lakh consumers out of which 12.51 Lakh are agricultural consumers. Agriculture consumers dominate the energy consumers list. With conducive policies like giving highly subsidised energy to farmers, we have helped our farmers flourish and enhance their income level. Earlier, paddy farmers would depend on Andhra and Punjab for electricity but today with 24*7 supply of power, the state has become paddy surplus and is exporting it to other states. " added Mr. Rao.
He said despite Telangana's highly subsidised agriculture where 6o per cent of the people enjoy free electricity and where revenue comes from only 40 per cent, the state had managed to bring its distribution loss from 14 per cent to the current rate of 10 per cent.
Highlighting the mission of NPDCL, he said the organisation aims to become one of the best Power Distribution Utilities in the Country, with high customer focus, financial strength and operational efficiency. "We aim to provide safe, reliable, uninterrupted and quality power to all its customers at a competitive cost and a reasonable return to all its stakeholders duly following sound commercial practices and business ethics." he concluded.