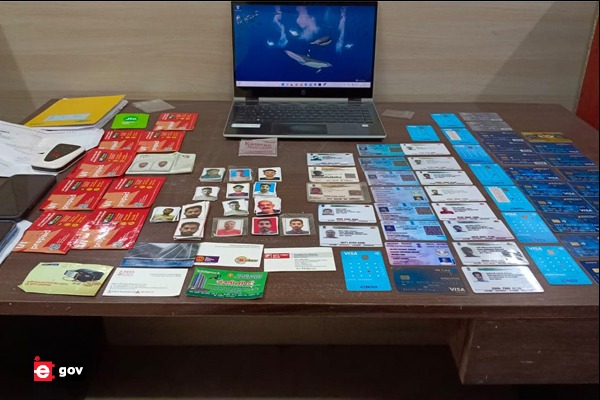 Maharashtra GST Department on Monday unearthed a fraud involving a GST credit worth more than 18 crore. The matter has been the subject of an inquiry, according to detailed analyses by the concerned department. The Investigation Wing, Aurangabad Division, was successful in taking down a network of operators in Mumbai who were creating fictitious bank accounts and GST registrations based on forged documents throughout India. This was done through a series of search operations launched in Aurangabad & Mumbai and led by every lead that could be found.
In the course of investigation and inquiry, it is noticed that a fake GST registration of a nonexistent business in the name and style of M/s Farhat Enterprises was obtained at Aurangabad, by using the forged document related to premises, which was used for issuing fake invoices. The registration was shown as taken by Rajkot (Gujarat) based proprietor Mr. Javed Hasnani. The fake invoices of value around Rs. 121 crore are issued to pass on the fraudulent GST credit of Rs. 18 crore. Further, investigation of the said non-existent entity revealed that a network of fake entities is created and operated by Mumbai based duo Mr. Faisal and Mr. Ajeez. Involvement of more such people in the racket is under investigation. It is also revealed that they have obtained fake GST registrations on the strength of forged documents and opened and operated bank accounts in the name of those fake entities. During search of their premises, forged documents like PAN, AADHAR, SIM CARD covers, mobile handsets, which were used in registration of fake firms and fake bank account opening, have been recovered. The fake invoices issued in all the firms identified so far, is more than Rs. 500 crores and further investigation of these transactions is underway.

The aforementioned operator duo was apprehended by the Aurangabad Enforcement Wing of the State GST Department on 30th November, in Mumbai. The accused were remanded in judicial custody for 14 days by the session court in Aurangabad.
This entire investigation was conducted, under the supervision of Shri. G. Shrikanth,IAS (Joint Commissioner of State Tax (ADM), Aurangabad Division,), by Dr. Pravinkumar Rathi (Deputy Commissioner of State Tax, Investigation), Shri.Nitesh Bhandare(Assistant Commissioner of State Tax, Investigation), Shri.Prakash Gopnar(Assistant Commissioner of State Tax, Investigation) and team of STIs/TAs. Shri. Subhash Yengade (Additional Commissioner of State Tax, Nashik Zone) put his valuable guidance during this operation.
The Maharashtra GST department this year has arrested 52 persons and is taking every possible effort for tracing fraudsters indulging in fake invoicing to avail input tax credit.