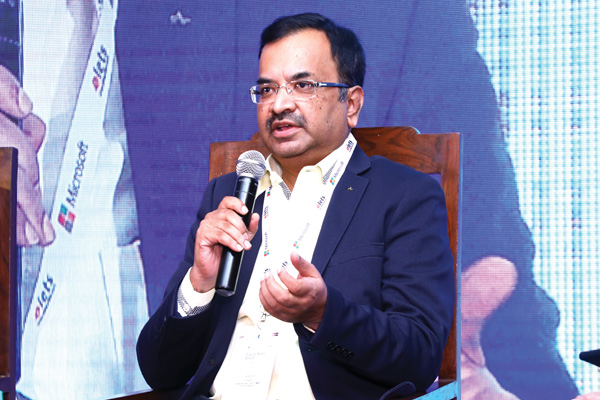 Talking about Sankalp skilling program, Satish B K, Head – Sankalp, Karnataka Skill Development Corporation (KSDC), said that it is a World Bank- funded program, which focuses more on skill acquisition and knowledge awareness for livelihood promotion. "Our focus is more on capacity building. Sankalp focuses on the entire skilling ecosystem," he said.
He further talked about the Training of Trainers (ToT) program, the aim of which is to train around 1800 trainers and teachers who will go through various theory and
on-the-job training (OJT) modules over a period of six months duration.
Highlighting the role of technology in the implementation of these programs, he said, "Most of our training programs are conducted in a blended model. We use various forums to conduct these training programs online, as well as in the physical mode, and we have successfully done that in association with various organisations."
Satish B K also talked about the adaptation of technology in the rural areas and what can be done to bridge the rural-urban divide. "Under Sankalp, we have built about five English labs across one of the most remote districts. We have got the technology aspect, computers, the entire lab is dedicated to learning where students from the rural areas are able to come to this particular platform. We also have a dedicated teacher. This is how we are trying to bridge the technology gap."
He said that KSDC also runs a program called the Talent Acceleration Program, where it has partnered with engineering colleges in Karnataka to teach engineering students futuristic technologies like AI, ML and IoT. "60 per cent of the students got placed even before the training ended. That's the power of technology," he said.
Also Read | Education and Skilling for New India
Elaborationg on technological interventions, he said, "We have a future skills program where we have developed content in association with content developers and we've made this available free of cost to learners. So, in various ways we are having a lot of interventions to take technology to the rural masses."
He also talked about a portal called Skill Connect that will bring together academic institutions, various skilling agencies, potential workforce, and potential employers. The portal will have online courses available that will allow aspiring employees and students to identify their skill gaps and enroll in training programs. There will also be a job listing feature that will enable them to not only train but also apply for jobs.