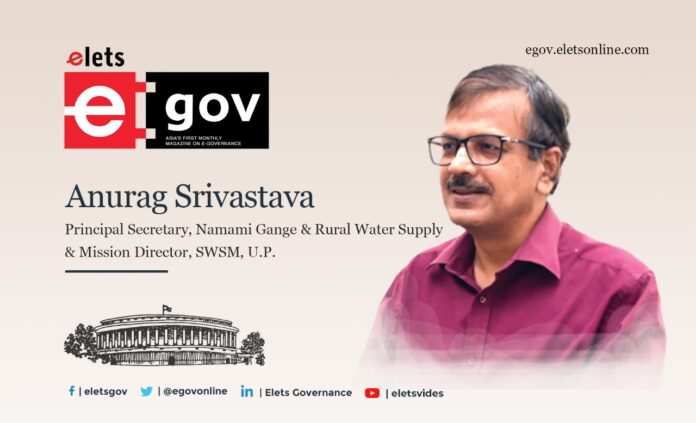 Drinking water is one of the basic necessities and one of the key indicators for development of any state. The Jal Jeevan Mission, a project being implemented by the State Water and Sanitation Mission (SWSM), Uttar Pradesh, is leaving no stone unturned to ensure that every household in UP, from the state capital Lucknow to the remotest district of Jalaun in Bundelkhand, gets safe drinking water. Anurag Srivastava, Principal Secretary Namami Gange & Rural Water Supply & Mission Director, SWSM, UP, spoke to Tarannum Manjul of Elets News Network (ENN) to shed light on the department's efforts.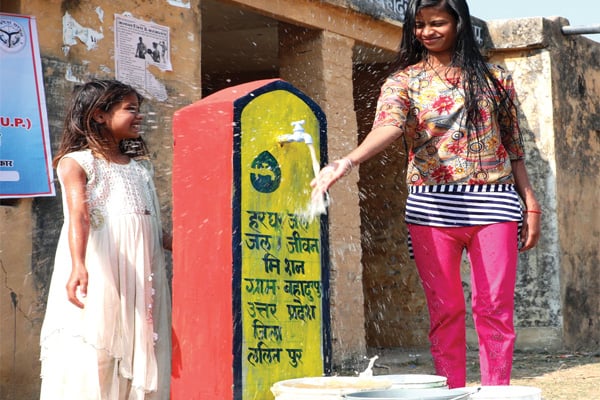 Q. What are the schemes of the Jal Shakti department to ensure drinking water facility to all citizens of the state?
Ans. Under the Jal Jeevan Mission in Uttar Pradesh, work is going on at a brisk pace to provide pure water to every household. Hundreds of new houses are being connected with water supply every day. Under the Jal Jeevan Mission, work is being done by setting up a Village Sanitation Committee, Water Committee and a village-level action plan in every village across the state. Work is being done by giving priority to drought affected areas, water quality affected villages, and districts affected by Japanese Encephalitis/Acute Encephalitis Syndrome.
Q. What is the current status of the Jal Jeevan Mission?
Ans. Under the Jal Jeevan Mission, the work of Har Ghar Jal Yojana is being completed at a rapid pace in more than 44,000 villages of Uttar Pradesh. The population of more than 1,53,87,180 residing in these villages will be benefitted by the Har Ghar Yojana. More than 41,57,484 Functional Household Tap Connections (FHTC) have been given so far across the state.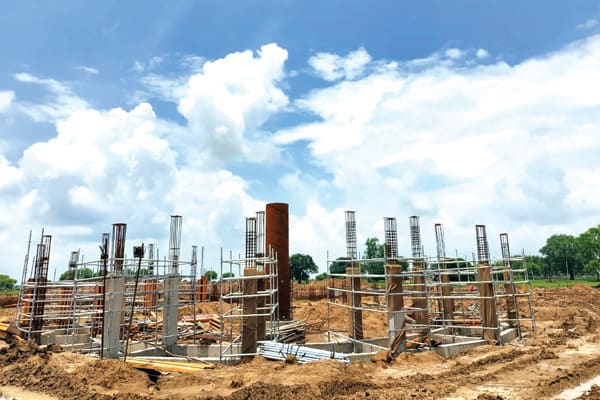 Work is going on in the state with complete transparency to take the benefits of the Jal Jeevan Mission scheme, the highest priority of Prime Minister Narendra Modi and Chief Minister Yogi Adityanath, to every person residing in UP. Water supply will be started in more than 80 per cent villages of Bundelkhand and Vindhya regions by the end of 2022. The goal of the department is to provide clean drinking water facilities to the people by completing the schemes before the stipulated time.
Also Read | Drinking Water for All in India! It's Work in Progress
Q. Bundelkhand region is one of most drought prone areas of the state. What measures is the department taking to ensure drinking water facility to the people of this region?
Ans. Work under the Jal Jeevan Mission is underway in all 7 cities of Bundelkhand (Jhansi, Lalitpur, Jalaun, Hamirpur, Banda, Chitrakoot and Mahoba). By December 2022, more than 80 per cent of the households are set to have a tap connection. A total of 71 schemes are operational under 35 projects in Bundelkhand region. So far, more than 23,471 FHTC have been provided, while the total number of FHTC is 11,86,957. The population of more than 63,72,219 living in 2,685 gram panchayats will be benefitted from the scheme. Under the projects of Jal Jeevan Mission, 41 intake wells, 41 WTPs, 331 CWRs and 1258 OHTS are being constructed in the Bundelkhand region.
Q. What measures are being taken by the department to ensure that the people of Sonbhadra and Mirzapur in Vindhya region have access to pure drinking water?
Ans. The department is working on 18 different projects to provide pure drinking water under the scheme of Jal Jeevan Mission in Vindhya region. A total of 12 schemes are going on in Sonbhadra and 9 in Mirzapur. More than 41,07,099 population of 1,345 gram panchayats is going to be benefitted by the scheme. A total of 11,315 FHTCs have been provided in the Vindhya region so far and a total of 6,78,817 FHTC are to be provided. With the plan of the department, 20 intake wells, 21 WTP, 121 CWR and 428 OHTC are being prepared in the Vindhya region.
Q. The river Ganga is not just a river, but an identity of the state. How is the department working towards removing pollution from river Ganga?
Ans. The Namami Gange and Rural Water Supply Departments have initiated a total of 47 sewer treatment projects across the state to remove pollution from river Ganga. Out of these 47 projects, 27 have already been completed and work on the remaining 18 is in progress at a brisk pace. A total of 1508.01 MLD treatment capacity will be created from these projects, out of which 473.91 MLD treatment capacity has already been created. Sewer Treatment Project Prayagraj (Naini, Phaphamau, Jhusi), Kannauj, Narora, Garh Mukteshwar, Anupshahr, Kanpur, Ayodhya, Bithoor, Mathura-Vrindavan, Varanasi, Chunar, Firozabad, Moradabad, Kasganj, Etawah, Shuklaganj-Unnao and Sultanpur, are being implemented in Jaunpur, Baghpat, Muzaffarnagar, Budana, Lucknow, Ghazipur, Mirzapur, Bareilly, Kairana, Farrukhabad, Faizabad city, Agra, Meerut and Saharanpur.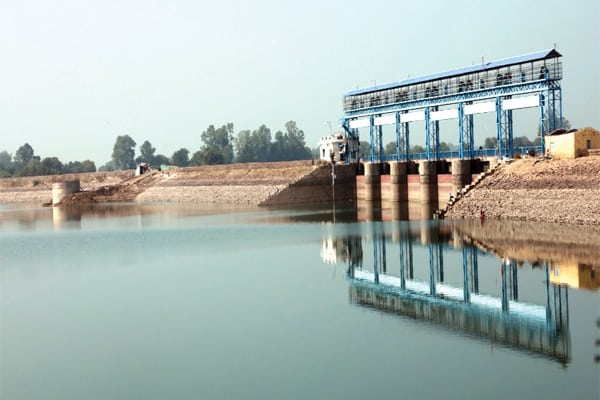 The main objective of these projects is to prevent pollution in the rivers by treating the dirty water through various drains. Apart from this, the work of construction and revitalisation of ghats, crematoriums and ponds is also being done. In this sequence, the work of more than 68 ghats and more than 13 crematoriums has already been completed. So far, a total of 46,39,275 saplings have been planted in an area of 8820.15 hectares on the banks of rivers.
Also Read | Managing Safe Drinking Water for All
Q. How has the department connected water supply with employment generation?
Ans. Under the Har Ghar Nal Yojana, 7,56,522 jobs are being created directly by the department across the state. Under this, free training is being given for plumber, fitter, operator, caretaker and security guard. Along with this, 4,87,700 women in the state are being trained to test water samples. Taking the scheme forward rapidly, more than 1 lakh women have completed the training so far. Women are also being given Rs 20 for each water sample test.